The exact definition of a fantasy football sleeper or bust is difficult to pin down. For my purposes, I keep it simple: Sleepers are players who I expect to outperform their norm or their expectation, even by a little, and busts are players I expect to fall short. Sometimes, this means a guy is in store for a monster week; sometimes it means a little-used player needs to crack lineups.
Either way, each week in this space I'll use PFF advanced stats to try to identify a handful of the week's key sleepers and busts for fantasy.
Week 4 fantasy football sleepers
Philip Rivers, QB, Los Angeles Chargers: You expect a quarterback against the Dolphins to be conservative, get their points and call it a game, lean on the running backs. But through three weeks — all blowouts — backup quarterbacks have attempted six total passes, all from Robert Griffin III in Week 1. Tom Brady and Dak Prescott played the whole games. And the Dolphins have allowed 0.95 points per dropback to starting quarterbacks through three weeks; those same quarterbacks have averaged 0.67 in their other games.
Case Keenum, QB, Washington: As an NFL quarterback, it's been unsurprisingly rough for Keenum so far. His best weekly PFF grade was 57.1 in Week 2, and he bottomed out to 36.1 Monday night. But for fantasy, things have been far better; he's the No. 9 fantasy QB through three weeks, and even in Week 3's disaster he was the No. 16 quarterback. In a tasty matchup, don't shy away from Keenum.
Kyle Allen, QB, Carolina Panthers: Across the last two weeks, Allen has the second-best single-game PFF passing grade with his 86.5 in Week 3. It's also higher than all but two single-game passing grades Cam Newton has managed in the last four seasons. Allen isn't Cam Newton, but he's a viable fantasy option.
Marlon Mack, RB, Indianapolis Colts: The NFL leader in rush attempts, against the team with the third-worst run-defense grade, with his No. 1 wide receiver banged up, at home, as 6.5-point favorites. Wheeee.
Justin Jackson, RB, Los Angeles Chargers: For all the aforementioned bullying of the Dolphins opposing quarterbacks have done, teams haven't been shy about letting their No. 2 running backs get plenty of play. Gus Edwards got 17 carries in Week 1 (Mark Ingram only had 14) and Tony Pollard had 13 in Week 3 (to Ezekiel Elliott's 19). Don't shy away from Austin Ekeler in a nice matchup, but Jackson's worth a look too.
Rex Burkhead, RB, New England Patriots: Sony Michel's 2019 season has not started well. He's averaging 2.4 yards per carry (1.7 yards after contact) on 45 attempts so far, Burkhead's numbers are 4.7 and 3.2, respectively, on his 24 carries. More importantly, James Develin hitting IR hurts Michel; he was the lead blocker on Michel's last 10 touchdowns before his Week 3 score. Don't be surprised if Burkhead gets mixed in more.
Davante Adams, WR, Green Bay Packers: Off to a terrible start after being a first-round pick in most drafts, Adams is in a serious get-right spot in Week 4 in a Thursday game against a struggling Philadelphia secondary that will be without Ronald Darby. (One note: The Packers appear set to be a less aggressive offense this year, so if Adams smashes in Week 4, it might be a good time to consider selling high.)
Sammy Watkins, WR, Kansas City Chiefs: If all you look at is the fantasy stat line, Watkins has been a disappointment (113 scoreless yards) since his Week 1 explosion. But he's still third in the league in targets for the year. And with Darius Slay out or limited this week, it's set up for Watkins to get back on track.
Cooper Kupp/Robert Woods, WR, Los Angeles Rams: Kupp is the main name to remember here, but Woods is worth a look as well, because they were the Rams who spend the most time in the slot (Kupp has run 77.9% of his routes from the slot this year, Woods 42.9%). That means they'll see Tampa Bay CB M.J. Stewart in coverage. Of 201 cornerbacks with at least 100 slot coverage snaps since the start of last year, Stewart's 29.8 slot coverage grade ranks … 201st.
Curtis Samuel, WR, Carolina Panthers: In Allen's first start, he targeted Samuel 7 times, compared to only a pair of throws going D.J. Moore's way. And Sunday, Samuel is likely to draw the majority of his coverage from Johnathan Joseph, who has allowed the fifth-most yards into his coverage this year.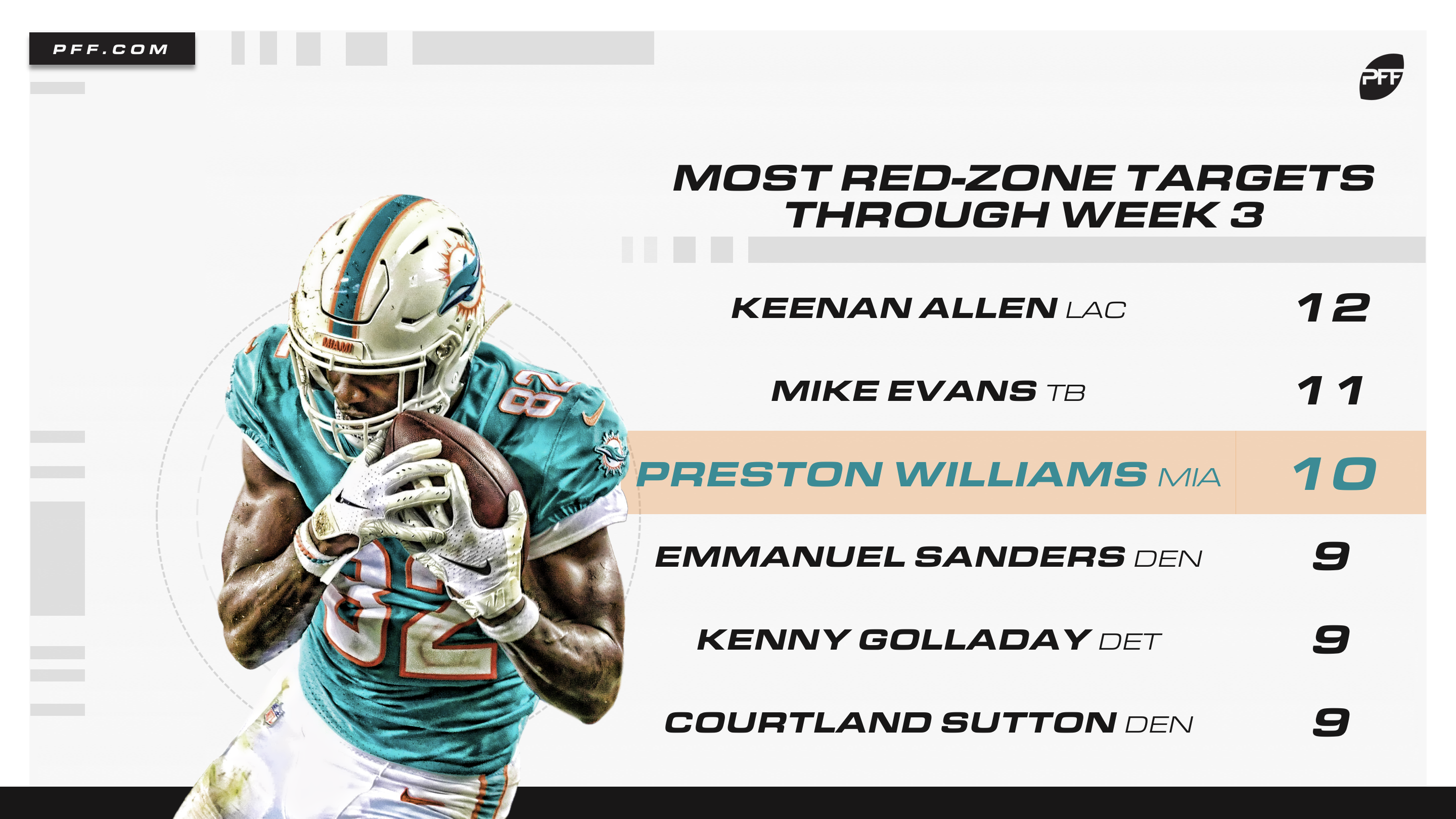 Preston Williams, WR, Miami Dolphins: Unsurprisingly, Keenan Allen has the most red-zone targets so far this year, at 12. Mike Evans might be a tiny surprise with 11, the second-most. In a three-way tie for fourth are Emmanuel Sanders, Kenny Golladay, and Courtland Sutton, so no huge shocks there. Third, with 10? That would be Williams. DeVante Parker should draw a shadow from Casey Hayward this week, per our WR/CB matchup chart, while Jakeem Grant will see Desmond King. That will leave Williams to enjoy the relatively easier matchup of Brandon Facyson.
Eric Ebron/Jack Doyle, TE, Indianapolis Colts: The injury to T.Y. Hilton could open Ebron and/or Doyle to have a big game for the first time this year, especially with coverage likely coming largely in the form of Curtis Riley, who has allowed 2.70 yards per route covered so far.
Mike Gesicki, TE, Miami Dolphins: Two Dolphins? Two Dolphins. Gesicki is obviously a deep dive, but Derwin James' absence has left the Chargers vulnerable to tight ends, as Jordan Akins and Darren Fells showed to the tune of three touchdowns in Week 3.
Week 4 fantasy football busts
Deshaun Watson, QB, Houston Texans: Watson has been sacked 12 times, third-most in the league. The Panthers have 12 sacks, tied for the third-most. They've also allowed the second-lowest average passing yards per game (189.0) despite facing Jared Goff, Jameis Winston, and Kyler Murray so far.
Tom Brady, QB, New England Patriots: Julian Edelman is banged up (though expected to play). The running game will take a hit with James Develin's absence. The offensive line has taken a small step back. And the Bills have the best defense the Patriots have faced so far this year. Don't expect a huge Brady game here (and maybe bet the under?)
Dalvin Cook, RB, Minnesota Vikings: Workload hasn't been a problem for Cook so far, as only Christian McCaffrey, Le'Veon Bell, and Nick Chubb have more touches through three weeks. But in Week 4, he and the Vikings draw a stout Bears run defense that has had relatively more struggles against the pass. Cook could struggle.
Todd Gurley, RB, Los Angeles Rams: Two teams have more than 16 tackles for a loss or no gain so far, with the Buccaneers clearing that bar by 5, at 21 so far. They have the second-best run-defense grade in the league (81.9) despite facing the 49ers backfield, Christian McCaffrey, and at least some of Saquon Barkley so far. It's a better defense than you think.
Mike Evans, WR, Tampa Bay Buccaneers: The Rams haven't allowed a touchdown to a wide receiver this year, and have only allowed one to hit the 20-PPR-point threshold since Week 11 of last year (Alshon Jeffery in Week 15). The best games against the Rams this year have come from Michael Thomas (8.5-yard average depth of target) and D.J. Moore (10.3 yards). Evans' aDOT is 17.4 yards, firmly in Aqib Talib/Marcus Peters territory.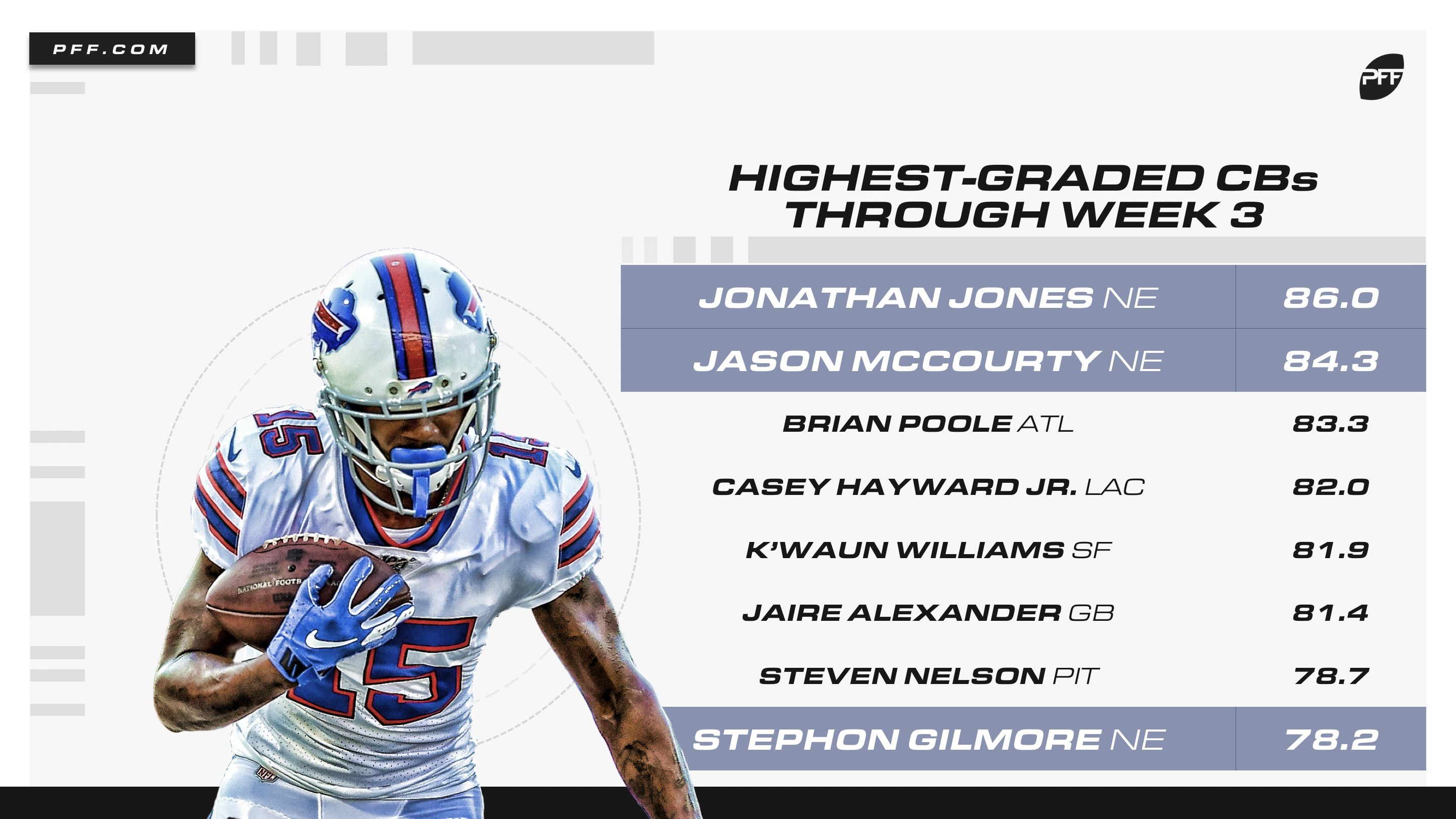 John Brown, WR, Buffalo Bills: The top overall PFF grade for a cornerback (86.0) belongs to Jonathan Jones. He's a Patriot. The second-best one (84.3) belongs to Jason McCourty, another Patriot. Stephon Gilmore (yes, another one) is eighth at 78.2. Combined, they've allowed a 57.7 passer rating in coverage so far. Fade Brown hard.
Dede Westbrook, WR, Jacksonville Jaguars: The Broncos still have a decent defense overall, but they are best covering the slot, where they've allowed only 141 yards so far this year (40 of which on one Marquez Valdes-Scantling touchdown). Westbrook, firmly entrenched in the slot, might not get it going this week.
Mark Andrews, TE, Baltimore Ravens: Zach Ertz has played the most snaps among tight ends at 199. George Kittle is second. From there, the list isn't very surprising. Greg Olsen, Darren Waller, O.J. Howard, Kyle Rudolph, Ryan Griffin (maybe a surprise), Travis Kelce, Evan Engram, Austin Hooper. To get to Andrews, you have to get all the way down to 24th, at 108. He's been wildly efficient, putting up 0.47 PPR points per snap (only Delanie Walker is even over 0.40), but the playing time is still a concern.