The exact definition of a fantasy football sleeper or bust is difficult to pin down. For my purposes, I keep it simple: Sleepers are players who I expect to outperform their norm or their expectation, even by a little, and busts are players I expect to fall short. Sometimes, this means a guy is in store for a monster week; sometimes it means a little-used player needs to crack lineups.
Either way, each week in this space I'll use PFF advanced stats to try to identify a handful of the week's key sleepers and busts for fantasy.
Week 3 fantasy football sleepers
Matthew Stafford, QB, Detroit Lions: Sidney Jones has been the Eagles' top cornerback so far, allowing a 38.1 passer rating into his coverage and grading out at 73.0. He's also played less than the other three names, with only 64 snaps — Rasul Douglas, Avonte Maddox, and Ronald Darby have each played at least 90. Collectively, those three have allowed a 127.8 passer rating into their coverage, with 1 interception against 5 touchdowns allowed. Stafford's sitting at fifth in quarterback fantasy scoring through two weeks and, with Danny Amendola and T.J. Hockenson added to Kenny Golladay and Marvin Jones, you could argue he has the deepest weaponry of his career.
Mason Rudolph, QB, Pittsburgh Steelers: Rudolph's lone interception Sunday came on an inexcusable Donte Moncrief drop. Of his seven incompletions, two were drops and one was when he was hit as he was thrown. For a backup who likely had gotten almost no first-team reps in practice, it was a fine performance. A week of preparation knowing he's a starter, going against a San Francisco defense that has been better than expected but still isn't one of the league's best, with still-strong weaponry around him? Rudolph should be fine.
Le'Veon Bell, RB, New York Jets: Bell is averaging 27 opportunities (carries plus targets) per game. For reference, Ezekiel Elliott led the league last year in opportunities per game at 26.3, and he was the only player to even reach 24. Bell's workload means he's got a higher ceiling than you think, every week.
Derrick Henry, RB, Tennessee Titans: Okay, look. I don't actually think Henry is that good. But he's played six career games against the Jaguars and he's averaged 18.8 PPR points in those games. That's compared to 8.8 in his non-Jacksonville games. Three of his six best career games have come against the Jags. Even if you don't buy into that (and you probably shouldn't), the team hasn't shown much passing so far, so he's going to get a lot of work.
Carlos Hyde, RB, Houston Texans: Cincinnati and Miami have, unsurprisingly, allowed the most rushing yards to running backs through two weeks. Third on the list, though, are the Chargers, who might be more surprising. At the same time, the Chargers have only allowed 58 receiving yards to the position. Hyde was supposed to be an afterthought, but he doubled Duke Johnson in carries in Week 2 and he's looked spry in the process. This has the makings of a Hyde game.
Devin Singletary/Frank Gore, RBs, Buffalo Bills: The Bengals are the worst-tackling team in the league, and not by a little. Singletary has run for 12 or more yards on seven of his 10 carries through two weeks. It's the perfect storm for the rookie to have a coming-out party … or it would be, if we knew he were healthy. If Singletary is good to go, he's got big breakout potential. If he isn't, Gore is less well-equipped to take advantage of the Bengals' deficiencies, but he could still do well with a big workload.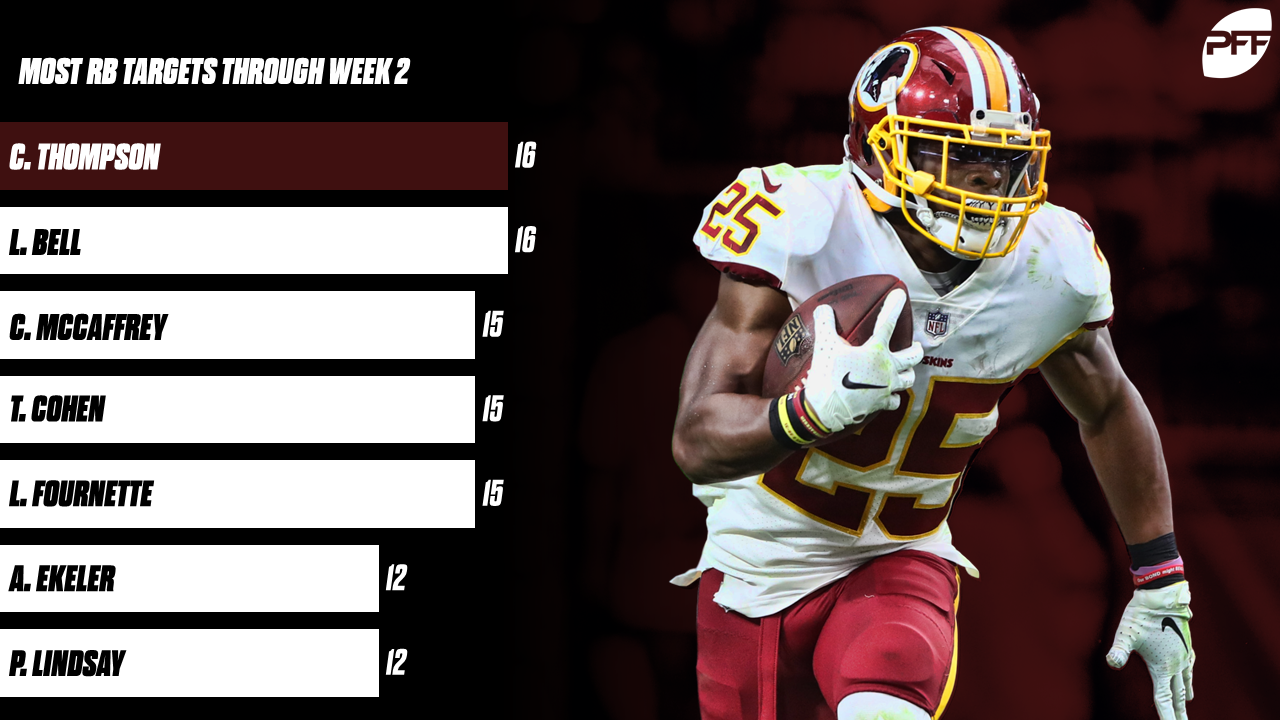 Chris Thompson, RB, Washington: Bell is tied for the league lead in running back targets, with 16. Christian McCaffrey and Tarik Cohen are right behind, at 15. Those are all very expected names. Thompson, though, is up there tied with Bell. He leads the league in RB targets and is second behind Austin Ekeler in RB receiving yardage. We know he's a pass-catching specialist, but he's had massive work through two weeks. And with the Bears likely to bottle up Adrian Peterson and the running game, this could be another Thompson week.
Mike Evans, WR, Tampa Bay Buccaneers: Evans' worst single-season catch percentage came in his second year, when he caught 50.7% of his targets. Last year he reached a career-high at 63.7%. Through two games this year? That percentage is at 46.2. His average depth of target (17.8 yards) is the deepest of his career, but not by much — it was 16.5 last year. He's due for a rebound.
J.J. Arcega-Whiteside, WR, Philadelphia Eagles: Suddenly, Arcega-Whiteside is the No. 2 receiver in the Eagles offense, and he could argue for No. 1 status. He was the No. 3 receiver in all of preseason on a per-game basis, including an eight-catch, 104-yard game in Week 3 (ostensibly dress-rehearsal week) that included a touchdown and an 89.0 overall PFF game grade.
Richie James Jr., WR, San Francisco 49ers: James only has six targets through two games, but five of them have come on his team-leading 25 slot routes (Marquise Goodwin is second at 14). The Steelers have allowed a worst-in-the-league 31 receptions, 435 yards, and (tied for the worst) 4 touchdowns to the slot, with opponents producing a 154.1 passing rating on slot targets. Minkah Fitzpatrick should help that, but after only a few days with the team, his impact might not be felt yet.
Bennie Fowler, WR, New York Giants: Fowler saw more targets (9) than even Evan Engram (8) in Week 2. Part of that was of course because Sterling Shepard was out, and he might be back for Week 3, but still, Fowler had a rapport with new starter Daniel Jones in the preseason, and that could work in his favor.
Devin Smith, WR, Dallas Cowboys: Here's a name I didn't expect to write much this year. After two torn ACLs, zero games in 2017-2018, and only 10 career receptions since entering the league in 2015, Smith was not on anyone's radar. But he caught all three of his targets in Week 2 for 74 yards and a touchdown, should now see a big spike in playing time with Michael Gallup shelved, and obviously has the easiest possible opponent in the Dolphins, who are liable to stick Xavien Howard on Amari Cooper.
Greg Olsen, TE, Carolina Panthers: The Panthers and Cardinals have averaged the fourth- and fifth-most offensive plays per game, respectively, so far this year, averaging 136.5 between them. This game should have an incredible pace, and with Olsen sitting at fourth among tight ends in yards so far and facing a Cardinals defense that has allowed 65 yards more to the position than any other team so far, it shouldn't actually matter who plays quarterback for the team this week.
Demetrius Harris, TE, Cleveland Browns: If you're scraping the bottom of the barrel, Harris could be in store for a big workload in Week 3, given David Njoku's absence. And with how good the Rams have been against wide receivers, tight end might be the way the Browns need to attack them.
Week 3 fantasy football busts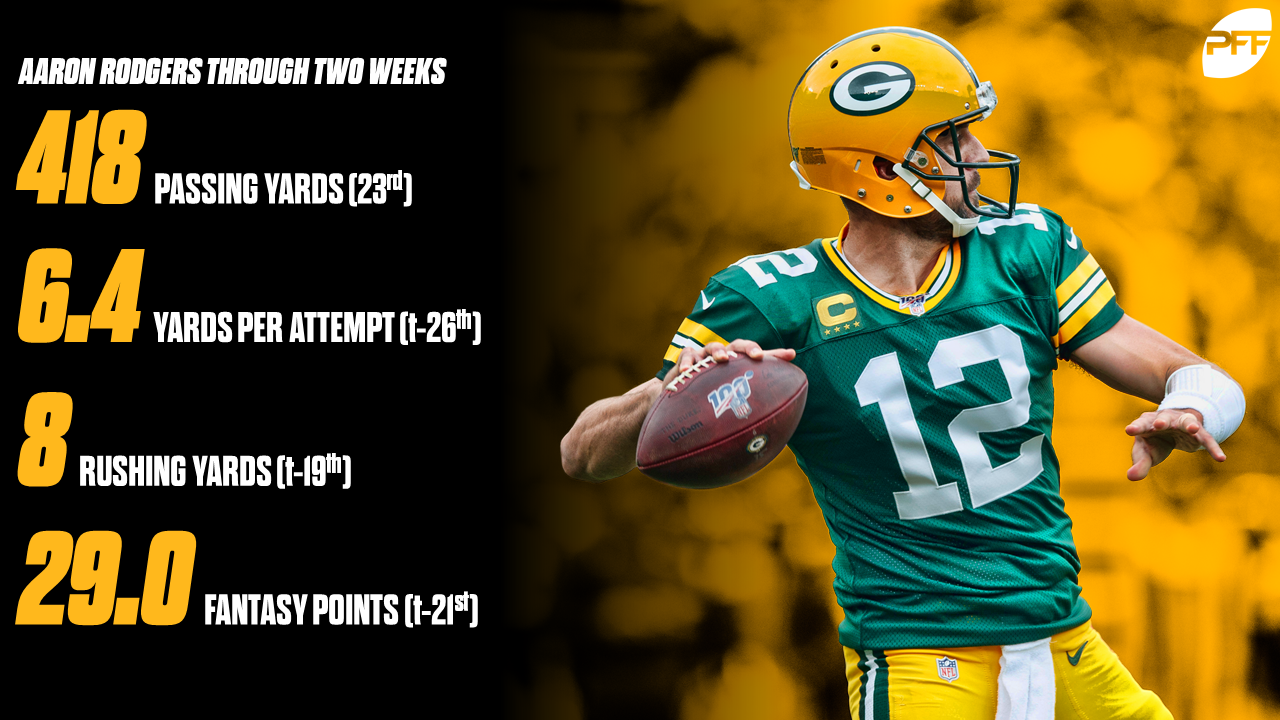 Aaron Rodgers, QB, Green Bay Packers: The Packers are 2-0. That's good. They're averaging 15.5 points and Rodgers is averaging 209 passing yards. He's run for 8 yards in two games. His fantasy numbers will improve, but his upside is definitely lower than it's been in a long time.
Carson Wentz, QB, Philadelphia Eagles: The biggest appeal of the Eagles entering the year was their incredible depth. Two weeks later, that depth has proven to be essential, as the team could play Sunday without Alshon Jeffery, DeSean Jackson, and Dallas Goedert. Can Wentz lift the play of the next-man-up crew he'll be dealing with? Maybe! But his floor is lower now.
Saquon Barkley, RB, New York Giants: Obviously, Barkley is still an RB1. You'd have to lop off a leg to knock him much below that. But until the Buccaneers' new-look defense allows a running back to put up big numbers (they've held Christian McCaffrey and the 49ers backfield to minimal production so far), you have to at least have your ears up.
Chris Carson, RB, Seattle Seahawks: Carson tied for the fourth-most RB fumbles on carries last year with three. He already has two this year through two games — the only back who can say that. Rashaad Penny nearly doubled his personal snap load from Week 1 to Week 2 (14 to 25) and put up 5.3 yards after contact per carry. If Carson can't improve his ball control in a hurry, he might lose his workhorse gig.
Devonta Freeman, RB, Atlanta Falcons: I took grief on Twitter this week for listing Freeman as one of the players to drop so far. And even if I was wrong on that (I don't believe I was), he's definitely done nothing to show he needs to be in fantasy lineups, totaling 95 scrimmage yards across two games. Add to that the fact that they're facing a Colts team that hasn't allowed a 100-yard rusher in more than a year (Week 15 of 2017 was the last time), and Freeman's a clear bench.
Odell Beckham Jr., WR, Cleveland Browns: I hope I'm wrong here, having just traded for Beckham in my home league, but it's going to be a daunting week. The Rams have only allowed one hundred-yard game (Alshon Jeffery in Week 15) and two touchdowns (Kendrick Bourne and Richie James Jr. in Week 17) two wide receivers since their Week 12 bye week last year, which (coincidentally I'm sure) coincides with Aqib Talib's return to the lineup.
Adam Thielen/Stefon Diggs, WRs, Minnesota Vikings: Kirk Cousins was fine in Week 1, with a 140.8 passer rating, but that was on 10 pass attempts. In Week 2, he had to throw more, and it resulted in a 53.3 passer rating, a league-worst (by a lot) 27.6 PFF passing grade. Neither of those is a recipe for a receiver to have a big game. Diggs and Thielen each have one touchdown, but they've barely reached 200 yards across both game and both players combined. Things need to get better in Minnesota.
Geronimo Allison, WR, Green Bay Packers: Don't be fooled by Allison's Week 2 touchdown; he still only played 31 snaps Sunday, half as many as Marquez Valdes-Scantling. Allison's on the slot for Green Bay, against a Denver defense that has been one of the league's best at defending the slot so far. Don't invest.
Jared Cook, TE, New Orleans Saints: Michael Thomas and Alvin Kamara should be fine with Teddy Bridgewater as the Saints' new starting quarterback, but I'm worried about the next tier of Saints weapons, starting with Cook. He only has 4 receptions and 62 scoreless yards through his first two games in New Orleans to begin with.