A key decision to make in fantasy football each week is who to add on the waiver wire. Naturally, that means an equally key decision is who to drop. Roster space is a finite resource, so when you want to add that new key player, someone's gotta go.
Every other week in this space, I'm going to break down players worth dropping. Sometimes it's a player who should be dropped, while others are just players who can be dropped in a pinch. I'll run through the list in order of ownership percentage on Yahoo as of Monday morning.
(99% rostered)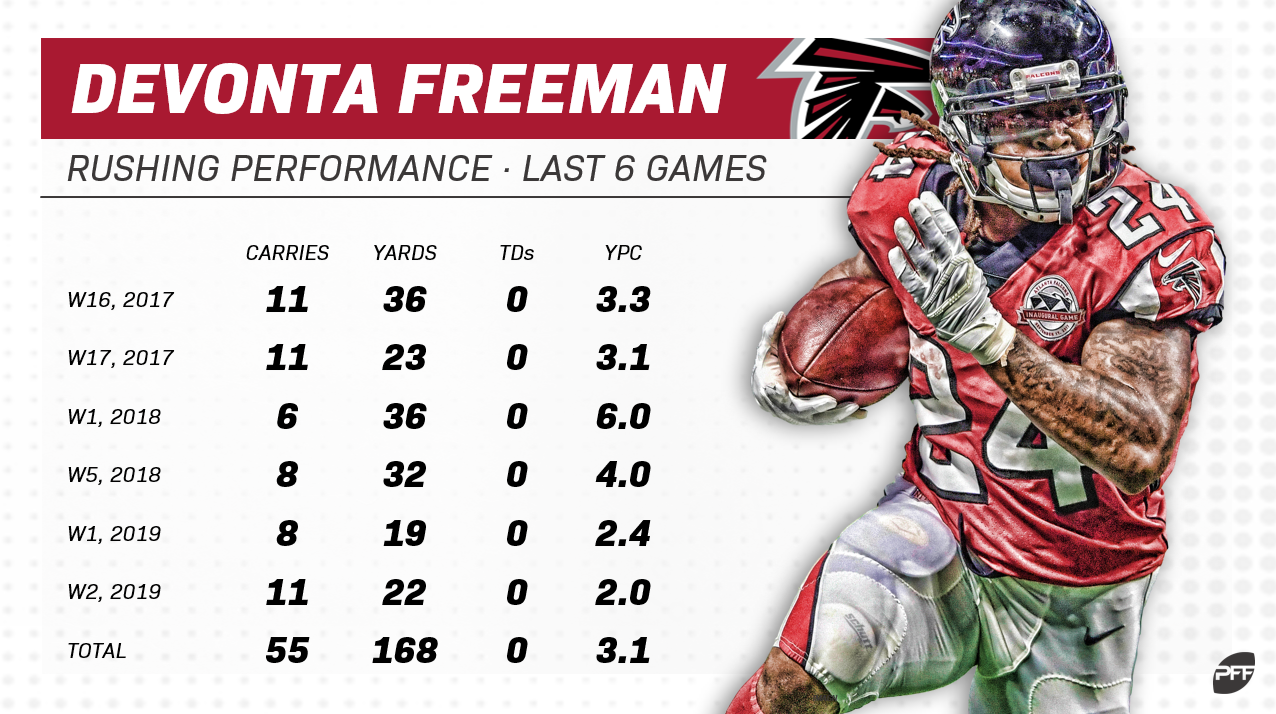 Freeman is almost to 100 yards … from scrimmage … after two weeks. He has 19 carries for 41 yards and 6 receptions for 54, and the majority of his receiving work came on one 28-yard catch-and-run Sunday. He's averaging 2.2 yards per carry, while backfieldmate Ito Smith is average 6.3 yards on 10 carries. Obviously, Freeman's theoretical upside means he isn't a must­-drop, but he's also on a six-game stretch in the regular season (dating back to Week 15 2017) without even 40 rushing yards. In a shallow league, I have no issue dumping Freeman.
(68% rostered)
Davis was one of my favorite breakout picks entering the season, and while I'm not completely bailing on that prediction, I have one foot out the door. After a zero-catch Week 1, Davis bounced back in Week 2 with … three catches and 38 yards. Pace checks after two weeks are silly, but he's currently on pace for a 24-catch, 64-target, 304-yard third year in the league. A breakout still wouldn't totally shock me, but I'm comfortable moving on.
(Ebron 63% rostered; Doyle 22% rostered)
Ebron and Doyle have now combined for seven catches, 74 yards, and a score through two weeks. That would be questionable for a single tight end, but for a duo, it's just untenable. The Colts passing offense hasn't been much under Jacoby Brissett so far, especially once you get past T.Y. Hilton, and even the fact that Ebron found the end zone Sunday isn't enough to inspire confidence in a two-headed tight end tandem. Feel free to move on from either guy.
(56% rostered)
Cousins' problem in Week 1 was a lack of volume. He managed a 140.8 passer rating, but that was on only 10 attempts and offered only 98 yards. In Week 2, volume wasn't an issue — he attempted 32 passes — but he was terrible on those attempts. Cousins had one touchdown compared to two interceptions, completed less than half of his passes (14 of 32), and had only a 52.9 passer rating. Better days will be ahead, but even then, he's a middling QB2 option, not someone who has to be rostered.
(53% rostered)
As I mentioned in the "what we learned in Week 2" piece Monday, Trubisky isn't only someone I'm comfortable with dropping, he's someone I think needs to be dropped in all but the deepest leagues. He's averaging 4.8 yards per attempt through two weeks. For comparison, Josh McCown was the only quarterback last year to attempt at least 100 passes and average under 5.0 yards per attempt, at 4.9. Only McCown, Cody Kessler, Jeff Driskel, and Josh Rosen averaged under 6.0. Combine Trubisky's ridiculously inefficient passing with only 19 rushing yards, and he has no business in fantasy lineups.
(47% rostered)
I bought into Moncrief's preseason hype, because even if he wasn't a great player, he looked like he'd have the No. 2 role in an offense that has been strong through the air for a generation now. And that all would have been fine if Moncrief had been normal-bad instead of worst-receiver-in-the-league bad. After the lowest receiver grade in the league in Week 1, Moncrief had one target Sunday … that bounced off his hands and became an interception. He's fallen out of the Steelers' good graces, and he has no business being rostered in any fantasy league. The news of Ben Roethlisberger's season-ending injury means no Steelers receiver other than JuJu Smith-Schuster must be rostered, but Moncrief is especially drop-worthy.
(37% rostered)
Two weeks into the season, Pettis now has 37 snaps played and 1 target. Deebo Samuel is the 49ers' top receiver (plus George Kittle, of course). Marquise Goodwin has a defined role. Trent Taylor will be back soon. Pettis isn't worth rostering in any redraft league.
(23% rostered)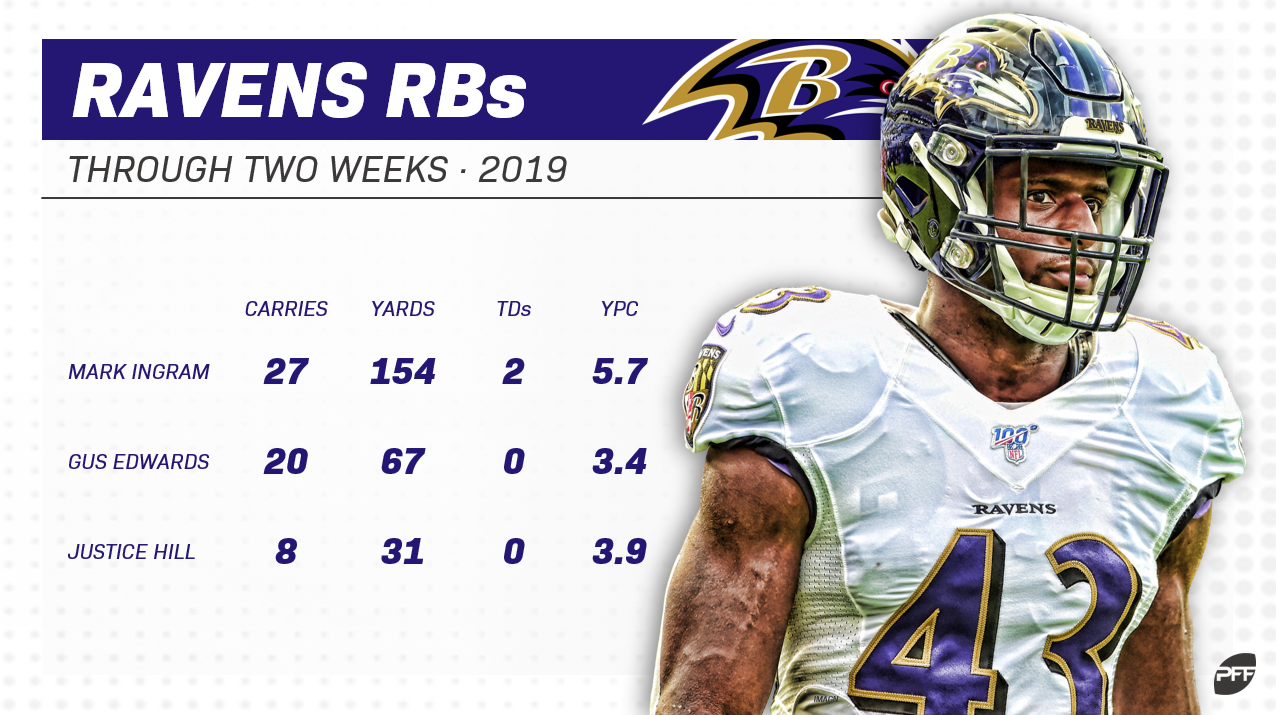 Hill garnered plenty of preseason buzz, but through two weeks, it's clearly Mark Ingram's job, and Gus Edwards has been the also-clear No. 2 — Ingram has 27 carries through two weeks, Edwards has 20, and Hill has only 8. And with Lamar Jackson showing his rushing bona fides as well on Sunday, there just isn't likely to be enough work for Hill to return value unless and until there is an injury in Baltimore.
(14% rostered)
Harris was intriguing in the offseason when we had to worry about Sony Michel's knee and thought he'd get goal-line looks and other opportunities. Instead, he's been inactive both weeks, Michel's knee looks fine, and Rex Burkhead is getting play. Harris might be a handcuff, but even if Michel goes down, we'll see enough of Burkhead that it's hard to imagine Harris being worth stashing even as a just-in-case option.
Kenyan Drake, Preston Williams, Albert Wilson, and even Kalen Ballage might have enough talent in the right situation, but if every there were the wrong situation, it's what is happening in Miami. The Dolphins have 384 yards of offense through two weeks. Patrick Mahomes had 349 yards in just the first half on Sunday. If you want to hold on to Drake on the chance he gets dealt somewhere, that's not the end of the world, but otherwise I'm not even bothering with this team.