The New York Giants are very much a team in transition heading into the 2020 season. Pat Shumur is out at head coach, and the Giants picked his successor from Bill Belichick's coaching tree in Joe Judge. The Giants will also enter the season without Eli Manning on the roster for the first time since 2003. Let's take a look at what our initial 2020 fantasy football projections have to say about this year's version of the Giants.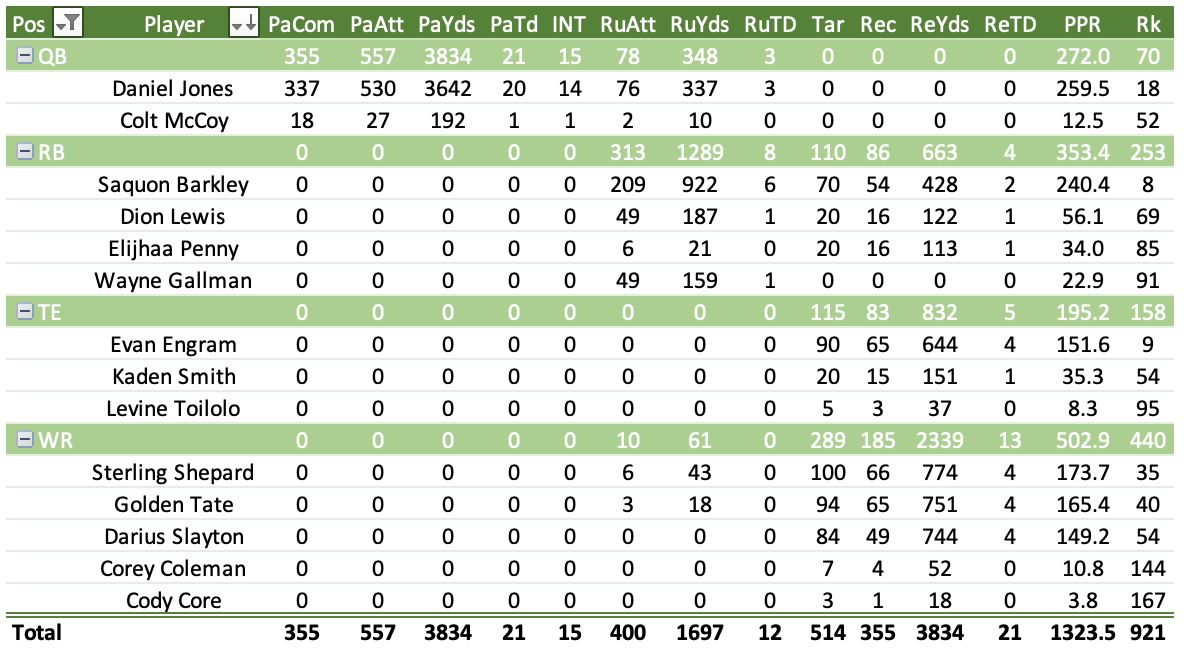 Last season wasn't kind to Saquon Barkley, as an early-season high ankle sprain cost him three games. Barkley really didn't look right again until the end of the season, which was likely too late for fantasy owners who almost certainly selected him as the top pick in redraft leagues. Barkley finished a disappointing seventh among running backs in fantasy points per game. 
Our projections don't expect an improvement from Barkley heading into this season. While ranking eighth isn't anything to get upset over, I know many fantasy players and Giants fans will take umbrage with this projection. Barkley is unquestionably one of the league's premier running backs and is currently coming off the board No. 2 overall in early ADP. He slots in at that exact same spot in our 2020 fantasy football rankings. 
But remember that projections account for a wide range of outcomes, a number of which may not be optimal for Barkley's fantasy stock. The Giants are coming off a rough season and have an unproven commodity taking over their head coaching duties in Judge. The team also has a bottom-12 defense in PFF grades from last season. Given all of these reasons, it's completely fair for the numbers to paint a conservative picture for Barkley. But the beauty to rankings is that we can account for things like fantasy ceiling, and our current number has this factored in for Barkley.
Daniel Jones flashed major fantasy upside as a rookie, but he was also horribly inconsistent. He was a top-2 fantasy quarterback four times (in Weeks 3, 8, 10 and 16) but finished outside the top 15 a whopping six times (in Weeks 4, 5, 6, 7, 9 and 13). That's the definition of a hit-or-miss fantasy option right there. And we have to keep that in mind for Jones this year. His projections show a reasonably optimistic outlook as the No. 18 quarterback, but it will likely be another bumpy ride. Still, Jones' ceiling makes him an intriguing later-round option.
It's going to be tough to find a horse to bet on in the Giants wide receiver stable. Sterling Shepard, Golden Tate and Darius Slayton all project as top-60 options, but the trio unfortunately figures to cannibalize off each other. This isn't a bad problem to have for Jones, but for fantasy purposes it could lead to some headaches. 
The good news is that we won't have to worry about that issue with Evan Engram. The young tight end figures to be heavily involved in the passing game with a nearly identical target share to Tate. Of course, the problem with Engram is his health. He's missed 14 games over his first three professional seasons, but injury concerns seem to be baked into his current ADP. Early drafters are selecting Engram as the eighth tight end off the board, which aligns well with our current projection. 
[Find the full collection of analysis and insights on PFF's 2020 fantasy football projections for all 32 NFL teams. Check back as more articles will be added each day.]