The San Francisco 49ers' running back situation has been in flux over the last 48 hours. Third-round pick Trey Sermon was expected to be the primary backup this season, but he was surprisingly tagged as a healthy scratch in Week 1. Raheem Mostert started the game for the 49ers but tore knee cartilage after four snaps and missed the rest of the game. Mostert announced on Tuesday he would have season-ending surgery.
Sixth-round rookie Elijah Mitchell was the next man up and one of just five running backs to reach the 100-yard rushing mark on Sunday. He is the most intriguing running back option among the waiver wire targets, but that doesn't necessarily mean it's worth spending a lot of FAB to pick him up.

Click here for more PFF tools:
Rankings & Projections | WR/CB Matchup Chart | NFL & NCAA Betting Dashboards | NFL Player Props tool | NFL & NCAA Power Rankings
Evaluating Elijah Mitchell's Week 1 performance
Mitchell's raw stats looked impressive with 104 yards on 19 carries and a touchdown. Rushing success has a lot to do with the offensive line, and that was especially true with Mitchell's performance. The team had the fifth-highest PFF run-blocking grade as a team led by future Hall of Fame left tackle Trent Williams. Mitchell averaged 1.6 yards before first contact per attempt and benefited from wide-open holes on several of his big runs. While he made some worthwhile moves after breaking into open space, such efforts are expected from NFL backs.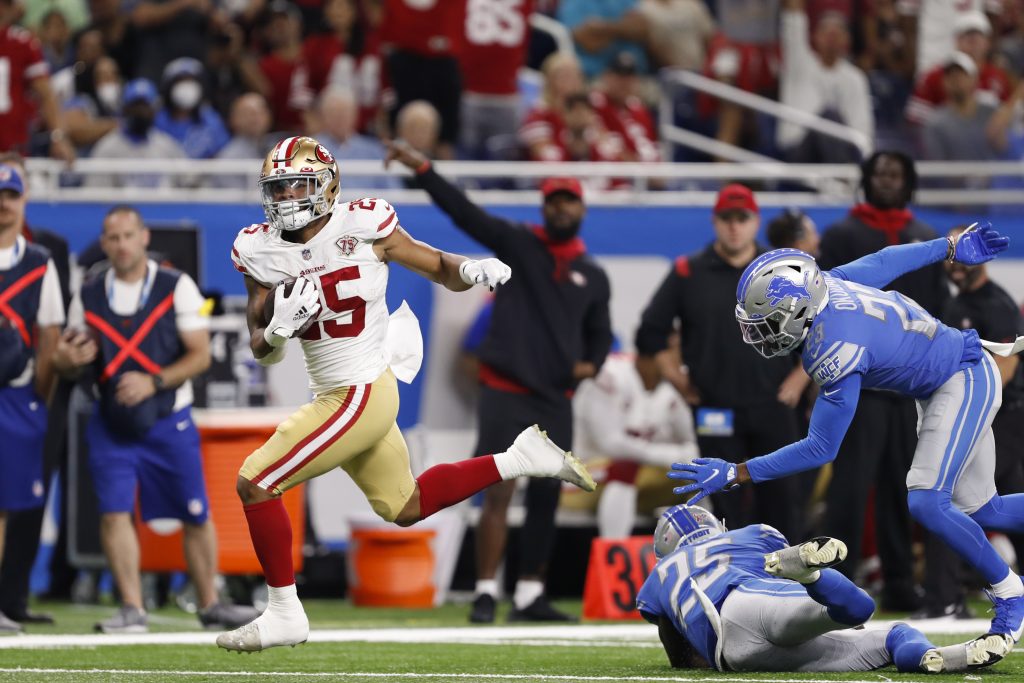 Mitchell earned an average PFF grade because on the majority of runs he did exactly what was expected of him given the situation. We have seen time and time again relatively unknown running backs play in the Shanahan offense and find fantasy success. Mitchell is the latest running back to benefit from the situation.
As long as Mitchell is the starting running back for the 49ers seeing the vast majority of the carries, he's a starter for fantasy football teams. The question becomes how long can he maintain the starting job.
How long will Mitchell start?
We can pretty safely assume Mitchell will be the starter this upcoming week, where he should be in fantasy starting lineups against the Philadelphia Eagles. He might not receive many starts after that point.
Mostert is out eight weeks, but Jeff Wilson Jr. is expected to return from injury in late October. He is on the PUP list with a torn meniscus, so he will miss the next five weeks and is on schedule to be back at that point or shortly thereafter. Wilson received a 73.9 PFF rushing grade last year and would be an upgrade over Mitchell. Wilson is worth a waiver-wire pickup in leagues with deeper benches, as he is likely to be heavily involved the second half of the season.
Over these next five weeks, Mitchell will need to hold off JaMycal Hasty and the rookie Sermon. Hasty, a 2020 undrafted free agent of Baylor, played a receiving back role while Mitchell took the carries, and that part will likely continue. The concern is if Sermon can take over as the starter or even take half of the carries.
Sermon played ahead of Mitchell throughout the preseason, and their performances were comparable. Sermon did something to get on the coaches' bad side to end up inactive in this game, but he could get back on their good side very quickly given the onslaught of injuries.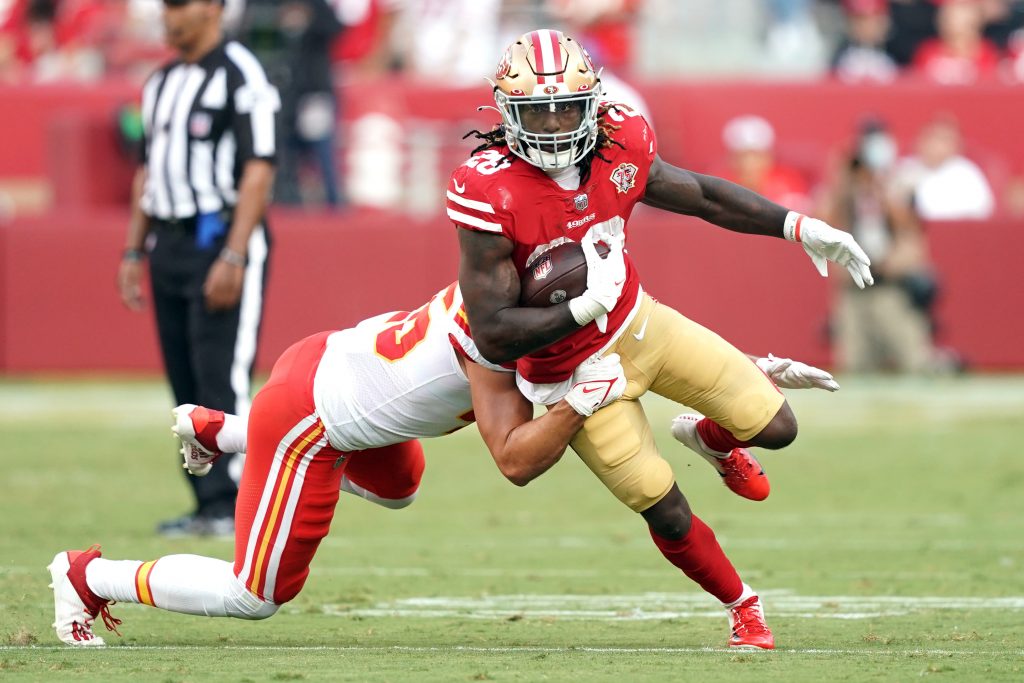 Second-year wide receiver Brandon Aiyuk could also potentially be on the 49ers' bad side after not starting Week 1. The coaches said it was injury-related but then also put him back to return punts. We might not know the real reason why San Francisco is making the decisions they are. It could be something where these players remain backups the rest of the season, or they could get worked in next week.
Sermon ranked much higher on our 2021 NFL Draft board heading into the draft, and the 49ers traded up to pick him. It would not be surprising if Sermon plays a few snaps in Week 2 and slowly takes more and more of Mitchell's playing time.
It's also possible the 49ers try to add a free agent to help. The Ravens added several of the intriguing names, but it would be fitting for Frank Gore's last few games to come in a 49ers uniform.
It was announced that Kerryon Johnson would get signed to the practice squad shortly after the Mostert news was announced. The former second-round pick by the Detroit Lions has a chance to be added to the active roster. He was among the top pass-blocking running backs last season and can also contribute as a receiver out of the backfield. His presence on the practice squad or active roster wouldn't have a major impact on the fantasy value of the other San Francisco running backs, though.
If you are in a league that just uses waivers, then definitely make a claim to pick Mitchell because it's a low-risk situation where he can provide fantasy value in Week 2. In a league with FAAB, it's better to let someone else overpay for him and take advantage of an injury situation that lasts longer and with a more stable backup situation. It can't hurt to put a small bid in for him in case everyone else is thinking the same thing.
Similarly, if you have space on your roster for Wilson or can stash him on injured reserve, then he is the better long-term play.