I wrote fantasy football sleepers and busts articles for the running backs I expect to have dramatically different fantasy value in 2018 than the consensus opinion. But the combination of Rushing and Receiving Yards Added can paint a pretty clear picture of a back's strengths and weaknesses and help evaluate his aptitude for specific offensive roles. Teams tend to get those roles right for most of their players, but I think there is a handful of backs whose efficiency or inefficiency makes them strong candidates for a role change that could have a subtle but important impact on their fantasy prospects next season.
The following chart shows every back who carried the ball at least 50 times last season. It is sorted from highest to lowest on target percentage, which is the ratio of targets to total opportunities (targets + carries). Receiving backs tend to be high on the chart, have low Rushing Yards Added totals, and have high Receiving Yards Added totals. Early-down backs tend to be low on the chart, have high Rushing Yards Added totals, and have low Receiving Yards Added totals. When there is a mismatch between a back's target percentage and his Yards Added breakdown, then that is a clue that he may not have the right role for his skill set.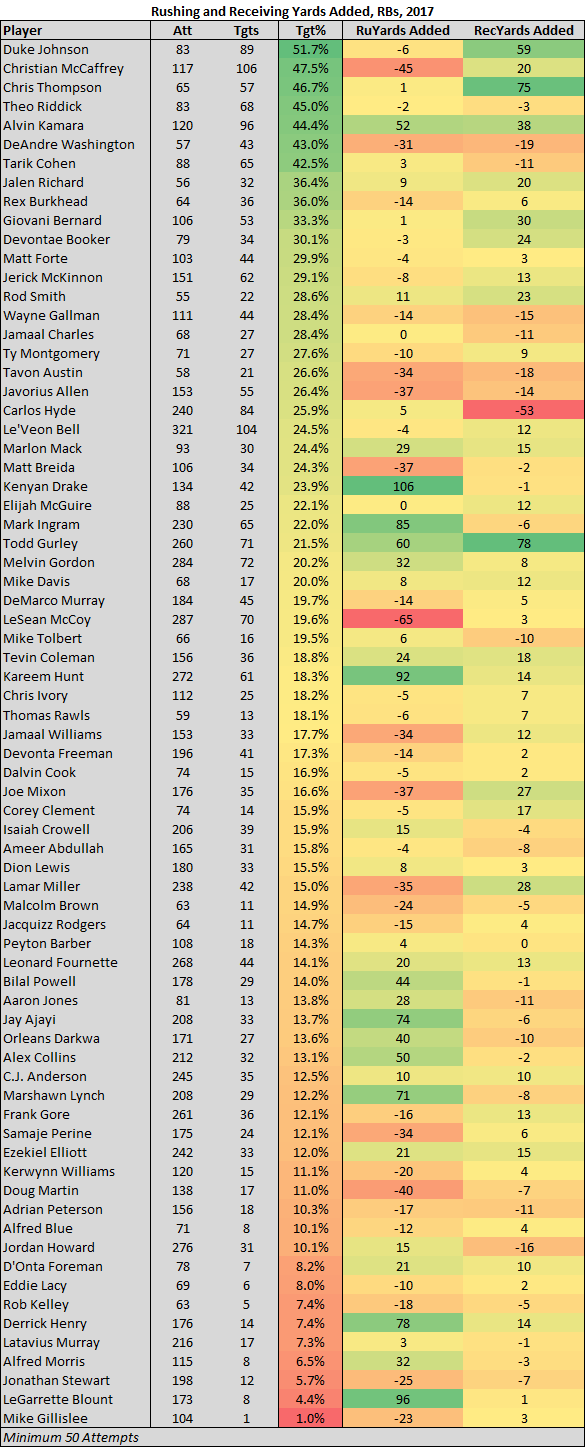 Better served as an early-down back
Hyde saw the fifth-most targets among running backs in 2017, but he had abysmal performance with them with -59 Yards Added. The 49ers may not have had a better third-down option, but the Browns do in Duke Johnson, and so Hyde will likely fall into a defined early-down role. That could cut his receptions to a third of his total of 59 from last season, so downgrade him accordingly.