For much of fantasy football fandom, the term sleeper is practically synonymous with rookie at the running back position. But for every Kareem Hunt or Alvin Kamara that bursts onto the fantasy scene in his freshman year in the pros, there is a Dion Lewis or Alex Collins who overcomes a much more circuitous career trajectory to put up fantasy numbers. Because many of those veterans have stop-and-start careers before their breakouts, Yards Added provides a perfect tool to judge their fantasy sleeper potential. Here are nine such veteran backs I think could surprise in fantasy in 2018.
(For my look at backs potentially going the other way, check Wednesday's piece.)
Potential timeshare reversals
Tevin Coleman, Atlanta Falcons (24)
Devonta Freeman has been the clear No. 1 back in Atlanta over the last two seasons, besting Coleman in carries, receptions, and touchdowns each year. With four years left on the contract he signed before the start of last season, Freeman will be expected to maintain the status quo for several more seasons. However, in 2017, the players started to diverge in running efficiency, with Coleman building to about 20 Yards Added per 16 games by the end of the year and Freeman falling to close to -20 Yards Added per 16 games.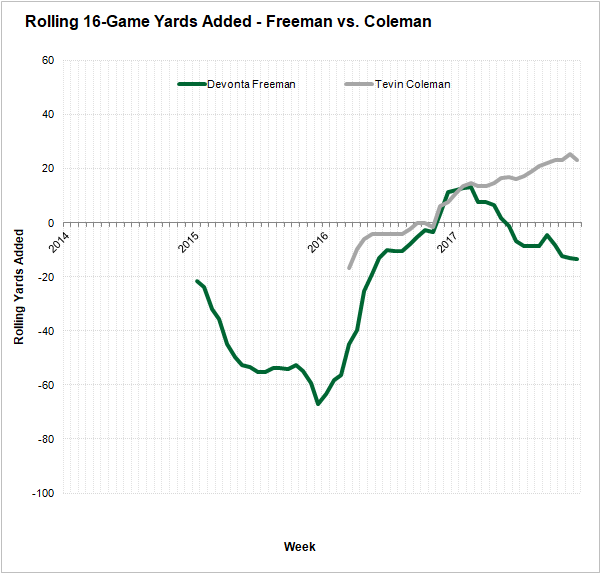 Because Coleman has just one year left on his rookie contract, there is game theory at play that could influence the Falcons' decision-making. But based purely on their play on the field, the team would appear to benefit from shifting the distribution of carries a bit away from Freeman and toward Coleman. And since Coleman has already been a top-25 back the last two seasons with the current workload distribution and also carries massive upside as a Freeman handcuff, there is little to lose and a ton to gain in drafting Coleman in the middle rounds of drafts.