The research from my last two articles suggests my new Rushing Yards Added metric evaluates a rusher's performance considering the difficulty of his attempts and independent of the quality of the run defenses he faces. That makes it an important predictive tool, and I found that backs who perform worse in it consistently earn fewer rushing attempts in subsequent seasons. With that in mind, there are nine big-name or potentially popular sleeper running backs I plan to avoid in my 2018 drafts.
Veterans who hit a wall
LeSean McCoy, Buffalo Bills (-65 Yards Added in 2017)
Despite a handful of plus rushing seasons, McCoy has routinely underperformed the expectations on the difficulty of his carries in his career. To date, that has seldom stopped him from being an effective fantasy player. I think 2018 could be a different story. Although his total of -65 Yards Added in 2017 wasn't much worse than his totals in 2014 (-60) and 2015 (-62), this one comes off one of his best season in 2016 when he added 27 yards as a rusher. Now that McCoy will enter a season on the wrong side of 30, coaches will start to look for a decline in his performance. And at least from 2016 to 2017, they will find one.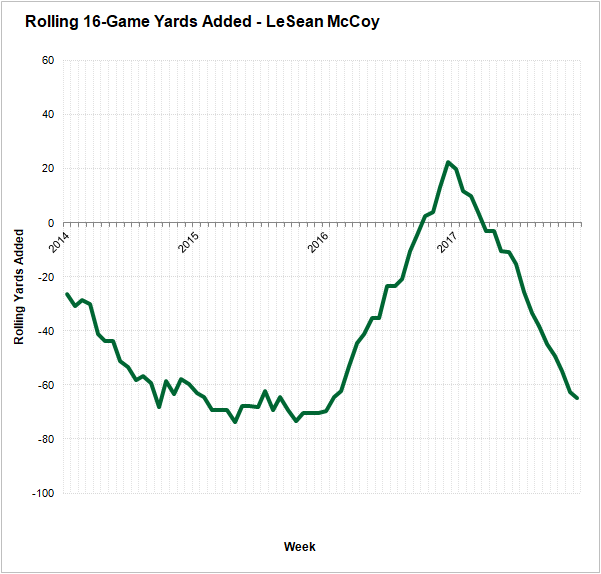 McCoy continued to be a positive contributor as a receiver last season, and his skill set could help him age gracefully despite his incredible career workload. Still, don't be surprised if the Bills add a back in the draft or if free agent Chris Ivory helps cut McCoy's total number of carries to 200 or fewer.