On Thursday, we took a look at the fantasy football options getting the most help from their offensive lines. For a running back, getting plenty of yards before contact just means you have that much less work to do. So today, we're flipping that around.
This is a look at the running backs with at least 50 carries in 2018 who got the least help from their offensive lines. For these players, rushing success was more of an individual feat, getting hit earlier than most of their peers.
Players who get the least help from their lines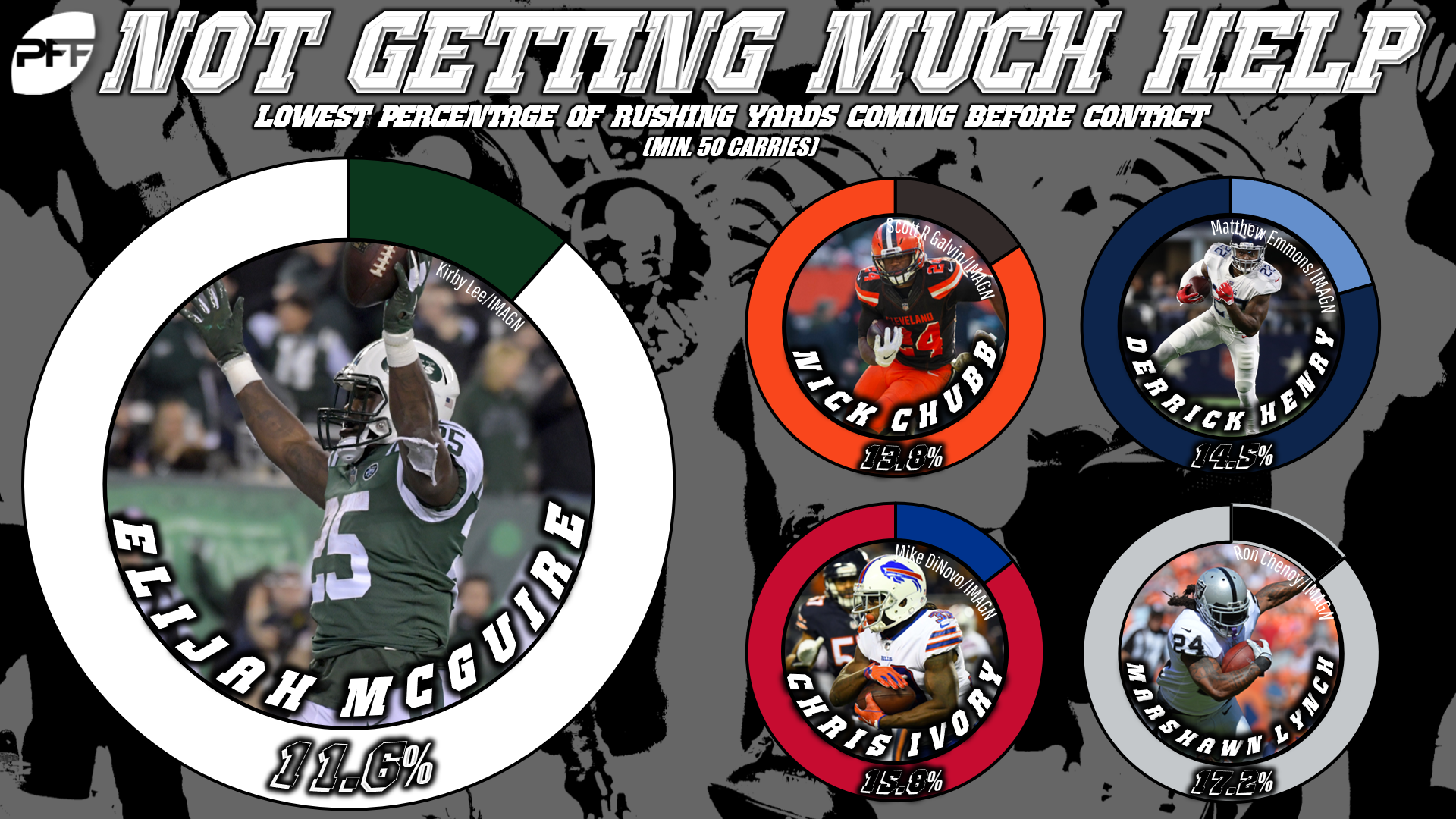 (3.07 yards per carry; 0.36 before contact, 2.71 after contact)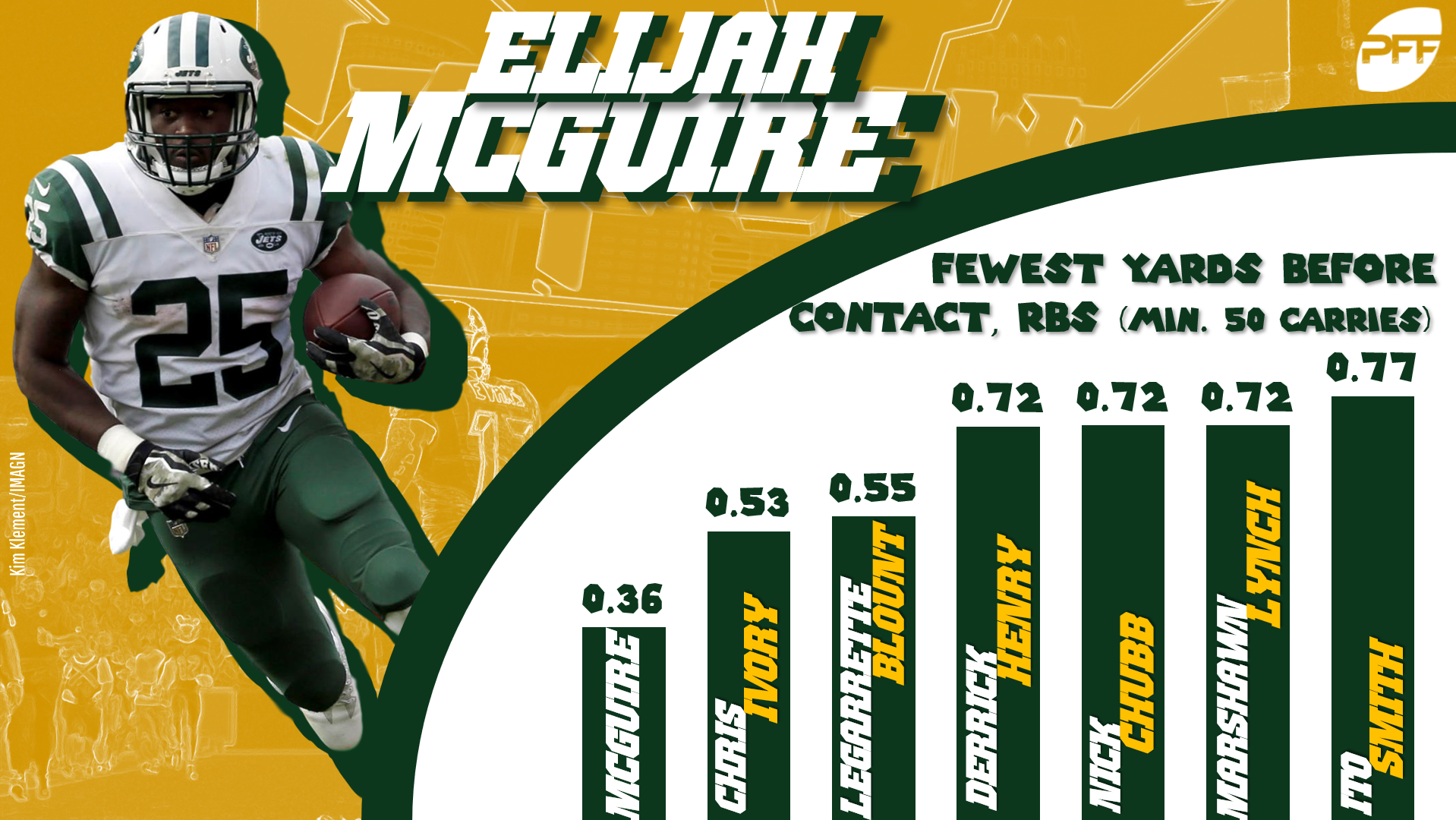 McGuire himself isn't that notable a fantasy option; there's every chance Isaiah Crowell or a new arrival takes the Jets starting gig in 2019 and he's relegated to a backup — and fantasy-irrelevant — role. But that 0.36 number stands out. The second-fewest yards before contact any running back accumulated in 2018 was 0.53, for Chris Ivory. McGuire's 0.36 was nearly one-third worse than that.
The Jets' line was bad in 2018, finishing the year 25th in our O-line rankings, and it actually got worse as the season went on. McGuire's two games with the heaviest workloads — 56 snaps in Week 15, 51 in Week 16 — were also the two games in which the Jets put up their worst run-blocking grades — 43.1 and 44.9. I guess my point is, poor Elijah McGuire.
(5.19 yards per carry; 0.72 before contact, 4.47 after contact)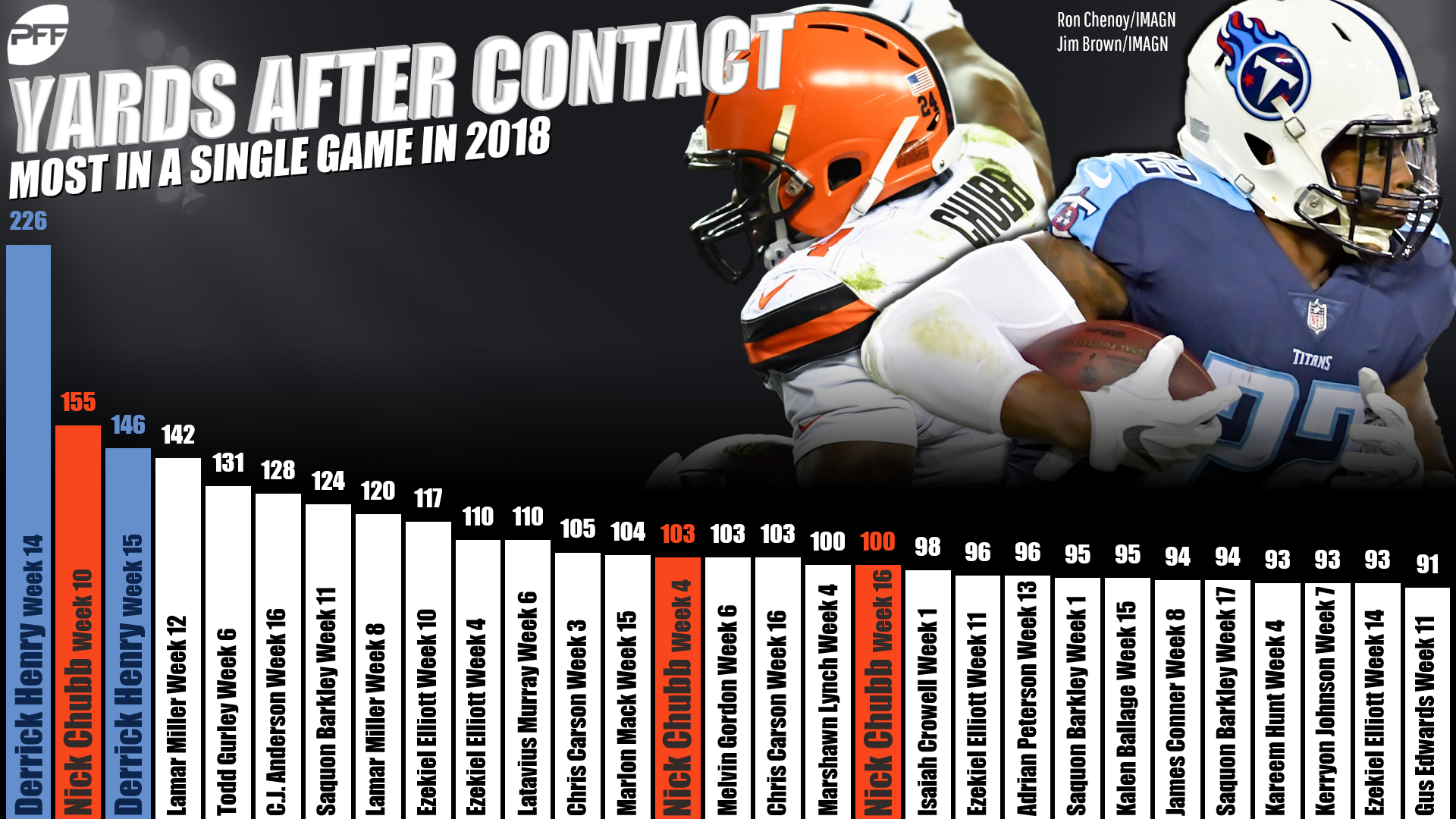 It's easy to forget Week 4, because it was so long ago, but that was the week Chubb got all of three carries … and went for 105 yards and two touchdowns. Even better, of his 105 yards, 103 came after contact. Take out that week, and for the year, his numbers start to look less insane — the before-contact average is still 0.72, but his after-contact average drops to 4.00. Regardless, Chubb was a very impressive runner in 2018 despite an offensive line that was excellent as a pass-blocking unit (third-highest PFF grade of 85.9) but struggled blocking the run (59.3).
There's reason to think the unit should be at least a little better blocking for the run in 2019, if only because the group is so good at pass-blocking that the run should become the focus. Just from that perspective, Chubb would be an RB1 or close in 2019 with any improvement. The problem, of course, is that he now has Kareem Hunt on the roster to deal with. So Chubb's stock is up in the air while we wait to find out how long Hunt's suspension (assuming one comes down) is expected to last.
(4.93 yards per carry; 0.72 before contact, 4.21 after contact)
Speaking of big games, take out Henry's Week 14/15 extravaganza, and his after-contact average drops from drops to 3.23 yards. In those two weeks, the Titans back had 408 rushing yards on 50 carries, of which 372 came after contact (7.44). He came into Week 14 with a 73.3 overall PFF grade, 25th at the position, but rode his hot end-of-season run to finish at 87.0, behind only Chubb.
For most of the year, Henry was in a platoon (the lesser half for some of that time) with Dion Lewis. As the season wound down, though, Henry took over. He averaged 10.7 carries per game through Week 13, then 21.8 over the last four weeks. Assuming the work breaks down even something like that in 2019, Henry should be a reasonable RB2, though he gets dinged in PPR leagues.
(4.18 yards per carry; 0.72 before contact, 3.46 after contact)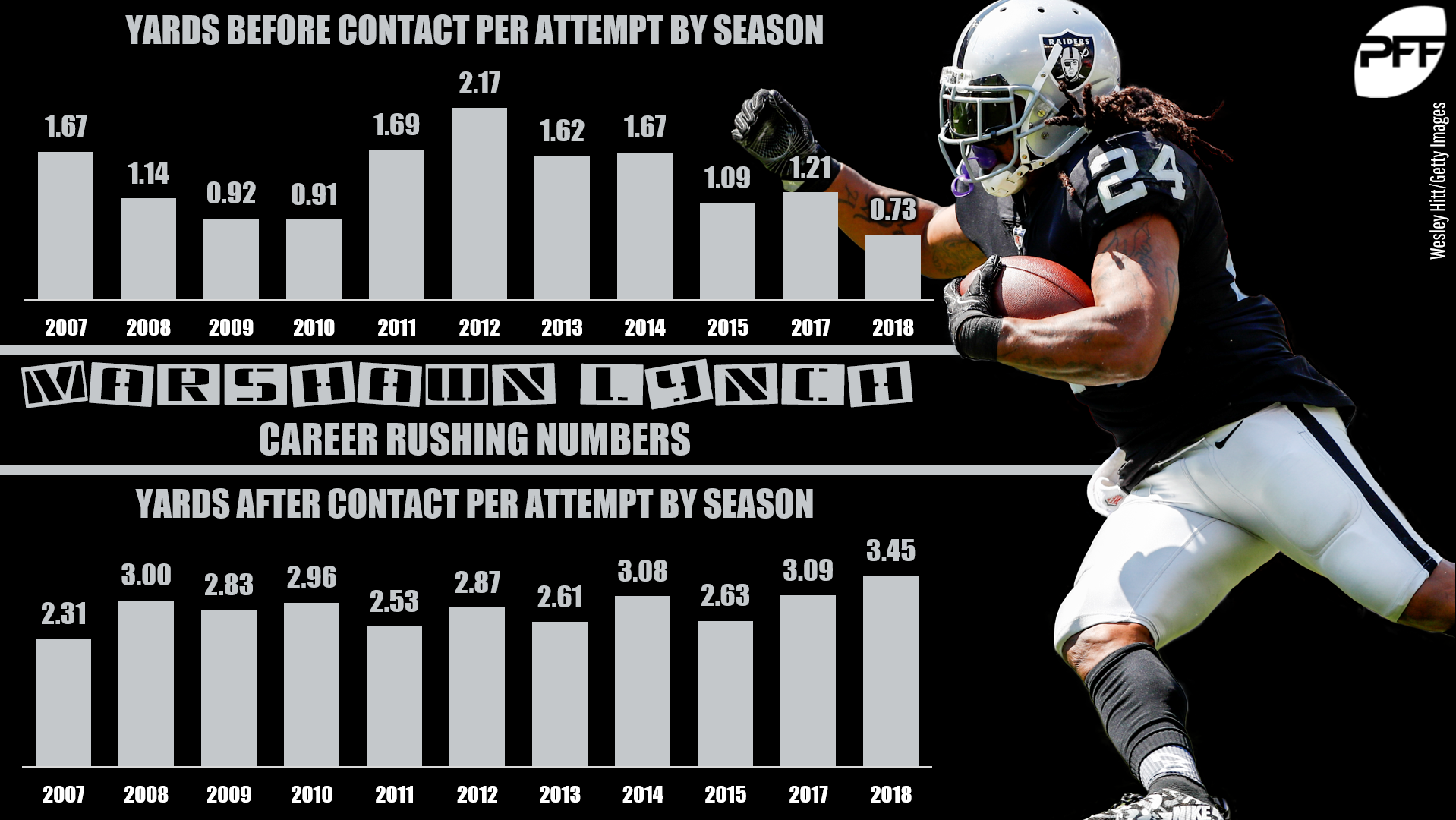 You could make a pretty convincing argument that Lynch is the best tackle-breaker in NFL history, and it shows in his after-contact numbers. Quietly, he actually did the best work after contact of his career in 2018, averaging 3.46 yards after first contact and breaking 0.27 tackles per attempt, his third-best career rate. It was the first time since his last full year in Buffalo in 2009 that he averaged under a yard before contact. Basically, Lynch will be 33 before next season and might never play again, but if he does, and if he's the No. 1 on whatever team signs him, he's an interesting low-end RB2, especially in non-PPR.
Dion Lewis, Tennessee Titans
(3.34 yards per carry; 0.87 before contact, 2.47 after contact)
In 2017, Henry and Lewis tied for fifth at running back with an identical 3.2 yards after contact per attempt. In 2018, those averages were nearly two full yards apart. And that after-contact average for Lewis in New England was good, but his before-contact numbers were much better with the Patriots as well — he averaged just under or over 2.0 yards before contact each of his last two years there before coming in under 1.0 in Tennessee. Lewis will still be an interesting low-end flex in PPR leagues because of his superior pass-catching skills (especially when compared to Henry), but his ceiling now is much lower than it was this time a year ago.
(3.74 yards per carry; 1.00 before contact, 2.74 after contact)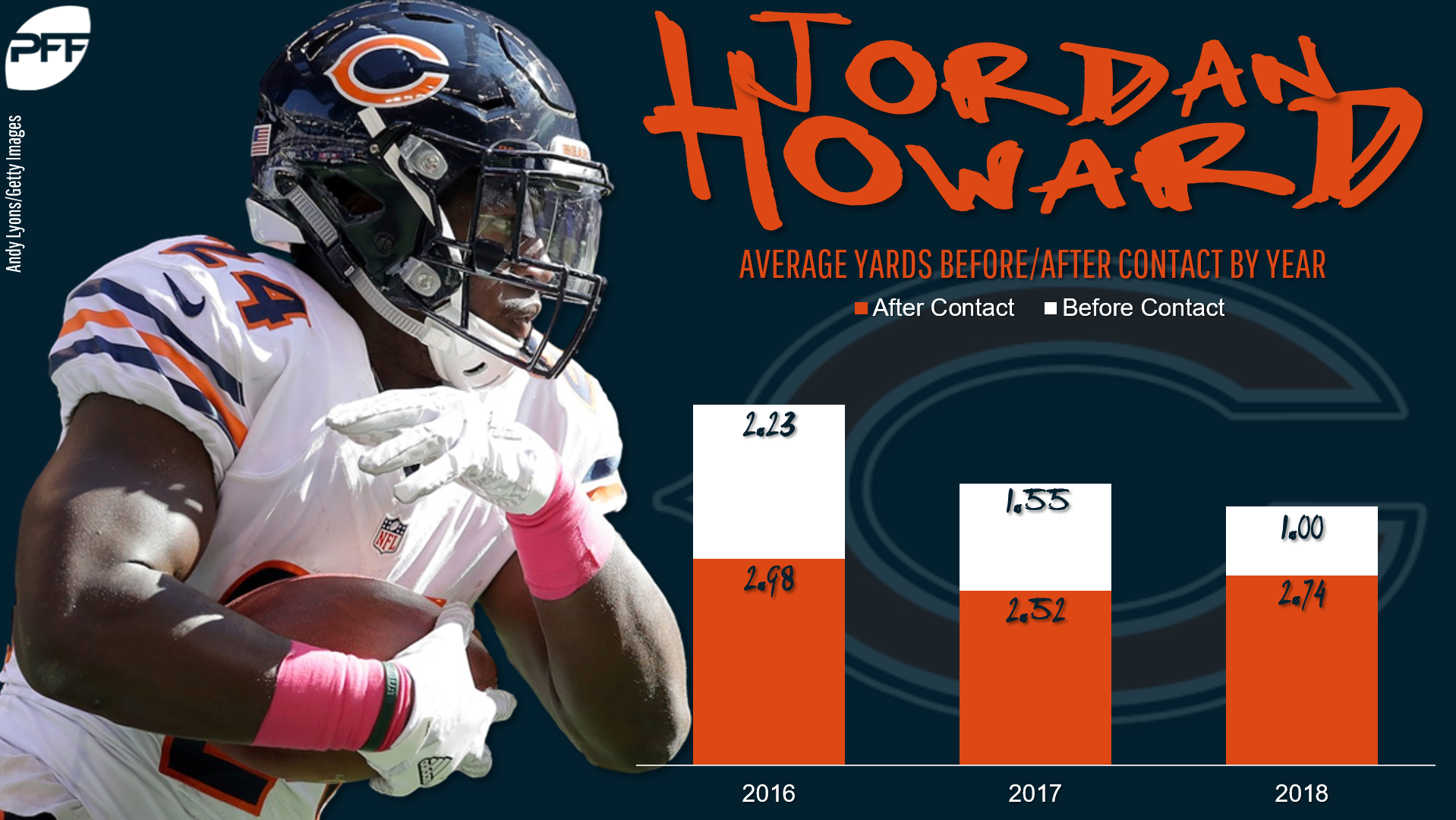 "What has happened to Jordan Howard?" has been a popular question in fantasy circles since his breakout rookie season. And the answer is pretty simple: His line stopped helping him. Howard has been roughly similar after contact in his career (2.98 yards in 2016, 2.52 in 2017, 2.74 in 2018), but before contact, his numbers have been plummeting (2.22 to 1.58 to 1.00). Yes, he's nothing much in the receiving game, and yes, Tarik Cohen is siphoning his work, and yes, Howard is at best a mid-tier back, but he is neither as good as he was in 2016 nor as bad as he looked in 2018.