• Workhorses: Cardinals RB James Conner, 49ers RB Christian McCaffrey, Giants RB Saquon Barkley and Patriots RB Rhamondre Stevenson were the only players at the position to play over 80% of their offense's snaps last week.
• Cozy matchups ahead: Jets RB Zonovan Knight and seemingly Colts RB Zack Moss have the two easiest remaining fantasy schedules in terms of their opponent's PPR points allowed per game to the position.
• Shining at the right time: Chiefs RB Jerick McKinnon is coming off back-to-back overall PPR RB1 finishes and is a must-start option against the Seahawks' 30th-ranked defense in PPR points allowed per game to opposing running backs.
Estimated reading time: 10 minutes

Week 16 is here! It's truly a great day to be great.
What follows is a breakdown of key usage changes at running back from Week 15, followed by answers to some of the week's most pressing questions in terms of injuries, matchups and more.
Finally, you can see where every running back falls in my fantasy ranks. Updated ranks can be found throughout the week on PFF.com as well as the new PFF app.
Week 15 running back usage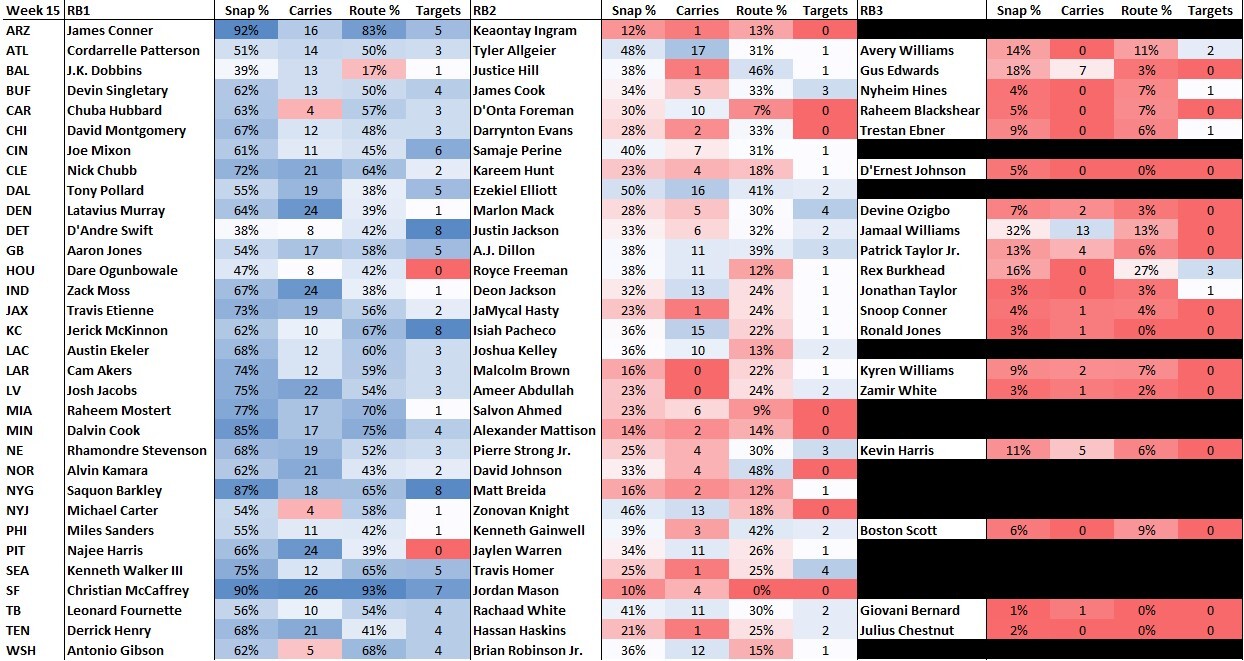 Workhorse running back alert: James Conner, Dalvin Cook, Saquon Barkley and Christian McCaffrey simply have too much volume to go anywhere near the fantasy bench.
It's truly wild how much the Cardinals love giving Conner the football. The workload shouldn't be a huge surprise, given head coach Kliff Kingsbury's history of giving his starting running back a huge role, but Conner has seldom left the field in his last four games since returning from injury:
Week 9: 7-45-0 rushing, 5-19-0 receiving, 71% snaps
Week 10: 21-69-2 rushing, 3-17-0 receiving, 96% snaps
Week 11: 14-42-1 rushing, 2-12-0 receiving, 77% snaps
Week 12: 25-120-0 rushing, 3-20-1 receiving, 97% snaps
Week 14: 15-85-1 rushing, 6-29-0 receiving, 96% snaps
The Colt McCoy– (concussion) or Trace McSorley-led Cardinals are unlikely to strike much fear into the souls of a solid Buccaneers defense, but they have been a bit weaker against the run compared to past years and Conner's workload falls under the matchup-proof category. Fire Conner up as a volume-based RB1 — he's posted PPR RB2, RB15, RB6 and RB12 finishes in McCoy's three extended appearances under center.
More touches would be cool, but nobody likes a complainer: The likes of Josh Jacobs, Derrick Henry, Austin Ekeler (shoulder), Nick Chubb (foot), Rhamondre Stevenson and Kenneth Walker are also used often enough to warrant no-doubt starting treatment on pretty much every fantasy team imaginable.
What happens if Chubb is sidelined? Chubb (foot) started the week with a DNP.  Kareem Hunt got hurt in the game after Chubb was injured in 2021, leading to a non-existent sample as the Browns' lead back. Unfortunately, fluky things happened in 2020 when Chubb was banged up, as well:
Week 5: 20-72-0 rushing, 3-21-1 receiving, 70% snap rate
Week 6: 13-40-0 rushing, 2-17-0 receiving, 53% snap rate (31-point loss)
Week 7: 18-78-0 rushing, 3-26-1 receiving, 90% snap rate
Week 8: 14-66-0 rushing, 2-7-0 receiving, 86% snap rate (Browns ran 47 total plays in horrific weather, something that could certainly be in play this week)
Hunt has had a bigger role with Chubb than without him over the years due to the former back maintaining his pass-down duties over D'Ernest Johnson, who the Browns have historically favored over the latter back when push has come to shove.
There is a chance that fifth-round RB Jerome Ford could factor into the equation should Chubb be sidelined, but that seems like a bit of a stretch considering the Browns have played their rookie running back on a total of seven offensive snaps all season.
Ultimately, Hunt would profile as an upside RB2 who should be started in far more fantasy lineups than not if Chubb winds up being inactive. The only reason he wouldn't be ranked higher is that the Browns are implied to score a lowly 17.25 points ahead of Saturday's mess of a game against the Saints.
Two is better than three when it comes to committees in fantasy land: Two-RB committees aren't the worst thing in the world at a time NFL teams are less willing to feature one true workhorse than ever. This makes guys like Joe Mixon, Travis Etienne, Zonovan Knight, Alvin Kamara, Najee Harris, as well as running back duos in Green Bay, Dallas, Tampa Bay and Kansas City, quality fantasy options — even if it'd certainly be a lot cooler if they had more definitive featured roles.
Mixon's new role isn't quite as cool as it used to be. It would have been easy to say the Bengals were just being a bit cautious with his subpar Week 14 usage after being sidelined for two games with a concussion. The good news is that Mixon role in the passing game generally moved in a good direction last week:
Route rates Weeks 1-9: Mixon (56%), Samaje Perine (25%)
Route rates Week 14: Mixon (42%), Perine (50%)
Route rates Week 15: Mixon (45%), Perine (31%)
Still, that number remains a bit of a far cry from his pre-injury workload, and Perine's eight total touches were his second-most in a game with Mixon fully healthy all season.
Mixon is still the lead back inside of the Bengals' seventh-ranked scoring offense. He's still deserving of top-12 treatment and should continue to be started in far more fantasy lineups than not.
Still, his lack of scoring success during the first two months of the season helped hide the fact that he was handling the most fantasy-friendly workload of his career. Don't be surprised if Perine remains annoyingly involved in pass-first situations down the stretch.