• D'Andre Swift leads Philadelphia to victory: Swift's consistency in the running game in the absence of Kenneth Gainwell led Philadelphia to the win and likely helped his fantasy value going forward.
• Big plays by wide receivers make this game interesting: DeVonta Smith and Jordan Addison caught 60-plus-yard touchdown passes.
• The Jalen Hurts quarterback sneak is unstoppable: Hurts scored twice from the one-yard line and converted a fourth down despite it being obvious that Hurts would run.
Estimated reading time: 4 minutes
---
PFF's fantasy football recap focuses on player usage and stats, breaking down all the vital information you need to achieve fantasy success in 2023.



• D'Andre Swift: 28 carries, 175 yards, 1 touchdown; 3 receptions, 6 receiving yards
• T.J. Hockenson: 7 receptions, 66 yards, 2 touchdowns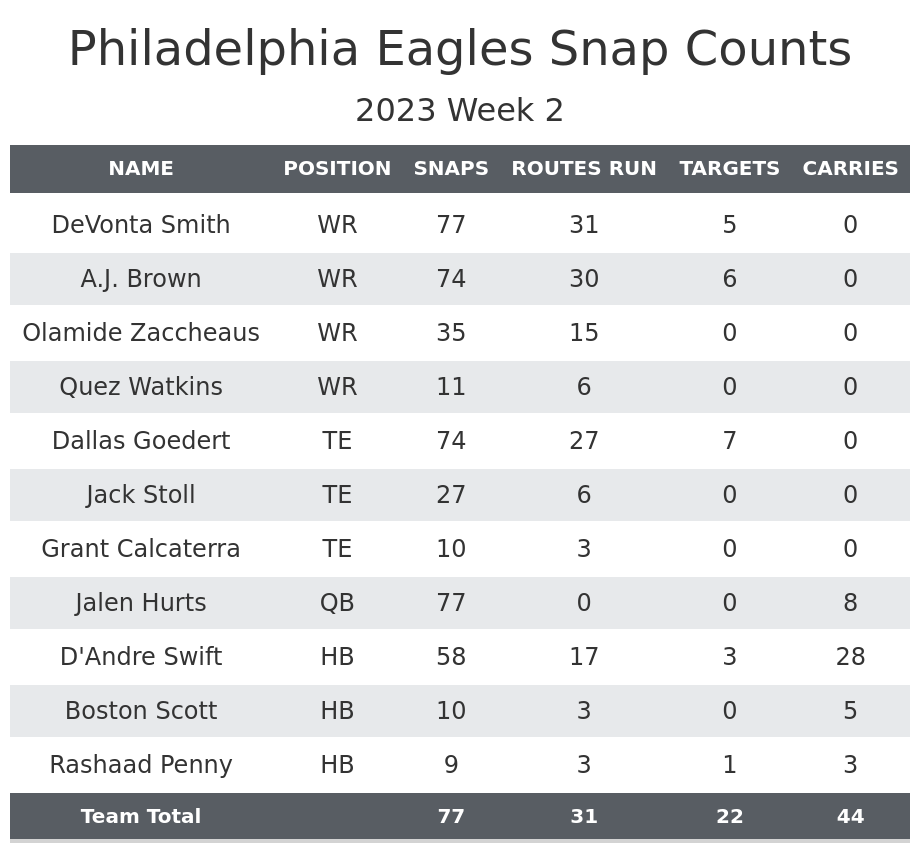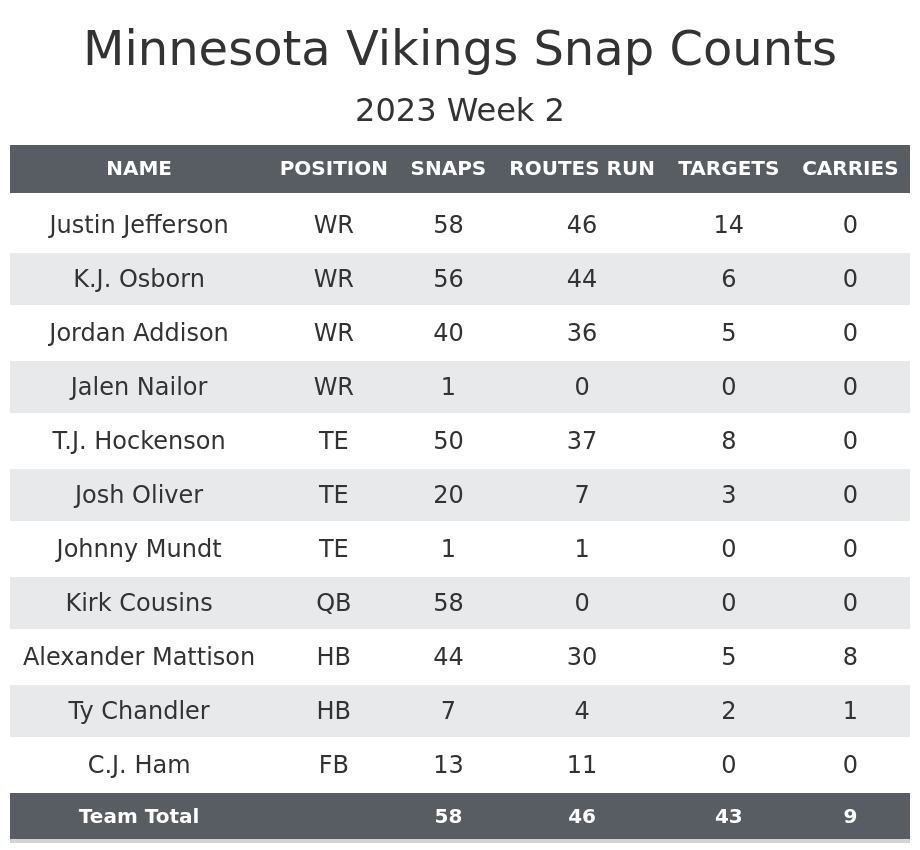 D'Andre Swift starts with Kenneth Gainwell out: Swift was the primary running back throughout the game. He logged double-digit carries in the first half and had over 100 rushing yards before the fourth quarter started.
Gainwell was the primary running back in all situations last week, playing 62% of offensive snaps.

While Swift and

Boston Scott

got some playing time, neither got many touches. Swift had a carry and a reception for a combined 3 yards.

Gainwell didn't practice this week and was inactive with a rib injury, which propelled Swift into the starting role.

Swift was the primary running back in most situations tonight, with Scott typically playing in the most obvious passing situations or when Swift needed a break after a few carries in a row.

In the early third quarter, it was announced that Scott was evaluated for a concussion, likely from something that occurred in the first half. He didn't play a snap in the second half.

Rashaad Penny

was inactive last week. He was active this week but didn't play his first offensive snap until late in the third quarter when Scott was out and Swift needed a breather.

While Penny should be dropped in shallow leagues, I still wouldn't rule out Penny getting a chance at some point this season and playing well behind the Eagles' offensive line.

Swift played well enough that he could be the starter even when Gainwell is healthy again, but there is still a possibility that Gainwell starts or we see the two split snaps.

The unfortunate news for all Eagles running backs is

Jalen Hurts

is still the ball carrier when they need one yard. Hurts scored twice this way in a formation where it was glaringly obvious what they were doing.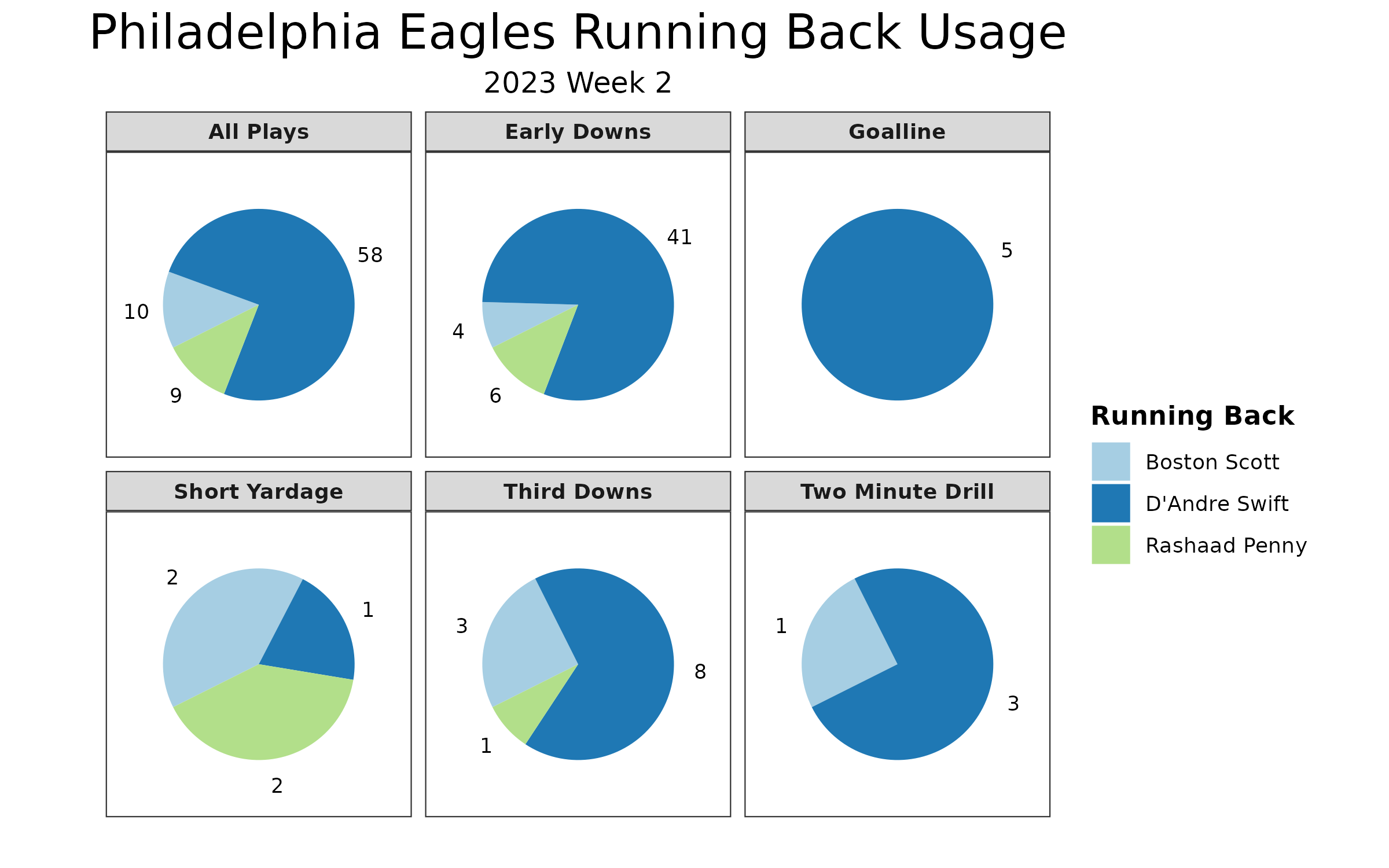 Monitor the health of Quez Watkins: Watkins suffered a hamstring injury in the first quarter and was ruled out after halftime.
Watkins has served as the Eagles' third wide receiver in three-receiver over the last three seasons, and he continued in that role over Philadelphia's first three drives before the injury.

Olamide Zaccheaus

was a free-agent addition from the

Atlanta Falcons

and stepped right into Watkins' role.

Watkins primarily plays in the slot, though there is some rotation in that spot, and that continued with Zaccheaus playing primarily in the slot tonight. 

Neither Watkins nor Zaccheaus is worth considering in most fantasy football leagues, but it's worth noting that this should have minimal to no impact on how the other players on offense are utilized.
Jordan Addison teases a slightly larger role: Addison's role with Minnesota expanded ever so slightly.
Addison's role during the first week of the season was simple. He played i00% of snaps in 11 personnel and 0% in 12, 13, 21 or 22 personnel. This cost him 16 routes.

The Vikings started this week in 21 personnel, with

Justin Jefferson

and Addison as the wide receivers and

K.J. Osborn

on the bench, giving him one more snap in that personnel group than last week.

Osborn proceeded to take the rest of the two-receiver sets, which wasn't that many, as the Vikings were constantly playing from behind.

In games like this, where Minnesota stays in 11 personnel, it doesn't matter that Addison is third on the depth chart. It will be a lot safer to start Addison over the rest of the season if he continues to take snaps away from Osborn.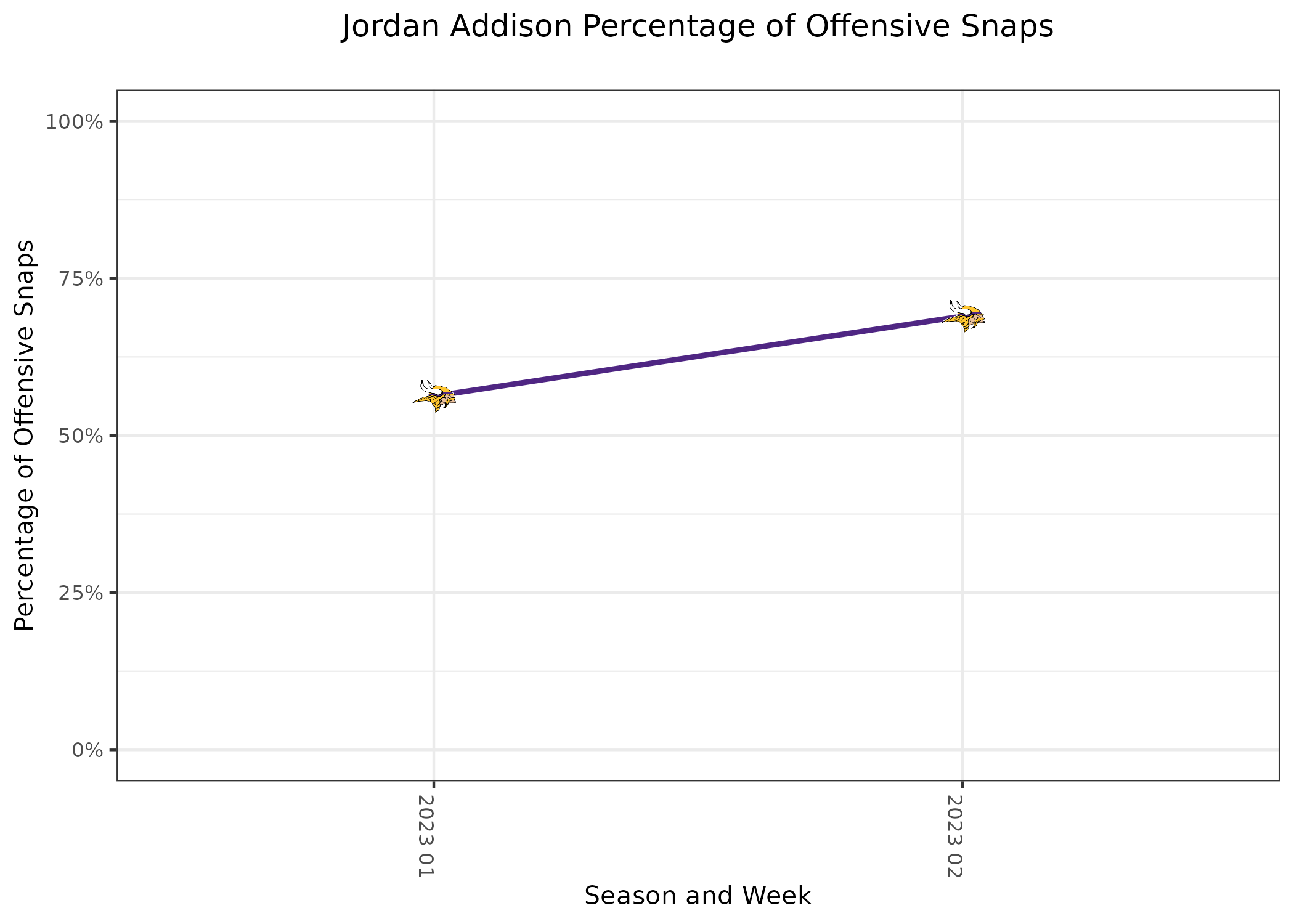 Miscellaneous Notes
Ty Chandler

didn't play his first offensive snap for Minnesota in this game until the second half.

Dallas Goedert

rebounded after going catchless last week, catching six passes, but he only gained 22 yards on those plays.

A tight end has reached 11.5 PPR points or better only four times over the first 17 games this season.

T.J. Hockenson

has two of those four games.
---
Table Notes
• Snaps include plays called back due to penalties, including offensive holding or defensive pass interference. The other three stats have these plays removed.
• Targets may differ from official NFL sources. The most likely discrepancy would be from a clear thrown-away pass, where the NFL may give the target to the nearest receiver, while this data will not.
• Carries are only on designed plays. Quarterback scrambles won't count for the total number of carries in the game.