PFF's 2022 Fantasy Football Draft Guide is LIVE!
All PFF+ subscribers now have access to our revamped fantasy football draft guide, which includes a brand-new rankings experience that will save you time and help you overpower the competition. 
Included in our new rankings experience:
• In-depth, updated analysis from the best experts in the industry, along with a bottom-line draft strategy for every player.
• Select a PFF analyst whose strategy you specifically want, or go with the consensus.
• New player tags, so you can filter through busts, sleepers, breakouts and more.
• Floor, median and ceiling projections for every player, so you can be sure of every player's range of outcomes.
• Rankings and projections for a range of different scoring types, so you can be sure the analysis can be used for YOUR league.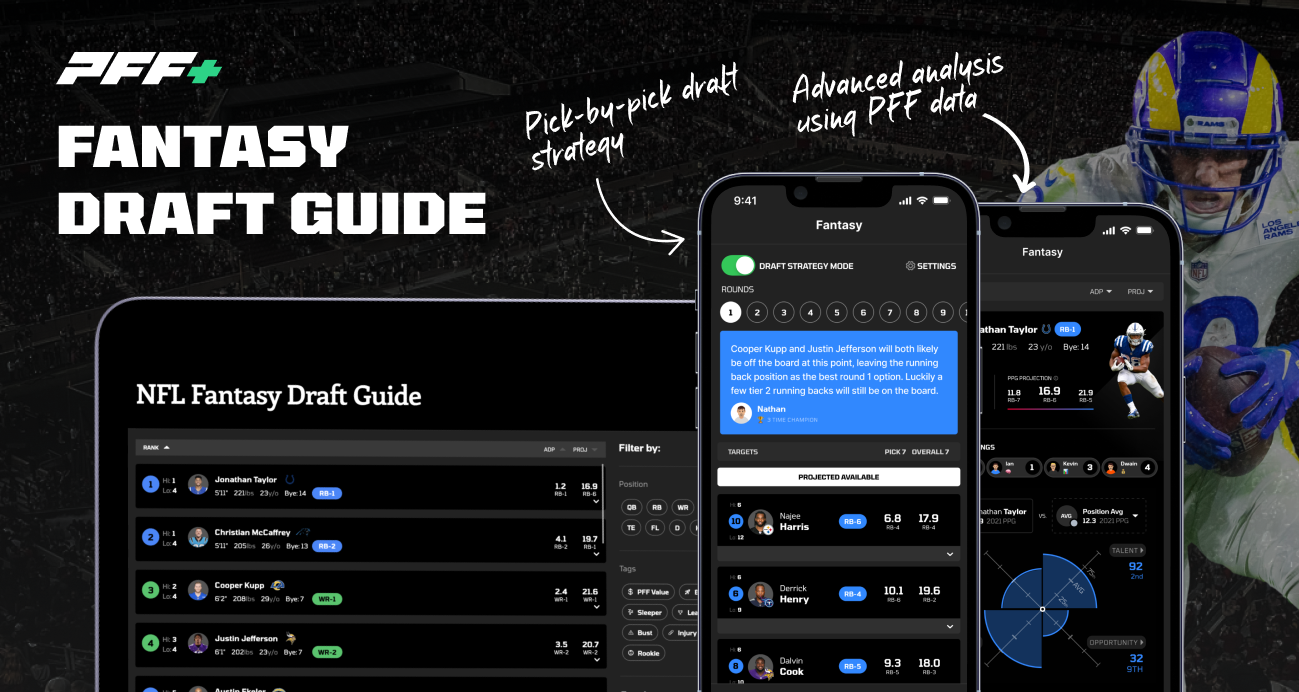 Expert Analysis
Every player comes with analysis written by Nathan Jahnke, Dwain McFarland, Ian Hartitz and Kevin Cole. Select a PFF analyst whose strategy you specifically want, or go with the consensus.
This analysis is constantly updated as players move up or down our rankings. This includes a bottom line for each player, including a draft strategy for handling them.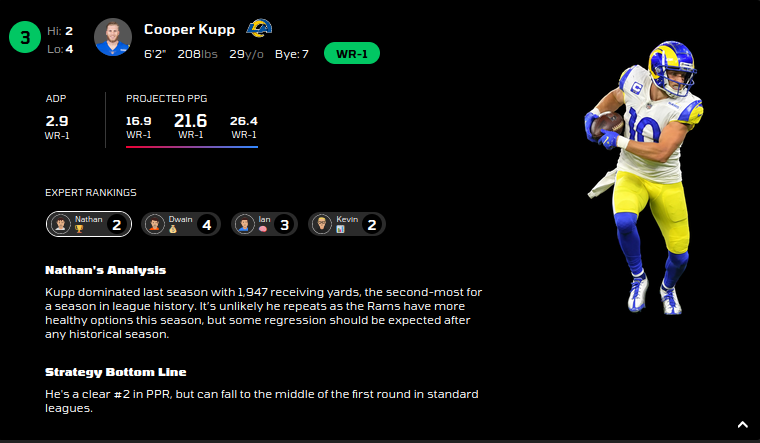 New Player Tags
Players are tagged by different attributes so you can best find the players you're looking for.
The most straightforward is the Rookie tag, so you can easily find all of the first-year players — which is particularly helpful later in drafts as it's always good to gamble on a few of these players late.
There is also a tag for PFF Values — players we find are getting drafted later than they should be based on ADP.
Then there are the Sleepers and Breakouts — players expected to perform well in 2022 per PFF's data.
Injury analyst Mario Pilato has also identified the players with an injury history and are therefore most at risk of reinjuring themselves. You can find these players found using the Injury filter.

Projected Ceilings and Floors
Every player has three numbers underneath their projection.
The middle number is their median projection, which is what is traditionally displayed. This year, we've gone a step further and included a ceiling (75th percentile of outcomes) and floor (25th percentile of outcomes) projection so you can be sure of every player's forecast for 2022. 
For example, Aaron Jones has a relatively wide range of outcomes. He is competing for playing time with A.J. Dillon. He could be one of the elite fantasy running backs this year if he is one of the leaders in targets among running backs and still sees the majority of carries. There is also a chance Dillon leads in carries, and Aaron Rodgers keeps throwing to wide receivers despite not having Davante Adams.
Other players like Joe Mixon are relatively safe, where we know exactly what to expect. His ceiling isn't as high, but his floor isn't as low.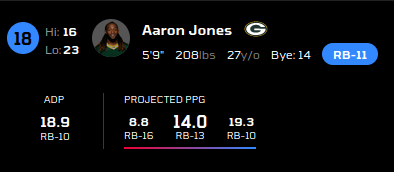 Plus Everything You Would Expect
You will be able to filter everything down to your liking. This includes filtering by scoring settings, league type, your favorite PFF analyst and position. Each player comes with the essential information you would expect with any rankings page, including things like average draft position and bye week.