Now that the 2021 NFL Draft is finally over, we've had the chance to assess the landing spots for rookies and gauge their levels of potential success for fantasy football. Everyone has their opinion on how the draft affects the value of the rookies chosen and the veterans currently on those teams, but the ultimate signal is that of the market. Luckily, we have thousands of best-ball draft selections to dig through from the offseason, and we can specifically compare players' average draft position (ADP) before and after the NFL draft. 
In this analysis, I'm going to look at the biggest veteran and rookie ADP movements from the period of one week before the draft to the several days after. When we look closely at how the ADPs have progressed over the offseason, we can get a better idea of where they may head in the future — and whether certain players are fundamentally overvalued or undervalued. 
All the data in the plots and tables below are from FFPC best-ball drafts, which are 12-team, PPR format leagues. The data points represent the daily averages for the selection of players among a 330-pick draft.
Quarterback Surprise
The rumors were flying going into the draft that the San Francisco 49ers favored Mac Jones as their No. 3 pick, but in the days leading up to the draft, betting markets moved toward Trey Lance being the pick. And ultimately, the markets were right.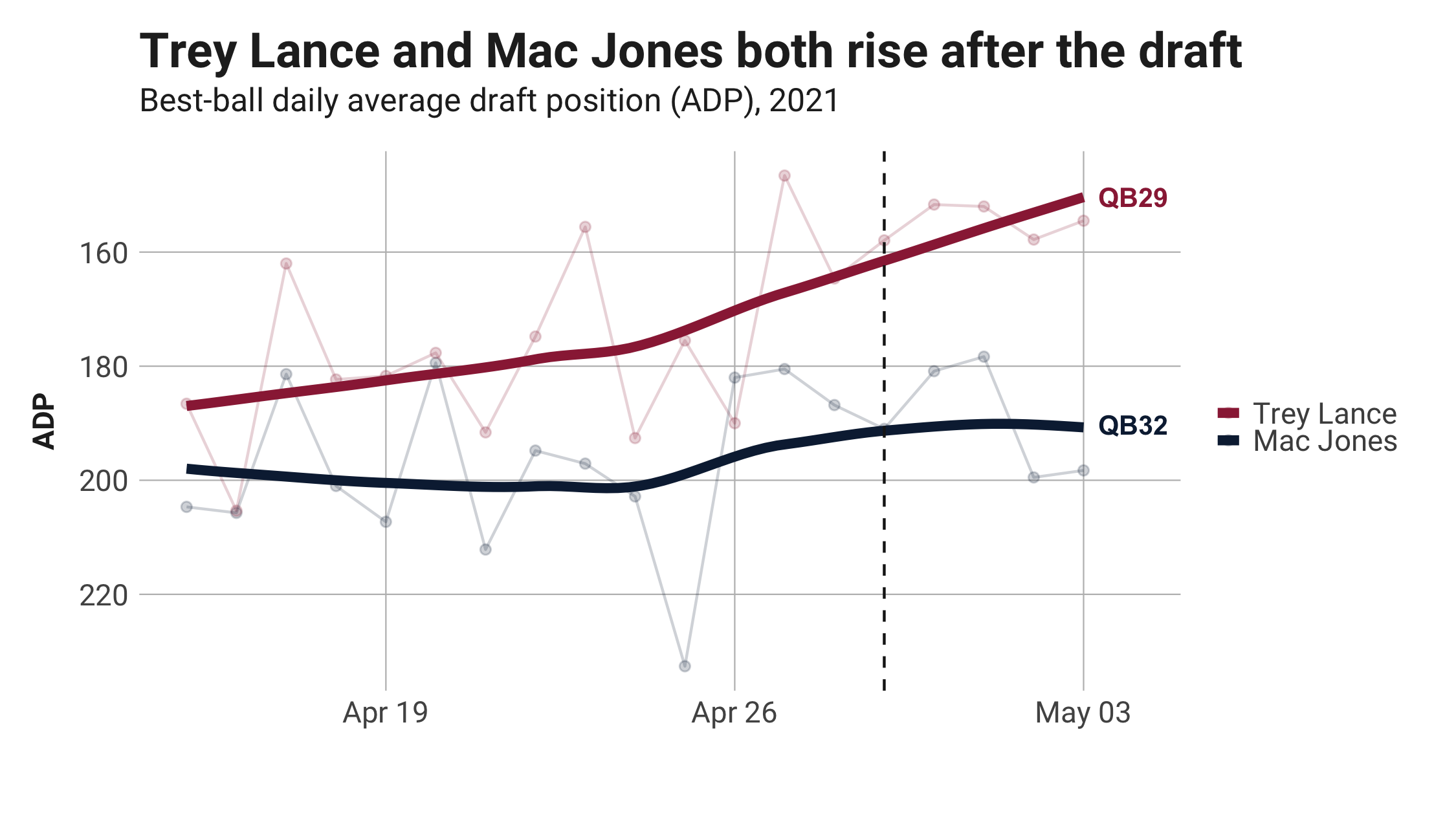 Lance's ADP was starting to rise a couple of weeks before the draft when he was seen as the only Jones alternative for the 49ers. Though Lance's pre- and post-draft ADPs aren't tremendously different, he's gone from QB31 to QB29. There could be some concern that Jimmy Garoppolo will stick with the 49ers and play the majority of the season. Even considering that possibility, the risk-reward profile probably should push Lance up further. The 49ers believe that Lance was the most pro-ready quarterback in the draft, and his outlook for strong rushing production gives him fantasy upside, even if he struggles as a passer.
Subscribe to PFF Edge to continue reading
Already have a subscription? Sign In