On Wednesday, I took a look at the quantity/quality question for fantasy football in 2018. Specifically, I looked at how players' team opportunity share related to their PPR point share.
The thinking here: If a player gets 20% of his team's opportunities (carries plus targets) but 10% of his team's PPR points, he's inefficient, at least relative to his teammates. If those numbers are reversed, he's efficient. It isn't perfectly that simple, of course — not all opportunities are created equal, targets are worth more than carries, running backs get more opportunity than receivers — but when you look at how a player performs relative to his positionmates, you start to see a picture.
Wednesday, the examination was into running backs and quarterbacks. Today, wide receivers and tight ends.
Wide receivers
Exceeded expectations
DeAndre Hopkins, Houston Texans
(17.0% opportunity share, 28.2% PPR point share, +11.2%)
Notably, Hopkins also led the league in this number in 2017, a testament both to his insane production and to the Texans' lack of a second option that was both competent and healthy. This research can reveal how good a player is, or it can reveal how much less impressive his supporting cast is. In Hopkins' case, it represents both.
Tyler Lockett, Seattle Seahawks
(8.5% opportunity share, 18.9% PPR point share, +10.4%)
We've covered Lockett's incredibly efficient 2018 season from so many angles already this offseason (for example, here and here) that this feels like a rehash, but let's be short and sweet and point out how primed he is for regression.
Larry Fitzgerald, Arizona Cardinals
(13.3% opportunity share, 21.8% PPR point share, +8.5%)
Among players with at least 40 opportunities, Fitzgerald has the third-best efficiency number by this study. And while Fitzgerald is still a perfectly adequate receiver, he's not who he once was (his 73.2 overall PFF grade is his second-lowest of the PFF era since 2006) and this is more a testament to the poor supporting cast in Arizona. Unless you have particular faith in Christian Kirk or somehow Kevin White or somebody not yet on the roster, Fitzgerald's (and the Cardinals' at large) prospects for 2019 come down to Josh Rosen/Kyler Murray/the quarterback.
Dede Westbrook, Jacksonville Jaguars
(11.5% opportunity share, 18.6% PPR point share, +7.1%)
Westbrook ranks only eighth among wide receivers, but the guys between Fitzgerald and him are obvious names (Davante Adams, Tyler Boyd, Adam Thielen, Michael Thomas), so I'm jumping to the far more interesting Westbrook. We weren't sure how the workload in Jacksonville would shake out in 2018 between Westbrook, Donte Moncrief, Keelan Cole, and Marqise Lee, but then Lee tore his ACL, Cole disappointed, and Westbrook had what should have been a breakout year if not for the ineptitude of the team's overall offense. Westbrook finished the year as the No. 33 PPR receiver but had the most points of anybody on the Jaguars roster and the fourth-most slot PPR points in the league. If Nick Foles can even be competent in 2019, Westbrook could make a leap.
Fell short of expectations
Chad Williams, Arizona Cardinals
(5.3% opportunity share, 4.8% PPR point share, -0.5%)
Ryan Switzer, Pittsburgh Steelers
(5.0% opportunity share, 4.9% PPR point share, -0.1%)
Considering how much more valuable a target is than a carry, it's actually a feat for a wide receiver to finish in the negative by this research; these were the only two receivers to do so with at least 40 opportunities in 2018. Williams isn't a name we need to be concerned about for fantasy (yet, at least), while Switzer was briefly intriguing as a sleeper after Antonio Brown's departure, but the signing of Moncrief probably rendered that moot.
Golden Tate, Philadelphia Eagles
(4.8% opportunity share, 5.4% PPR point share, +0.6%)
Golden Tate, Detroit Lions
(6.9% opportunity share, 10.6% PPR point share, +3.7%)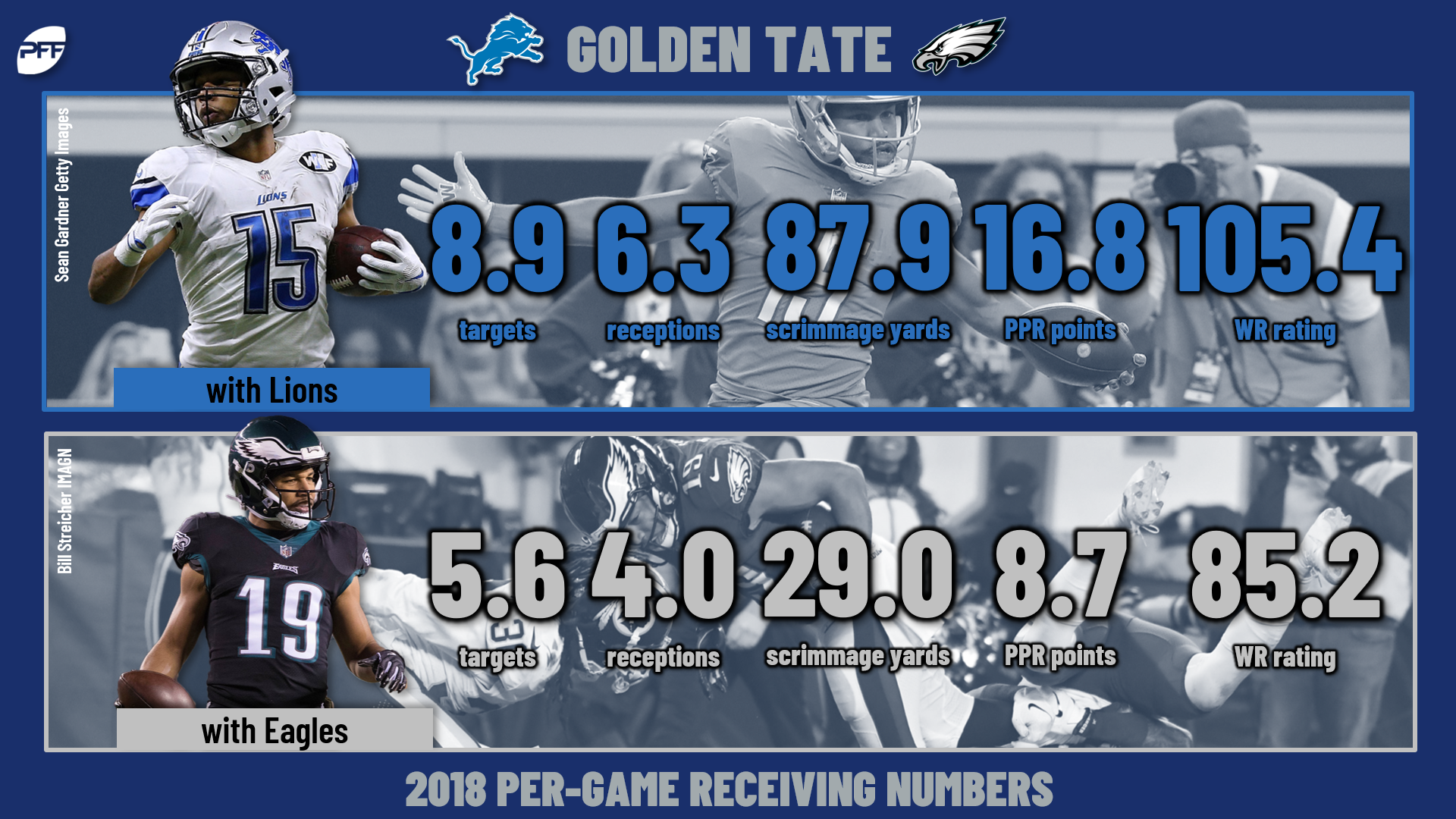 The Giants can probably run a compare-and-contrast with Tate's usage in Philadelphia and Detroit in 2018 to figure out how to use him in New York. Annoyingly, though, the answer is to just give him the slot job and be done with it. Tate had 90 more snaps out of the slot than any other Lion through Week 8, and his numbers were solid. Tate had 21 fewer snaps out of the slot than Nelson Agholor from Week 10 to the end of the year, and his numbers tanked. Pairing him with fellow slot weapon Sterling Shepard is a move we already don't really understand.
Randall Cobb, Green Bay Packers
(6.3% opportunity share, 6.9% PPR point share, +0.6%)
Cole Beasley, the player Cobb is more-or-less replacing in Dallas as the slot receiver in 2019, put up a 4.1%. Part of that is the supporting cast — Davante Adams was better than any receiver Dallas had, and before Amari Cooper's arrival he was way better — but it should also offer as a bit of worry about Cobb's stock for 2019. Cobb peaked with an 84.6 overall PFF grade and 1,465 receiving yards in 2014, and but he has barely put up half that yardage in a season since. In 2018, he had career-lows with a 60.2 grade and 383 yards. He's a deep sleeper, but that's about it.
Tight end
Exceeded expectations
George Kittle, San Francisco 49ers
(14.3% opportunity share, 22.7% PPR point share, +8.4%)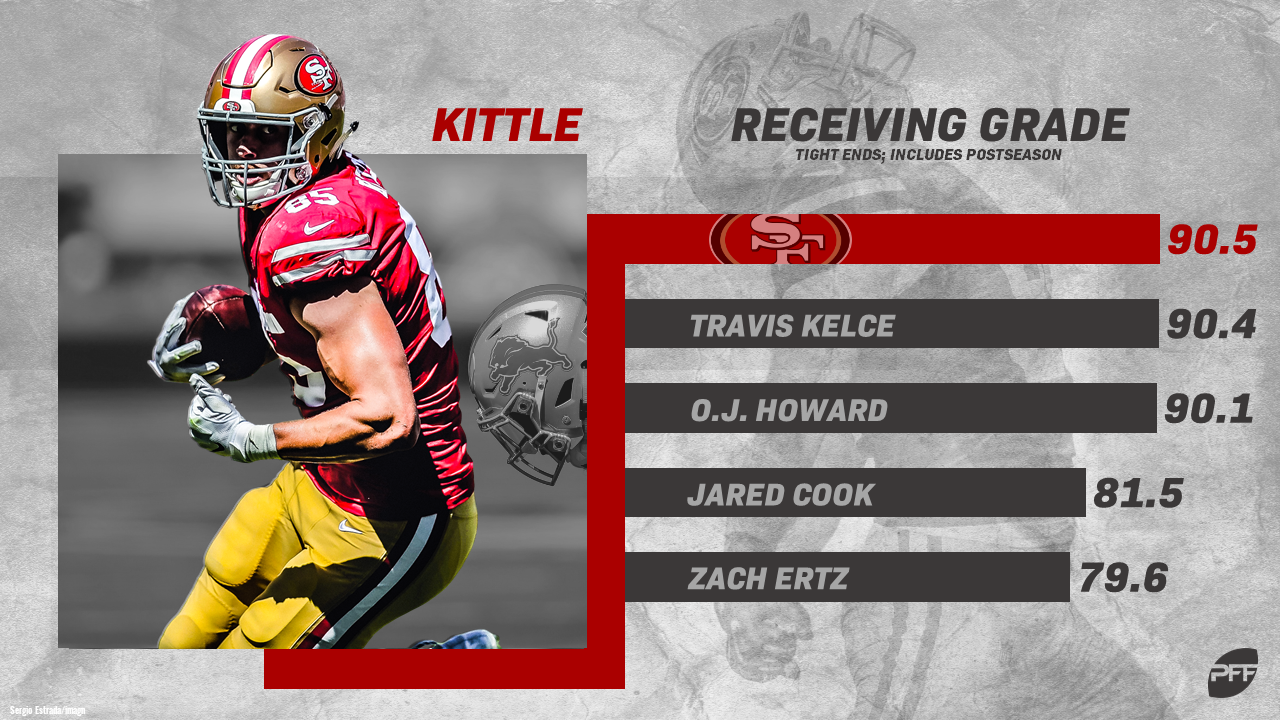 Obviously, Kittle's score here gets a big bump by being the only above-average contributor to the San Francisco offense in 2018. That said, Kittle did have the best PFF grade of any tight end — both as a receiver (90.5) and overall (89.8) — so you could easily argue that he was held back by his supporting cast and the revolving door at quarterback as he was elevated in this metric. Either way, his mark of 8.4% was a solid 2.3 percentage points above second-place Jared Cook.
Fell short of expectations
Jimmy Graham, Green Bay Packers
(9.2% opportunity share, 10.4% PPR point share, +1.2%)
I haven't seen the narrative yet, so maybe I'm projecting, but I fully expect to see some sort of Graham bounceback talk this offseason, be it in the form of his own bounceback or something more like "the Packers offense struggled overall, so if when it bounces back so will he." I don't buy any of it. I'm out on Jimmy Graham unless and until he gives me reason not to be.