• Philadelphia Eagles RB Boston Scott started and ran 10 times, including a touchdown on the first drive. Kenneth Gainwell didn't play until the Eagles' second drive.
• Cleveland Browns RB Jerome Ford moved up to fourth on the depth chart after a 100-plus yard performance last week.
• Browns third-round pick WR David Bell started the game after not playing last week due to a foot injury.
• Thursday, Friday and Saturday's preseason recaps have you covered for all of the fantasy football takeaways you might have missed.
---
PFF's fantasy football recap focuses on player usage and stats, breaking down all the vital information you need to achieve fantasy success in 2022. This includes only the players who are relevant in fantasy football leagues.
---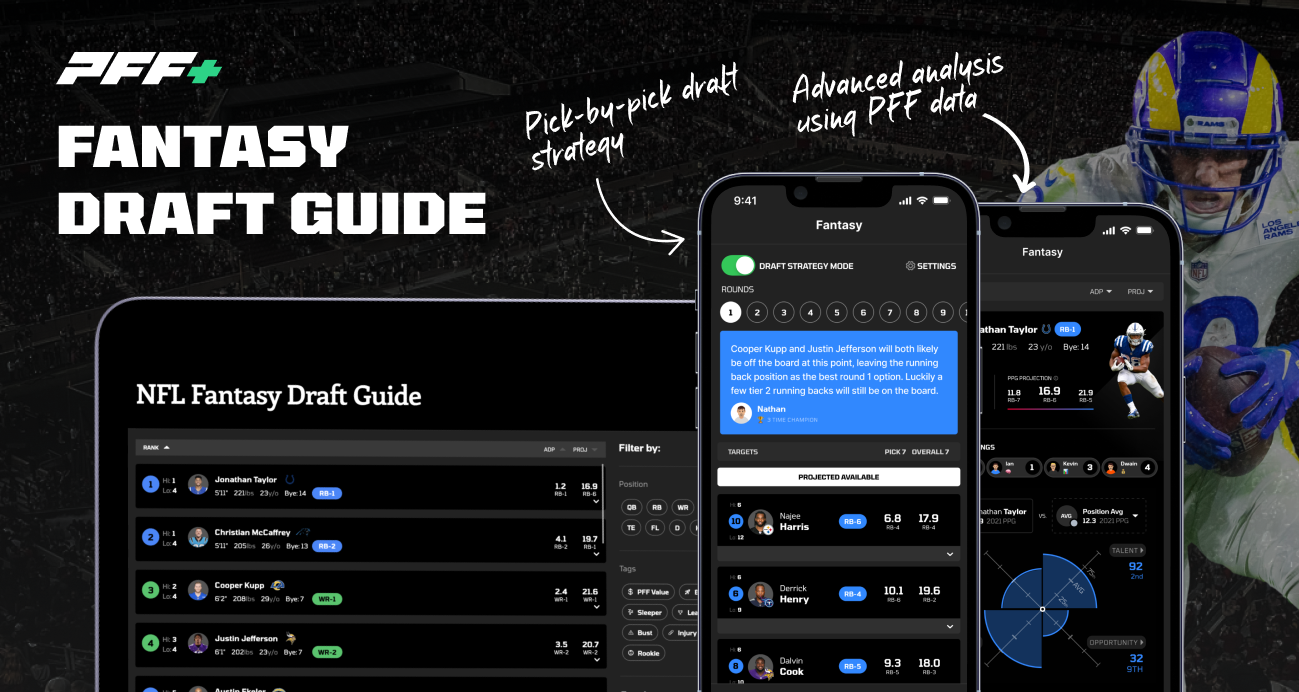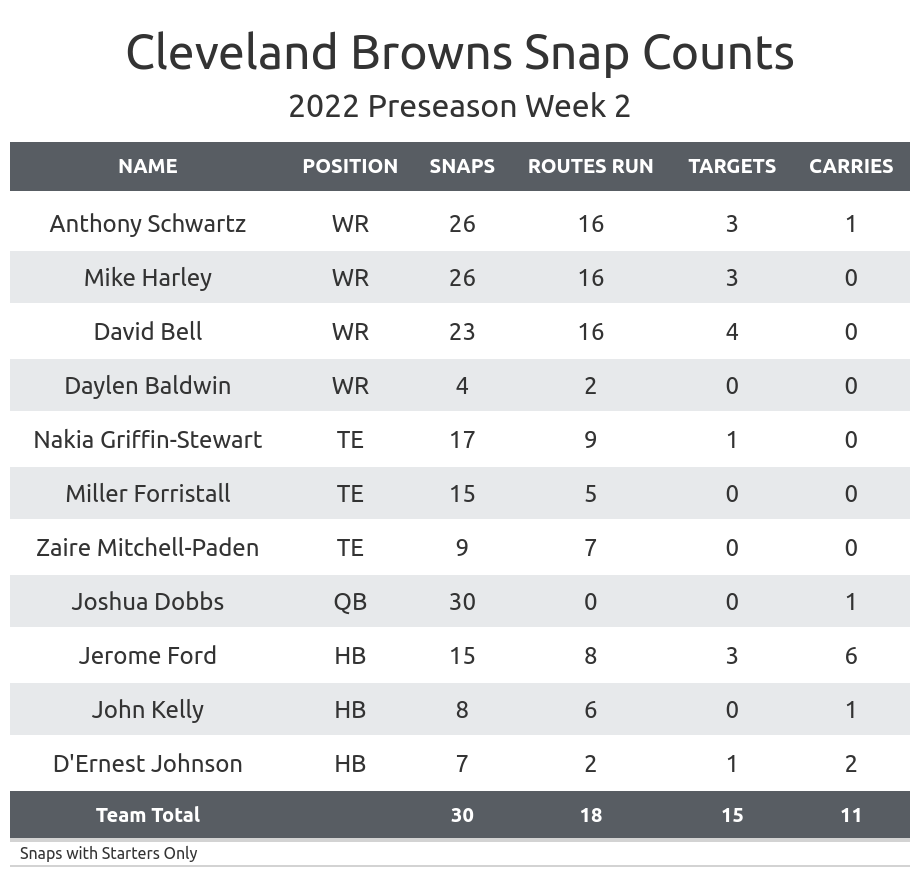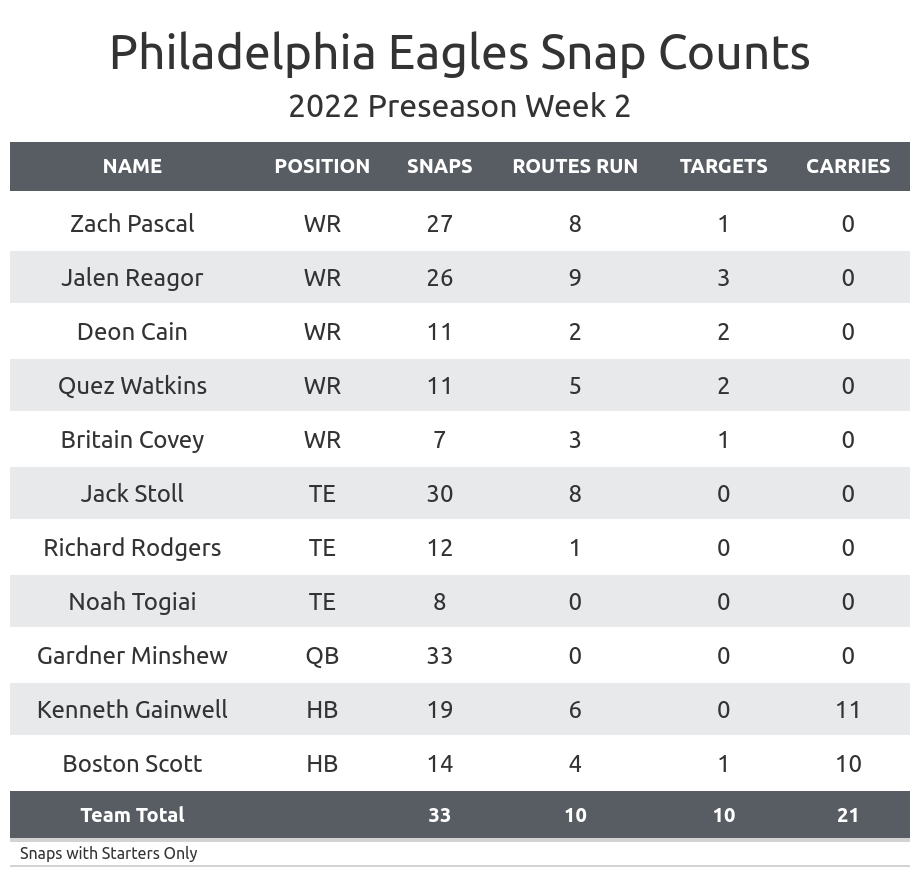 Slightly slow the hype for Kenneth Gainwell: The second-year back is one of my favorite sleepers for the season. He didn't see a single snap on the Eagles' first drive, with Boston Scott taking every play. Gainwell came in on the second drive, also saw double-digit carries and looked a little better running with the ball. Miles Sanders missed the game with an injury. 
The Eagles typically rotate running backs by situation, so they are unlikely to follow this game's plan exactly in season. The former Memphis Tiger should still take most of the third-down snaps. It's also worth noting that Gainwell had been dealing with a hip injury, which could have helped Scott get the start today. 
It was good to see him run so much and run well, but the fact that Scott is clearly part of the Eagles' plan at running back is a little discouraging.
Avoid the Eagles' third wide receiver: The top two spots on the depth chart are set, but there is a four-person battle fighting for the third spot. Jalen Reagor and Quez Watkins started the game similar to last week, with former Colt Zach Pascal coming in for three-receiver sets and rotating in for both other receivers. Watkins had the most snaps last season, particularly in the slot, which is what the Eagles need, making him the favorite. Watkins also stopped playing late in the third quarter, while the others kept playing into the second.
None of them stood out today, with the Eagles focused on running the ball. Greg Ward could also be in the mix, but he's missed both preseason games with a toe injury. We could likely see a heavy rotation of players, making it hard for any of them to be relevant in fantasy leagues.
Jerome Ford moves up the depth chart: Ford led the Browns in both rushing and receiving yards last week, and he scored a touchdown both ways. The only problem is that he was fifth on the depth chart. His good game moved him up to fourth above John Kelly. Ford featured early today, rotating in for D'Ernest Johnson. Johnson took seven of the first nine plays, then Ford took most of the second quarter with Kelly mixing in later in the quarter.
It will still be very difficult for Ford to contribute this season with the depth the Browns have at running back, but a potential Kareem Hunt trade would certainly help.
David Bell makes his debut: Bell started for Cleveland, which didn't play the top two players on the depth chart, but he is already a clear top-four receiver on the team. He should be able to surpass Anthony Schwartz, who also started today, sooner rather than later. Bell led the team in receiving in the first half with two catches for 37 yards. He could very well rank third or fourth on the team in targets this season. Any rookie who is likely to be that high on the team in targets is at least worth taking a gamble on late in fantasy drafts.
---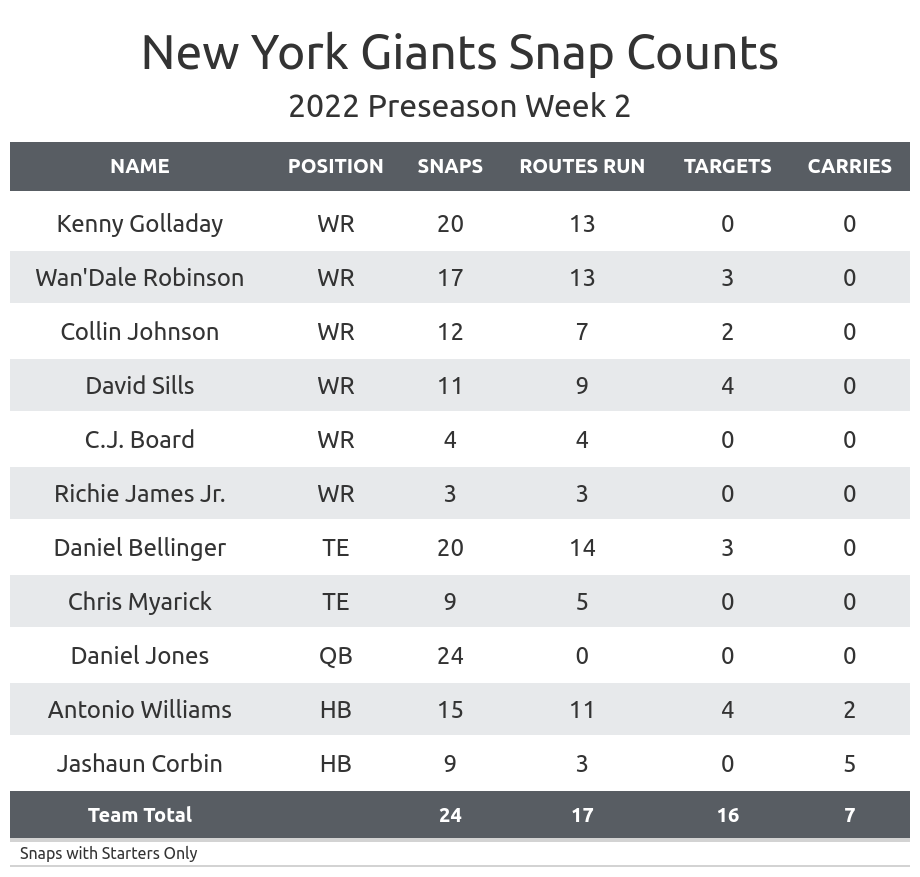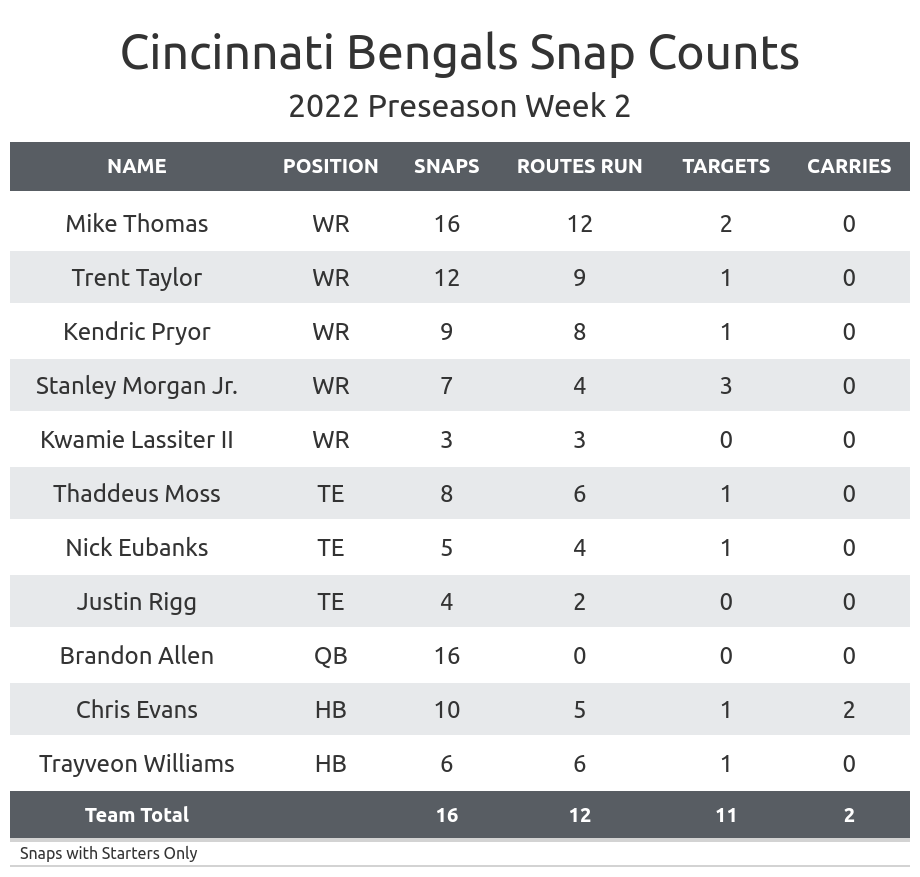 Draft Wan'Dale Robinson: Robinson played the vast majority of slot snaps for the Giants in 11 personnel for the second straight week. He was thrown three short passes, although they weren't particularly effective plays. He should have a decent floor, as the Giants look like they want to manufacture touches for him. This makes him worth a late-round gamble; he could end up making more big plays than he was able to tonight.
Draft Daniel Bellinger: Bellinger took almost every snap with the starters and continued playing with the backups. This wasn't a surprise, but it was still good to see. He received three of the 16 targets with the first team. Several teams are using tight ends in different personnel groupings or rotating tight ends, so Bellinger has a decent chance of being one of the leaders in offensive snaps at the position. This gives him a good floor of targets. His production from there will depend on his talent and the Giants' offense. Taking a chance on him with his floor is a better risk than taking a chance on several other running back situations in the league.
Treat Samaje Perine as the Joe Mixon handcuff: The Bengals rested their starters, and that included Perine. This is another example of a team telling us something based on who is and isn't playing. The fact that Perine didn't play again keeps it clear he's the second back on the team. Chris Evans started the game and saw some rotation with Trayveon Williams. Evans still has value in dynasty leagues, but he is looking less and less like a re-draft option.
---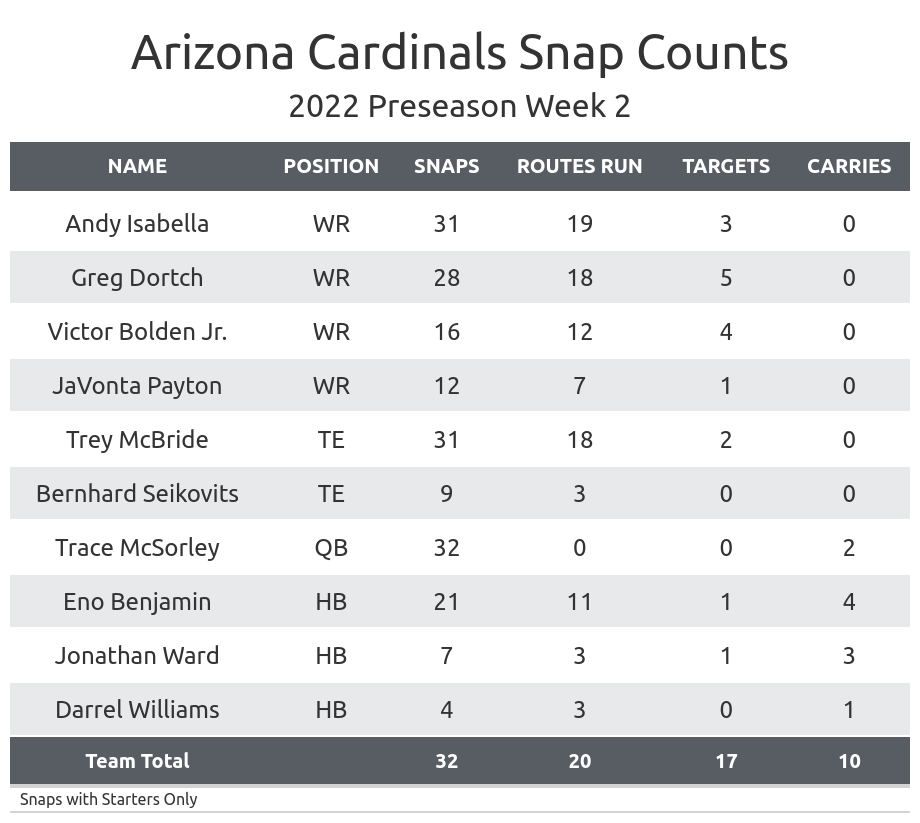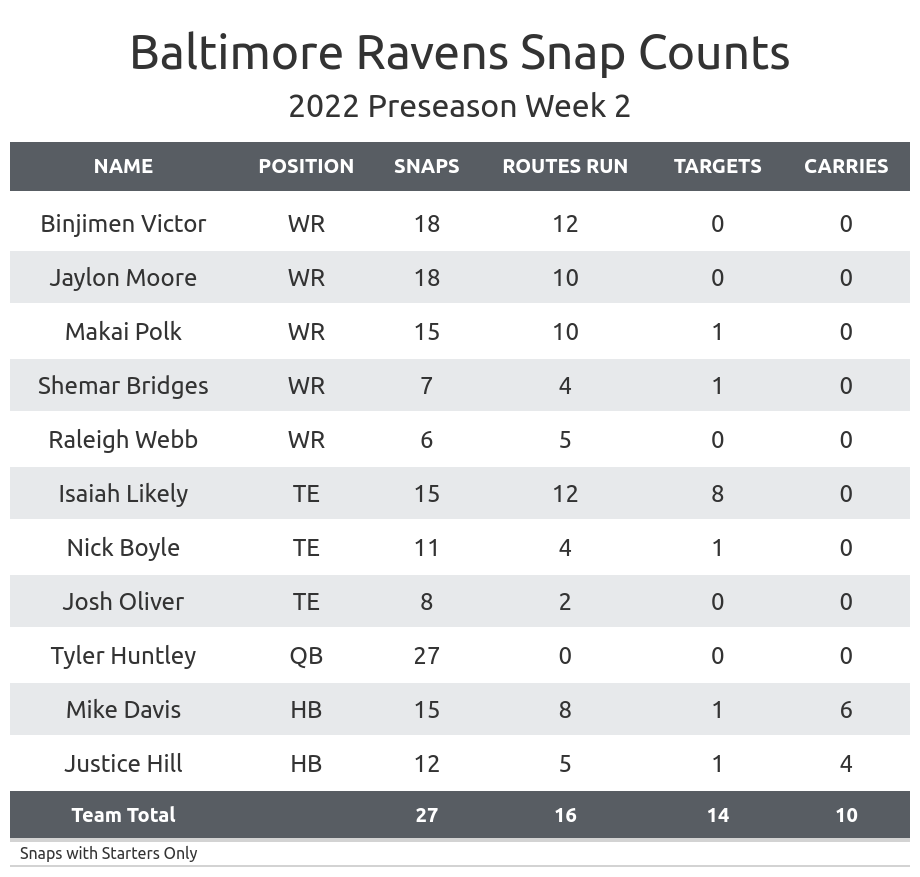 Don't draft a Cardinals backup RB: The Cardinals didn't play James Conner tonight but had all of their backups at their disposal. Most teams follow one of two patterns in the preseason: they will either rotate running backs by drive, or by the situation. Arizona didn't follow either pattern, instead having one player see a few snaps, then someone else, then one of the other two, and so on. Eno Benjamin started the game and would probably score the most fantasy points if Conner were to get hurt, but it would probably be a heavy rotation in that situation. We could see all three handle a few snaps each game if Conner needs a break when healthy. It's best to just avoid the situation.
Darrel Williams received only four snaps, but they were early on, which could mean the Cardinals don't need to see much from him. It could also mean they don't value him as much, but they also didn't play him later in the game like a team typically would with someone further down the depth chart. Jonathan Ward suffered a shoulder injury, which left Benjamin playing most of the second quarter.
Monitor the Cardinals' tight ends: Arizona was busy this offseason at tight end, re-signing Zach Ertz to a three-year, $31.65 million deal, bringing back Maxx Williams on a one-year contract after a strong start last season and drafting Trey McBride 55th overall. All three missed their first preseason game, but McBride made his debut tonight. He played the vast majority of snaps with the first team and was targeted twice. It's unlikely McBride will hold fantasy value this season without an injury, but he could hurt Ertz's fantasy value.
Consider a late-round pick on Isaiah Likely: The Ravens rookie led all tight ends in receiving yards last week (44). He put up an even more impressive performance today, catching eight passes for 100 yards and one touchdown in the first half. It's worth noting that Tyler Huntley liked throwing to tight ends more than most quarterbacks last season, which does influence the numbers, but it's hard not to be impressed with Likely's performance.
The Ravens let go of two of their top four wide receivers and spent the offseason investing in more tight ends than wide receivers. Several of Likely's targets have come from two-tight end sets, and it would not be surprising if the Ravens use two tight ends even in third-and-long situations to get their best receivers in on the play. This would make it possible for both Mark Andrews and Likely to see significant targets since they should both get a lot of work on passing downs.
Likely's upside is enough to make him a late-round draft pick when you take into account the uniqueness of the Ravens' offense and the lack of proven wide receivers on the team.
---
Table Notes
Snaps include plays called back due to penalties, including offensive holding or defensive pass interference. The other three stats have these plays removed.

Targets may differ from official NFL sources. The most likely discrepancy would be from a clear thrown-away pass, where the NFL may give the target to the nearest receiver, while this data will not.

Carries are only on designed plays. Quarterback scrambles won't count for the total number of carries in the game.