Tank Dell steals the show but don't get too excited yet: Dell started the game and continued to play with the backups, but the Houston Texans gave veterans

Robert Woods

and

Noah Brown

the night off. Dell could still be a backup to start the season.

Tyquan Thornton has fallen down the depth chart:

The former second-round pick played significantly with the Patriots' "starters" while three other receivers had the night off.

The New England Patriots still need a backup running back: New England rotated three players throughout the first half, and they combined for six rushing yards on seven carries.
Estimated reading time: 5 minutes
---
PFF's fantasy football recap focuses on player usage and stats, breaking down all the vital information you need to achieve fantasy success in 2023.
Player Profiles
More Rankings: PPR | Half-PPR | Standard | Superflex
Dynasty Rankings: PPR | Rookie | Superflex | Superflex Rookie
Position Rankings: QB | RB | WR | TE
Sleepers: Top-10 | QB | RB | WR | TE
League Winners: QB | RB | WR | TE
12-Team Draft Strategy: Overall strategy | Picks 1-3 | Picks 4-6 | Picks 7-9 | Picks 10-12
10-Team Draft Strategy: Overall strategy | Picks 1-3 | Picks 4-7 | Picks 8-10
---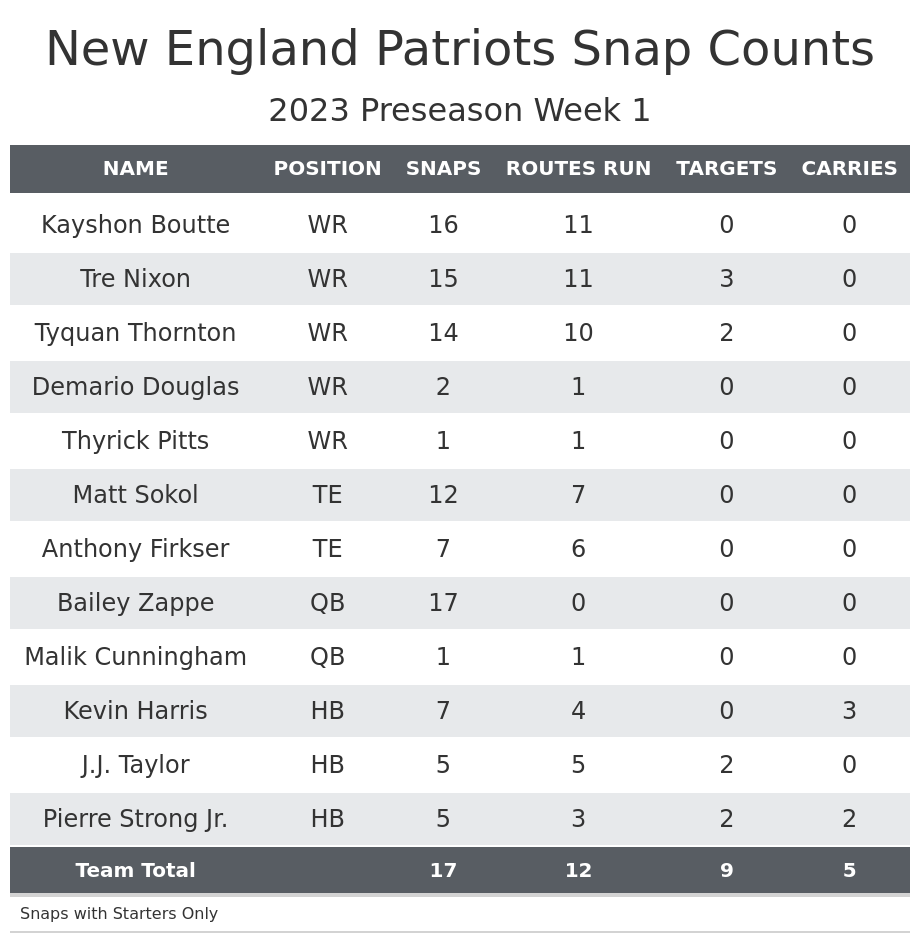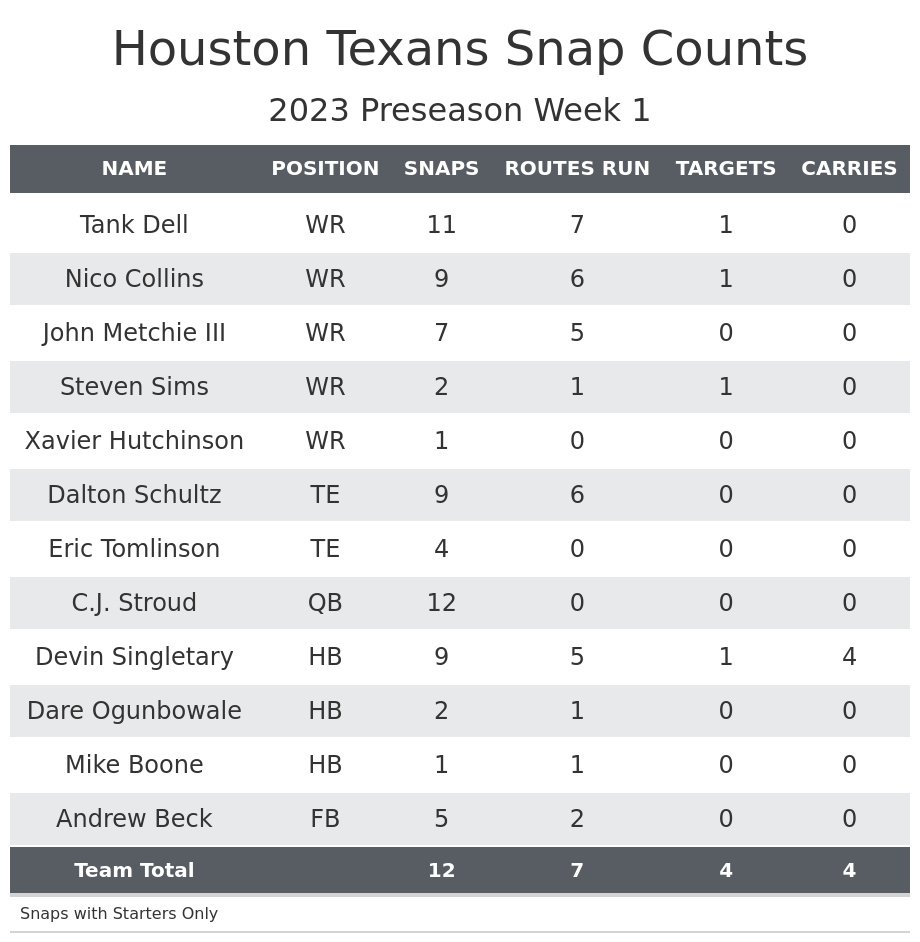 Buyer beware on Devin Singletary: He seemed destined for the third down and primary backup role to Dameon Pierce, but he might only be a handcuff.
Pierce

was among the few veteran players who were given the night off.

Singletary was the starting running back in this game and played the majority of the snaps with the first team, but he was consistently leaving the field on third downs.

This was typically in favor of Dare Ogunbowale, but for one play it was

Mike Boone

.

If the third down role was Singletary's, he would be the one playing the third down snaps.

This suggests Ogunbowale might still have the third down job instead of Singletary.

On the Texans' third drive, they took out some of the players who started the game but not Singletary. He played a few plays with

Davis Mills

before leaving the game for Boone.

When the backups played, Boone primarily played out of 21 personnel while Ogunbowale primarily played in 11, making it more clear Ogunbowale is currently the receiving back.

This game made it clear Singletary is Pierce's handcuff, but his playing time might be pretty limited as long as Pierce is healthy.
Robert Woods and Noah Brown get the night off: It was exciting to see rookie Tank Dell receive multiple targets, but veterans appear ahead of him on the depth chart.
Robert Woods

was reported ahead of time to have the night off, but

Noah Brown

also didn't play in the game.

Returning starter

Nico Collins

and third-round rookie

Tank Dell

started the game. 

Dell caught five passes for 65 yards and a touchdown in the first half, but all five receptions came with the backups while

Davis Mills

threw to him rather than C.J. Stroud.

John Metchie III

played in 11 personnel with the starters, primarily playing in the slot. Even when the backups started to play, Metchie would only play in three-receiver sets, suggesting he will at best be a slot receiver this season.

Steven Sims

replaced Collins on a few plays with the starters and fully replaced him once Collins left the game.

Sixth-round rookie

Xavier Hutchinson

saw his only snap with the starters in a short-yardage situation out of 22 personnel — the only snap Dell missed with the starters.

This suggests Brown could be ahead of Collins on the depth chart despite what their official depth chart suggests.

Brown could also simply not be playing with an undisclosed injury, but he wasn't reported among either the injured players not playing or the veterans.

If Brown is ahead, there is certainly time for younger players like Collins or Dell to surpass him on the depth chart.
Monitor Dalton Schultz's snaps: Schultz was the Texans' starter , but it was slightly surprising he played at all, and he took a few early snaps off.
The fact that he played while other projected starters didn't suggest the Texans might think Schultz needs more snaps in the offense.

Houston was also down two tight ends, with backup

Teagan Quitoriano

remaining on the active PUP list with a quadriceps injury while

Brevin Jordan

missed the game due to a hamstring injury.

Regardless, it was also surprising to see

Eric Tomlinson

in for Schultz on three of the first seven plays, which were all in 21 personnel. Typically, a fantasy tight end missing snaps in 21 personnel isn't a big deal, but we could see a lot of that personnel grouping for Houston this season. Schultz played one snap out of 21 personnel with the first team.

Schultz was consistently in 11 personnel and 12 personnel with the starters and left the game before the other starters did tonight.
Patriots backup running back situation is wide open: The Patriots rotated Pierre Strong Jr., Kevin Harris and J.J. Taylor with Rhamondre Stevenson taking the night off.
The Patriots rotated Strong and Harris by drive with Strong getting the first drive while Taylor mixed in for clear passing situations.

New England has looked at several veteran running backs, and it wouldn't be surprising if the team bring someone in considering it doesn't have a clear No. 2 at this point.
Tyquan Thornton is down the Patriots depth chart: New England rested several starters, with Thornton seeing significant playing time Thursday night.
The Patriots had

JuJu Smith-Schuster

,

DeVante Parker

and

Kendrick Bourne

all take the night off.

Sixth-round rookies

Kayshon Boutte

and Demario Douglas started the game instead of Thornton.

Thornton played significantly with the Patriots "starters" Thursday night but only in 11 personnel.

Douglas only played in the first two snaps and his night was done. He's received plenty of praise during training camp, so this suggests Douglas has a strong hold on the fourth receiving job.

He led the Patriots in receiving yards in the first half with 31 off two catches, but the problem was that he was playing at all while several other players, including some new to the team, got the night off.

He stopped playing in the middle of the second quarter, which was before any of the other skill players were done but after some offensive linemen took their last snaps.

There have been reports throughout training camp that Thornton's had a poor camp, and this further confirms that.

Thornton probably shouldn't be drafted at this point while he's fourth at best on the depth chart.
Miscellaneous Notes