Estimated reading time: 10 minutes
---
Taking dart throws in IDP dynasty rookie drafts can be tricky because these are truly low success-rate plays, but identifying good players who have opportune situations to emerge, even down the road, is critical in being able to hit on one or more of these options. Every year, there are a select few who emerge to become fantasy stars or those that fantasy managers can stash on taxi squads in hopes that they'll emerge the following season, which is exactly the type of players fantasy managers should be considered when late in drafts. Each player listed below was, at best, a third-round pick in the NFL draft and outside my top-25 ranked rookie IDPs.
Diving into the best data available at PFF will help identify which players going later in rookie drafts are worth a shot for dynasty rosters.

---
Clemson's top pass-rusher in 2022, which may come as a surprise to some, was not actually first-round pick Myles Murphy, as Henry earned those honors with an 84.0 pass-rush grade and 53 total pressures. While he lacks ideal size, he showcased speed and quickness at the line of scrimmage and in chasing down runners in the backfield this past season, which can certainly translate to the next level.
The Commanders recently declined the fifth-year option for Chase Young, leaving him and Montez Sweat on a path to become unrestricted free agents at the end of this season. With it seeming more likely that the team is only able to sign one of them for the future, it offers an opportunity for Henry to step into a larger role next season.
K.J. Henry's 2022 ranks among this year's edge class (25 qualifiers):
| | | |
| --- | --- | --- |
| Metric | Value | Rank |
| Pass-rush grade | 84.0 | 9th |
| Total pressures | 53 | 6th |
| Run defense grade | 78.8 | 6th |
| Missed tackle rate | 6.5% | 2nd |
| Total tackles | 48 | T-10th |
---
Herbig is another potential edge rusher who lacks ideal size but was among the more dominant pass-rushers over the past two seasons at Wisconsin and could emerge on a team that typically gets a lot out of the position. He'll undoubtedly start his career behind T.J. Watt and Alex Highsmith, but beyond those two clear starters, Herbig has a real chance to be the Steelers' third edge, as they lack impact depth players, which has caused them to ride their starters for a lot of snaps these past few seasons.
Herbig, because of his smaller size, was even projected to play off-ball linebacker at the next level, which, for the Steelers, is also an area where depth is needed. A chance to play off-ball and even blitz from that spot in a rotational role shouldn't be ruled out as a rookie, just adding to his potential to see the field and optimize opportunities for IDP production. The main thing Herbig can provide the Steelers is a legitimate pass-rush threat who can provide respite for Highsmith and Watt – two of the more high-volume edge defenders in the league this past season. It's also worth noting that Highsmith is scheduled to become an unrestricted free agent at the end of this season, leaving potentially more opportunities for Herbig to step up.
Nick Herbig's key metrics and ranks among this year's edge class since 2021 (25 qualifiers):
| | | |
| --- | --- | --- |
| Metric | Value | Rank |
| Pass-rush grade | 92.8 | 2nd |
| Pass-rush grade on true pass sets | 93.2 | 1st |
| Pass-rush win-rate | 25.4% | 1st |
| Pressure rate | 19.4% | 1st |
| Run defense grade | 83.1 | 4th |
---
Turner had a career year at Wake Forest in 2022 — his first season with the team — posting a 92.2 overall grade, a 93.1 run defense grade and an 88.8 pass-rush grade. He earned third-round draft capital as a result, making him the highest-drafted player on this sleeper list, but one that is often overlooked in IDP rookie drafts, even in DT-required formats.
The Rams' interior defensive line is littered with former Day 3 picks and undrafted free agents, outside of Aaron Donald, of course, and Turner profiles as the best secondary option of the bunch. It's almost never easy for a dominant college defender to immediately have a significant impact early in their NFL career, but for Turner, there should at least be the opportunity to do so, given the lack of options. Deeper DT-required leagues would be wise to take a shot on Turner late in drafts or as a post-draft free-agent pickup considering his every-down talent.
Kobie Turner's 2022 key metrics and ranks among the 2023 defensive interior class (24 qualifiers):
| | | |
| --- | --- | --- |
| Metric | Value | Rank |
| Pass-rush grade  | 88.8 | 4th |
| Pass-rush win rate | 14.7% | 6th |
| Defensive grade | 92.2 | 2nd |
| Run defense grade | 93.1 | 1st |
---
Adebawore's athleticism alone is enough to make him a compelling prospect, but as a fourth-round pick on a team that could soon be in need of help at the position, he becomes even more intriguing for the future. Grover Stewart, Taven Bryan and Tyquan Lewis, who are all expected to be significant contributors to the interior of the Colts' defensive line this season, are also expected free agents by season's end. On top of trade rumors surrounding DeForest Buckner, Adebawore may find himself in an opportune situation for snaps and production as soon as next season.
The Northwestern product has shown he can be successful lining up all over the defensive line, and the Colts may ask him to do the same, not too dissimilar from how they've utilized Lewis in recent years. While far from a finished product, Adebawore certainly has all the tools to develop into a good NFL starter, which should hopefully translate to IDP.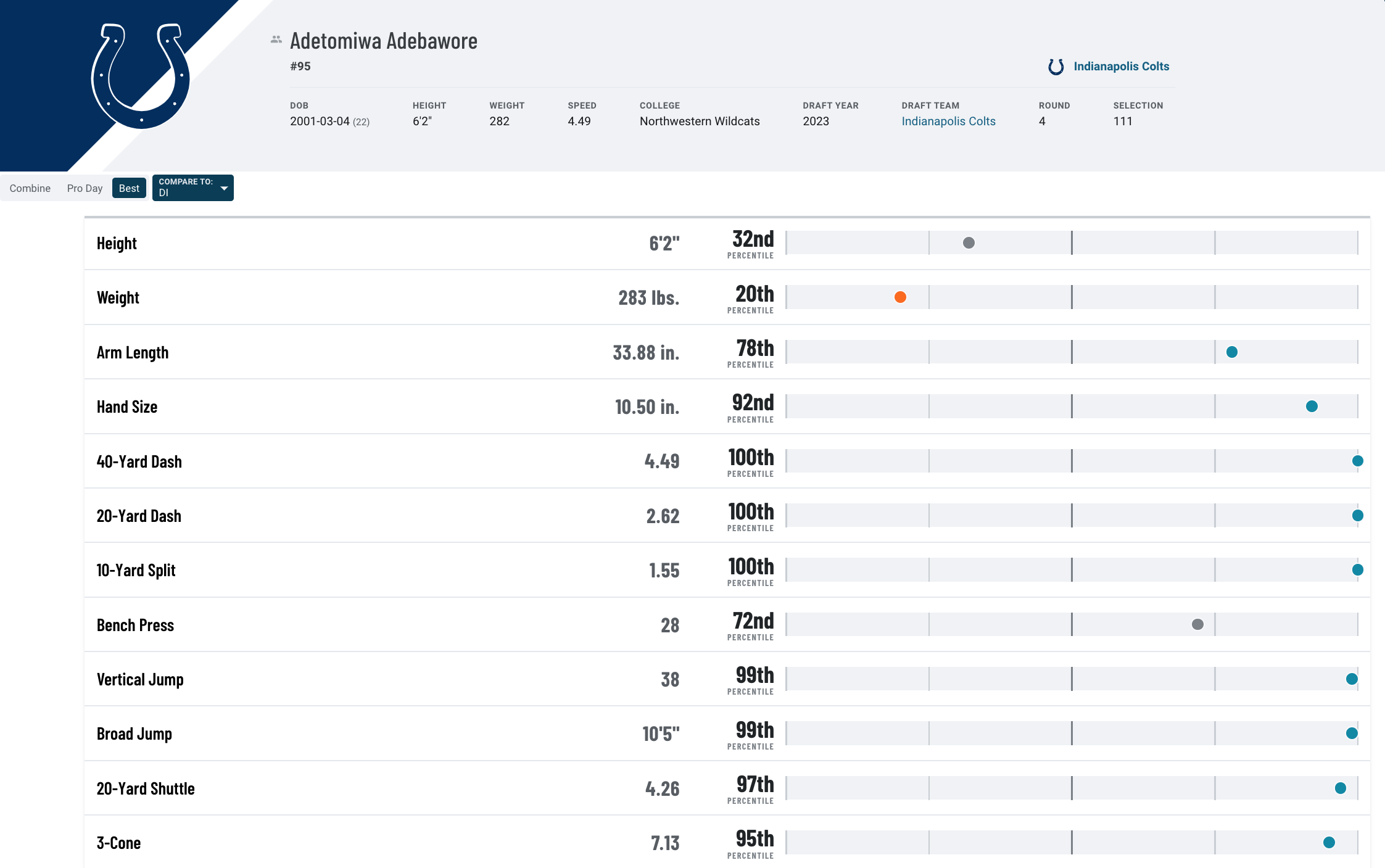 ---
Looking ahead to the future, and ignoring that there won't be an opportunity this season barring injuries, Dennis may find himself in a position to start for Tampa Bay down the road due to how this team is transitioning quickly from former Super Bowl champion to potential rebuild contender. Devin White has already requested a trade this offseason in lieu of a new contract, and Lavonte David is entering his 12th season in the league on another one-year contract, signaling that the end is near for him as well.
The Bucs may have no choice but to turn to some of their depth linebackers down the road, and there aren't any strong contenders to be considered starters, so Dennis has a real shot to play significantly. While he isn't known for his coverage ability, he did post a career-high 77.5 coverage grade in 2022. However, his greatest strength comes as a run defender, where he earned the second-highest run defense grade in the country (92.1) among linebackers and the third-best missed tackle rate (4.9%) at the position (min. 50% of snaps). He also has plenty of experience and success as a blitzer, with 16 sacks over the last two seasons, which is a big part of how the Bucs like to utilize their linebackers.
Jake Garcia meet Pitt LB Sirvocea Dennis (#7) pic.twitter.com/1GiicE79RY

— Ryan Roberts (@RiseNDraft) February 15, 2023
---
The fifth-round linebacker finds himself in an interesting position for an opportunity in Arizona, who bring in an entirely new coaching staff, led by former Philadelphia Eagles defensive coordinator Jonathan Gannon. The Cardinals' current linebacker room is led by 2021 first-round pick, Zaven Collins, who has been working with the edge rushers so far this offseason — which also happens to be a bigger, and more important, area of need for the Cardinals. Another former first-round pick, Isaiah Simmons, spent the majority of his snaps in the slot last year after working with the defensive backs last offseason, which allowed him to slightly improve as a defender in Year 3, and that may be his role again in 2023, even under a new defensive coordinator.
Gannon brought Kyzir White to Arizona with him from Philadelphia and now Pappoe, who both currently project to play more of an orthodox linebacker role than Collins or Simmons in 2023. It's still very early in the offseason and this could all turn out to be smoke, but if not, Pappoe is certainly worth taking a shot on at the end of drafts in what could potentially turn out to be a fantasy-relevant role with above-average volume in Arizona.
---
Skinner was a top-150 player on PFF's big board prior to the draft but fell to the sixth round due to injury concerns and should be considered a steal for a Broncos' team that will have a need for the position beyond this coming season. The team brought back the 35-year-old starter of the past four seasons, Kareem Jackson, for another run while other depth at the position consists of P.J. Locke, who is a free agent at the end of the year, and Caden Sterns, who has four career starts in the NFL. 
Sterns should be considered the favorite to start next season over Skinner, assuming Locke and Jackson do depart in free agency, but Skinner certainly has the ability to outperform Sterns and win the starting role. The Boise State product showed off strong coverage ability as a starter over the last two seasons, earning a coverage grade over 80.0 in each season and totaling six interceptions and seven pass breakups over that span. There is a lot to like about Skinner's game, even with poor draft capital, and especially for IDP as a player with more experience playing up near the line of scrimmage, he's an ideal sleeper to grab post-rookie drafts.
JL Skinner's grades and ranks among this year's safety class since 2021 (25 qualifiers):
| | | |
| --- | --- | --- |
| Metric | Value | Rank |
| Coverage grade | 89.3 | 4th |
| Forced incompletion rate | 15.63% | 6th |
| Run stop rate | 5.99% | 2nd |
---
Johnson went from being the 90th-ranked player on PFF's big board to a seventh-round pick, which is a big drop for a player who doesn't have the red flags on or off the field (at least that the public is aware of) that typically causes that big of a drop. In his first year transitioning from corner to safety at Iowa State, Johnson was able to maintain his solid grades across the board, and even added his first two college interceptions as a result.
The Green Bay secondary is in need of capable players who can start and be relied upon to play significant snaps, with only Darnell Savage having any true full-time experience at the position for an entire season. Johnson has over 3,000 defensive snaps of experience playing all over the secondary and should have a shot to win a starting job outright as a rookie if he continues to develop at the position, solidifying him as one of the biggest steals in this draft.