Now that the 2023 NFL Draft has come to a close, it's time for some review. Though these prospects haven't stepped onto a field with their new teams yet, we wanted to identify some rookies who we believe can be steals of the draft due to where they were selected versus where we had them on PFF's final big board. 
Here are seven of the biggest draft steals, one for each round.
---
More PFF draft content:
LIVE Draft Tracker | Mock Draft Simulator | 2023 NFL Draft Guide
Top 200 Big Board | PFF Mock Drafts | Measureables & Workout Data
NCAA Premium Stats | Draft Rankings By Position | Prospect Superlatives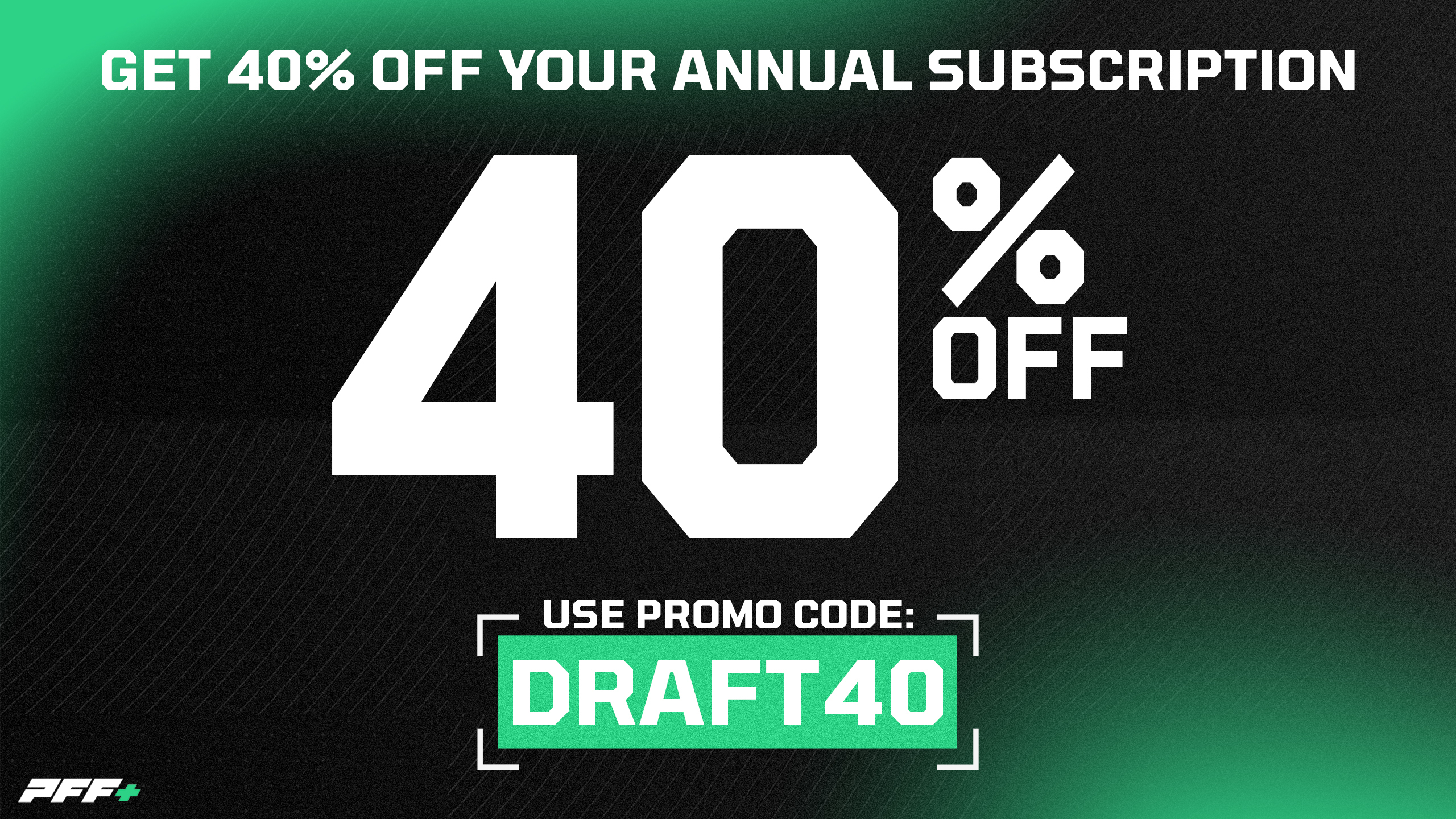 ---
Smith was ranked 13th on PFF's final consensus big board and ended up being selected 30th overall at the back end of the first round by the Philadelphia Eagles. There were talks (and mock draft predictions) of Smith going much earlier to the Eagles with their No. 10 overall selection. But they opted to trade up and take a sliding Jalen Carter there instead. To their joy and surprise, they were still able to get Smith.
Smith is undersized for an edge rusher. At 6-foot-2 1/2 and 238 pounds, his height and weight ranked in the 15th and 2nd percentiles, respectively. That had to be the leading cause for concern, as teams opted to select 29 other prospects before him. But his athleticism is truly elite. His 4.39-second 40-yard dash, 41.5-inch vertical and 128-inch broad all placed above the 95th percentile. He also holds up very well in the run game, with run-defense grades of 82.4 and 90.6 in each of the past two seasons.
Given his football character, strengths for his size and elite pass-rush potential with his athleticism, it's hard to believe he fell all the way to Pick 30.
---
Branch came in at 15th on PFF's final consensus big board, so seeing him slide all the way to Pick 45 was great value for the Lions in our book.
Branch was one of the best football players in the class. But while his combine testing wasn't terrible, it also wasn't anything to write home about. He ended with a 4.58-second 40-yard dash in the 42nd percentile, a 34.5-inch vertical jump in the 32nd percentile and a 125-inch broad jump in the 78th percentile.
But the numbers that matter much more were his 86.4 coverage grade and 90.6 run-defense grade in 2022 (only safety in college football with 85.0-plus grades in both categories), plus the fact that, as a hybrid nickel defender, he missed only four tackles in three seasons (with more than 170 total tackles made). That level of reliability is rare. He could be an immediate impact player for the Lions' secondary.
---
AT 6-foot-7 and 270 pounds, Georgia tight end Darnell Washington came in at No. 37 on PFF's final big board. But even taking into account some uncertainty of his receiving ability at the next level, the Steelers getting him at the end of the top 100 was a shock.
His 85.7 PFF grade in 2022 ranked fifth among all tight ends. Of his 30 catches last season, 22 went for first downs. He also showed good skills to be an all-around inline player with an 81.3 run-blocking grade. Improvement in consistency is important for him in his first few years in the NFL, but few players have the size-speed-strength combination to impact the game the way he does. 

---
Adebawore was always going to have an interesting landing spot. Due to his unique build as a trench player, his range was anywhere from the late first to the early part of Day 3. It ended up being the latter, but to us, that makes him a draft steal.
The versatile Northwestern defensive lineman was 56th on PFF's final big board. He has an interesting build for a trench player, measuring in at 6-foot-1 5/8 and 282 pounds. He's small in height compared to NFL edge rushers, and he's undersized compared to NFL interior defenders. His unique 33 7/8-inch wingspan at that height makes it tempting to still let him rush from the edge — which might be his best spot. But his height and length combination also presents an opportunity for him to find leverage on the interior.
What's not a question is his athleticism. With a 97th percentile 40-yard dash, 88th percentile vertical and 90th percentile broad (and that's compared to edge rushers — he ranked in the 99th percentile across the board versus interior defenders) — Adebawore is an explosive player on the line of scrimmage. It will take some creativity to make him a high-impact player, but the mold is there.
---
Johnson was the 53rd-ranked player on PFF's final big board, so for the Jaguars to get him more than 100 picks beyond that spot signals "draft gem" potential. Johnson's tape had some inconsistencies to it, but the hybrid safety-nickel defender earned a 91.0 PFF grade since 2021, and when lined up in the slot, specifically, he earned a 91.2 PFF grade since 2021, which was the highest grade at that alignment of any defensive back. 
With Darious Williams likely moving back to outside cornerback in Jacksonville, there are snaps to be earned at the nickel spot for Johnson, who could be a Year 1 contributor for the team in that area if he can hit the ground running. 
---
Hodges-Tomlinson was the 69th-ranked player on PFF's final big board. The reason he was picked as late as he was had to be his size. His 5-foot-8 height and 29-inch arm length are both 1st-percentile marks for the position. But his tape shows the athleticism and playmaking ability of a player who should have been drafted earlier than the sixth round, even if you believe he's just a nickel cornerback.
His cumulative coverage grade of 90.3 since 2020 was the best mark in his conference. The transition to slot cornerback will be a new one for him, as he played more than 2,200 snaps on the outside and just 66 snaps in the slot over the past three years. But his ability is one worth taking a chance on. 
---
Johnson was the 90th-ranked player on PFF's final big board, and unless there's something about his scouting report that we don't know about medically, he should not have been drafted so late. Johnson started for five seasons at Iowa State, four of them at cornerback, and moved to a hybrid safety-nickel cornerback role in his final season. He never recorded a coverage grade below 70.0 in his five years of experience. He pairs that experience with a desirable physical play style and shows good instincts in coverage at multiple defensive back positions. We believe the Packers got a good one.