No question at No. 1: Will Anderson Jr. stays locked in at the top after being the first defensive player selected in this year's NFL draft.
The linebacker position will require patience:

There aren't many ideal landing spots that will lead to a clear starting role from this year's class so patience will be key.

Even the edge group may have to wait:

First-round edge talent is plenty, but expect to wait some time before they become consistent fixtures in IDP lineups.
Estimated reading time: 17 minutes
---
Landing spots and draft capital are officially sorted so now it's time for IDP dynasty managers to lock in their fantasy football rookie draft prep by diving into the rankings. Below are the top 50 rookie IDPs to target in dynasty rookie and start-up drafts.
The following rankings are based on the scoring laid out below:
| | | | | | |
| --- | --- | --- | --- | --- | --- |
| Position | Solos | Assists | Sacks | Pass Breakups | Interceptions |
| Linebacker | 1.5 | 0.75 | 4 | 2 | 6 |
| Defensive line (EDGE/DI) | 2.5 | 1.75 | 6 | 2 | 6 |
| Defensive back (CB/S) | 2 | 1 | 6 | 2 | 6 |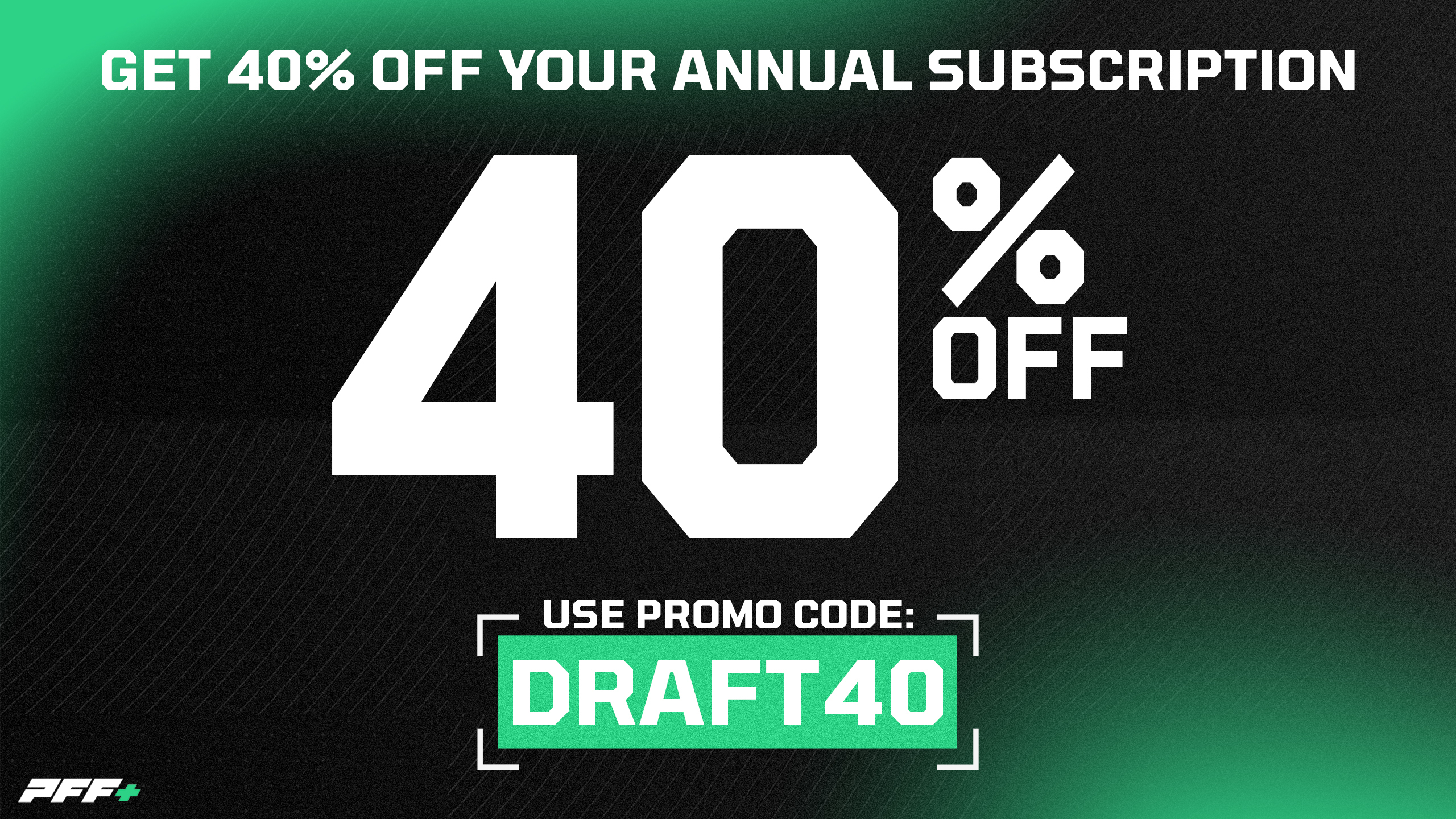 Anderson was the pre-draft rookie IDP1, and that isn't changing after being the first defensive player off the board in this year's draft. Anderson's college pass-rush metrics put him in the same bucket of prospects as Aidan Hutchinson and Josh Allen, who were also top-10 picks coming out and have had successful starts to their NFL careers.
Happy NFL Draft Day!????

I created a model (yes, I know everyone has one!) for EDGE prospects.

These aren't official rankings but they do provide insight via stable prsh+runD metrics, athletic testing, draft capital, & more!

2023 ED class + historic comps dating back to 2016: ⤵️ pic.twitter.com/PYiEmNCUiZ

— Jon Macri (@PFF_Macri) April 27, 2023
For Anderson, his fit within DeMeco Ryans' defense should allow him plenty of opportunities to put up top-end production, not only due to defensive snaps, but Ryans' San Francisco 49ers were one of the most stunt-heavy teams in the league last season which should allow them to utilize Anderson's quickness at the line of scrimmage and get him after the quarterback in a variety of ways.
---
Campbell was the top linebacker in the pre-draft IDP rookie rankings, and a landing spot in Detroit helps to solidify that post-draft. Alex Anzalone has frustrated IDP managers for two seasons as the Lions' top linebacker, consistently struggling to be efficient and offer any upside that IDP managers expect from a full-time linebacker.
Campbell didn't always showcase the best man coverage ability during his time at Iowa, which could create a slight learning curve, as the Lions were one of the more man-heavy teams in the league last season. The key for Campbell being a successful IDP will rely on him overcoming a system that, on paper, isn't one of the more linebacker-friendly schemes for tackle efficiency, but everything that he's shown at Iowa makes him the best bet among linebackers in this class to do so.
---
Carter moves into the top three purely based on talent and confidence that he will develop into one of the best defensive linemen in this class, and potentially the league by the time he hits his peak. Especially in DT-required leagues (which these rankings are based on), his value is that much greater when factoring in the scarcity of elite talent at the position. The Eagles' defensive line is definitely stacked with talent, but there is room for Carter to be an immediate contributor on the interior of the line as one of the most NFL-ready rookies in this class. 
Carter will have to earn his path to snaps with established veterans Fletcher Cox, Kentavius Street, Milton Williams and even last year's first-round pick Jordan Davis all in the middle of the line, but Carter arguably has the highest upside of them all. His dominance at Alabama in each phase of the defense was undeniable, so dynasty managers should be optimistic about his potential to develop into a top-tier option in DT-required leagues, making him all the more valuable amongst this class of IDPs.
Jalen Carter's positional draft class ranks since 2021:
| | | |
| --- | --- | --- |
| Metric | Value | Rank |
| Pass-rush grade on true pass sets | 92.1 | 1st |
| Pass-rush win-rate | 17.58% | 2nd |
| Run defense grade | 90.7 | 4th |
| Run stop rate | 13.47% | 1st |
---
Wilson lands with the Raiders, who — outside of Maxx Crosby and Chandler Jones — are in need of another impact pass-rusher. Playing behind two established starters should allow Wilson time to develop his pass-rush repertoire and the necessary skills to match up with his athleticism in order to compete consistently at the NFL level. While Wilson's eventual upside is enticing, he is more of a project edge rusher, so patience will be key for Wilson and his fantasy managers before expecting IDP starter-worthy production, especially with a veteran Jones more than likely locked into a starting spot for at least another year.
---
Van Ness has the size and versatility to become an impact player for the Packers, and for IDP, it just might not be the ideal snap share right out the gate as a rookie. Depending on Rashan Gary's health, who will be an unquestioned starter, along with the veteran Preston Smith, so the path to snaps on the edge might not be as clean as fantasy managers will want early on, but that doesn't mean he won't see the field. 
Van Ness would not be uncomfortable playing on the inside of the defensive line, something that he did on 64% of his college defensive snaps, which could be especially useful on obvious passing downs where Van Ness can provide some of his power and bull-rush to collapse the pocket. It will take some time for him to get exactly where IDP managers feel comfortable starting him every week, projecting very similarly to George Karlaftis' rookie season in 2022.
---
Murphy adds some much-needed depth to the Bengals' edge group as a player who could contribute on all three downs and provide relief for the likes of Trey Hendrickson and Sam Hubbard. Hendrickson hasn't been utilized as much on early downs in recent years, which should continue in 2023 with Murphy now in the mix and seeing some of those run defense snaps. 
He can also be another pass-rushing threat, an area that isn't Hubbard's strength despite strong sack numbers the last two years. He's been a compiler in that respect, never earning a seasonal pass-rush grade above 64.5 in the regular season. Murphy, like most rookies, will take some time to develop but has the athletic profile and pass-rush metrics to become a really strong IDP option once he secures a true starting role.
---
There is already a fair amount of ambiguity in how the Broncos may want to use Sanders in their defense. He does have significant pass-rush upside, but Arkansas chose to utilize him more as an off-ball linebacker, which is what helped his stock in this year's draft. Sanders is still very new to the linebacker position, and given his third-round draft capital, combined with Josey Jewell and Alex Singleton proving to be capable starters, it's possible that Sanders does not get a full-time starting job as a rookie. Jewell is scheduled to be a free agent after this season, which is when fantasy managers could start to see more return on the investment of Sanders as a top-10 rookie IDP pick.
---
Henley became the third linebacker drafted, not too long after Sanders came off the board, and just ahead of Trenton Simpson, which, while close, is also the case for these rankings. The tie-breaker between the two is confidence in his rookie year opportunity, and outside of Eric Kendricks, the Chargers' lack of a proven starter is a situation that Henley can take advantage of. Kenneth Murray has struggled significantly as a former first-round pick, and the team recently declined his fifth-year option, signifying that it may be ready to move on. Henley's coverage ability and strong tackling are among the best in this linebacker class and as long as he keeps that going, it should give him a significant edge over Murray, even as a rookie.
---
Similarly to Sanders, Simpson feels unlikely to step into a starting job as a rookie, playing behind Roquan Smith and Patrick Queen in Baltimore. Queen's fifth-year option has yet to be picked up. The team could move on sooner rather than later considering the third-round investment in Simpson, who offers a lot of versatility and proved to be a capable coverage linebacker in addition to what he adds as a blitzer, which should make him first in line to take over for Queen whenever the team decides to move on.
---
Anudike-Uzomah finds one of the better landing spots for an edge rusher after the Chiefs released Frank Clark earlier this offseason, and with Carlos Dunlap no longer on the roster, there are snaps available for the Kansas State product to flourish. Charles Omenihu should still see the majority of snaps along with Karlaftis, but the Chiefs often utilized multiple edge rushers on passing downs to get after the quarterback, and Anudike-Uzomah has a strong pass-rush ability that they can utilize even as a rookie, which should provide IDP managers with some big-play production.
---
Of the first-round IDP picks, McDonald's landing spot is one of the least ideal for immediate success. The team spent a first-round pick on Jermaine Johnson just last year while Carl Lawson and John Franklin-Myers are both projected to play significant snaps and judging by the team's deployment strategy last season, it's very possible McDonald, much like Bryce Huff last season, is more of a pass-rush specialist in this defense. While that can still allow for fantasy upside, it also hurts his production floor, as he's unlikely to play a lot of early down snaps and produce strong tackle numbers, which makes sense given his smaller size and lack of success in that department in college. 
Will McDonald's stable metric ranks among this year's edge class since 2021 (top-25 PFF Big Board):
| | | |
| --- | --- | --- |
| Metric | Value | Rank |
| Pass-rush grade | 90.2 | 6th |
| Pass-rush win-rate | 18.38% | 7th |
| Pass-rush grade on true pass sets | 90.6 | 7th |
| Run defense grade | 59.8 | 25th |
---
Smith is among the smaller edge defenders in this draft and now joins a crowded defensive line that could limit the number of snaps he plays each week, especially early in his career. Smith, much like the previously mentioned McDonald, is one of the best pure pass-rushers in this class, however, which is going to allow him to get after the quarterback and produce sacks — it just might be on an inconsistent basis given his size and amount of snaps designated to others on the team. Luckily for Smith, he shares a lot of size similarities with Haason Reddick and will be able to learn from him to eventually become a consistent pass-rushing threat at the next level.
---
Hall, like many edge defenders in this class, is unlikely to see 700-800 defensive snaps in Year 1 but could make a real push for IDP-relevant snaps sooner rather than later. Even after the team let Uchenna Nwosu cook on over 950 defensive snaps last season, drafted Boye Mafe in a similar spot in last year's draft and picked Darrell Taylor just two seasons prior to that, it could take time for Hall to emerge as a reliable IDP edge option. The Auburn product posted pass-rush grades above 81.0 in each of the past three seasons while totaling 22 sacks and 121 total pressures. 
---
There is a lot to like about Brown as an IDP safety option — and the opportunity for snaps in Philadelphia is the most important, with just Reed Blankenship (2022 UDFA) and K'Von Wallace (2020 fourth-rounder) standing in his way to start next to Terrell Edmunds. Brown has more experience playing in the box than any safety in this class, which is great for IDP production if the team chooses to utilize him in a similar role, but he also has some of the best coverage ability, recently earning an 89.4 coverage grade in 2022.
---
Battle dominated the stable metrics for safeties in this class and lands on a roster that just lost its two starting safeties from the year prior. Now, along with 2022 first-round pick Daxton Hill, Battle should compete with Nick Scott for starting duties, but considering his significant experience and success at Alabama over the past three years, he should be considered the favorite to win a starting job.
Battle's stable metrics among this year's safety class since 2021 (PFF Big Board top-25):
| | | |
| --- | --- | --- |
| Metric | Value | Rank |
| Coverage grade | 91.8 | 1st |
| Coverage grade w/no pressure on the play | 90.5 | 1st |
| Coverage grade when lined up at free safety | 89.0 | 1st |
| Coverage grade when lined up in the box | 89.3 | 1st |
| Forced incompletion rate | 16.7% | 3rd |
---
Kancey, much like Jalen Carter, offers a significant upside for the defensive tackle position in IDP given all that he's shown as a pass-rusher. Playing next to Vita Vea and Greg Gaines should allow him to get more one-on-one matchups to showcase his quickness at the line of scrimmage and win consistently. The pass-rush upside for defensive tackles is key, and Kancey has that in spades amongst this class, so he should be valued fairly high.
Kancey's pass-rush metrics among this year's class of DIs since 2021 (Top-24 PFF Big Board):
| | | |
| --- | --- | --- |
| Metric | Value | Rank |
| Pass-rush grade | 92.1 | 1st |
| Pass-rush win-rate | 16.83% | 3rd |
| Pass-rush grade on true pass sets | 90.0 | 4th |
---
Branch was technically the first safety taken in this year's draft, but considering some of the ambiguity regarding what his role might be on the Lions' defense, it's enough to push him down the board just a bit. Chauncey Gardner-Johnson offers similar versatility to Branch, being able to play in the slot or as a true safety, but depending on Tracy Walker's health and the reliability that Kerby Joseph showed as a rookie, there's a bit more competition for Branch to overcome in Year 1. 
---
Harrison has the experience and pass-rush chops to become a significant player for Atlanta, especially along a defensive that is in need of help. Not only did Harrison earn 85.0-plus pass-rush grades in each of the past three seasons, but he showed that he wasn't an early-down liability as well, never posting below a 73.4 run defense grade in four years at Ohio State. Harrison has great size and athleticism that should help him get on the field sooner rather than later in one of the weaker defensive line corps in the league.
---
Williams showed a lot of promise in 2022 as a significant part of Tulane's defense, earning an 87.0 coverage grade, only an 8.3% missed tackle rate and finishing the year with an 83.3 overall grade. There is a path to snaps for Williams in Buffalo, but it won't be easy, as he has to beat out last year's third-round pick Terrel Bernard, Tyrel Dodson and even A.J. Klein, who the team has relied upon in the past. Williams has his work cut out for him but as a third-round pick himself who showed he can be an impact player in college, there's enough to make him worthy of a rookie IDP draft pick.
---
Arguably two of the better landing spots for edge rushers in this year's class, and while they don't have dominant pass-rush profiles from college, they should see plenty of opportunity to make up for that in order to produce. The Cardinals and Rams are in desperate need of help at the position, and these Day 2 picks have the potential to step into volume roles if they can keep progressing this offseason.
---
Bresee also steps into a great opportunity for defensive snaps on the interior of the Saints' defensive line. A former five-star recruit out of high school in 2020, Bresee certainly flashed during his time at Clemson but there's still work to be done before he's a consistent IDP contributor. He should be given plenty of snaps and opportunities to develop in New Orleans, making him worth a shot in DT-required formats.
---
Foskey, and Tuipulotu land in similar situations with similar draft capital, as both are likely to start behind established veterans on the edge. At least for Tuipulotu, he could potentially kick inside and see a bigger role, but it's going to take time for both players before they're reliable in IDP.
---
Brown finds himself in a decent spot to eventually become a starter with respectable draft capital. Tashaun Gipson Sr. is entering his 12th NFL season at 33 years old and with one year left on his contract, so Brown may be the next man up in 2024. His high-end ball production in college, 10 interceptions over the past two seasons, makes him an intriguing prospect for IDP managers who have space on the taxi squad.
---
Both Montez Sweat and Chase Young are pending unrestricted free agents at the end of this season, which could be crucial in allowing Henry to step into a significant role after this year. He posted 53 pressures, five sacks, an 84.0 pass-rush grade and a 78.8 run-defense grade on 664 defensive snaps in 2022 for Clemson.
---
All four of the above linebackers are worth taking fliers on in tackle-heavy scoring formats, as there's a chance they emerge at some point this season due to injury, or next season as starter's contracts expire.
---
This group of safeties all have a shot to take over as starters on thin depth charts, either this year with a strong offseason or potentially next season. Johnson ranked as PFF's No. 2 safety on the big board while both Smith and Skinner ranked inside the top 10.
---
As a first-round pick, IDP managers may be tempted to target Smith highly in rookie drafts, but it's important to understand that the Michigan product is very much a nose tackle whose main contribution will be to defend the run at the NFL level. This limits his pass-rush upside and potential for production, making him almost entirely reliant on tackle numbers, which will be rare, even for a player of his caliber. Smith's elite athleticism, even ranking first on Bruce Feldman's Freaks List, could provide pass-rush opportunities down the line in his career but until fantasy managers see that, he's unlikely to be a fantasy target in most formats.
---
The Packers were in need of safety help, and they managed to grab PFF's No. 5-ranked safety, according to the PFF big board, in the seventh round. While the draft capital could work against him, Johnson showed off a strong understanding of the position in his first year playing safety after converting from cornerback, which is promising for a Packers team that is thin in their defensive secondary.
---
Pace is the only UDFA to crack the top 50 and after being one of "my guys" for this year's draft, we'll continue to go to bat for the small linebacker out of Cincinnati. Pace is an ideal fit for Brian Flores' defensive scheme, as he played a lot of snaps up near the line of scrimmage and blitzing, which is exactly what Flores has become known for when deploying his linebackers over the past few seasons. He will have to earn his way to a roster spot, but the fit and lack of depth in Minnesota could be enough to turn Pace into an IDP-relevant option at some point in the future.
---
45. LB Noah Sewell, Chicago Bears
46. DI Gervon Dexter Sr., Chicago Bears
47. DI Zacch Pickens, Chicago Bears
48. DI Byron Young, Las Vegas Raiders
49. DI Moro Ojomo, Philadelphia Eagles
50. LB Zaire Barnes, New York Jets