A key decision to make in fantasy football each week is who to add on the waiver wire. Naturally, that means an equally key decision is who to drop. Roster space is a finite resource, so when you want to add that new key player, someone's gotta go.
Every other week in this space, I'm going to break down players worth dropping. Sometimes it's a player who should be dropped, while others are just players who can be dropped in a pinch. I'll run through the list in order of ownership percentage on Yahoo as of Monday morning.
(89% rostered)
Obviously, given the state of the tight end position, Howard's upside means you don't have to drop him by any means. But after a hugely buzzy offseason and preseason, Howard's sitting at 131 scoreless yards through four weeks, including no usage at all in Week 2 and only 33 yards despite the Bucs putting up 55 points in Week 4. Better days are ahead for Howard, but apparently not better by as much as we expected. He's worth rostering, but if you're in a pinch and you have to cut someone, no shame here.
(83% rostered)
The latest updates on Green's condition Monday morning was that he's now likely to be out "at least" through Week 6, per Adam Schefter. There are rumors Green could also be looking for a new contract while he's out. It wouldn't be a shock to see the Bengals end up placing him on injured reserve. Again, Green's upside means he's fine to stash — especially if you have an IR spot in your league — but the question marks make him acceptable to drop in a bind.
(Both 67% rostered)
Hyde is getting the carries between these two, but he's not doing a lot with them and has basically no receiving value. And Johnson isn't contributing enough as a receiver either, averaging just 3.3 targets and 2.0 receptions a game. They've combined for one touchdown across all four weeks and barely 16.0 PPR points a game. Feel free to move on.
(58% rostered)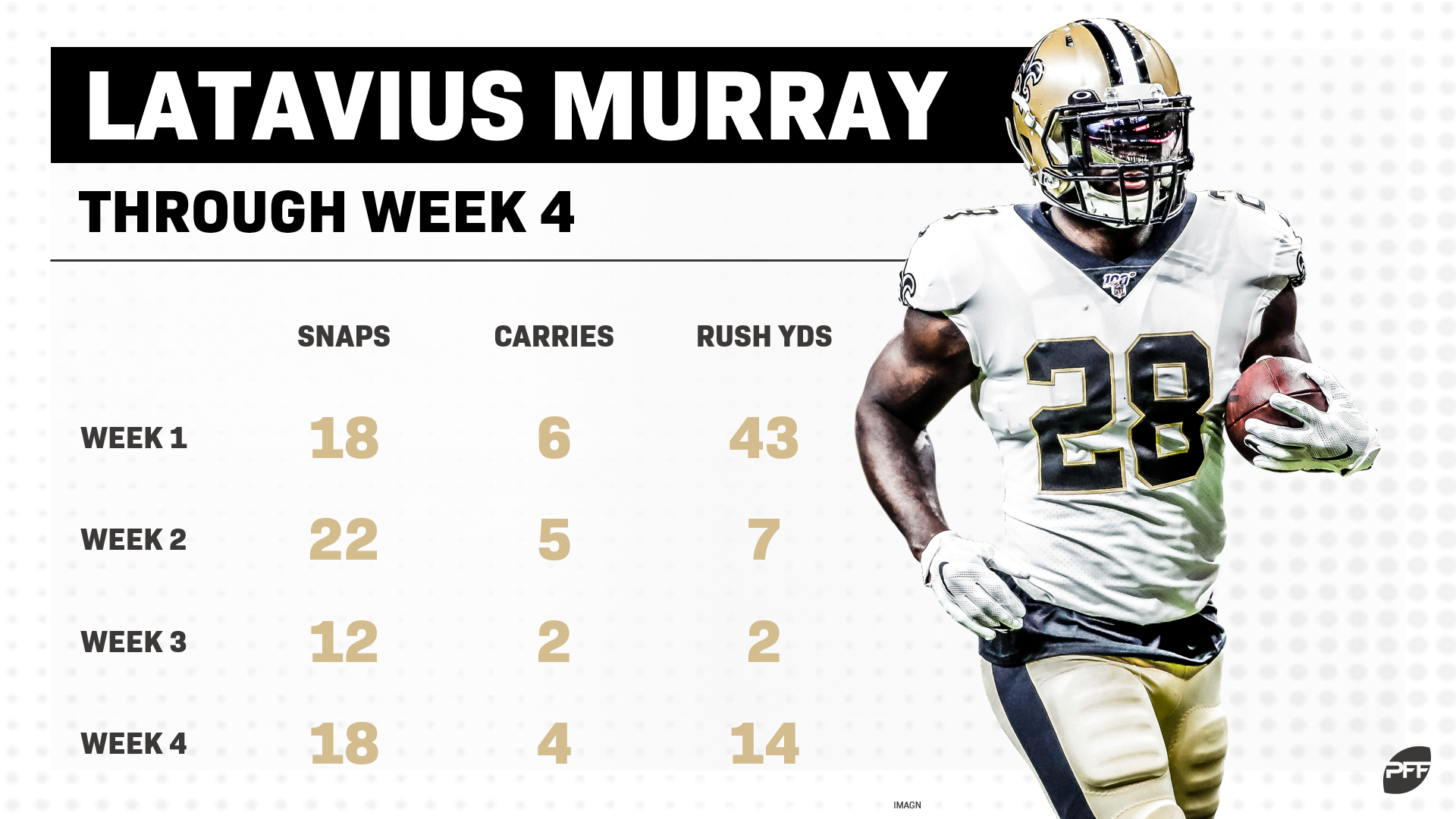 If you have Alvin Kamara and want Murray as a handcuff, or if you have deep rosters and can wait for Drew Brees' return, fine, keep Murray. But Brees got hurt early in Week 2, and over the past three weeks, Murray has 11 carries for 23 yards. The team has concentrated its usage to Kamara and Michael Thomas.
Antonio Brown, WR
(51% rostered)
In a keeper league, if you want to keep Brown, fine. In redraft? There's no reason at all to have him taking up valuable roster space.
(46% rostered)
There will be a time a few weeks from now when it makes sense to stash Hunt. But holding him now is just cluttering your roster, and considering he's not even likely to be the No. 1 upon his return, the upside isn't worth the nuisance.
(43% rostered)
Cousins is averaging under 185 passing yards a game, has 3 passing touchdowns in three weeks, and even his rushing upside appears to have disappeared (he has 37 yards and one score in four games). The Vikings want to run the ball more than anything. Move on.
(39% rostered)
Davis had an amazing 48-yard touchdown in Week 1. Take that one play out, and his season line is 9 catches for 75 yards and no scores. Even with Jordan Reed out for maybe forever and playing a weak position, the 35-year-old Davis in an awful offense isn't worth rostering.
(19% rostered)
Jackson got off to an excellent start in his second year before missing Week 4 to injury, averaging 4.8 yards after contact per attempt on 18 carries. And it's moot, because Melvin Gordon's return renders Jackson an afterthought. If you want to stash him one week to see if Gordon stays healthy in his first game, I won't fault you, but I also wouldn't advocate it.
(15% rostered)
It's not enough that Ballage has been really bad this year (check any one of several picking-on-him videos and gifs on Twitter), but he started losing playing time to Mark Walton Sunday. If you were holding out hope … stop.
(7% rostered)
Davis played a huge 40 snaps in Week 1, frustrating everyone who invested in David Montgomery. Then he played 15 in Week 2, exactly one snap in Week 3, and in Week 4 he was a healthy scratch after missing some practice time during the week. He'll rebound a little, but it's clear this is a Montgomery/Tarik Cohen situation.
(6% rostered)
Humphries had a big Week 3, catching 6-of-9 targets for 93 yards. Outside of that, his season line is 5 catches on 6 targets for 19 yards. Corey Davis is the No. 1 receiver in this offense, A.J. Brown has a role, and Delanie Walker isn't going anywhere. That doesn't leave much for Humphries.