Gone are the days when fantasy football season occurred between August and December. With the advent of best ball leagues, you can now play fantasy football all year long. Best ball leagues open up in February, but the action really doesn't get into full swing until after the NFL draft.
Just like in traditional fantasy football drafts, there's a lot of value to be mined in best ball drafts if you know where to look for it. The easiest way to figure out if a player is being overvalued or undervalued is to compare his ranking to his current average draft position. If the ADP is significantly higher, he's overvalued and vice versa. While ADP isn't an exact model of how your drafts will go, it's a good way to keep your finger on the pulse of current draft trends.
With the PFF best ball fantasy football rankings fully updated, I took a look at the most recent best ball ADP data and compared it with our rankings. Differences of more than a round of value both over and under are noted below. You can use this list to help you mine some value and avoid overspending in your current best ball drafts here in May, but keep in mind that ADP will shift in the coming weeks. As that data shifts, we'll also see a corresponding shift in player draft value, so be sure to check back here at PFF each month in the offseason for updated overvalued and undervalued players in best ball drafts.
Overvalued
Recency bias is in full swing with Henry, as drafters are currently endorsing him as the No. 13 running back off the board. Henry certainly impressed down the stretch last year, finishing as the No. 1 fantasy running back over the final four weeks of the season. But that was only a small chunk of production in what has otherwise been a largely lackluster start to his NFL career. That's not to say that Henry can't pick up where he left off, but spending an early third-round pick on him is about a round too early right now.
This one may dip in the coming weeks, but Cohen is currently going a round-and-a-half ahead of teammate David Montgomery. Cohen was extremely productive as a receiver last season, ranking sixth among running backs with 71 grabs. However, he was essentially the only show in town, as Jordan Howard did almost nothing as a receiver with just 20 catches. With Montgomery in house that ratio will almost certainly skew this season. That means it's fair to expect a decline in Cohen's workload. He's overvalued at this ADP, and Montgomery is very likely undervalued at his current ADP of 6.04.
There's a lot to like about Williams from a fantasy standpoint, especially given the fact that Tyrell Williams is now out of the picture. However, best ball drafters are currently selecting Williams as the No. 23 wideout off the board, ahead of Allen Robinson, Tyler Lockett, D.J. Moore, among others. Williams certainly comes with upside, but he's clearly the No. 2 wideout on his team and may not even be the No. 2 target given Hunter Henry's presence in the offense. It's safer to view Williams as a WR3 fantasy option, which means he's going about two rounds too high right now.
Maybe it's because there are so few options at tight end this year, but McDonald is currently being drafted as the No. 9 fantasy tight end. And you know what? There really isn't any issue with that valuation. He finished 10th at the position in PPR scoring last year and is in a good position to continue producing this year. The problem here is with where we're valuing tight ends relative to other positions. In my best ball rankings, David Njoku comes in as the No. 9 tight end, one spot ahead of McDonald. But overall, that ranks him 96th, which is a late eighth-round grade. Tight end is tricky right now, but there are better values to be had at the position.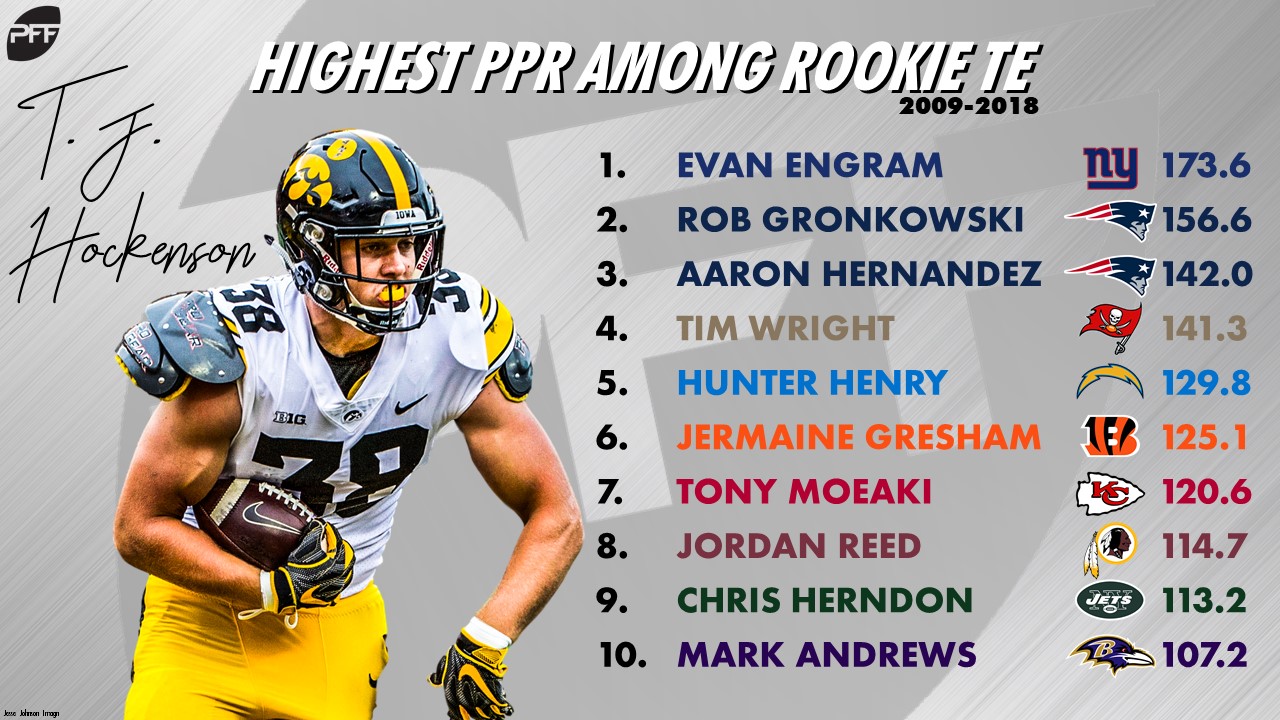 We could be seeing some residual effects from pre-draft best ball leagues in this ADP, but this is simply too high to be selecting a rookie tight end. And no, that's not a shot at Hockenson. He's a fine player who has an extremely intriguing dynasty outlook. In fact, Hockenson comes in at No. 14 in our 2019 dynasty fantasy football rookie rankings. But rookie tight ends take time to develop and rarely deliver a positive return on investment. It's safer to view Hockenson as a back-end TE2 in 2019, which means he's being overvalued by about three rounds.
Undervalued
Allen Robinson, WR, Chicago Bears (ADP 6.02)
The Bears wideout hasn't necessarily lived up to fantasy expectations since his breakout 2015 season, but getting a No. 1 wideout on a potentially explosive offense in the sixth round is a solid deal. Robinson averaged 7.3 targets per game last season, which ranked 21st among wideouts. And his aDOT of 12.5 yards suggests big-play upside is still in his wheelhouse. While Robinson may be frustrating in traditional season-long leagues, he has a profile that's tailor made for best ball. He's a solid value in this spot.
Much of what was just said about Robinson can also be said for Jeffery, and you get an even bigger discount on him. Jeffery ended last season 25th among wide receivers in PPR scoring, despite playing with a hobbled Carson Wentz for a good chunk of the season. If Wentz is in fact healthy in 2019, you're getting a nice discount with Jeffery as the No. 29 wide receiver off the board.
Corey Davis, WR, Tennessee Titans (ADP 7.11)
So what we're saying is: wait at wide receiver. Davis completely dominated the Titans team target share last year, a fact which many fantasy owners didn't realized because of Tennessee's run-heavy tendencies. While Davis didn't necessarily break out for fantasy purposes, he did grade out favorably as the No. 31 out of 117 qualifiers at wide receiver. He also finished as respectable 27th at the position in fantasy scoring, which is six spots ahead of where best ball drafters are currently valuing him.
DeSean Jackson, WR, Philadelphia Eagles (ADP 10.11)
With two Eagles on the list, it's safe to say that fantasy players are undervaluing the Eagles passing game. Jackson is certainly much longer in the tooth than his last stint in Philly, but he remains a very viable big-play threat who can deliver an entire week's worth of fantasy production in one play. Jackson won't hit big most weeks in 2019, but the beauty of best ball is you don't need to guess when the production is coming. Given this major upside, he's being undervalued by at least a round.
Fantasy football is all about opportunity, especially when a player has the right skillset. Case in point: Campbell getting pair up with Andrew Luck. In regular season-long leagues, Campbell is going to be frustrating this season. There aren't enough free targets in the offense for him to provide consistent production. But his blazing speed is a major best ball asset that makes him a solid value in this range.
This isn't quite the same situation as Campbell, but Brown still comes with major best ball upside. The Ravens are one of the run-heaviest offenses in the league, but Brown doesn't need a dozen targets per game to be a fantasy factor. His ability to flat out fly downfield coupled with Lamar Jackson's arm will make for a few big stat lines in the box score this season. There's about two rounds worth of value in this ADP.
Quarterbacks
If current trends hold, you're really going to be able to take your pick of signal-callers at a value. While we never advocate drafting quarterbacks early here at PFF, it's tough to deny the fact that you're getting a discount with Andrew Luck, Aaron Rodgers, and Deshaun Watson in the sixth round. Hold out a little longer, and you'll likely have your choice of Cam Newton, Carson Wentz, or Ben Roethlisberger in the 10th. Even Kirk Cousins, Lamar Jackson, and Jimmy Garoppolo offer slight discounts as upside options in the 12th round. For the late-round crowd, Derek Carr and Matthew Stafford can currently be had in the 14th round.