Entering last season, the Cleveland Browns were one of the "it" teams in fantasy football. The excitement of Baker Mayfield's impressive rookie season, along with the offseason addition of Odell Beckham Jr., gave the Browns mouthwatering fantasy appeal. But things didn't quite work out in 2019. The good news is that Freddie Kitchens is out and new head coach Kevin Stefanski should breath some new life into Cleveland's offense. Let's take a look at what the first batch of 2020 fantasy football projections have to say about the Cleveland offense.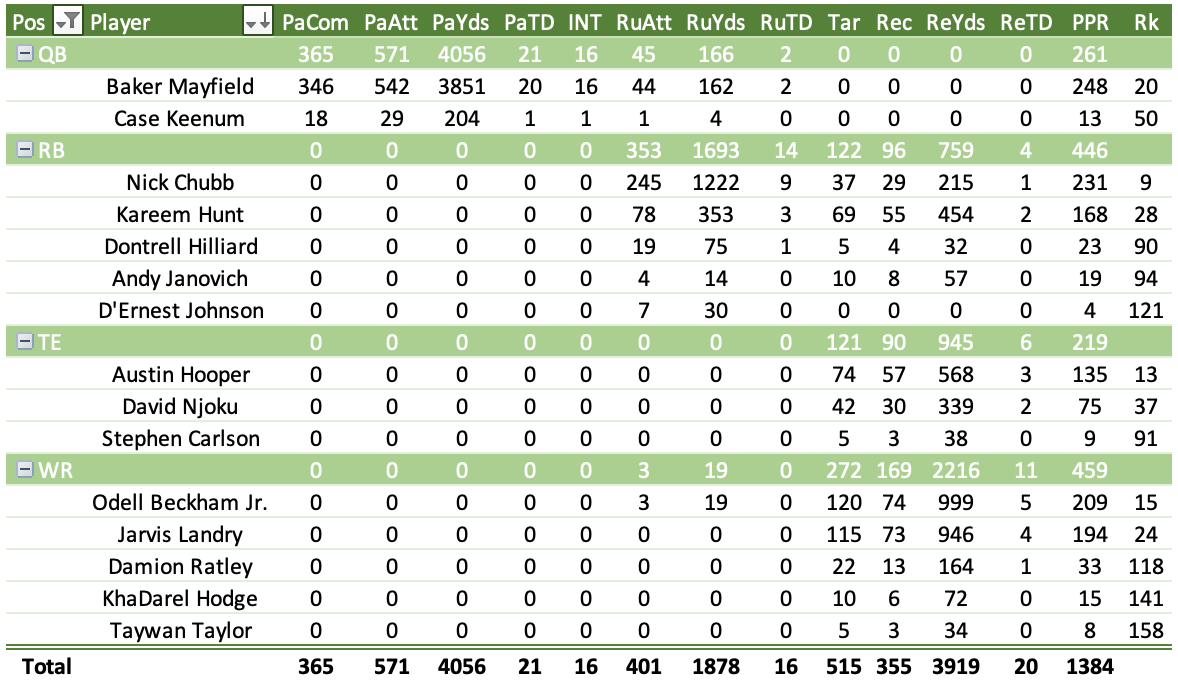 The fantasy hype machine pushed Mayfield's ADP through the roof last season, with him ultimately settling in as the No. 4 signal caller off the board in the late-fifth round. He ended up finishing 19th in what was a colossal bust of a season for essentially any Browns player not named Nick Chubb. But there's a new dawn on the horizon with Stefanski at the helm. 
The regime change should help the overall state of the Cleveland offense, but our projections aren't especially optimistic for a dramatic rebound. Mayfield's numbers come in very similarly to last year's totals and position him 20th at the position. This is one instance where our fantasy football projections and fantasy football rankings are very much aligned, as Mayfield is 18th in our rankings. Given the data, it's likely Mayfield is going just a tick too early at his current ADP of QB15. 
Like Mayfield, Beckham provided a negative return on investment last season. The veteran wideout finished a disappointing 25th among wide receivers in fantasy scoring after being drafted as the No. 6 player at the position. While our numbers do suggest improvement for Beckham's stock this season, he still only comes in as a front-end WR2. Of course, we should note that projections present the midpoint of a wide range of outcomes. Given Beckham's proven high ceiling, there is some merit to drafting him ahead of this spot. His current ADP in the early third-round is a more than appropriate place to look to get shares of him.
We may have exaggerated things a bit by saying last year was a bust for everyone except Chubb, because Jarvis Landry did manage yet another solid season of production with 83 catches for 1,174 yards and six scores. He actually finished the year as WR12 in PPR scoring. While our numbers aren't as favorable for him in 2020, it's important to remember what we get with Landry for fantasy purposes. His ceiling is nowhere near as high as Beckham's, but his floor is significantly higher. Landry has at least 80 catches in all six of his NFL seasons, but he's also never topped double-digit scores. Essentially he's a high-floor, low-ceiling WR2 who should continue provide safe fantasy production. 
There is one additional mouth to feed in the passing game, as the Browns signed Austin Hooper in free agency. Hooper has topped 70 catches in each of the last two seasons, but he's going from an Atlanta offense that we have projected second in passing attempts (617) to Cleveland, which we have ninth in passing attempts (571). While that isn't necessarily a dramatic drop off, it is a little less meat on the bone. That, plus having to compete with Landry, Beckham and David Njoku for target shares, depresses Hooper's value. He's looking like more of a fringe-TE1 option.
The aforementioned Chubb has been one of the most productive running backs in the league over the last two seasons with a hearty 5.1 yards per carry and 16 rushing scores during that span. The projections like Chubb to continue those ways with an average of 5.0 yards per carry and nine rushing scores. Only Derrick Henry projects out with more rushing yards on the season. 
Of course, the challenge with Chubb in PPR or half-PPR formats is his involvement in the passing game. It's yet to be determined if Kareem Hunt will be suspended for the January incident when he was pulled over and found to have marijuana in the car, but our current numbers have him in for the full season. As we saw last year, Hunt projects to be heavily involved in the passing game, which leaves Chubb to average just 1.8 catches per game. Still, Chubb's prowess in the run game positions him well for RB1 production. Hunt slides in as a risk/reward RB3.  
[Find the full collection of analysis and insights on PFF's 2020 fantasy football projections for all 32 NFL teams. Check back as more articles will be added each day.]