Stop second-guessing yourself with fantasy football start/sit decisions — let PFF's fantasy football rankings, projections and tools do the heavy lifting and guide you to a Week 18 fantasy football championship or big win in DFS.
---
Click here for more PFF tools:
Rankings & Projections | WR/CB Matchup Chart | NFL & NCAA Betting Dashboards | NFL Player Props tool | NFL & NCAA Power Rankings
Best Bets Tool
---
PFF EDGE subscribers are always one step ahead of their fantasy football competition, having access to critical information and tools such as best bets, player props, goal-line touches, end-zone targets and target rate per route run.
My Week 17 start/sit picks went 23-10-2. Let's keep it rolling one last time for anybody else out there still playing fantasy football. And if your league has concluded, be sure to incorporate all the advice below while constructing your DFS lineups and betting your player props.
Jump to a position group:
---
TEAM MOTIVATION
Part of navigating the Week 18 landscape is identifying teams that have something to play for. Here's a brief overview of what's on the line in each Week 18 contest and the level of effort projected for each team. Take all of this into account when setting your fantasy football lineups. 
Saturday
Kansas City Chiefs (-10.5) @ Denver Broncos: The Chiefs need a win and Titans loss to clinch the No. 1 seed. 
Dallas Cowboys (-7) @ Philadelphia Eagles: Eagles head coach Nick Sirianni is still deciding whether to rest starters against the Cowboys in the season finale Saturday. Bet the under for Eagles player props now before news breaks that they decide to rest up with virtually nothing to gain. Dallas will not be resting its starters, but if the team builds a big lead, Dak Prescott and company likely won't be out there for long. 
Sunday
New York Giants (+7) @ Washington Football Team: Both teams are out of the playoff race. Washington head coach Ron Rivera said the team wants to evaluate its depth but also play to win. You weren't starting anybody from the Giants anyway outside of Saquon Barkley as they look to run the ball on 70% of their offensive plays. 
Cincinnati Bengals (-2.5) @ Cleveland Browns: Unless both Kansas City and Tennessee lose in Week 18, the Bengals are locked into the fourth seed. Joe Burrow will not play in the contest. The expectations are that he and other key Bengals starters will rest. Baker Mayfield won't start either, so I'd presume any other player with an injury ailment of any kind will sit. Nick Chubb played a season-low 42% snap share as he battled through a rib injury in Week 17. 
Green Bay Packers (-2.5) @ Detroit Lions: The NFC's best team is favored by just 2.5 points against the two-win Lions. Head coach Matt LaFleur claims his guys are playing, but for how long is anyone's guess. Vegas certainly doesn't think it will be for very long. 
Chicago Bears (+2.5) @ Minnesota Vikings: This is an NFC North showdown between two teams that look to be cleaning house once the clock hits zero. Both teams should roll out their usual cast of characters, but there's an inherent risk to play them in fantasy football, as players could be taken out at any given moment. 
Indianapolis Colts (-15.5) @ Jacksonville Jaguars: The Colts need to win to get into the playoffs. The Jaguars need to lose to secure the No. 1 overall pick in the 2022 NFL Draft. 
Pittsburgh Steelers (+5.5) @ Baltimore Ravens: Both teams have slim chances of making the playoffs, but that sliver of hope will ensure each team goes all out in Week 18.
Tennessee Titans (-10) @ Houston Texans: Even through all the ups and downs of the season, Tennessee has a chance to secure home-field advantage with a win over Houston. It's no lock as a road game versus a divisional opponent, especially being that the Texans already beat the Titans earlier this season. 
New York Jets (+16.5) @ Buffalo Bills: If you couldn't tell by the betting line, Buffalo has all the incentive to play its starters in this contest with the AFC East division crown and playoff home games well within reach. 
New Orleans Saints (-4.5) @ Atlanta Falcons: The Saints need to win and get help later on to make the playoffs. They should be going all out, so their players can be trusted for fantasy football purposes, as can Atlanta's players.
New England Patriots (-6.5) @ Miami Dolphins: The Patriots need a win and help to move up in the AFC playoff seeding, so they should play their starters. Miami was eliminated from playoff contention last week, but all indications are they want to finish the season with a sweep of their division rivals. 
Carolina Panthers (+8) @ Tampa Bay Buccaneers: Head coach Bruce Arians says the Buccaneers won't rest starters in an effort for the No. 2 seed. He voiced a similar sentiment last season when Tampa Bay faced Atlanta. Tom Brady threw for 399 yards and four touchdowns en route to 30 fantasy points. Fire up your Bucs with confidence across all formats. Brady needs just 16 completions to break the all-time record. 
San Francisco 49ers (+4) @ Los Angeles Rams: The 49ers need to win to get into the postseason, and the Rams need to win to have a chance at the No. 2 seed. Expect a highly competitive game from both sides. 
Seattle Seahawks (+6.5) @ Arizona Cardinals: Arizona still has a chance at the NFC West title with a win and a Rams loss. With both games ongoing in the late window, Arizona looks mostly full-go to win but could pull guys late, depending on the scores.
Los Angeles Chargers (-3) @ Las Vegas Raiders: The winner goes to the playoffs, and the loser goes home. What a way to conclude the first-ever Week 18 slate.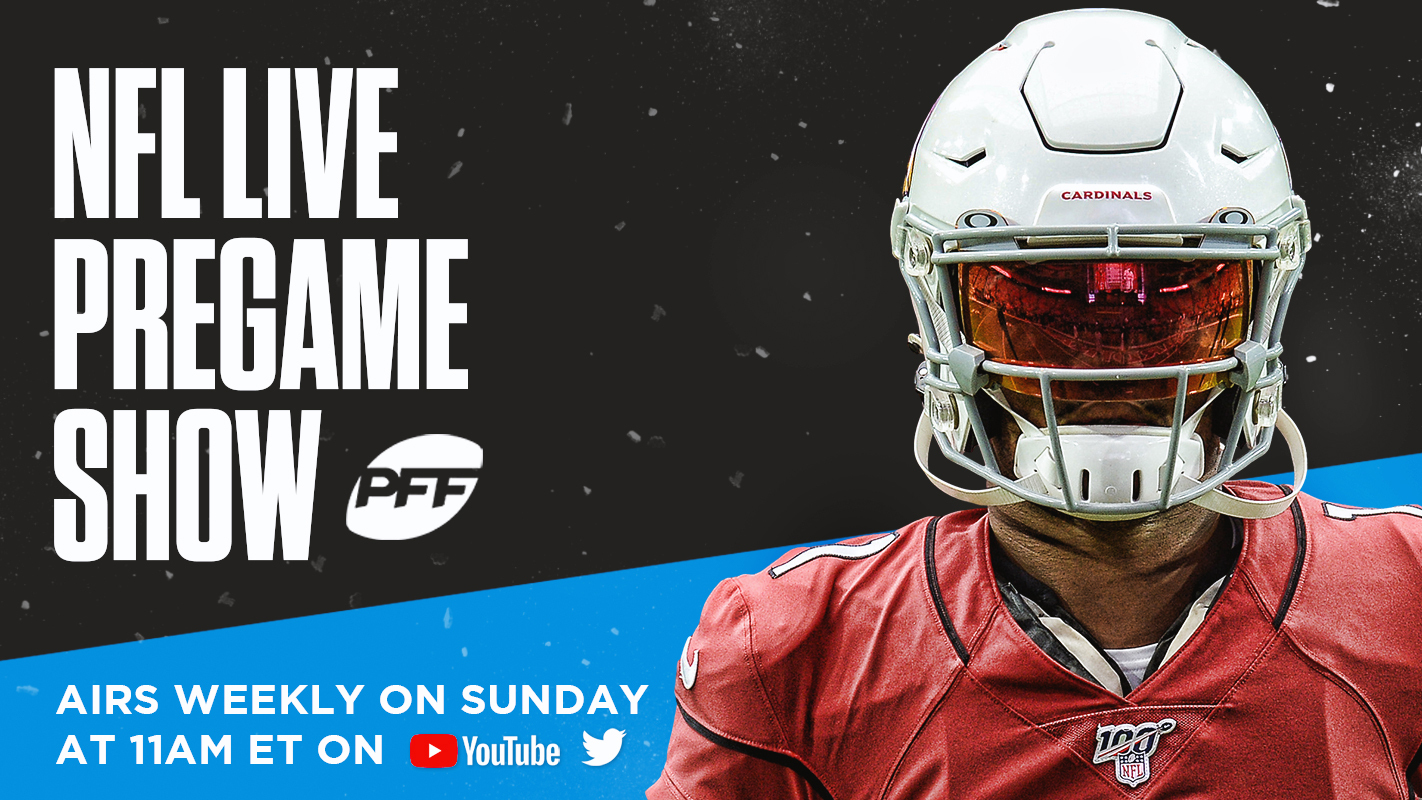 QUARTERBACKS
START
Hill has averaged 19.4 fantasy points in four starts to go along with 11 rushing attempts in each contest. His rushing upside in combination with a must-win plus-matchup versus the Atlanta Falcons, who rank third-worst in rushing yards allowed to quarterbacks this season, make him a no-brainer play for Week 18.
In DFS, Hill looks like the perfect cash game quarterback at just $6,200 on DraftKings. 
Fields has finished as a top-12 fantasy quarterback in his past four completed games. I was all over his 180.5 passing yards prop in Week 15, which he smashed into oblivion by throwing for 285 yards against the Minnesota Vikings' defense.
The rookie quarterback is averaging 56 rushing yards per game over his past six completed contests, putting him firmly back among the top 15 fantasy quarterbacks in a rematch versus the Vikings, who rank sixth-worst in fantasy points allowed to quarterbacks this season. 
Bears head coach Matt Nagy said that if Fields is healthy, he will start in Week 18 over Andy Dalton.
SIT
Obviously, if the Eagles say they are resting their starters, don't touch Hurts in fantasy lineups for DFS. But even if they say the starters will play, I would still be extremely hesitant to play Hurts in any capacity.
The Eagles were cautious with Hurts during the preseason and ran pretty vanilla offenses to keep things close to the vest. I'd be surprised if Hurts plays more than a series or two before getting yanked.
Bet the under on his 42.5 rushing yards prop, as the Eagles likely won't put him in harm's way in a game that holds little impact.
Rodgers could easily throw for three touchdowns in one half against a horrible Detroit Lions defense that ranks 29th in passer rating allowed this season (108.0). But with the NFC's No. 1 seed locked up, there are better quarterback options to gravitate toward in Week 18.
The reigning MVP doesn't need more reps in a meaningless game. 
The Patriots have allowed the second-fewest fantasy points to quarterbacks this season, so I'd avoid streaming the Dolphins quarterback at all costs.
RUNNING BACKS
START
Singletary handled five carries inside the 10-yard line to Josh Allen's two in Week 17.
It's rare to see a running back receive Singletary's workload in an offense that always features heavy doses of quarterback power near the goal line. Nevertheless, the third-year player is set to smash in Week 18 with his featured role versus the Jets.
Subscribe to PFF Edge to continue reading
Already have a subscription? Sign In