• Tyler Allgeier: 15 carries, 75 yards, 2 touchdowns, 3 receptions, 19 receiving yards
• Bijan Robinson: 10 carries, 56 yards, 6 receptions, 27 receiving yards, 1 receiving touchdown



Estimated reading time: 6 minutes
---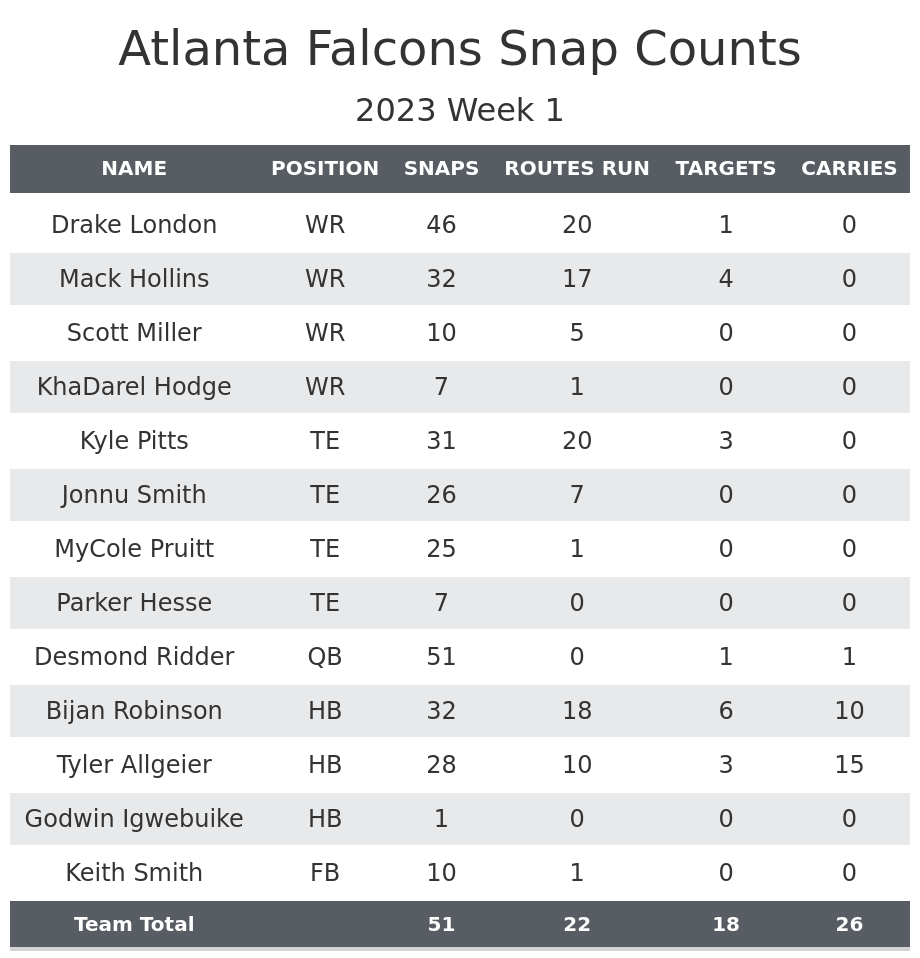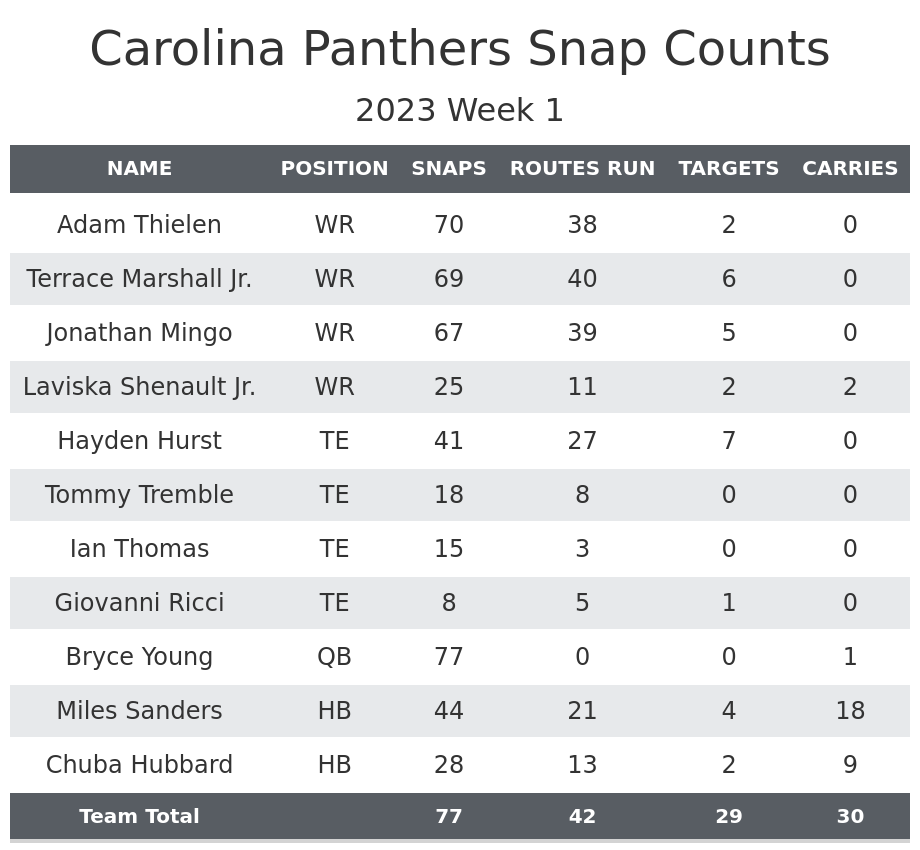 Bijan Robinson makes his debut: The Falcons used a strong two-man committee that drove them to victory.
Atlanta used a pretty even split between the two running backs, with a slight tendency to use Allgeier in running situations and Robinson in passing situations.

Robinson maintained a massive 33.3% target rate, which hurt the fantasy production of all of the other Falcons receivers.

Both running backs maintained 5.0 yards per carry or better, with Robinson being slightly more explosive.

Robinson maintained a clear edge in offensive snaps over the first three quarters. He played in 26-of-33 snaps over the three quarters while Allgeier was used more as a closer, playing in 11-of-15 snaps in the fourth quarter.

Robinson's touchdown occurred in the second quarter, where both of Allgeier's happened in the fourth quarter.

While Allgeier will score more touchdowns this season, I would not anticipate Allgeier consistently being the goal-line back for Atlanta.

Robinson will remain a must-start going forward, but there is a chance Allgeier can also be a fantasy starter.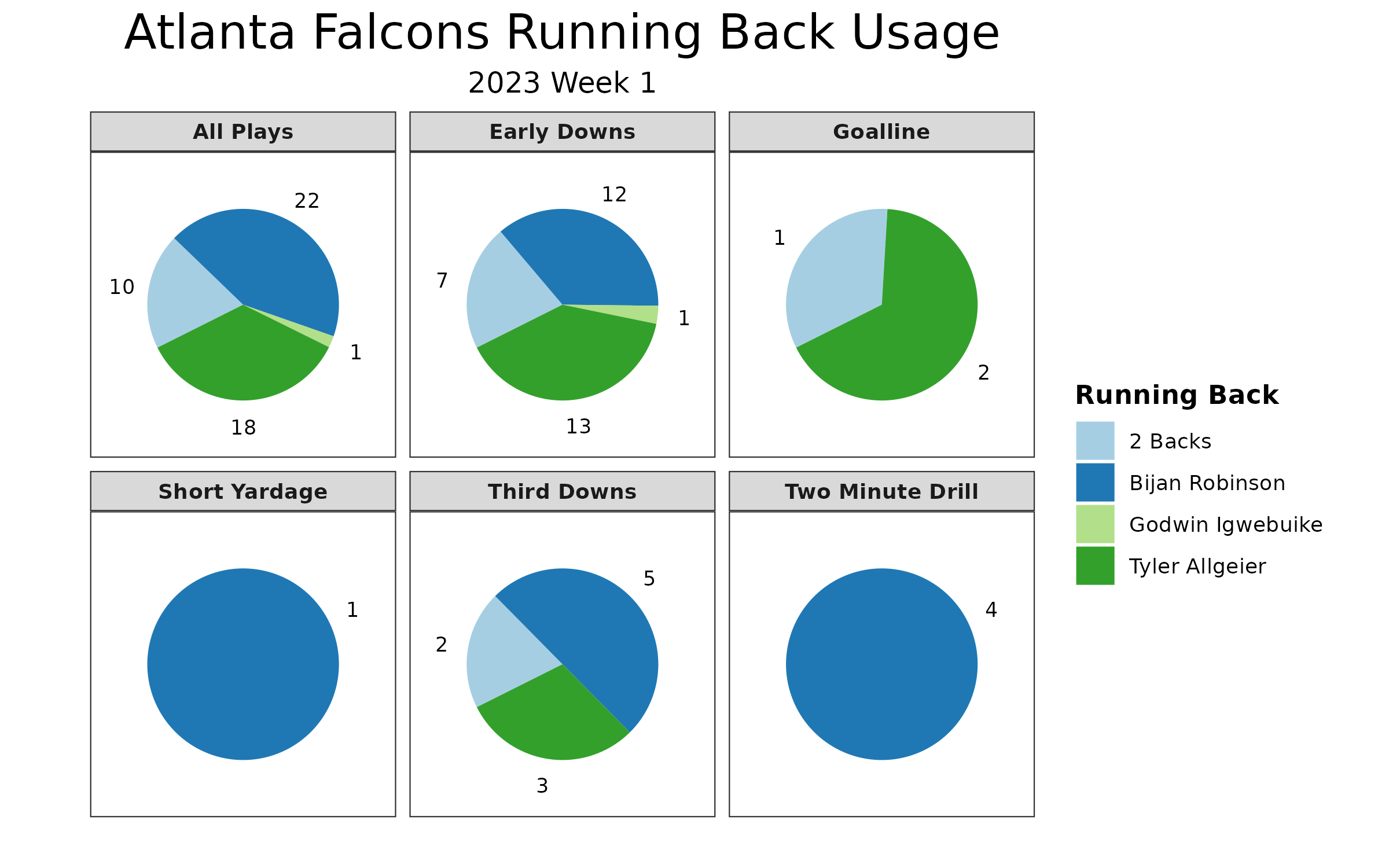 Kyle Pitts' quiet game: The Falcons' tight end led the team in receiving yards, but that won't be enough to satisfy fantasy managers.
He caught two of his three targets for 44 yards, with all of his targets coming in the second half of the game.

Pitts was rotated in and out of the game similar to his worst games last season.

If there was any personnel group you would expect Pitts to be on the field, it would be 11 personnel, but he only took three snaps from 11 personnel out of a possible nine.

If Pitts was used similarly to how he was last season before his injury, he could be a consistent fantasy starter even in Atlanta's run-first offense.

If Atlanta plays every game like this, then Pitts still probably needs to be a fantasy starter, but there will be many frustrating weeks.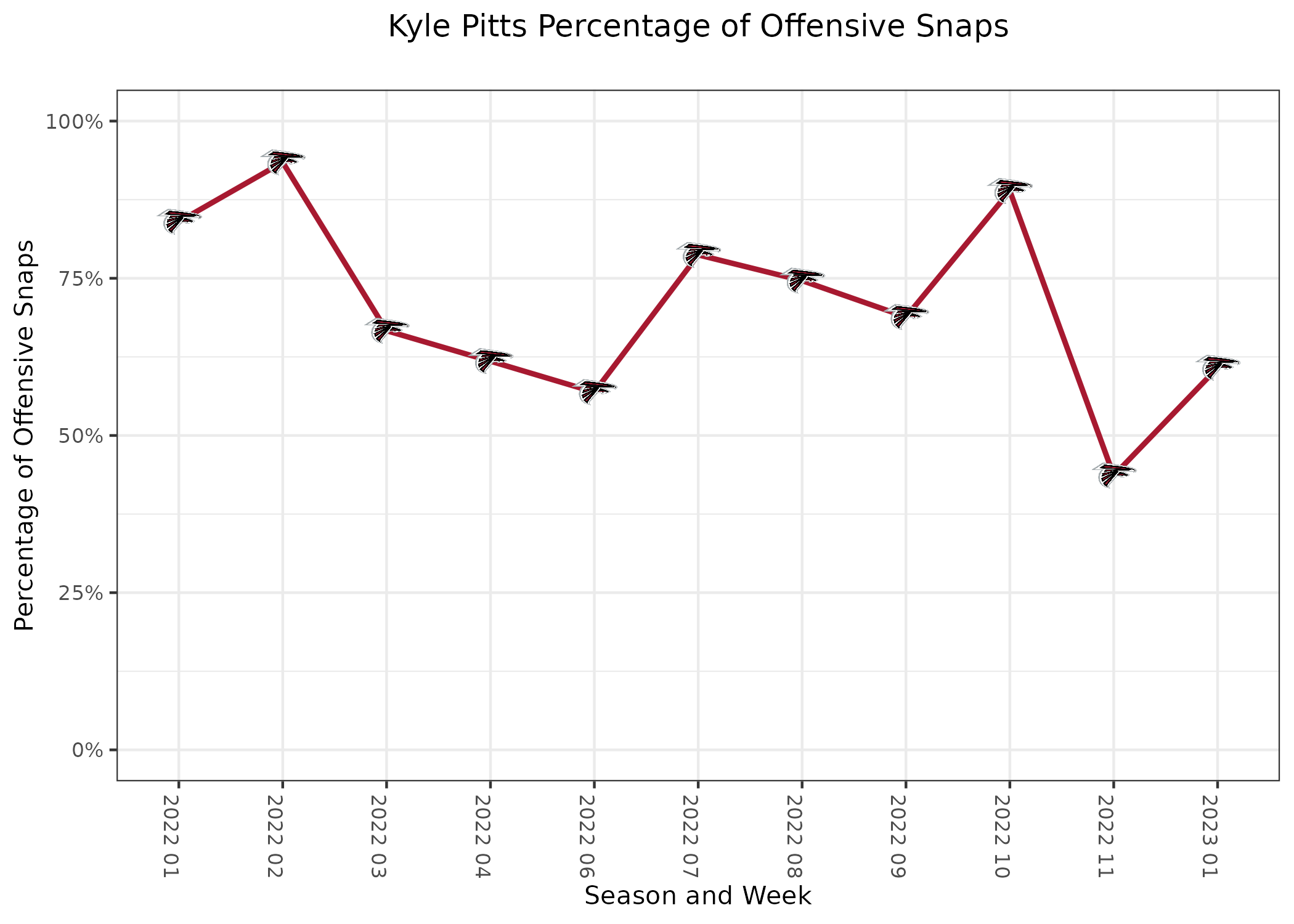 The Panthers two-back committee: There was talk all offseason about Miles Sanders taking a three-down role, but that wasn't the case in this game.
Sanders missed most of training camp and all of the preseason due to a groin injury.

Sanders was the clear starter on early downs with

Chuba Hubbard

also seeing significant playing time on first and second downs.

Hubbard was consistently the Panther on the field on third downs outside of a third-and-1.

Hubbard was the more impressive runner throughout the game, averaging 6.7 yards per carry while Sanders at one point lost a fumble.

Sanders did see more targets and receptions despite not having the passing down role.

The one promising point for Sanders is he did see significant work during two-minute drills, which is a sign Carolina trusts him as a receiver.

The biggest concerning point is Hubbard played significantly in short-yardage situations, which could lead to Hubbard stealing some touchdowns down the line.

It's possible Sanders starts to see more playing time once he's further removed from his injury, but for the time being, Sanders goes from a must-start to someone worth starting as long as the matchup is anywhere from good to average.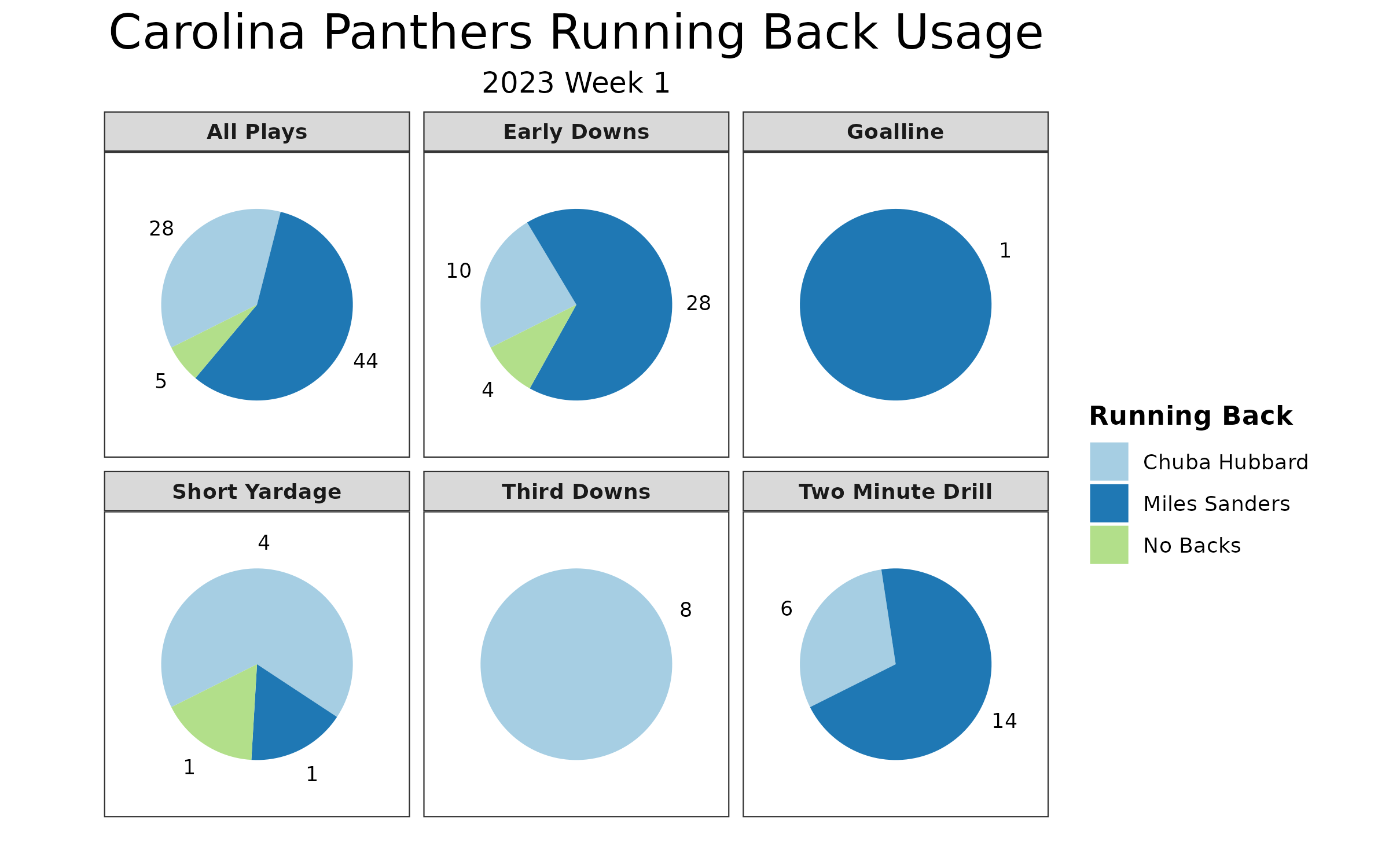 Hayden Hurst is a tight end to watch: Hurst led the team in receiving yards and scored their only touchdown, but he didn't see as much playing time as we originally thought. 
Hurst caught five of his seven targets for 41 yards and a touchdown.

He was consistently seeing the clear majority of snaps with the starters throughout the preseason.

Carolina stuck with 11 or 01 personnel for the majority of the with only five snaps in two tight end sets, so the majority of the snaps by the other tight ends were in place of Hurst.

While part of the explanation for his low snaps could simply be Carolina ran a lot of plays and a lot of pass plays in particular, he also only played in seven of 14 snaps in the first quarter, so this was also partially by design.

He is a fine waiver wire target for a fantasy manager looking for a backup, but we will need to see more games before we can trust Hurst in a fantasy starting lineup.
Miscellaneous Notes
Drake London

only left the game for five snaps but was only targeted once on his 22 pass routes, which is discouraging.

KhaDarel Hodge

is expected to be the Falcons' third wide receiver long-term, but Hodge was questionable coming into this game with an ankle injury, which is likely why

Scott Miller

received more offensive snaps than Hodge.

Terrace Marshall Jr.

became a starter with

D.J. Chark Jr.

missing this game with a hamstring injury. It's possible we see a little bit more of a rotation once he's healthy if they want to keep Marshall involved.
---
Table Notes
• Snaps include plays called back due to penalties, including offensive holding or defensive pass interference. The other three stats have these plays removed.
• Targets may differ from official NFL sources. The most likely discrepancy would be from a clear thrown-away pass, where the NFL may give the target to the nearest receiver, while this data will not.
• Carries are only on designed plays. Quarterback scrambles won't count for the total number of carries in the game.