• Cincinnati Bengals WR Ja'Marr Chase leads the list of players who are most overvalued by round due to his inconsistent outputs and competition for targets with teammate Tee Higgins.
• Detroit Lions RB D'Andre Swift is the top overvalued running back due to his competition with Jamaal Williams, and lack of quality runs.
• A few rookies can be found in the mid-to-late rounds, as there are other rookie options that have better odds of succeeding this season.
Estimated reading time: 16 minutes
---
Every NFL offseason, players with high upside are hyped up to the point that they are no longer a value at their average draft position by the fantasy football drafts come around.
These are players who have put up fantasy production in the past but for whatever reason are unlikely to keep it up, along with rookies and other young players with talent but a long path to playing time. Whatever the reason, these players are being drafted too early.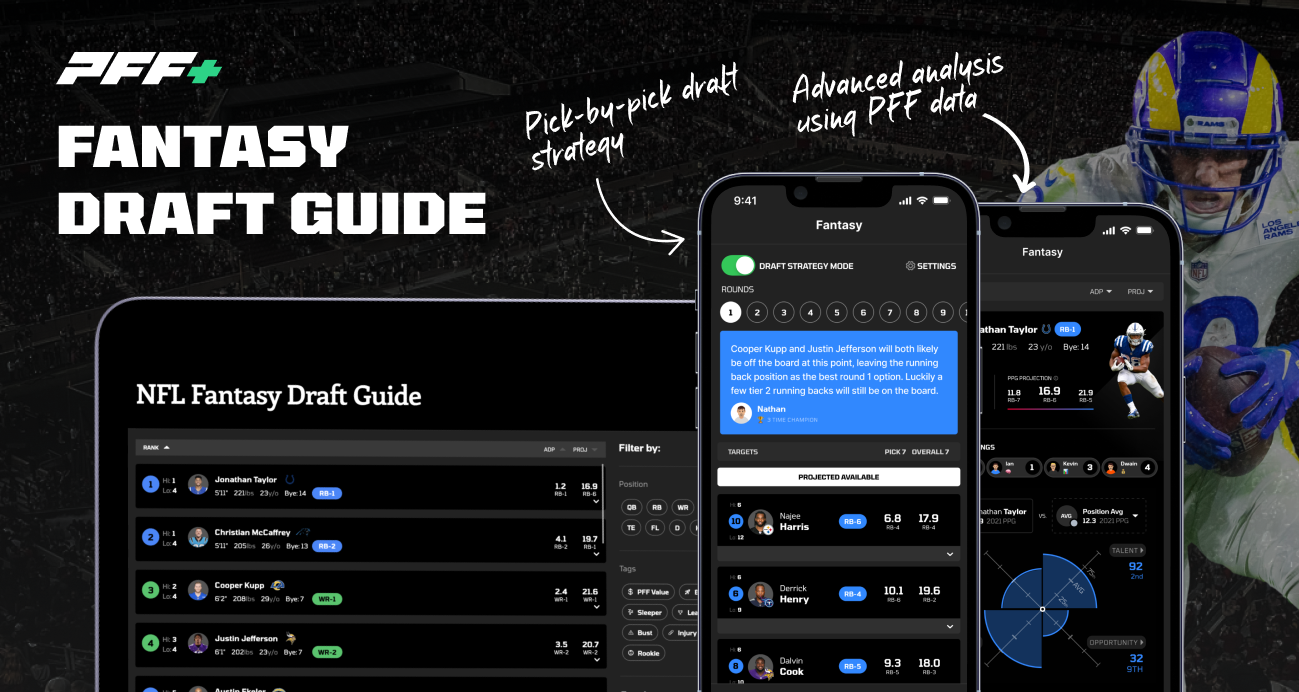 If you only look at Chase's best six games last season, he seems like a clear contender to be WR1. The problem arises when examining his other 11 contests — Cooper Kupp and Justin Jefferson were much more consistent. We can expect Chase to be a better player in his sophomore season, but that might not lead to far improved fantasy results.
Kupp and Jefferson are the clear top options on their teams, but Chase is competing for targets with Tee Higgins. If Chase is covered, Joe Burrow should have no problem throwing to Higgins instead. Both Bengals can have plenty of success this season, but it will be hard for Chase to crack the top two without Higgins seeing a decline. All four of our fantasy rankers have Higgins in the top 10. While it's possible for a team to have two top-10 fantasy receivers, it's much harder to expect one of those receivers to be top-three.
Chase is still worthy of a first-round pick, but there are running backs that make more sense in the middle of the first round.
---
Swift has been viewed as a borderline first-round fantasy pick as the top running back for a team that wants to run the football. They've built an offensive line around running the ball, which would put any running back in position to succeed.
The problem is that Swift hasn't played well as a runner so far in his career and might not see the volume most expect. His PFF rush grade was the lowest among players with at least 150 carries last season. He doesn't gain many yards after contact, and there is no guarantee any of the other players in the bottom five in that category will be on an NFL roster a month from now.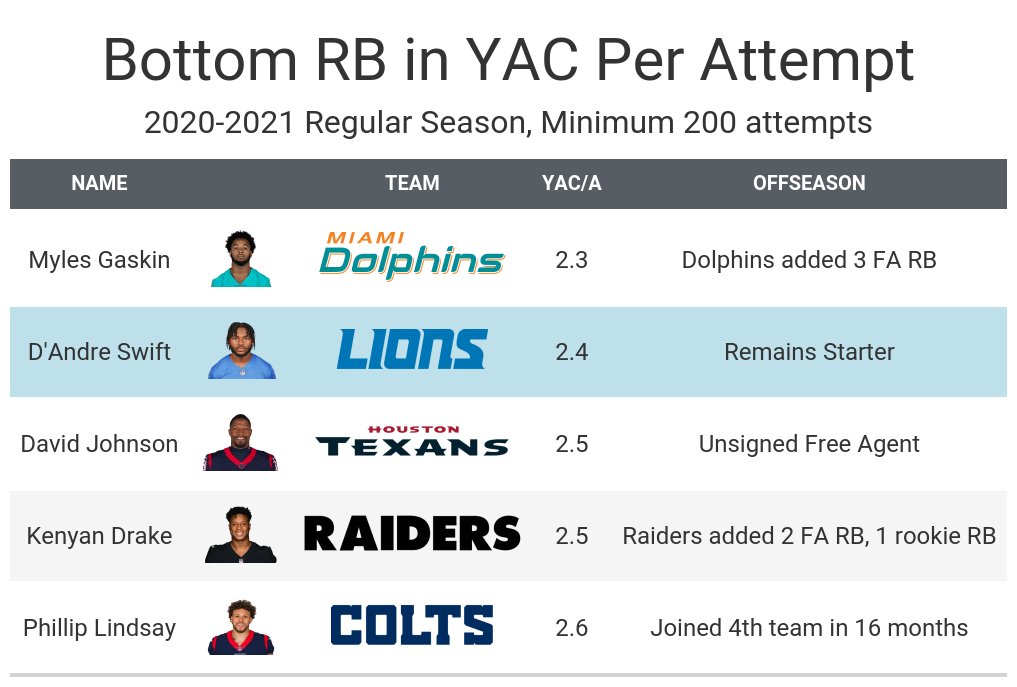 Volume remains king in fantasy football, and it wouldn't matter too much if Swift is a below average runner if he sees a lot of volume. But he might not see enough volume to make him a top-10 fantasy back. He had 33 carries in one overtime game against the Eagles last season while Jamaal Williams was injured, but that was his only game with 15 or more carries. The two appear set to split carries again this season. Swift started the team's preseason game, but any time Swift was on the field for two straight plays, Williams came in for the next play.
Much of Swift's fantasy value last season came as a receiver. The Lions targeted running backs 80 times over the first eight weeks, which was 13 more than any other team. Then head coach Dan Campbell took over as the team's offensive play-caller for offensive coordinator Anthony Lynn, and the team had 47 targets to running backs the rest of the season — the 10th-fewest. It's unclear at this point if Campbell will call plays again this season, but we know Lynn won't be, as he's no longer on the staff.
Swift is still expected to be at least a top-20 running back due to volume, but he will need to play a lot better to be worth the 13th overall pick.
---
Waddle finished a fantastic rookie season as WR12. He's entering his second season with the Dolphins with a brand new coaching staff with several new exciting teammates on offense. The reason Waddle is here is a simple numbers game considering how touches will be distributed in Miami. It's certainly not a lack of talent.
Miami added Tyreek Hill, Cedrick Wilson and Trent Sherfield to be the other three top wide receivers in Miami. If you combine the 2021 targets of all the players on the roster, it is second most in the league only behind the Raiders.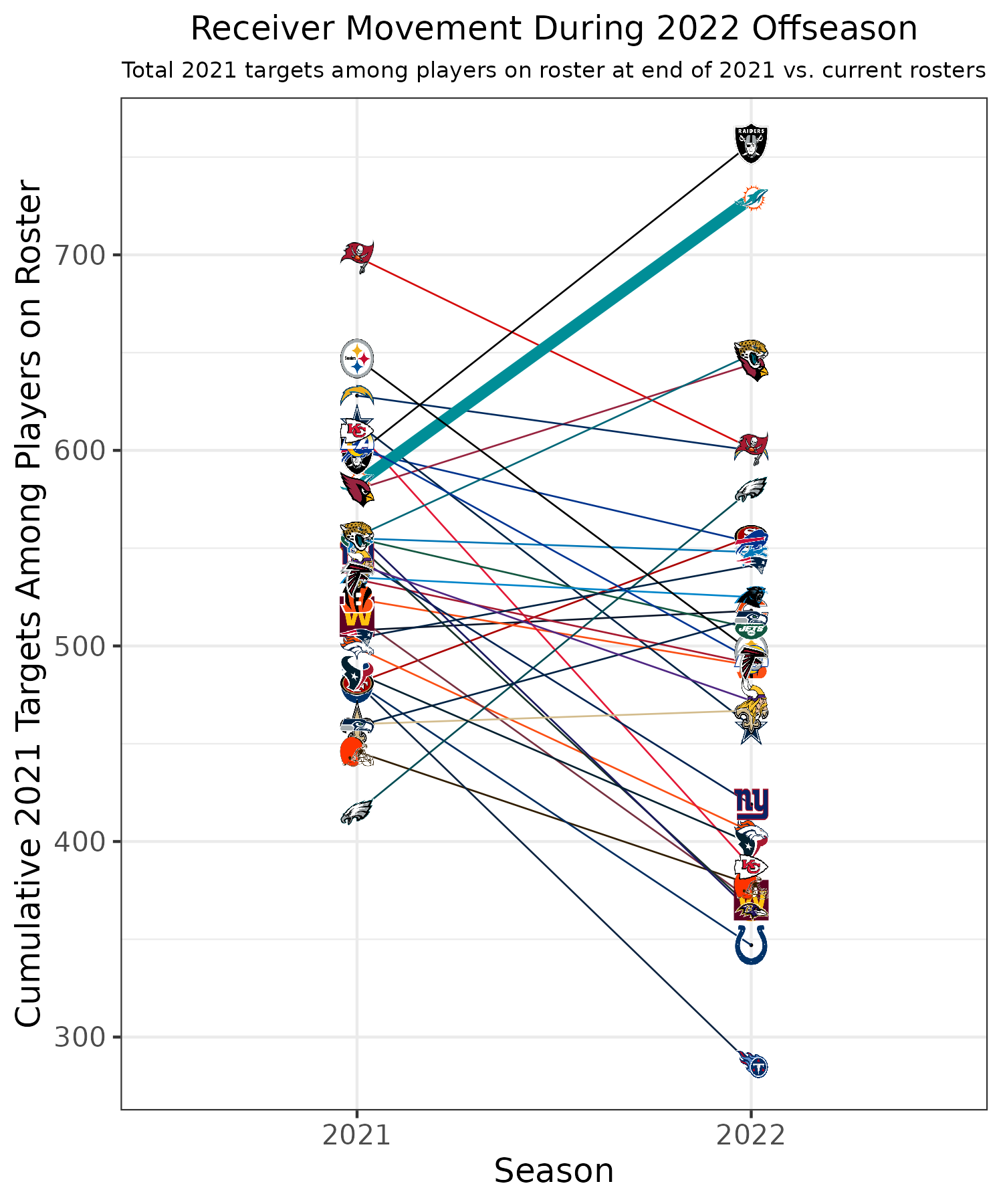 Waddle was supposed to be competing for targets with DeVante Parker and Will Fuller last season. Fuller played in limited snaps in only two games, while Parker missed seven. Waddle averaged 76 yards per game when Parker was out, compared to 54 when Parker was healthy. Tyreek Hill will provide much more competition for targets than Parker did.