Having the perfect fantasy football draft isn't an easy thing to do, but you can pull it off with enough preparation and a firm plan in place. Part of that prep work is running through various scenarios in mock drafts and figuring out which players will likely be available for each one of your picks. You'll never be able to get that part exactly right, but there's a good chance you'll have an idea of which players you'll have to choose from for most of your picks.
As you go through your mocks and set up your draft board, it's a good idea to study how players cluster in various ranges of the draft. There are going to be pockets of value at certain positions, and you likely won't have options at other positions in these ranges. That's an important thing to note for roster construction purposes, as positional scarcity at say running back could put you at a disadvantage at later points of the draft if you failed to address the position earlier.
For much of the offseason, I've talked about how the 1.05 spot is my least favorite place to draft this year, so let's flesh this out and try to put together the perfect fantasy draft out of the 1.05. This spot puts you to a tough decision that I get into below, and it's important to keep in mind how your first pick sets the tone for your roster construction.
For these picks, I'm using consensus ADP, and can only pick players within three sports of their ADP.  Since we're using the last two picks in our draft for a defense and kicker, those picks aren't shown here. Ideally, we're picking streamer options at those two positions.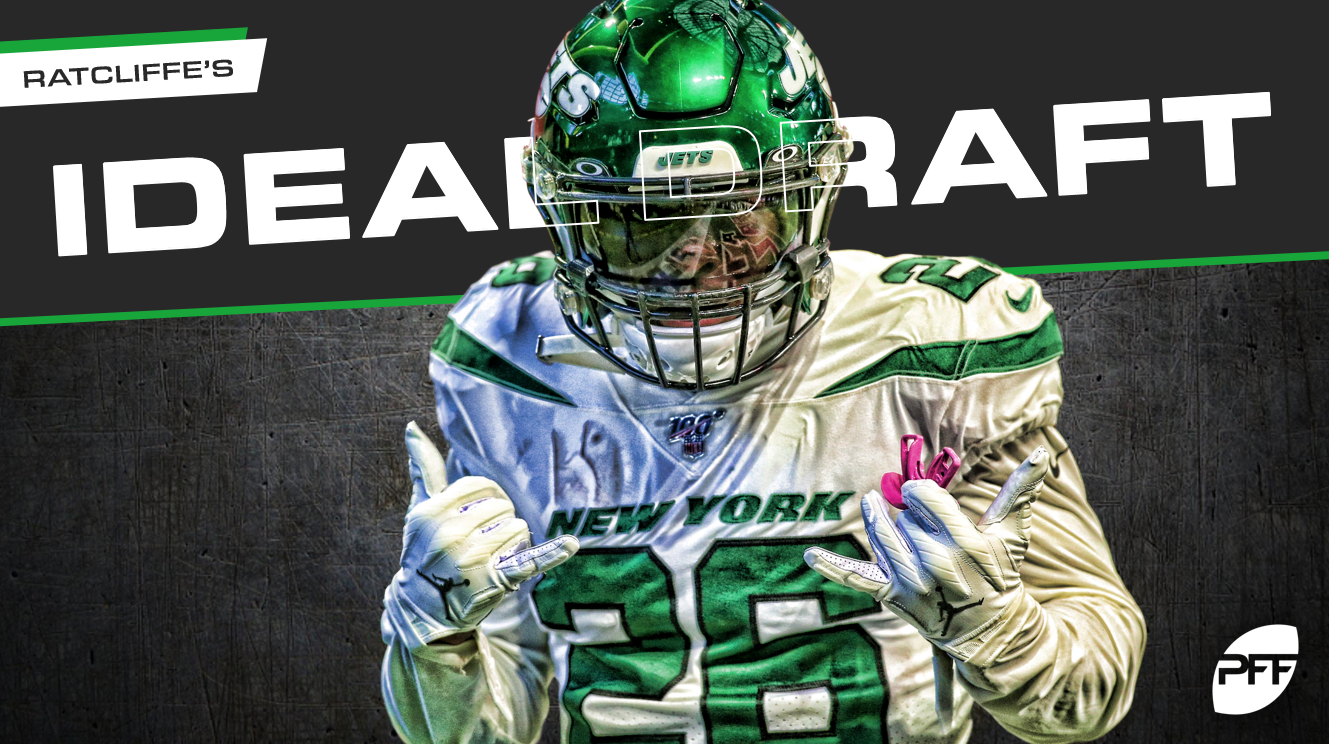 Pick 1.05
The top of the draft is fairly predictable over the first three picks with some combination of Saquon Barkley, Christian McCaffrey, and Alvin Kamara all but locked in. The fourth pick could go running back with David Johnson, or wideout with DeAndre Hopkins. We're assuming the form in this instance and opting for Bell over Hopkins.
While Hopkins does come in one spot ahead of Bell in rankings, they're in the same overall tier. From a roster construction standpoint, the big concern is being able to grab one of the top-10 running backs. Passing on Bell in this spot puts you at risk of not accomplishing that goal if the remaining six backs all come off the board before your next pick.
It's also worth noting that at the time of this writing, Ezekiel Elliott is still not back in Cowboys camp. Elliott has very real No. 1 overall potential, but he wasn't in consideration here due to the risk of him missing regular season time.
Pick 2.08
The beauty to this year's drafts is there's ample opportunity to grab wideouts with elite fantasy potential in the second round. Sure, guys like Julio Jones, Odell Beckham Jr., and JuJu Smith-Schuster aren't likely to be on the board, but Evans isn't a bad consolation prize. The Bucs wideout is coming off his fifth-straight 1,000-yard season and is positioned well for upside as Jameis Winston's favorite target in Bruce Arians' pass-friendly offense.
Pick 3.05
Running back is going to dry up quickly this year, so it's a good idea to not wait too long to grab your second option at the position. Johnson is in a favorable spot heading into 2019 in what will likely be a run-heavy offense in Detroit. Better yet, the Lions parting ways with Theo Riddick opens up a lot of targets in the passing game. Johnson isn't likely to be a 250-plus carry guy, but his role in the passing game will make up for the difference. He screams upside heading into the season.
Pick 4.08
He isn't the most consistent fantasy option from week to week, but Cooks has topped 1,000 receiving yards in each of his last four seasons. Better yet, he's a key part of the potent Rams offense. If you can, get at least some piece of that passing game in your 2019 drafts. You'll likely have to do that in the fourth or fifth rounds given where Cooks, Robert Woods, and Cooper Kupp are currently going in drafts.
Pick 5.05
Ceiling over floor as we make the turn into the middle rounds. Moore did very little last September, but he started to turn it on over the last 12 games of the season. While the reports out of Panthers camp have been glowing for Curtis Samuel, Moore remains the better fantasy option. And with Cam Newton sounding like his shoulder is healthy, Moore offers major upside in this range of the draft.
Pick 6.08
Instead of using an early-round pick on Travis Kelce, I've typically opted for a tight end in the rounds 5-7 range. With Henry's current ADP in the mid-sixth, this is an opportune time to pounce. Henry's ACL injury is well in the rearview mirror at this point, and he's poised to break out in a big way.
Pick 7.05
This is a good point in the draft to start looking for young running backs who are in a good position to produce. With David Montgomery's ADP shooting up into the third round, you're no longer going to be able to get him at a value. But Sanders remains a plus option with a middle-round price tag. While the Eagles will likely open the season with Jordan Howard as the lead on early downs, Sanders has the chance to take over this backfield as the season goes on. Of course, that means you'll have to be patient with him early in the season.
Pick 8.08
Somebody has to catch the ball for the Giants. With Odell Beckham now in Cleveland and Golden Tate suspended for the first four games, Shepard is position well for a healthy workload this season. While the Giants offense may not inspire much confidence for fantasy purposes, we're likely to see a lot of favorable game scripts.
Pick 9.05
The Titans are one of the run-heaviest offenses in the league, but people are letting Davis fall too far in fantasy drafts. Love him or hate him, he's all but locked in as the top target in Tennessee. Sure, that isn't sexy, but a team's No. 1 wideout in the ninth round is just too hard to pass up. Better yet, the chance that we could see Ryan Tannehill at some point actually gives the tiniest bit more appeal to the Titans' passing game.
Pick 10.08
That's three straight wideouts, but the value in this range of the draft is just too hard to pass up. Coutee flashed big-time upside last year, but injuries hampered him for part of the season. Fast forward to now, and Coutee is already hurt. The good news is it's just an ankle sprain, and he should be good to go for the regular season. Coutee will be the third target in the offense behind DeAndre Hopkins and Will Fuller, but he has the chance to be heavily involved if Fuller misses any time.
Pick 11.05
Quarterback value is silly in the late rounds, and that's going to be true even in home leagues where people often draft quarterback earlier than we do in the fantasy industry. Jackson is a prime upside option in this range of the draft after a rookie season where he led all quarterbacks in rushing despite not taking over the starting job until Week 11. We don't expect much from Jackson in the passing game, but his legs offer major fantasy juice. Keep in mind that Jackson's value takes a hit in leagues that award six points per passing touchdown.
Pick 12.08
We're getting close to the end of the draft, so we have one more opportunity to shoot for upside at wide receiver. Miller played through injury last season and still managed to score an impressive seven touchdowns. Now fully healthy, he's set to be the No. 2 in Chicago, and should do some damage out of the slot this season.
Pick 13.05
A few weeks ago, Thompson wasn't on the redraft radar as a late-round target. But the things are shifting pretty quickly in the Chiefs backfield. The former Utah State back has impressed in the preseason, flashing versatility as a runner and receiver to go along with big-time speed. Thomas isn't a threat to beat out Damien Williams, but he could earn work right out of the gate. Better yet, he offers premium handcuff value in one of the league's most potent offenses.
Pick 14.08
The Vikings signal caller is getting completely overlooked in fantasy drafts despite the fact that he's coming off the first 30-touchdown season of his career. Cousins is the perfect complement to Jackson at this point in the draft. While some don't draft two quarterbacks, I prefer to grab two if I'm taking one with risk like Jackson. In Cousins, you get a nice high-floor option who has one of the better skill positions groups in the league.