Recency bias is a powerful phenomenon. It's why, for example, Derrick Henry is going (in my opinion) too high in drafts this year. His insane hot stretch to end 2018 is coloring out memories of his season and making his first 13 weeks fade. Damien Williams is an example of this as well. And remember Keelan Cole's hot finish to 2017? It made him tantalizing for 2018, and he responded with 491 yards and one touchdown across 16 games last year.
But even with that, sometimes (I think) we still underrate the power of recency bias, the power of sample size. I ran an exercise last year where I drafted a roster for 2018 using nothing but 2017 ADP information. In other words, except for a few obvious caveats, I used absolutely nothing that happened in 2017 or in the offseason to inform my decision. Did we as a drafting community overrate the most recent season in our decision-making?
The results, at least for last season? We absolutely did overrate the most recent season. My roster that wound up with Drew Brees, Matt Ryan, Eric Ebron, Brandin Cooks, and Amari Cooper fared more than respectably last year, completely ignoring the year that had come before. If Devonta Freeman had stayed healthy, it would have done even better, and that wasn't the fault of the exercise; that was random chance.
So I'm rolling it back. Using our PFF DraftMaster tool, I conducted a 12-team PPR mock (drafting from the fifth spot) for the 2019 season using only the average draft position data from 2018 (per Fantasy Football Calculator). I allowed myself three caveats:
Injuries/unemployed players: This exercise would have had me drafting Alex Collins, Doug Baldwin, and Rob Gronkowski, and that obviously doesn't make sense.
Rookies: The exercise would have had me without any of this year's rookies, obviously, so I let myself sub out a pick for a rookie if I felt it made more sense. I used this exception once.
Position availability: For the most part, I strictly went down the line of last year's ADP. But at certain points, I'd have been taking only running backs and wide receivers forever, so I allowed myself to move to a different position when one got overloaded.
That was it. Other than those small caveats, this took no brainpower at all. Wait until my spot comes up, take the highest available player from last year's ADP. How'd it go?
The roster
Quarterbacks
Kyler Murray (eighth round), Matthew Stafford (14th)
I let myself take Murray in the eighth instead of getting Tom Brady there. Stafford at this point in his career is not a guy I'm excited by, but he did come into last season on a three-year run of top-10 fantasy finishes. If Murray proves to have been worth the No. 1 overall pick, I won't care that Stafford is there. If he doesn't … this could be rough.
Running backs
Todd Gurley (first), Leonard Fournette (third), Jordan Howard (fourth), Royce Freeman (seventh), Carlos Hyde (12th)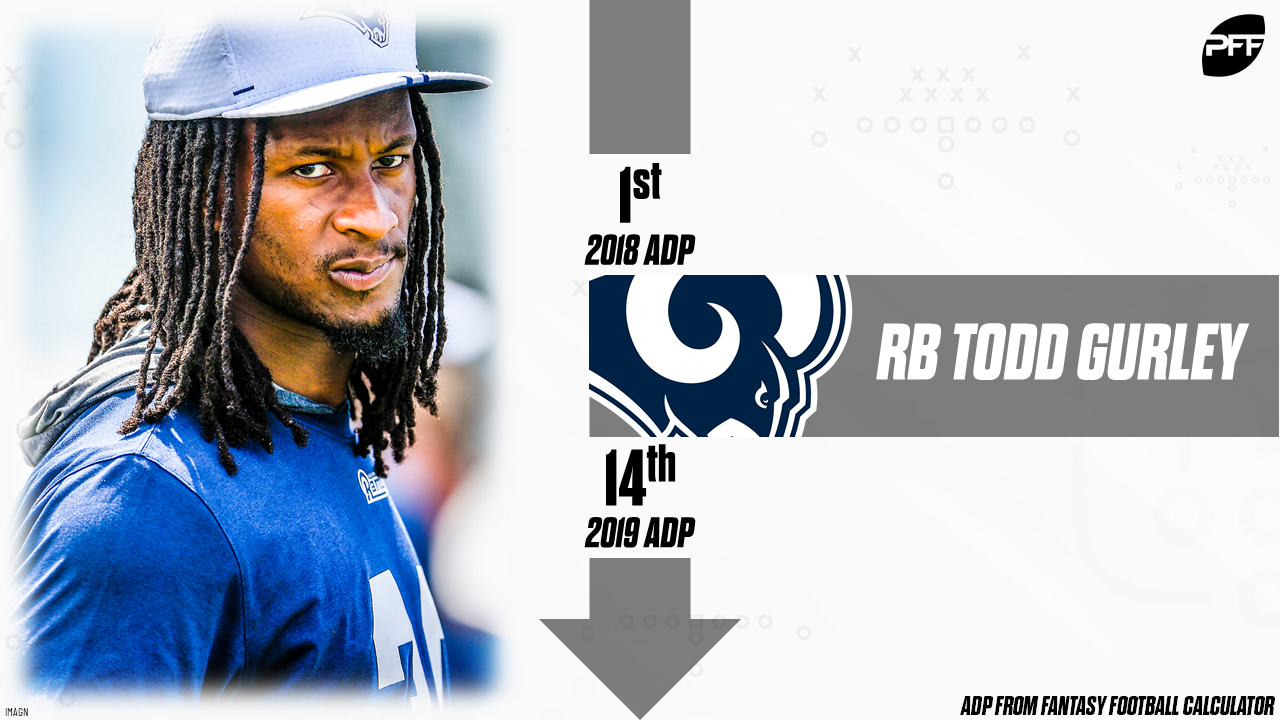 If Gurley can put up anything like his last two years' numbers, I've started off with a dominant option. Obviously, his health and the presence of other competent backs makes that more of a question mark, but still, for the sake of this exercise, I'm not sad at having him. Fournette in the third round is also fine for my purposes, as he should get the overwhelming majority of the backfield touches in an improved Jacksonville offense. I'm fine with Freeman as a sleeper, as well.
We won't say much about Howard and Hyde — though it wouldn't be that surprising if either or both actually had a relevant season.
Wide receiver
Antonio Brown (second), A.J. Green (fifth), Larry Fitzgerald (sixth), Chris Hogan (ninth), Josh Gordon (11th), Golden Tate (13th)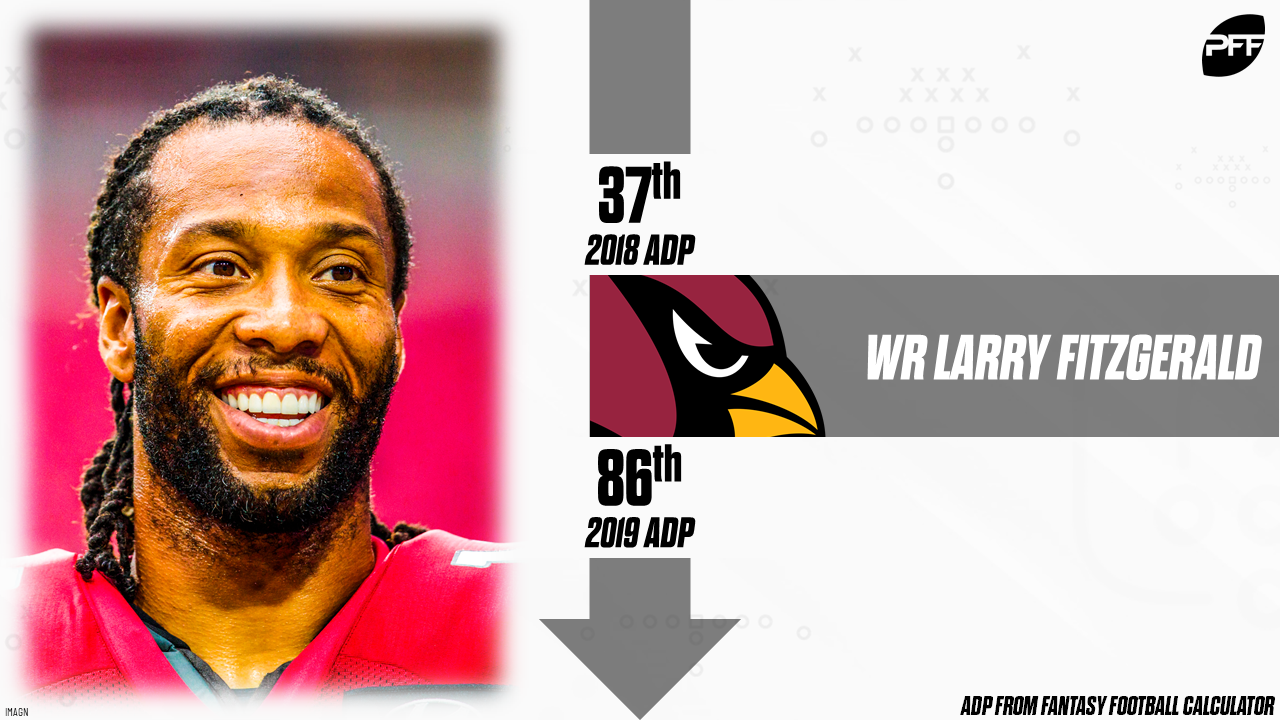 This exercise lends itself to older players, and that's extremely evident here, where the 28-year-old Gordon is the only pick under 31 years old. Still, if Brown and Green can get healthy and/or Gordon and Tate can avoid further suspension, there's worlds of potential here. I won't say I'm ecstatic about this group, but I'm not devastated by it, either. (We'll pretend Hogan isn't here.)
Tight end
Greg Olsen (10th), Tyler Eifert (15th)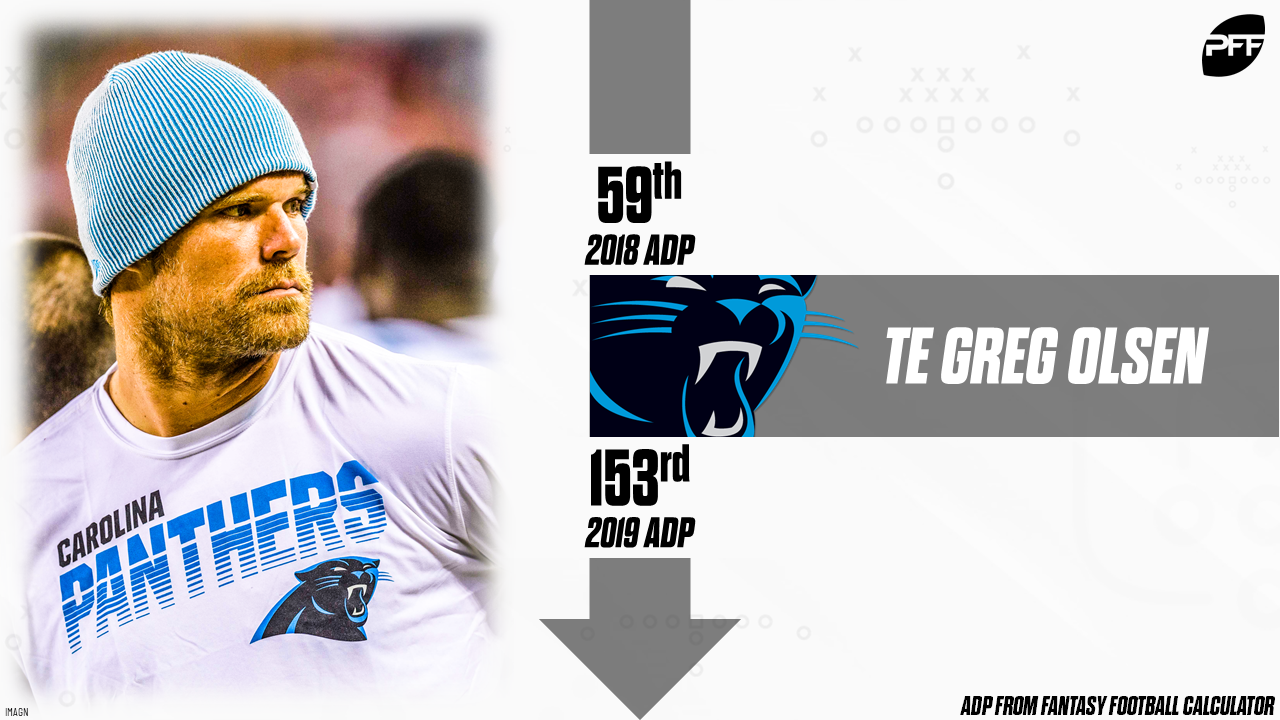 Speaking of older players… This is another example of a group where, if things go right, I could be in fantastic shape, but I also wouldn't be surprised if I get 10 combined games out of these two, and those games are underwhelming. Considering they both went in the double-digit rounds, that's acceptable, if not exciting.
Top remaining players (who still have jobs)
QB: Marcus Mariota
RB: Jamaal Williams
WR: Demaryius Thomas, Jamison Crowder
TE: Ricky Seals-Jones
If this list isn't clear enough, I'll spell it out: This exercise ran through just about every reasonable draft pick. Had the draft been another round or two longer, I'd have really been falling to the dregs.
Overall impressions
Last year, this exercise yielded a team that carried risks, but overall I thought would be pretty competitive. This year? There is far more risk, and perhaps less upside. Last year I would have been fine with that roster. This year, I'd be worried. That's not to say it's a failure — for drafting without a full year of data, it could certainly be worse, and I think it indicates that we do in fact overrate the most recent season. But I won't call this the unqualified success that last year's exercise was.