Part of playing fantasy football is experimenting. I engaged in one particular experiment last offseason, where I wondered how a team would look if drafted for 2018 while completely ignoring what had happened in 2017.
To review: I joined some mock drafts last offseason and drafted using only 2017 ADP data as my guide. With three exceptions (injuries/unemployed players, 2018 rookies, and positional flexibility), I applied essentially no brainpower to this exercise, just letting what we knew a year earlier guide me.
The purpose? It was basically an experiment into recency bias — are we too swayed by recent history over a player's full resume? The exercise more or less guaranteed I wouldn't get any of the 2017 breakouts, but it also meant I'd have my pick of the litter when it came to bouncebacks.
Here's the roster I ended up with (teams are the teams they were on at draft time):
Right away, there are some obvious missteps in there. But (and let's throw out kicker and defense, since anyone worth much of anything is streaming those positions anyway), let's take a look how the team did in 2018, setting a lineup (QB/RB/RB/WR/WR/TE/flex) with best-ball rules: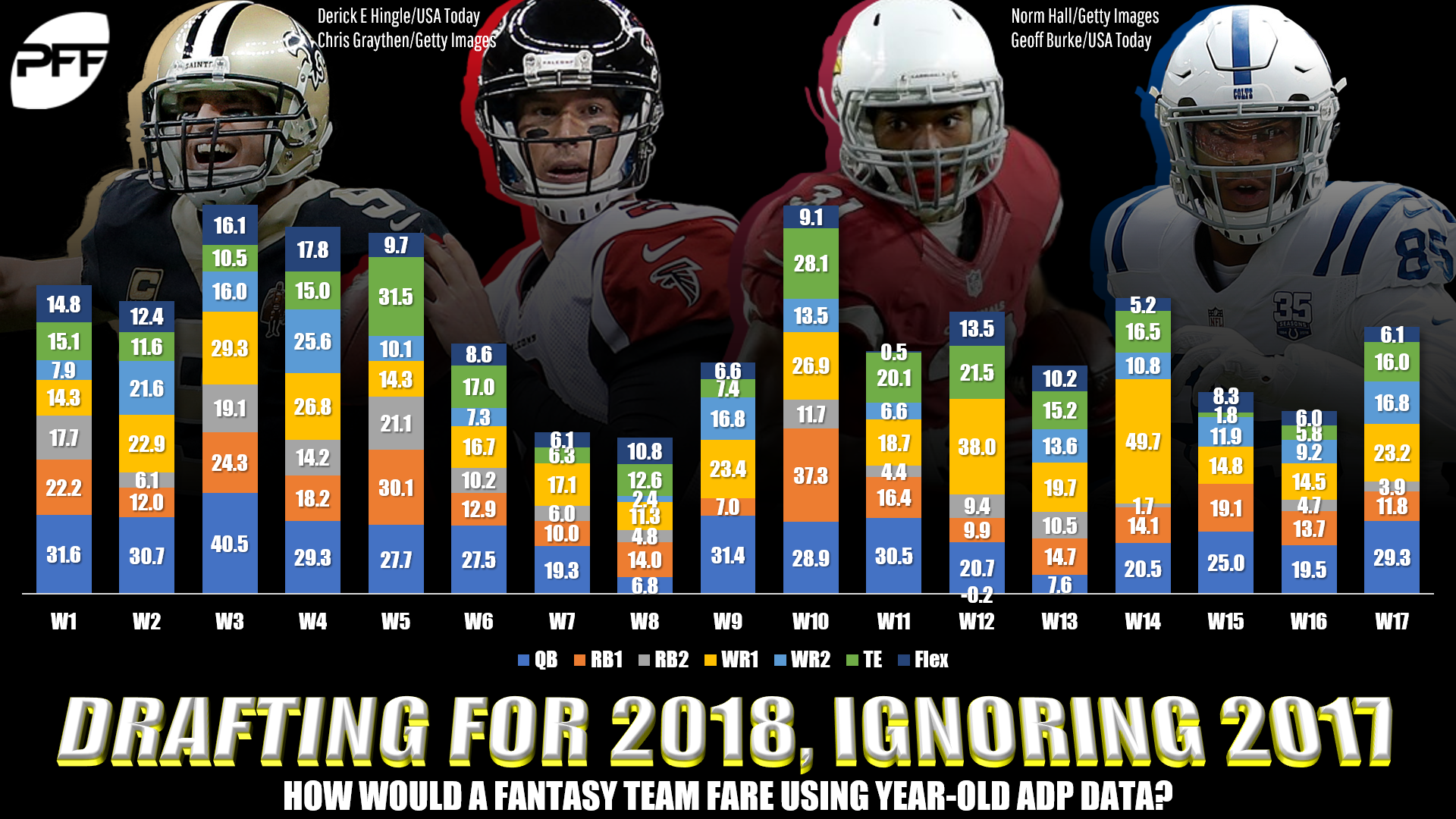 This team was good! Obviously, there were some black marks — no ability to adjust my roster meant I had three weeks without either a WR2 or RB2 because of injuries and byes — but it's hard to argue with the results there. Looking deeper, let's go position-by-position.
Quarterback
Given the constraints I was working with for this exercise, it's hard to imagine having a much more successful run than this. Picking the best game each week, I totaled 426.8 fantasy points from the quarterback position, or just barely shy of Patrick Mahomes' season total. Call this a win.
The lesson: Quarterbacks are who they are. Remember the most recent season and take it into account, but if Season X was out of line with Seasons A-W, maybe go with the longer track record.
Running back
David Johnson, Devonta Freeman, Isaiah Crowell, Carlos Hyde, Ty Montgomery
Coming out of the draft exercise, I actually thought this unit could be a strength, if one without a lot of depth. And it might have been, had Freeman not been lost for the year after only two non-consecutive games. As it was, he was essentially a non-entity on the roster … as was Montgomery for most of the year … as was Hyde after he got traded to Jacksonville … as was Crowell, absent a couple of games.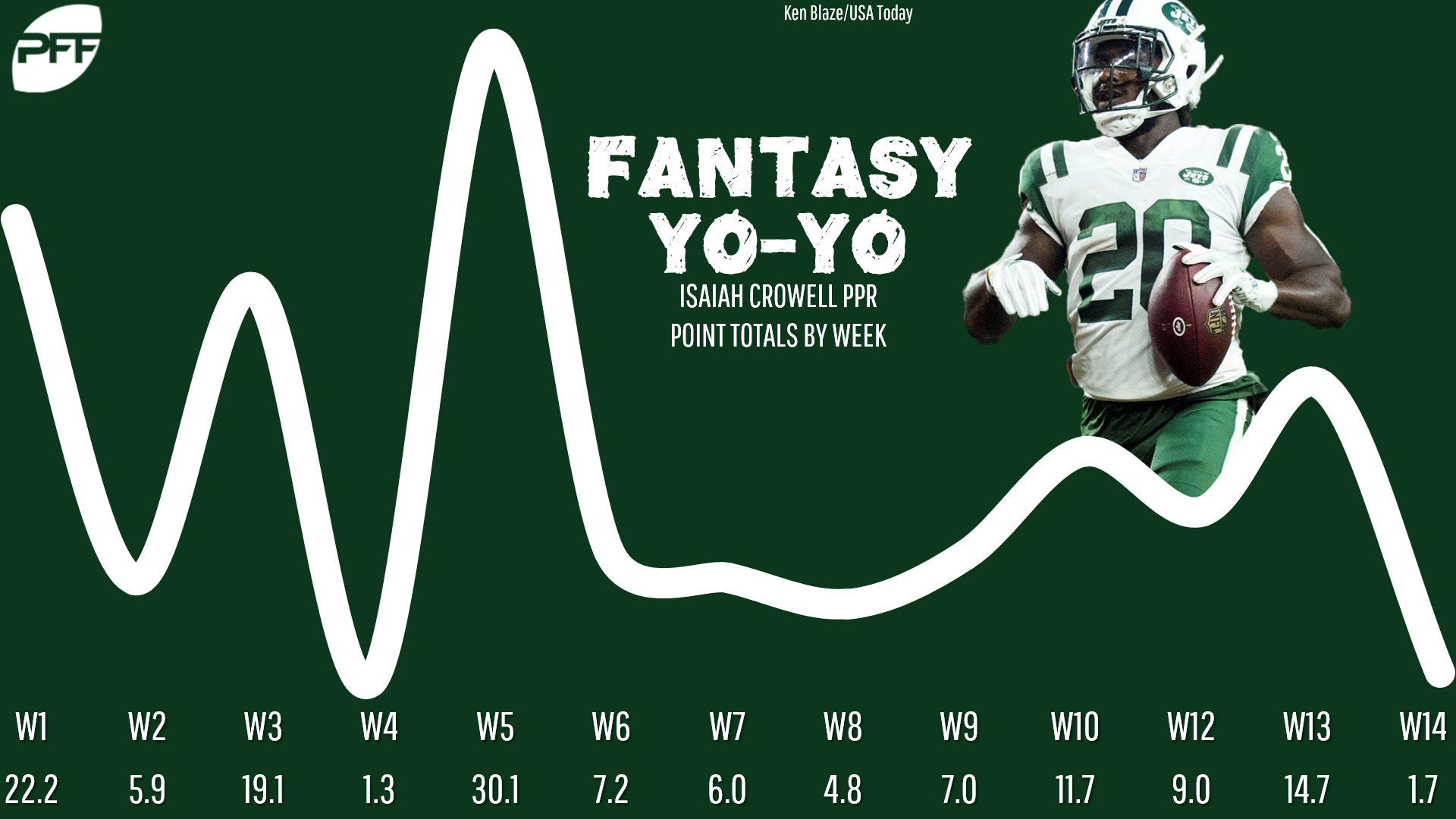 Even Johnson could be described as a disappointment as, despite finishing he year as an RB1, he only had two weeks in the season as one. I got 287.7 PPR points out of my RB1 slot and 145.5 out of my RB2 (in 17 weeks each, remember), which would have finished roughly as the Nos. 6 and 32 running backs on the season. And that was with the advantage of selecting the best performance each week.
The lesson: Well, first of all, don't have your second-round running back miss almost the entire season, if you can avoid it (duh). But second, running backs are so subject to workload that even a year of difference can be massive. Crowell and Hyde earned their ADPs as the No. 1 options in Cleveland and San Francisco, respectively, while Montgomery was the only veteran in Green Bay. A year later, Crowell was in a timeshare in New York, Hyde was in one in Cleveland (and eventually behind one in Jacksonville), and Montgomery lost his role to the two 2017 rookies before losing his spot in Green Bay altogether.
When evaluating, quarterbacks are track record. Running backs are job security.
Wide receiver
Jordy Nelson, Brandin Cooks, Amari Cooper, Martavis Bryant, Terrelle Pryor
As I wrote in the original piece, I probably should have allowed myself the option of avoiding overloading on a single team, as the Raiders' penchant for buying low on veterans led me to end up with three Oakland players out of my five-man receiving squad. By the end of the year, of course, only Nelson was on the team, but given that both Bryant spent time on the bread line (as did Pryor), I'm not exactly celebrating that.
Still, this was more good than bad. Cooks finished the year as a borderline WR1, while Cooper, after a mostly awful start in Oakland, was an easy WR1 after a midseason trade to Dallas. Even Nelson, who didn't even total 9 PPR points from Week 6 to 13 combined, closed the season on a reasonable stretch for a mid-tier receiver — he was the No. 15 PPR receiver Weeks 13-17, with at least 10 PPR points in each game.
The lesson: You can believe in the track record of the higher-end receivers, but at a certain point, workload and recent history matter more. There's a pretty clear delineation between what we got from Nelson/Cooks/Cooper and what we got from Bryant/Pryor. The trick is just figuring out where that delineation is.
Tight end
Tight end, like quarterback, was a pretty unqualified success, due largely to the massive performance offered by Ebron in his first year in Indianapolis. Ebron drafted as the No. 12 tight end in 2017 and No. 18 in 2018, finished the year fourth at the position in fantasy scoring, totaling more touchdowns with the Colts (14) than he had in four years with the Lions (12).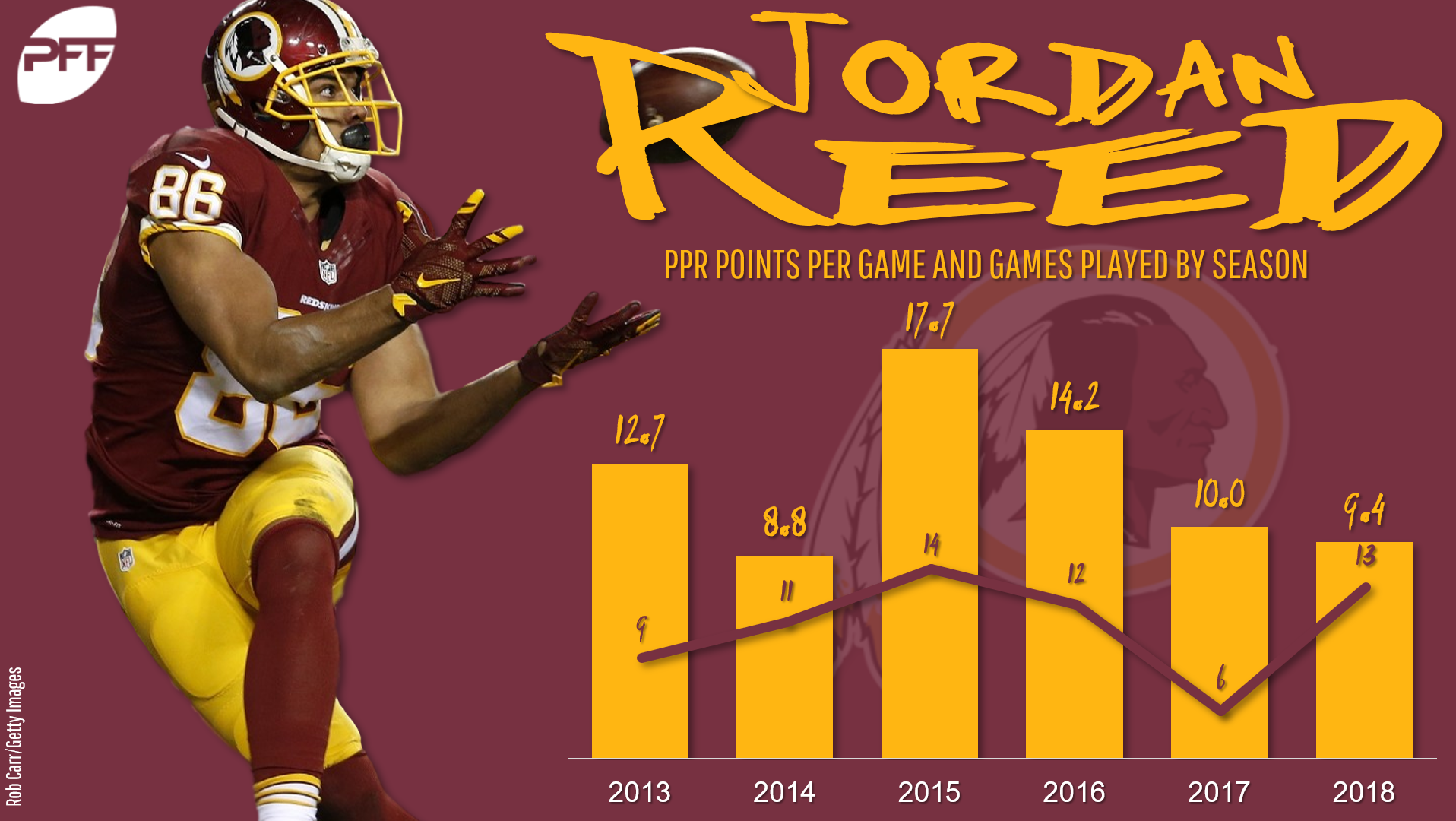 Reed was less of a success story, of course, but that is the known risk when drafting a player like Reed. Oft-injured, anybody who drafted Reed as their lone tight end in 2018 was already taking too big a chance — better to draft him at the injury discount and pair him with a more reliable option, which is … exactly what happened here, with the added benefit of Ebron becoming a world-beater.
The lesson: Again like quarterback, history matters. Ebron always appeared to have this level of performance in his pocket — he was famously drafted ahead of Odell Beckham Jr. and Aaron Donald — which made him an appealing option to pair with the potentially volatile Reed.
Overall conclusions
This team averaged 108.5 points per game — without kicker and defense, and without making any waiver wire moves, but also by best-balling and picking the best plays each week. That's solid, but unspectacular, and included three zeroes and a negative performance out of Jordy Nelson in Week 12.
A little bit of flexibility in the in-season situation of the roster, a little bit of savviness in not drafting one team's entire receiving corps, and this team would have had some real potential, all without even considering what happened in the year preceding.
Also, you'll note on the graphic at the top that (probably unsurprisingly), the team did generally worse as the season went on (except for a ridiculous Week 10). This stands to reason, and is probably more of a function of the lack of waiver ability than much of anything to do with the 2017 data.
Do this exercise again in 2019 (and I will), and you'll miss out on guys like Mahomes and Ebron and George Kittle. But you're likely to get in on the ground floor of (theoretically) rebound performances from Freeman or Delanie Walker or Doug Baldwin.
I don't want to draft for 2019 while ignoring 2018. But … I don't want to not do that either. This is only one data point, but there's an argument here that, for some positions at least, we are in the habit of overrating the most recent season in our fantasy planning.