(Metrics that Matter is a regular offseason feature that examines some aspect of fantasy through a microscope to dive into the finer details.)
You have the first overall pick in your 2018 fantasy draft. Who do you take?
Antonio Brown has ranked first among wide receivers in PPR fantasy points per game in each of the past three seasons. The season before that (2014), he ranked second in fantasy points per game (behind Odell Beckham Jr.), but that season also ranks fifth-best all-time among wide receivers in total fantasy point. His 2015 season ranked fourth-best.
David Johnson totaled 407.8 PPR points in 2016, the ninth-most by any running back all-time – a number no other active running back has ever eclipsed.
I wouldn't fault you for taking either of these players, but still, I think it's between Le'Veon Bell and Todd Gurley for the first pick in your fantasy drafts. Here are the pros and cons to each player:
Since entering the league, Bell has ranked second, first, second, first, and ninth among running backs in fantasy points per game. He averages 21.9 fantasy points per game over this stretch, tied with Brown for the most by any player at any position. Only Hall of Fame running back LaDainian Tomlinson averaged more over his first five seasons (22.7).
Despite missing 18 regular-season games since entering the league (2013), Bell still leads all running backs in total snaps played. Over this stretch he averages 10.4 snaps per game and 3.9 touches per game more than any other qualifying running back. Basically, you'd have to spot the second-closest workhorse running back (LeSean McCoy) an extra free quarter of football per game in order to match Bell.
Bell has played on 86 percent of his team's running back snaps over the past two seasons, the most of any running back and one of only two players (Gurley being the other, at 80 percent) to play on over 70 percent of their team's snaps over this stretch. Over the past two seasons, Bell also averaged 33.0 routes run per game, most of all running backs, and more than wide receivers such as A.J. Green (32.8), Julio Jones (30.7), and Tyreek Hill (24.6).
Bell has been one of our three-highest-graded running backs in three of the last four seasons, while no other running back has more than two top-10 seasons over this stretch. 85.5 percent of Bell's carries have gone for positive yardage over the past four seasons, the most of 34 qualifying running backs.
This is the good news – Bell is one of the best, most-efficient running backs in the league, and he's seen unparalleled usage throughout his career at a position where volume matters more than efficiency. The potential drawbacks are the following:
He's coming off of his least-efficient season since his rookie year.
He has a new offensive play-caller, after playing the entirety of his career with Todd Haley. A new offensive play-caller could potentially prefer more of a committee approach at the position next year.
He's coming off of a massive 406-touch season and will reportedly miss most of training camp (despite the new offensive coordinator).
There's a common narrative in fantasy circles that running backs coming off of an extremely high-volume season are more likely to fall in efficiency or are more injury-prone in the following year. However, I dug deep into these numbers, and didn't find this argument to be too compelling. I'm also not too concerned with the notion that Bell will be due for a volume decline with a new play-caller. New offensive coordinator Randy Fichtner has been with the team since 2007 and his offense is unlikely to look too different from Todd Haley's. The team also franchise tagged Bell again this year (at a monster $14.5 million salary) and it seems the team is intent on running him into the ground before he exits in free agency next season.
His underwhelming efficiency numbers last year and the fact that he's again missing camp are the bigger concerns to me.
Gurley was the runner-up for the league MVP award, our highest-graded running back last season, and led all positions in fantasy points per game (25.5), with 2.8 more fantasy points per game more than the next-closest player (Bell with 22.8). Not only was his fantasy season (scoring 383.3 fantasy points across Weeks 1-16) the 14th-most by any player at any position all-time, but his fantasy postseason (123.1 fantasy points across Weeks 14-16) was the most by any player at any position all-time. Basically, it was really hard to own Gurley and not win your fantasy league.
Gurley was also the heart and soul of the Rams' offense last season, leading the league in percentage of total offensive yards (36.2 percent, Bell was second with 32.2 percent) and percentage of total offensive touchdowns (42.2 percent, DeAndre Hopkins was second with 36.1 percent).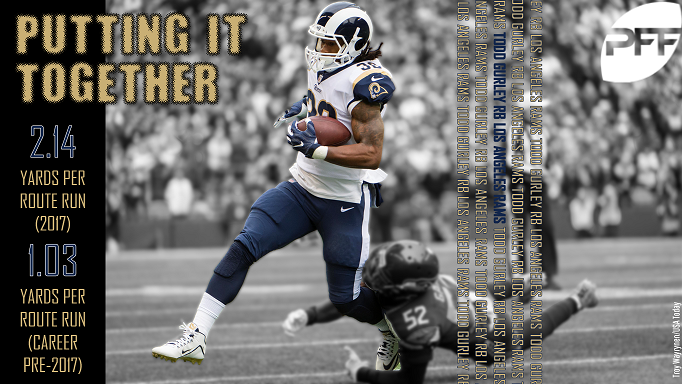 Bell puts the "bell" in "bell cow," but Gurley isn't chopped liver himself. Despite playing in five (of his 15 games) where the Rams won by over 25 points, Gurley still commanded 85.9 percent of his team's snaps, which ranked closely behind only Bell and Ezekiel Elliott last year.
Last season, Gurley led all players in rushing fantasy points per game and also would have ranked 26th among wide receivers in receiving fantasy points per game. Gurley caught 64 passes last season – the same number he recorded during his first two seasons in the NFL. Gurley's 2017 season ranked second-best this past decade (among running backs) in yards after the catch per reception. Considering how effective Gurley was as both a runner and receiver, there's little reason to assume his volume declines in 2018, and especially after the team jumped from last to first in points per game in 2017.
Still, Gurley's volume wasn't as strong as Bell's. Among running backs, Bell ranked first in expected fantasy points (based on volume) last season while Gurley ranked second, but there was 40.8 expected fantasy points separating them.
The only other potential concern with Gurley, relative to Bell, is the smaller sample of dominance. Gurley was one of the league's biggest busts in 2016, but I'm willing to excuse this away due to Jeff Fisher being one of the least efficient running back coaches of all time.
Conclusion
It's close. It's really close. If forced to choose, I'd roll with Bell due to the larger volume he saw last year as well as the longer sample of dominance. Otherwise, if playing in multiple leagues, I'd try to have a near-even exposure to both.