Opponents matter in fantasy football. Exactly how much they matter is fair to debate, but you know you'd rather an offensive player facing Team X than Team Y. You'd rather a defense facing Miami than Kansas City. We know this.
Each week in this space, I'll be taking a look at some of the key matchups to exploit in a given week, good or bad, at each position. And we'll start things off with my mismatch of the week.
Mismatch of the week
Mike Evans, WR, Tampa Bay Buccaneers (vs. NO): Marshon Lattimore is a fairly formidable shadow corner. Since Week 1, he's shadowed five times (against Amari Cooper, Evans, D.J. Chark, Allen Robinson, and Julio Jones), and those five good-to-elite receivers have combined for 8 receptions on 19 targets for 80 yards and no touchdowns. So at a glance, you'd be scared of Evans this week … except Lattimore is almost certainly out for Week 11 with a hamstring injury. As soon as Lattimore left last week, Jones went for a 54-yard reception. Evans will face Eli Apple and/or P.J. Williams in coverage this week, otherwise known as "feed me."
Good situations
Tom Brady, QB, New England Patriots (@ PHI): The Eagles are middle of the pack in terms of fantasy points allowed to quarterbacks. Take out their games against Luke Falk (who was released essentially right after that game) and Mitchell Trubisky, though, and they're in the bottom five. If you want to say you have to count all NFL quarterbacks, fine, keep Trubisky, but Falk is still an aberration, and without his line in there, the team is still in the worst 10. Brady, with a week of rest, and a rejuvenated receiver corps headed by Julian Edelman and Mohamed Sanu, should feast.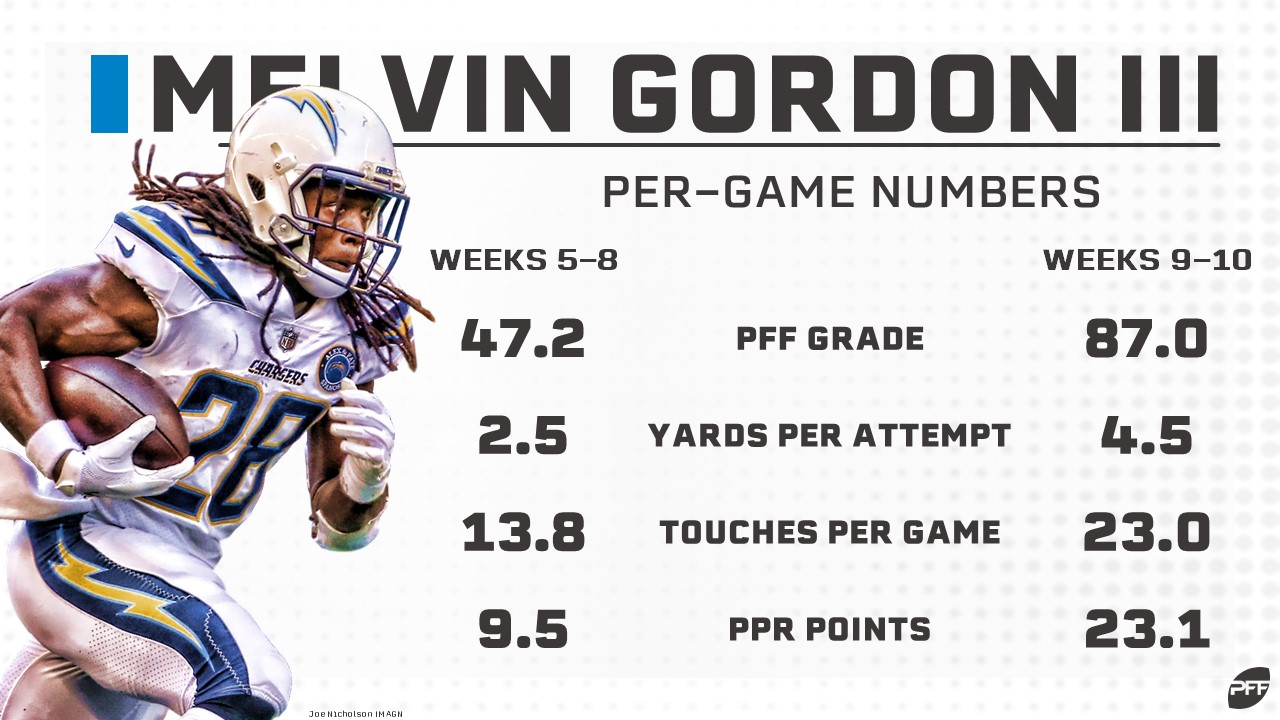 Melvin Gordon, RB, Los Angeles Chargers (vs. KC in Mexico City): In his first four games, Gordon had a 47.2 PFF grade, averaging 2.5 yards per attempt (2.0 after contact), and had 13.8 touches and 9.5 PPR points per game. In his last two, he's had an 87.0 grade, with 4.5 yards per attempt (2.9 after contact), with 23.0 touches and 23.1 PPR points per game. Training camp matters. Against a Chiefs defense allowing the most PPR points per game to opposing running backs, including absolutely monster games to Mark Ingram (Week 3), Aaron Jones (Week 8), and Derrick Henry (Week 10), Gordon should be in store for a big game.
Terry McLaurin, WR, Washington (vs. NYJ): The Jets have allowed multiple touchdowns to the wide receiver position in each of the last three games, including multiple touchdowns to individual receivers Preston Williams (in Week 9) and Darius Slayton and Golden Tate (in Week 10). McLaurin's had much less success in recent weeks, and Dwayne Haskins has struggled in a big way, but with an extra week off, facing a friendly defense, and with most of the heat off, this is their best bet as a duo.
Jared Cook, TE, New Orleans Saints (@ TB): The Cardinals are the cheat code for tight ends this year, and if George Kittle is healthy, he's the No. 1 tight end of the week. But the Buccaneers have been garbage against the position as well (a second-most 18.2 PPR points per game allowed), and Cook came back from an extended injury absence last week to set season-highs in targets (9), receptions (6), and yards (74). He's back firmly in the TE1 conversation this week.
Bad situations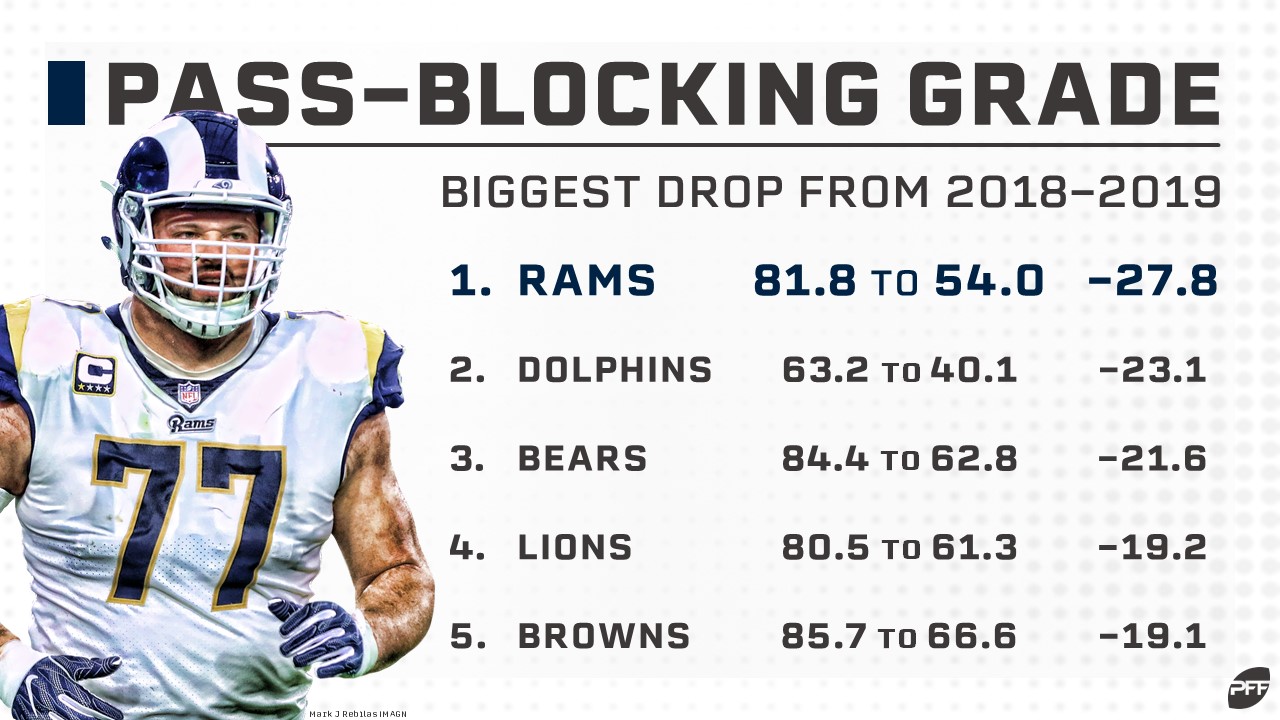 Jared Goff, QB, Los Angeles Rams (vs. CHI): The Rams had an excellent offensive line in 2018, putting up an 81.8 PFF pass-blocking grade that was seventh-best. That grade has fallen to 54.0 (third-worst this year), with the 27.8-point drop in grade easily the biggest in the league. And that's all before that line will be getting even worse this week, with C Brian Allen done for the year and T Rob Havenstein already ruled out for Week 11. Goff's struggles have been well-documented, and "bad offensive line against Khalil Mack & Co." does not sound like the time for those to improve.
Mark Ingram, RB, Baltimore Ravens (vs. HOU): Ingram is fantasy's RB11 this year, but he's 19th in touches, with his touchdowns buoying his value. Through Week 5, he averaged 14.8 carries per game compared to 10.0 for Lamar Jackson; since then, Ingram's average has fallen to 10.3 while Jackson's has risen to 14.0. And the Ravens face the Texans this week, a borderline pass-funnel that has allowed the third-most PPR points per game to opposing wide receivers this year. Ingram might not see his touches climb back this week.
Stefon Diggs, WR, Minnesota Vikings (vs. DEN): Since Week 1, the Broncos have allowed one touchdown to opposing No. 1 receivers (Tyreek Hill in Week 7) and double-digit PPR points to two (Hill and Odell Beckham Jr. in Week 9). Diggs has only had 53 yards the last two games combined, and with Adam Thielen possibly out again, there isn't much question who the Vikings' No. 1 will be this week.
Zach Ertz, TE, Philadelphia Eagles (vs. NE): One strike: Dallas Goedert has (unsurprisingly) seen far more usage this year than he did last year. Two strikes: The stout Patriots defense has allowed the third-fewest PPR points per game to opposing tight ends. Three strikes: DeSean Jackson returned in Week 9, commanded defensive attention, and Ertz had his best game of the year … and Jackson is now done for the year, leaving Ertz as the No. 1 weapon. He's still a starting tight end because of the position, but the Ertz ceiling isn't what the Ertz ceiling used to be.