The Baltimore Ravens were one of the league's most exciting offenses in 2019, and they did so in a way that we hadn't yet seen in the modern era of football. Lamar Jackson's unique skillset and world-class athleticism created major challenges for opposing defenses and led to a fantasy bonanza. With essentially the same personnel this year, Jackson and the Ravens are set up for another big year. Let's see what our initial 2020 fantasy football projections have to say about the Ravens.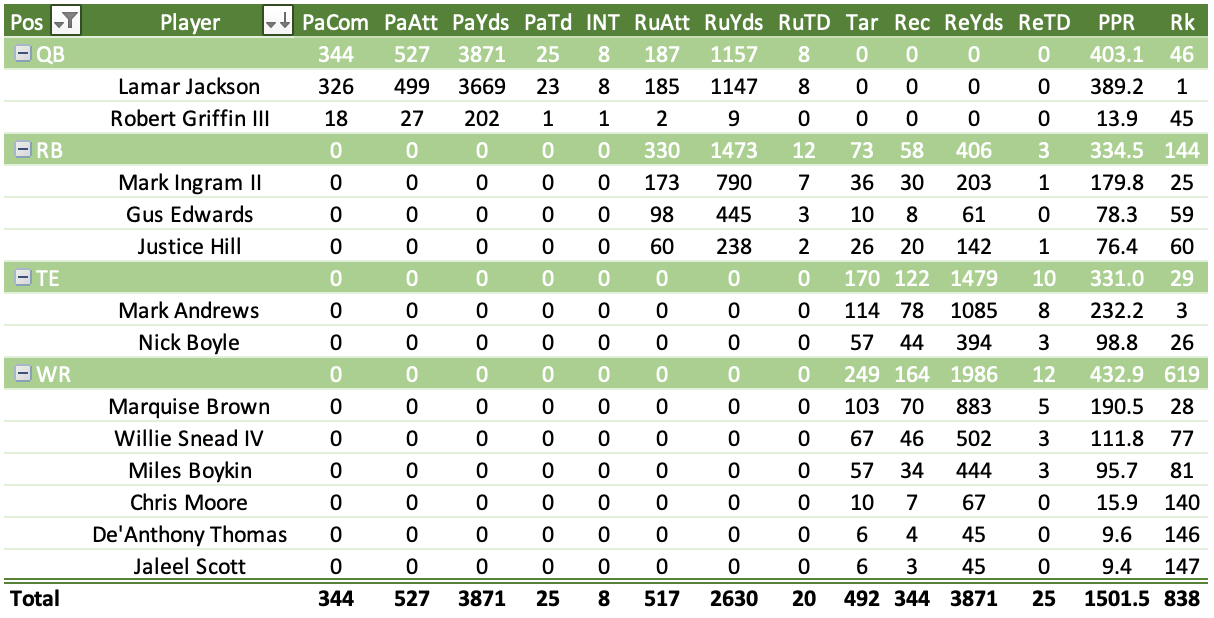 Following one of the best seasons in fantasy football history, Jackson is poised to again hit the ground running. Our projections have him with a massive 1,147 rushing yards. That number doesn't top his 2019 performance, but it isn't that far off. However, we do envision some regression in his touchdown efficiency through the air. Don't take the word "regression" to mean "get worse." Rather, Jackson's efficiency was off the charts last year. Our numbers now have him more in line with the league average. 
Even with regression baked into his numbers, Jackson still projects out as the top fantasy quarterback by nearly 50 points. The bigger question here is where Jackson should be drafted. His current ADP has him coming off the board at pick 18 overall, and that number isn't likely to shift much between now and August. While his 2019 production is certainly enticing, the track record of quarterbacks selected in the second round of fantasy drafts suggests that's simply too high to select any signal-caller, even one with Jackson's appeal. Now, if Jackson hangs around on the board until the fourth round, then, by all means, pounce. But that's unlikely to happen.
Like Jackson, our numbers also have some fairly significant regression in efficiency for Mark Ingram. Despite ranking just 20th in the league in carries, Ingram was one of just seven backs to top double-digit rushing scores. This efficiency helped propel Ingram to a somewhat surprising 11th-place fantasy finish among running backs in PPR scoring. This year's numbers aren't as optimistic, positioning him as a fringe-RB2. This is in line with our 2020 fantasy football rankings where Ingram comes in at RB21.
It's rare for the top passing target on an NFL team to be a tight end, but that's exactly what we're projecting for the Ravens with Mark Andrews leading the way with 114 looks. Andrews broke out in a big way last season with a position-leading 10 touchdowns. Our numbers have him second among tight ends in that stat with only Travis Kelce projected to find the end zone more often. 
Other than Andrews, Marquis Brown is the other main fantasy asset in the passing game. Brown flashed major fantasy juice in his rookie season but struggled with injuries and consistency. Still, our numbers paint a favorable picture and are slightly more bullish on him than where we have him in rankings. Regardless of the slight difference, it's completely fair to view him as a boom-or-bust WR3 type.
[Find the full collection of analysis and insights on PFF's 2020 fantasy football projections for all 32 NFL teams. Check back as more articles will be added each day.]