If you play fantasy sports and want to dip your toe in the waters of sports betting, there's no better place to start than player props. It's a natural transition from fantasy because instead of betting on the outcome of the game, you're betting on the performance of the player.
Essentially, it's the same thing you do in fantasy sports, but with one key difference. Unlike in fantasy where you can score the second-most points in your league for the week only to lose to the team who scored the most points, your outcomes are much more black and white in player prop betting. Either you're right or your wrong, and you only need to beat the house.
But before we go any further, we need to state the obvious: You aren't going to get every bet right. Write that one down in permanent ink somewhere and commit it to memory. No one gets every bet right. It's impossible to do so, and the faster you can come to that realization, the better off you'll be in sports betting. Because the goal isn't to get every bet right. It's to get more bets right than we get wrong.
Ideally, you'll want to be right at least 52% of the time, and that's more than achievable in player props. But just like DFS and best ball fantasy, the key is to play volume. You can't expect to be profitable over the long term by placing two prop wagers on a game. Sure, you could hit both and be up for the week, but if you only hit one you're likely in the red. And you can obviously miss on both. So the optimal strategy is to put a much larger number of wagers in play. If you play 30 props, you can get 12 of them wrong and still make a nice profit with 60% of your wagers hitting.
You'll also want to make sure you get your money in right by making the highest percentage plays. Dumb moves in fantasy rarely work out, and the same thing is true for prop betting. Sure, the color of the Gatorade prop is fun, but it's essentially a guess. That isn't smart money. Leave those wagers for the masses and stick to player props.
Below you'll find my 10 best player prop bets for Super Bowl LIII. This list will get you started, but I highly recommend searching around the various sports books to find other wagers you like. You can use PFF's projections to find the best angles. That's what I do, after all.
(Some other PFF Fantasy writers picked out their favorite props Friday. Check that out as well.)
Quarterbacks
Jared Goff UNDER 8.5 rushing yards (Bovada -115, FanDuel -118)
Typically, one of the first places I look is at quarterback rushing lines. This line is appealing given the fact that while Goff is certainly mobile, he's far from a running quarterback. On the season, he topped this line in just seven of his 18 games with a season high of 17 yards. This line is especially enticing if you think the Rams have the lead and the ball at the end of the game, which would put the kneeldown in play.
Tom Brady OVER 1.5 rushing yards
The passing lines are extremely tight for both Brady and Goff, so the only value to be had is in both rushing yard props. It's no secret that Brady isn't a running quarterback, and he only managed to top this line eight times on the season. However, he's also gone way over on this number in each of the last two Super Bowls. However, like I noted above, this isn't an optimal play if you think the Pats will have the ball at the end of the game with the lead. Those quarterback kneeldowns will eat away at any yards Brady does accumulate.
Running backs
James White UNDER 6.5 receptions (Bovada +100)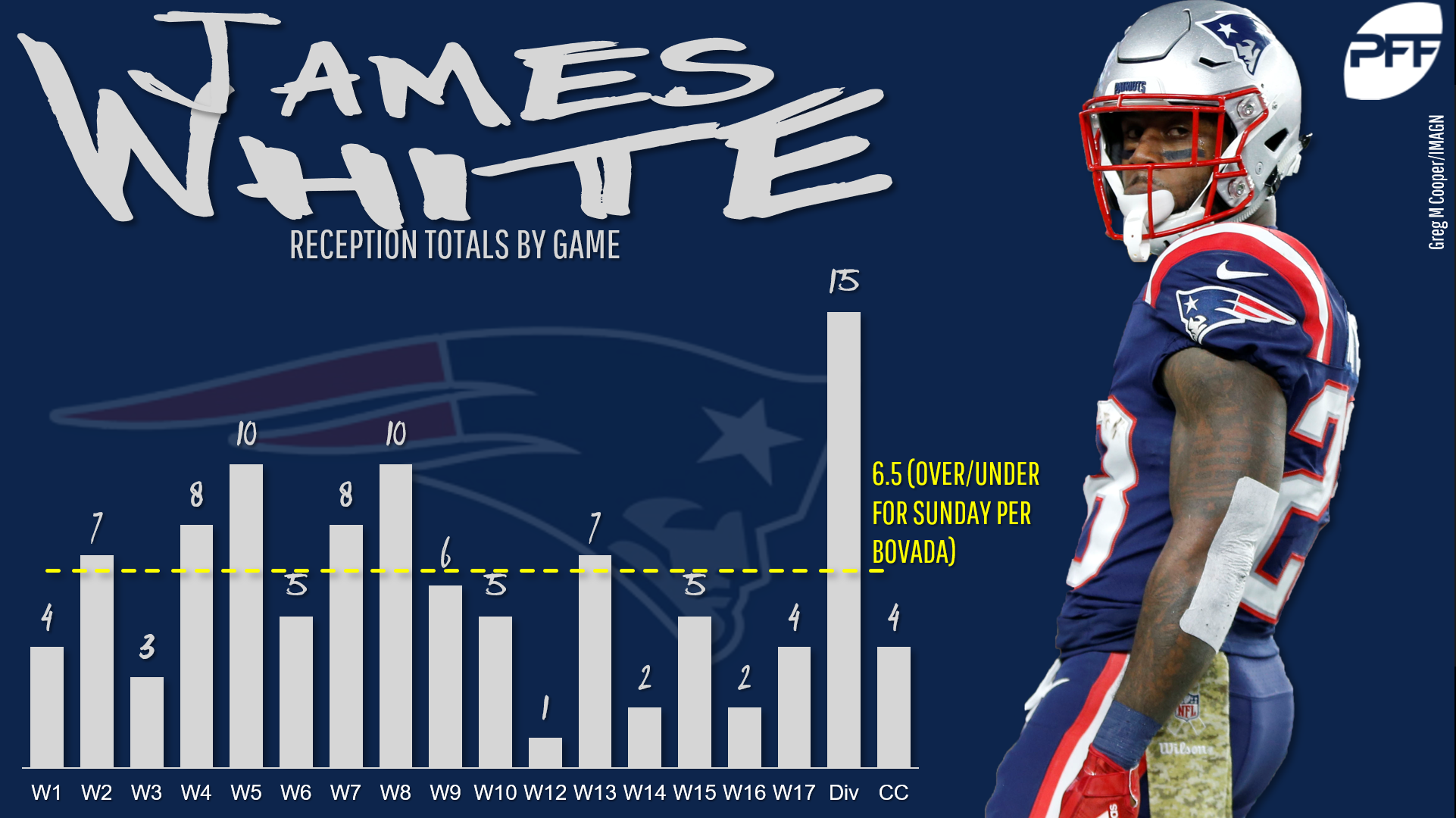 Here's where betting psychology really comes into play. Remember, people love to bet overs and bookmakers know this tendency very well. So when you look at player prop lines, they shouldn't be viewed as projections. Rather, it's the number that a bookmaker thinks will get half the money on either side. This line for White is high, but just low enough so that the over looks tempting. Don't take the bait. White has failed to go over 6.5 receptions in eight of his last 10 games. And if you do take this, you may also want to get some action on the under for White's receiving yards which you can find at 55.5 on Bovada at +120.
Sony Michel OVER 0.5 receiving yards (5Dimes +135)
The rookie hasn't done much as a receiver this season, with just seven catches for 50 yards in the regular season. However, he did catch a ball in the Patriots Divisional Round win. And for the over to hit, it's really only going to take one catch out of Michel. Given the favorable odds, this is definitely a prop that should be mixed into your wagers for the game.
Todd Gurley UNDER 30.5 receiving yards (Bovada +120)
The elephant in the room for the Rams offense entering this week is how healthy Gurley will be for this contest. Gurler saw just five touches in the Rams' Conference Championship win over the Saints, and really hasn't looked like himself since early December. But two weeks of rest can do a body good, and Gurley is expected to be a major factor. We know that, and so does Bill Belichick. Since October, Gurley has gone over on this line in 50% of his games. That plus the Belichick factor give this bet a better than 50% chance of hitting.
C.J. Anderson OVER 3.5 receiving yards (5Dimes +115)
Like we have with Michel, this is a line that essentially only requires one reception from Anderson to go over. While we certainly expect Gurley to see a bulk of the work in this game, Anderson has proven that he's more than capable of spelling Gurley. Though he isn't likely to be heavily involved in the passing game, Anderson has seen at least one target in all four games he's been with the Rams.
Wide receivers/tight ends
Rob Gronkowski UNDER 4.5 receptions (Bovada -110)
Gronk's 2018 fantasy owners will likely be quick to tell you that the under is likely to hit on this line, as he only topped 4.5 catches three times in the regular season. Of course, it would be foolish to overlook his performance in the Conference Championship round when Gronk put up six catches. While recent history might suggest that the over is in play, keep in mind that his 11 targets in that contest was the exception, not the rule this season. That was the only time he's topped double-digit targets on the season, and those 11 targets equaled his combined target total from his previous four games. The under on Gronk's receiving yards is also in play at 54.5 on Bovada with a tasty +130.
Phillip Dorsett UNDER 29.5 receiving yards (Bovada -110)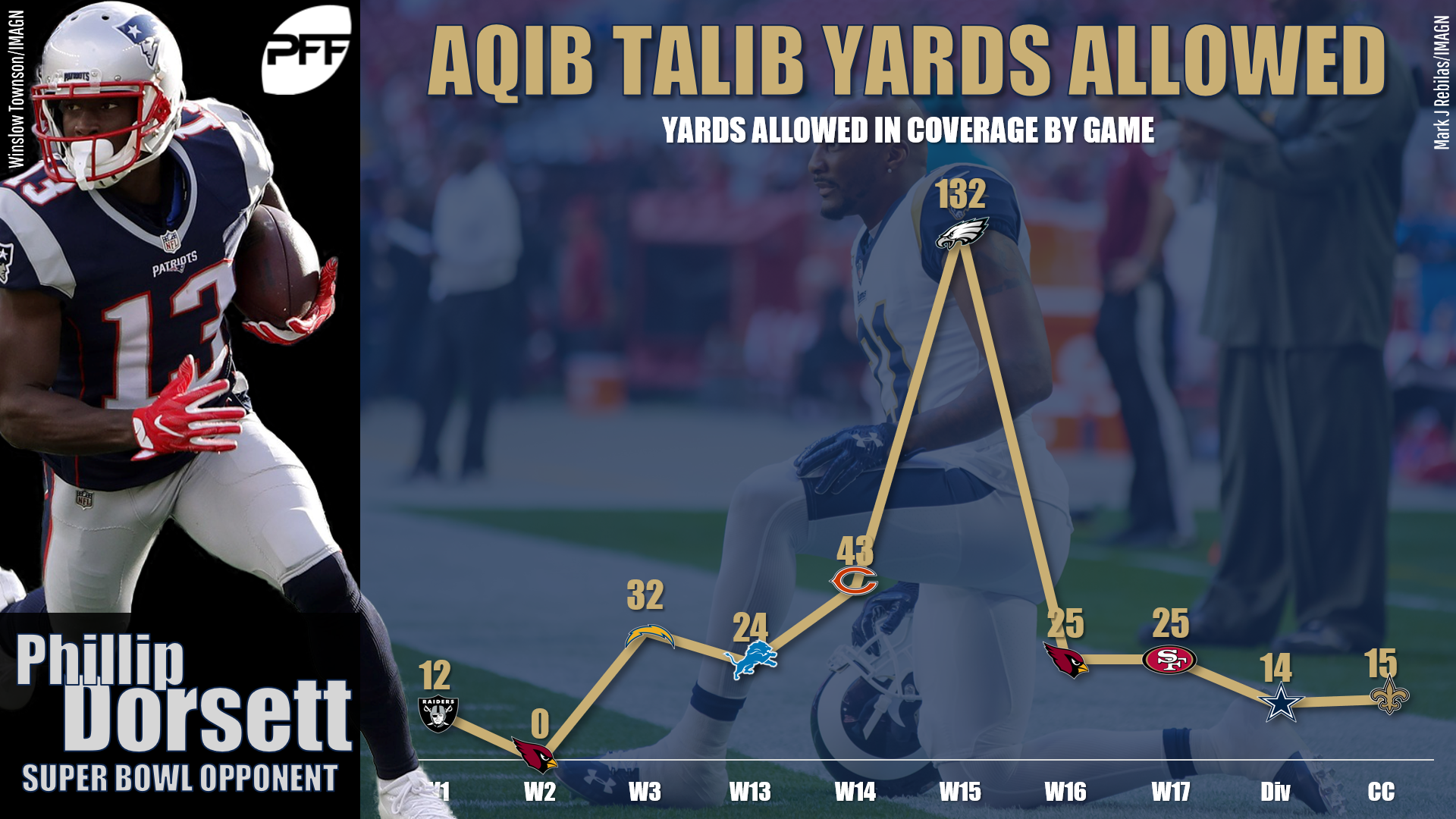 Here's another spot where the tendency to bet over comes into play. Since Josh Gordon left the team, Dorsett has seen his role expand, and he's gone over this line in two of his last three games. However, the matchup suggests Dorsett's role could be somewhat limited in this contest, as he'll primarily line up against Aqib Talib. Look for Brady to avoid this matchup, which means limited opportunity for Dorsett. Taking the under on Bovada's line of 2.5 receptions for Dorsett is also very appealing at -140.
Tyler Higbee UNDER 2.5 receptions (Bovada -135)
Yet again, we have betting psychology on display. This is a solid line that is just low enough to make the over look attractive. Better yet, Higbee went over in the Conference Championship game with four catches. But that was also the first time he topped 2.5 catches since mid-November, and he's only done so three times all season. Hammer this under.
Josh Reynolds UNDER 49.5 receiving yards (Bovada -115)
Since taking over as the No. 3 in the Rams' offense, Reynolds has gone over this line 50% of the time, with the most recent over occurring in the Conference Championship. But like Dorsett, matchup will be a factor here. The Patriots secondary is one of the league's better units, and the entire team grades out as the No. 2 defense in coverage. While New England will often use Stephon Gilmore in shadow coverage, there's a chance that Reynolds sees his share of Gilmore on Sunday. That puts a damper on Reynold's outlook and gives the under a better than 50% chance of hitting.