Each week, PFF's fantasy football analysts post our rankings in PPR, non- PPR and 0.5 PPR formats for the league's offensive skill positions. Jon Macri and I then add our IDP rankings, making the PFF rankings pages the go-to resource for all your fantasy football decisions.
Subscribe to
According to FantasyPros, my rankings were the third-most accurate among 129 experts in 2019, and they were also the most accurate for running backs. After nine weeks of 2020, they were eighth-best among 163 fantasy experts.
Of course, our rankings are in a constant state of flux, with changes being made due to injury reports and personnel/usage updates, among other factors. But regardless of any changes that may occur between now and Sunday, here are 10 borderline fantasy starters whose rankings I feel confident about heading into the 10th week of the fantasy football season. These rankings are based on PPR scoring settings within their positions as of Wednesday morning.
BIG-GAME POTENTIAL
Wentz is playing better lately compared to his woeful start in September. This week features a rematch against the New York Giants, a team he went up against three weeks ago. He scored 28.8 fantasy points the first time around, thanks to a 300-yard game and three total touchdowns.
The Eagles are coming off of their bye week, and there is reason to believe the offense can play better this time around. First round rookie Jalen Reagor and Dallas Goedert returned to the lineup in Week 8, while Miles Sanders and Alshon Jeffery should both be returning this week. Combine those players with Travis Fulgham, and the Eagles skill players will be significantly improved. The Eagles shouldn't need to pass as much to win, but Wentz should be more effective with his attempts. Several QB1s have a bye this week, leading Wentz to be a clear top-10 option.
McKissic has led Washington in snaps most weeks, while Antonio Gibson typically scores more fantasy points because he gets more carries. Gibson is a clear start this week if healthy, but McKissic has upside in this matchup against the Detroit Lions as well. Gibson is dealing with a shoulder injury, and if he doesn't play then McKissic becomes a must start. 
McKissic ranks third in both targets and receiving yards for running backs this season at 46 and 248, respectively. He hasn't scored a receiving touchdown yet, but the Lions have given up a league-leading five receiving touchdowns to running backs. Detroit has given up the seventh-most receiving yards to backs at 413 despite seeing a below-average 50 targets. McKissic has looked great as a runner in recent weeks, averaging over 5.0 yards per carry each of the last three games. Detroit is one of the three teams that have already given up over 1,000 yards to running backs on the ground, so McKissic should also see some success as a runner.
Landry's season has been a disappointment to this point. He's on pace for a career low in targets and has yet to score a receiving touchdown. Odell Beckham's injury should solve his target problem — he hit his season high in targets in Week 8 with 10. Landry is the top receiver on the Cleveland depth chart and should be at least close to double-digit targets each week going forward.
This week's matchup against the Houston Texans could help his touchdown problem. Houston has given up 13 touchdowns to wide receivers this season, the third-most in the league. The Texans as a team have the eighth-lowest team coverage grade. Bradley Roby has been the Texans' one bright spot in the secondary. Roby travels with opposing teams' top receivers, but only when they play as an outside receiver. Landry lines up in the slot roughly half the time and might line up even more in the slot in this game to avoid Roby. Even if Landry doesn't score a touchdown, he could get a season high in receiving yards by taking advantage of this secondary.
Williams has been a viable WR2 option this past month. He's sitting at WR23 since Week 5 thanks to his big plays. His 3.73 fantasy points per touch puts him among the top five among receivers with 20 or more targets since Week 5. The Chargers have multiple injuries at running back, which should lead to even more emphasis on their top receivers.
The Chargers play the Miami Dolphins this week and have outside cornerbacks who Williams can take advantage of. The Dolphins outside cornerbacks have the third-lowest forced incompletion rate at 7.4%. Miami outside cornerbacks have given up a league-leading 10.1 yards per target. Keenan Allen should have his usual great game, but Williams has big play potential against a defense that shouldn't be able to stop him.
Ebron's stock has been on the rise, as he's come in as the TE5 over the last three weeks. He should have an opportunity to extend his streak of good games against the division rival Bengals this week. He potentially could play 100% of snaps for the first time this season. The Steelers have only used two tight ends all season, but Vance McDonald has Covid and is likely out for the game. Pittsburgh will use Zach Gentry significantly in two tight end sets but could stick exclusively to Ebron in formations with one tight end.
The Cincinnati Bengals also present a very favorable matchup for Ebron. They allow 17.6 fantasy points per game to tight ends. Three teams have run up at least 80 yards via tight ends against Cincinnati, and Ebron could very well make it a fourth.
BUST POTENTIAL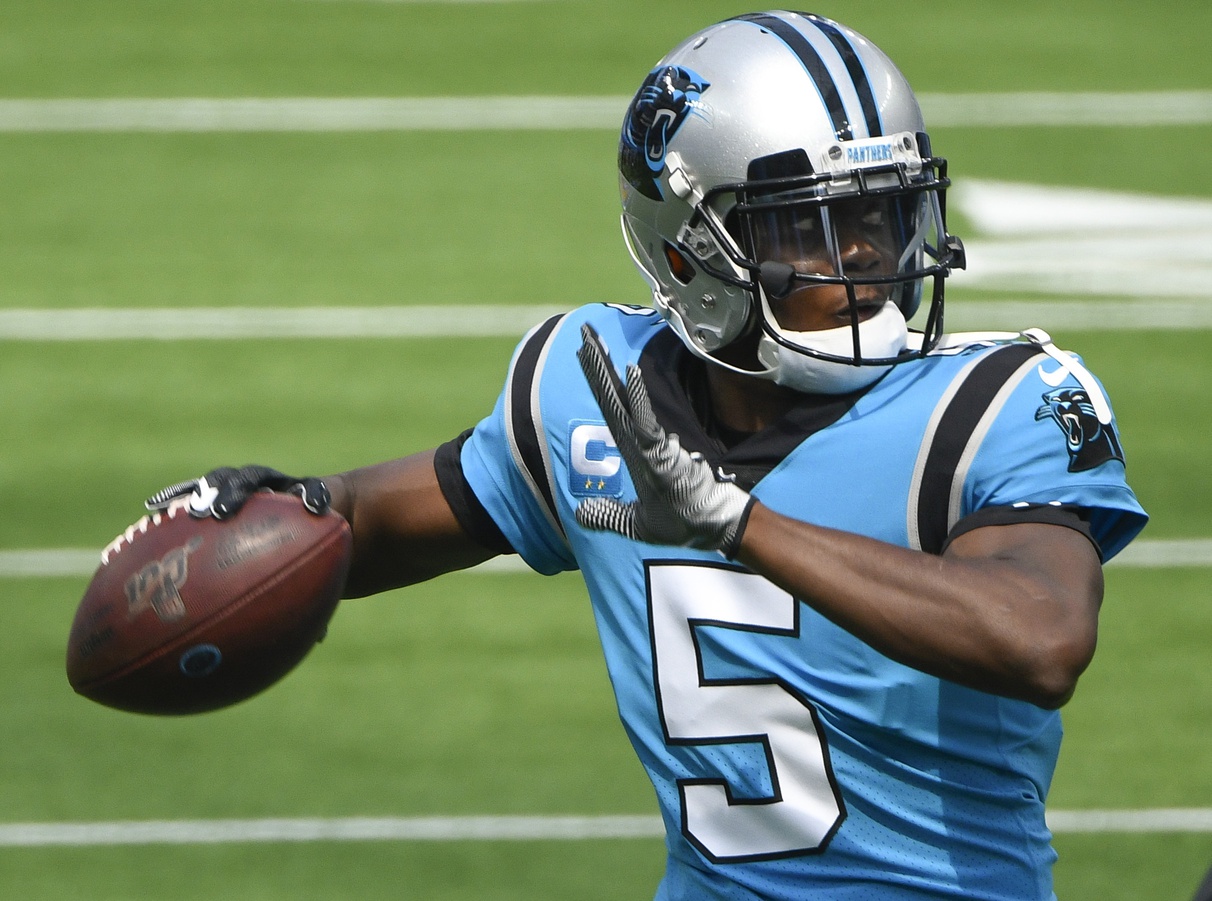 Bridgewater is one of the 10 quarterbacks with at least 60 fantasy points over the last three weeks. His success has varied greatly from one week to another depending on the defense he's facing. For example, Bridgewater was the 27th best quarterback in Week 2 when he faced the Tampa Bay Buccaneers. He tied for the sixth-most dropbacks that week at 47 but was third-worst in fantasy points per dropback.
Tampa Bay has remained great at stopping quarterbacks. They're among the top 10 teams in interception percentage as well as bottom 10 in touchdown allowed percentage. Bridgewater should play better this time around based on how he and the Buccaneers have been trending, but not well enough to put Bridgewater among the QB1s for the week.
McKinnon has been one of the more frustrating backs in fantasy football this season. In three games including this past week, he's run the ball 13 or more times. The rest of his games, he's been given six or fewer carries. San Francisco likes to have one back take the lead on first and second downs, and it's often hard to predict which one it will be in any given week. McKinnon has kept the third-down role throughout the season, but that's led to under four targets per game.
Even if we assume McKinnon will keep the early-down work this week, the New Orleans Saints should be able to shut him down. The Saints have allowed the second-fewest rushing yards per game at 80.3. They haven't allowed a 100-yard rusher yet, and the only backs to hit over 80 rushing yards needed more than 20 carries to get there. McKinnon could be a bust because he might not see that many carries, and if he does he probably won't be effective on his attempts.
The Bengals have two top-30 fantasy wide receivers this season in Higgins and Tyler Boyd. Boyd has been having a career year as the Bengals' slot receiver — he ranks first in slot receptions at 46. He's on pace to have the most slot receptions ever by a receiver not named Wes Welker. Boyd has put up 134.2 fantasy points this season, making him one of the best values at wide receiver from fantasy drafts in August. Higgins took a few weeks to work his way into an every-down role, but he's been WR19 since Week 3.
The Pittsburgh Steelers' one weakness for fantasy perspectives this season has been stopping wide receivers. Slot receivers have given the Steelers defense a lot more trouble than outside receivers. Only four wide receivers have racked up over 40 yards from the outside against Pittsburgh, while six receivers in the slot have. Teams typically allow a lot more on the outside than inside. Half of the touchdowns Pittsburgh has allowed to wide receivers have also come from the slot. This all adds up to Boyd being the one who should take advantage of the defense, while Higgins and A.J. Green might have quieter days.
Slayton's fantasy value has been on the decline in recent weeks. He saw nine more targets than any other Giants player over the first six weeks of the season. Evan Engram and Sterling Shepard have 25 targets each over these last three weeks, while Slayton is at 13. He is coming off his worst game of the season, posting one catch on one target for six yards.
This week is unlikely to be one where Slayton rebounds. The Giants are playing the Philadelphia Eagles for the second time over four weeks. The first time around, Darius Slay shadowed Slayton for the vast majority of his snaps. This will likely happen again this week. Even though Shepard has become the favorite wide receiver, he plays more in the slot while Slay stays outside. Slayton caught two passes for 23 yards in the first matchup.
Smith produced an excellent start to the season but has quickly slowed down. He caught at least four passes in each of his first four games but has averaged 1.5 receptions over his last four. In that time he's yet to have more than 32 yards and only has one touchdown. Tight end Anthony Firkser has more than double the amount of targets and catches since Week 6 and a much higher PFF receiving grade at 86.2 compared to 69.1. They have run close to identical pass routes in that time.
The Indianapolis Colts are the worst team to face when trying to reverse those trends. No team has allowed fewer passing yards to tight ends, and the Colts have yet to allow a touchdown to the position. The only tight ends to see 50 yards needed nine targets to get there. Smith hasn't been anywhere close to this.