The D.K. Metcalf fantasy football buzz is building after it was reported on Monday that the rookie is running with the Seattle Seahawks first team in two-receiver sets. Tyler Lockett is all but inked in as a starter, but the other spot is very much up for grabs with Doug Baldwin now out of the mix in Seattle. The big question facing fantasy players is whether Metcalf is a fantasy football breakout candidate.
Metcalf was a second-round pick in April's draft. A freakish size and speed prospect, Metcalf wowed at the combine with a 4.33 40-yard dash to go along with 27 reps on the bench, a 40.5-inch vert, and 11'2″ in the broad. That said, Metcalf also struggled in the three-cone with the third-slowest time among wideouts at 7.38 and the fourth-slowest short shuttle time (4.50).
He's also been knocked by many for his route-running, but Seahawks head coach Pete Carroll has continually praised Metcalf throughout the offseason process. The fact that Metcalf is getting an early crack at a starting role shows that this is likely more than just coach speak out of Carroll.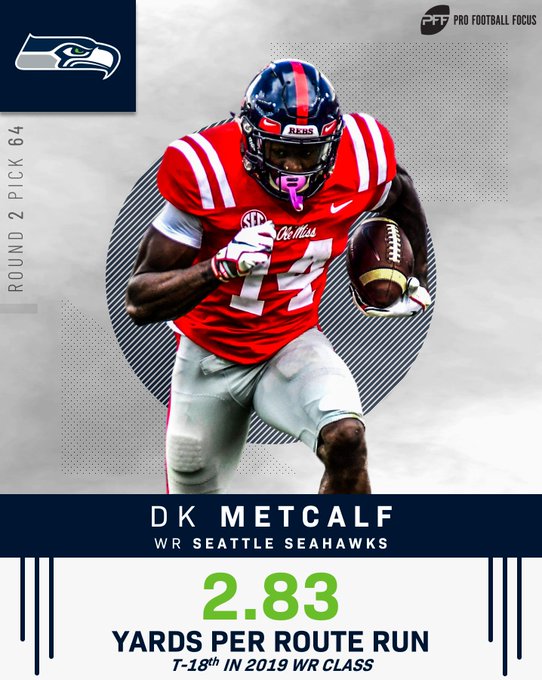 Earning a spot in two-wide sets would essentially guarantee an every-down role for Metcalf, which is a surefire path to a healthy target share. We expect Lockett to see the largest share, and currently have him projected at just a tick under a 20% share in the PFF fantasy football projections. As the No. 2 in an offense that doesn't have a target monster at tight end, Metcalf could command upwards of 15-16% of the Seahawks' targets.
While that sounds like a decent chunk of the pie, keep in mind that Seattle was one of the run-heaviest offenses in the league last year. In fact, the Seahawks attempted a league-low 427 passing attempts on the season. That's the fewest passing attempts we've seen from any offense since 2013. Given the recently league-wide trends, it's reasonable to expect an uptick in passing attempts. Our projections currently have Seattle at 505 passing attempts, which is still among the lowest in the league.
So herein lies the problem. A 14-16% share of 505 potential targets means an expected range of about 70-80 targets. Given Metcalf's downfield ability, we'd expect his average depth of target to be further downfield than most receivers, which would also correspond to a slightly lower catch rate. We currently have him projected at 61.5%, which would mean between 43-49 catches on that sort of target share.
Last season, Lockett actually had the fewest receptions by a top-30 fantasy receiver with 57. Of course, 10 of those catches went for touchdowns, which is an unsustainable rate of production. Mike Williams was the only top-40 fantasy wideout to have fewer than 50 receptions. Williams had just 43. But like Lockett, his 31st-place finish was the product of an extremely high touchdown rate.
Given this expectation for Metcalf's workload if he earns the starting job, it's going to be tough for him to produce better than WR4 numbers. Fantasy football is all about volume, and there just isn't enough meat on the bone in the Seahawks passing game to sustain consistent fantasy production. That isn't to say that he won't have weekly upside. Given his physical tools, Metcalf has big-time weekly upside, but consistency will likely be an issue. At best, Metcalf should be drafted just inside the top 50 wide receivers in fantasy football drafts, and a more conservative ranking for him would be in the mid-50s.