Day 2 of the 2019 NFL draft is in the books, as we're starting to get a good sense of how the rookie fantasy football value is shaking out in this year's class. Unlike what we saw in Round 1, there's was a lot of action at the skill positions. Here's an initial fantasy take on all of the skill position player drafted with a 2019 projection when relevant.
Samuel was the first wideout selected on Day 2, but be careful to not overvalue this landing spot in the short-term. There are a lot of mouths to feed in the 49ers' passing game, so targets may be tough to come by for Samuel.
2019 projection: 65 targets, 42 catches, 514 yards, 3 touchdowns
Lock has the ability to be a long-term starter in the NFL and lands in a good spot considering the Broncos young and talented cast of skill position players. That said, he isn't likely to be a full-time starter until at least 2020.
The Kyle Rudolph era appears to be coming to an end. Smith is clearly the No. 3 fantasy tight end in this year's class, but this is a solid landing spot. That being said, it could take a few years before he's a consistent fantasy option.
2019 projection: 32 targets, 23 catches, 243 yards, 2 touchdowns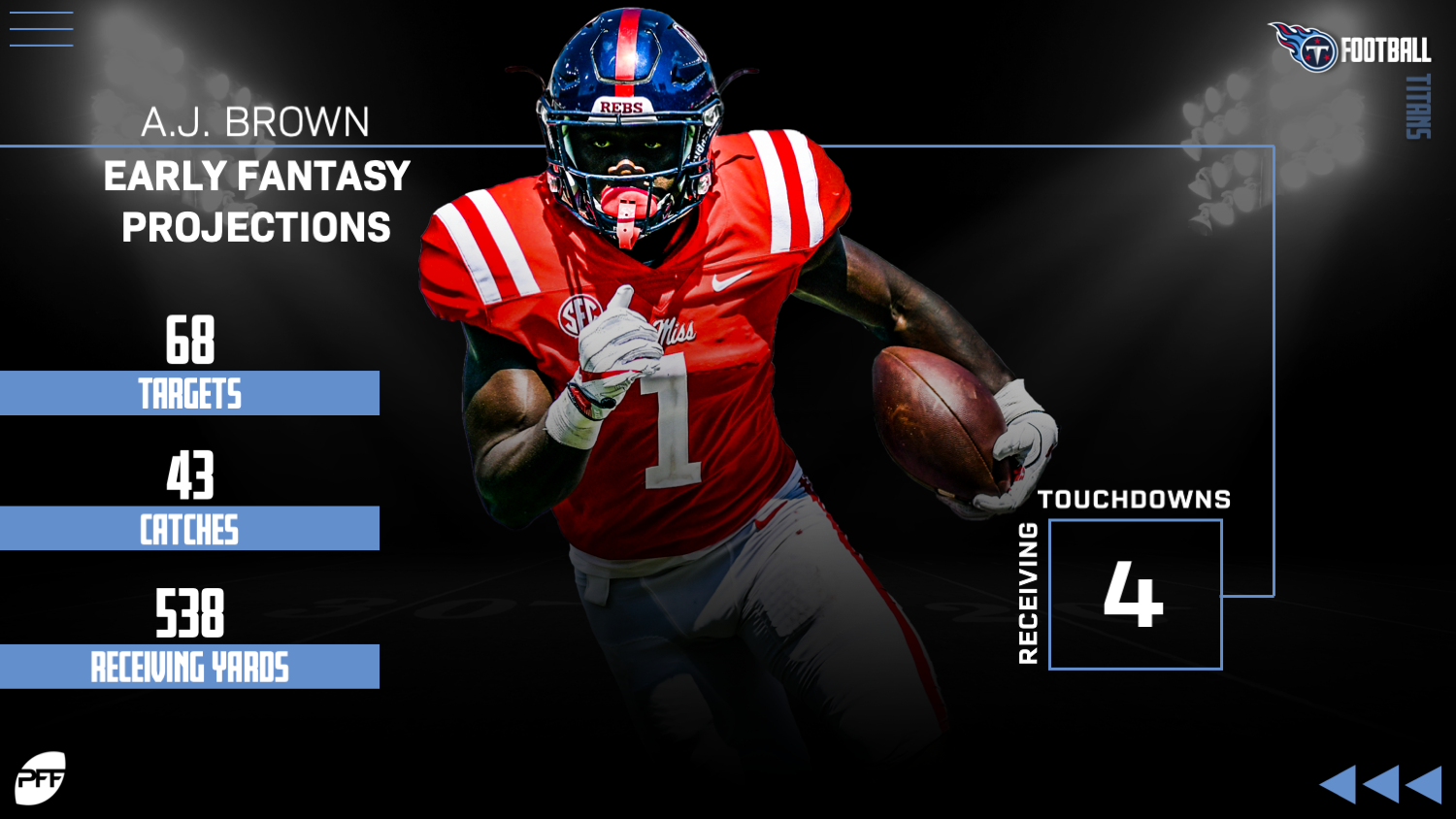 Sometimes the NFL Draft can boost a player's fantasy stock. This isn't one of those times. Brown figures to slot in as the No. 2 option in one of the league's least fantasy-friendly passing offenses.
2019 projection: 68 targets, 43 catches, 538 yards, 4 touchdowns
Insert head scratch emoji here. At best, Sample is a catch-and-fall-down pass-catcher, which is not a good thing for fantasy purposes.
That sound just heard was Jordan Howard's fantasy stock plummeting. Sanders is an elusive back with three-down ability. That said, he's likely to be the lightning to Howard's thunder in the short-term.
2019 projection: 166 carries, 679 yards, 6 touchdowns, 39 catches, 288 yards, 1 touchdown
With Tyreek Hill's future very much up in the air, the Chiefs went a bit aggressive and selected the very athletic Hardman. That said, he's still very green, managing just 60 catches in his college career. There's opportunity for Hardman, but he's far from a sure thing.
2019 projection: 71 targets, 42 catches, 614 yards, 4 touchdowns, 16 carries, 102 yards
Pick 57: J.J. Arcega-Whiteside, WR, Philadelphia Eagles
The Eagles grab a PFF favorite with this pick and potentially have Alshon Jeffery's long-term replacement. The depth chart is a bit crowded, so don't expect much out of Arcega-Whiteside in 2019. But getting paired with Carson Wentz is very favorable for Arcega-Whiteside's dynasty outlook.
2019 projection: 32 targets, 21 catches, 258 yards, 2 touchdowns
Andrew Luck and company add one of the fastest receivers in this year's class. Targets won't be easy to come by in the short-term for Campbell, but he has some late-round best ball appeal in 2019. In dynasty, Campbell is one of the more intriguing wideouts in this year's class.
2019 projection: 63 targets, 42 catches, 572 yards, 4 touchdowns
The other fastest receiver at the combine came off the board next. Isabella is often portrayed as a slot receiver, but his unique skillset and game breaking speed is very appealing in Kliff Kingsbury's offense with Kyler Murray under center. He'll be down in the pecking order in 2019, but his value will increase when Larry Fitzgerald retires.
2019 projection: 60 targets, 41 catches, 543 yards, 4 touchdowns
Despite the surprise fall down the draft board, this is a strong landing spot for Metcalf. The recent reports about Doug Baldwin considering retirement open the door for Metcalf to be a 1 and 1A with Tyler Lockett. While the Seahawks are extremely run-heavy, Metcalf is still in a position to see one of the heaviest workloads of this year's rookie wideouts.
2019 projection: 80 targets, 53 catches, 726 yards, 5 touchdowns
The Steelers have an obvious void to fill with Antonio Brown now in Oakland, but don't expect Johnson to be the next big fantasy receiver in Pittsburgh. He's a versatile receiver, but he lacks size (5-10, 183) and speed (4.53 40-yard dash time).
2019 projection: 18 targets, 12 catches, 141 yards, 1 touchdown
Pick 67: Jalen Hurd, WR, San Francisco 49ers
With size you can't teach and positional versatility, Hurd gives the revamped 49ers wide receiver corps an intriguing weapon. Though still a bit of a project, he's an interesting long-term fantasy prospect in this landing spot.
2019 projection: 15 targets, 9 catches, 118 yards, 1 touchdowns
One of the more athletic tight ends in this year's class, Oliver lands in a prime spot on the uber-thin Jags depth chart. It's rare for rookie tight ends to make much a fantasy impact, but Oliver has the chance to surface as a streamer option.
2019 projection: 54 targets, 39 catches, 417 yards, 3 touchdowns
While the Rams selecting a running back on Day 2 isn't necessarily an indictment of Todd Gurley's fantasy stock, this pick does raise an eyebrow. Henderson is an undersized playmaker who stands to benefit from the Rams' heavy usage of 11 personnel. He's Gurley's immediate handcuff with RB1 potential if Gurley went down.
Pick 73: David Montgomery, RB, Chicago Bears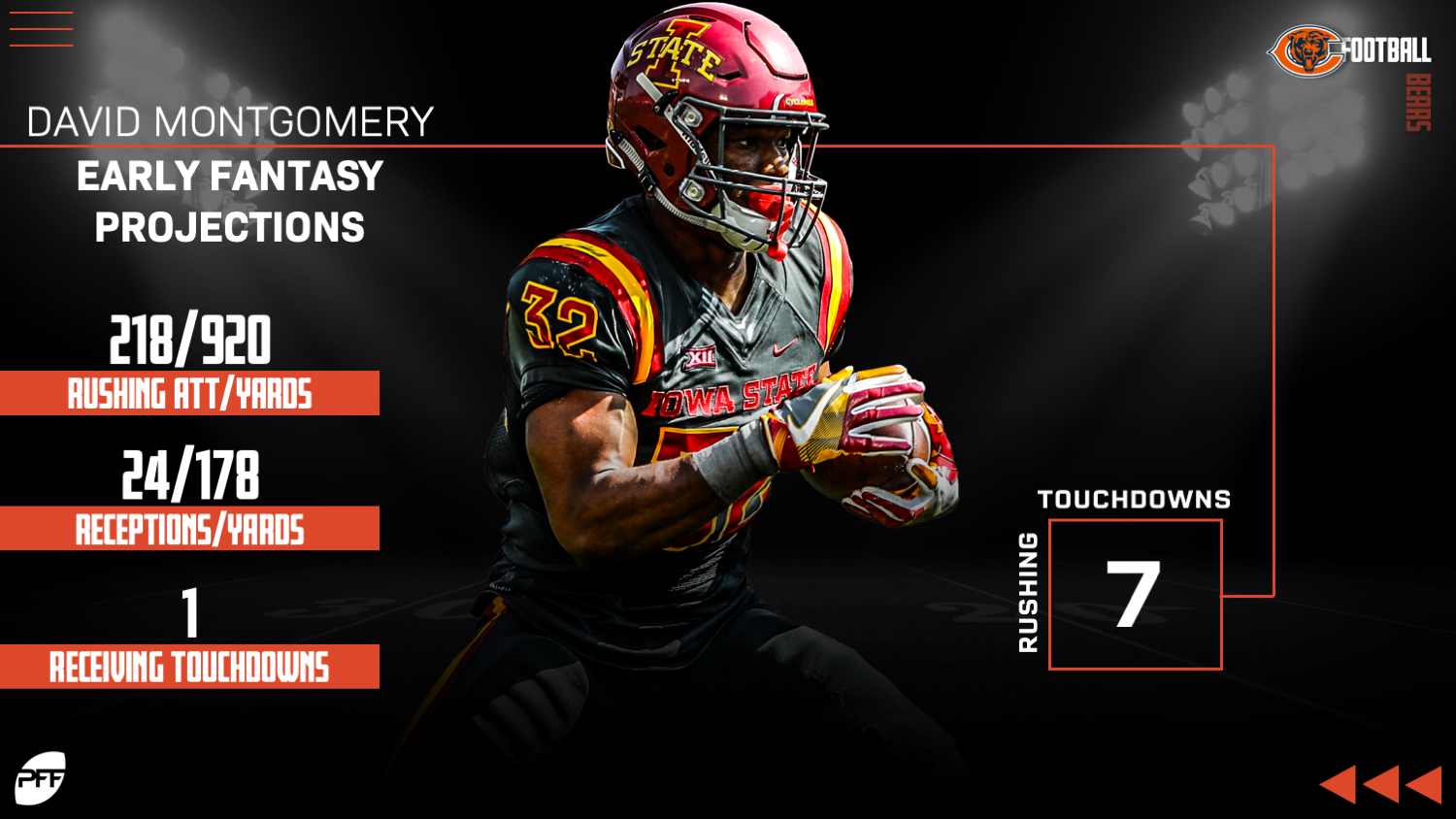 Jordan Howard didn't fit in Matt Nagy's offense, but Montgomery does. This is one of the best landing spots of all the Day 2 picks. He figures to slot right in as the early-down option and has immediate RB2 potential.
2019 projection: 218 carries, 920 yards, 7 touchdowns, 24 catches, 178 yards, 1 touchdown
Pick 74: Devin Singletary, RB, Buffalo Bills
With LeSean McCoy and Frank Gore among the league's elder statesmen at running back, the Bills addressed the position on Day 2. Singletary didn't test well in the pre-draft process, but he does have some similarities with McCoy. He could end up as the long-term replacement in Buffalo.
Like McCoy and Gore, Jimmy Graham is no spring chicken. Sternberger was one of the most productive tight ends in the nation last year and gives the Packers some long-term juice at the position. Just don't expect much out of him in 2019.
Washington snagged one of Dwayne Haskins' receivers on Day 2. McLaurin is a speedy wideout who has an opportunity to play immediate on the Redskins' thin depth chart.
2019 projection: 65 targets, 38 catches, 543 yards, 3 touchdowns
Pick 86: Kahale Warring, TE, Houston Texans
The Texans love drafting tight ends. They selected two last year, and now add Warring to one of the most crowded tight end rooms in the league. Warring is uber-athletic but extremely raw. He may never emerge as a fantasy option.
Thanks, Bill. Just when we thought we had some clarity in the Pats' backfield, they had to go and do this. Harris has overlap with Sony Michel's skill set. His presence drives down Michel's value and will likely create a weekly fantasy conundrum in the Patriots' backfield.
2019 projection: 90 carries, 378 yards, 3 touchdowns, 18 catches, 134 yards, 1 touchdown
Lamar Jackson gets another weapon after the Ravens already selected Marquise Brown. Boykin is in many ways the polar opposite of Brown and will give Baltimore a big-bodied option who has similarities to Kenny Golladay. This isn't the best short-term landing spot, but Boykin still has long-term dynasty appeal
2019 projection: 39 targets, 25 catches, 284 yards, 2 touchdowns
Pick 96: Dawson Knox, TE, Buffalo Bills
Buffalo had arguably the thinnest tight end depth charts in the league, so there's plenty of opportunity for Knox. While he didn't put up big numbers in college, he tested well in the pre-draft process. Rookie tight ends rarely have fantasy value, but Knox will have long-term dynasty value.
2019 projection: 41 targets, 28 catches, 298 yards, 2 touchdowns
This pick shows the NFL likely views Grier as a long-term backup. Fantasy players should take notice and not prioritize Grier in rookie drafts.
Pick 102: Alexander Mattison, RB, Minnesota Vikings
With Latavius Murray out of the mix, the Vikings selected Mattison to slide in behind Dalvin Cook on the depth chart. Let's be clear that this is still very much Cook's backfield. Mattison should only be viewed as a handcuff at this point.