A long national fantasy football nightmare in Los Angeles appears to be ending, with Melvin Gordon reportedly back with the Los Angeles Chargers. Of course, it could introduce an entirely new nightmare for fantasy managers who have any piece of the Chargers backfield.
Gordon won't play in Week 4 against the Dolphins — not that his team would need him in a game it is favored by a massive 16 points on the road. But he should be back on the field in Week 5, and it isn't likely to be long before he once again takes on a big role in this offense.
The question, of course, is just how big that role might be. After all, three weeks into the year, Gordon's replacement Austin Ekeler is the No. 1 fantasy running back (No. 2 overall flex player behind teammate Keenan Allen), with 368 scrimmage yards and 4 touchdowns so far.
It's worth noting that Ekeler's performance can't be called a massive surprise. Even if nobody would have called him a candidate to be the No. 1 overall running back, he's been incredibly efficient ever since his 2017 rookie year — I called him "a poor man's Alvin Kamara" in a piece in February of 2018. It isn't new information that he can put up big numbers when given the chance.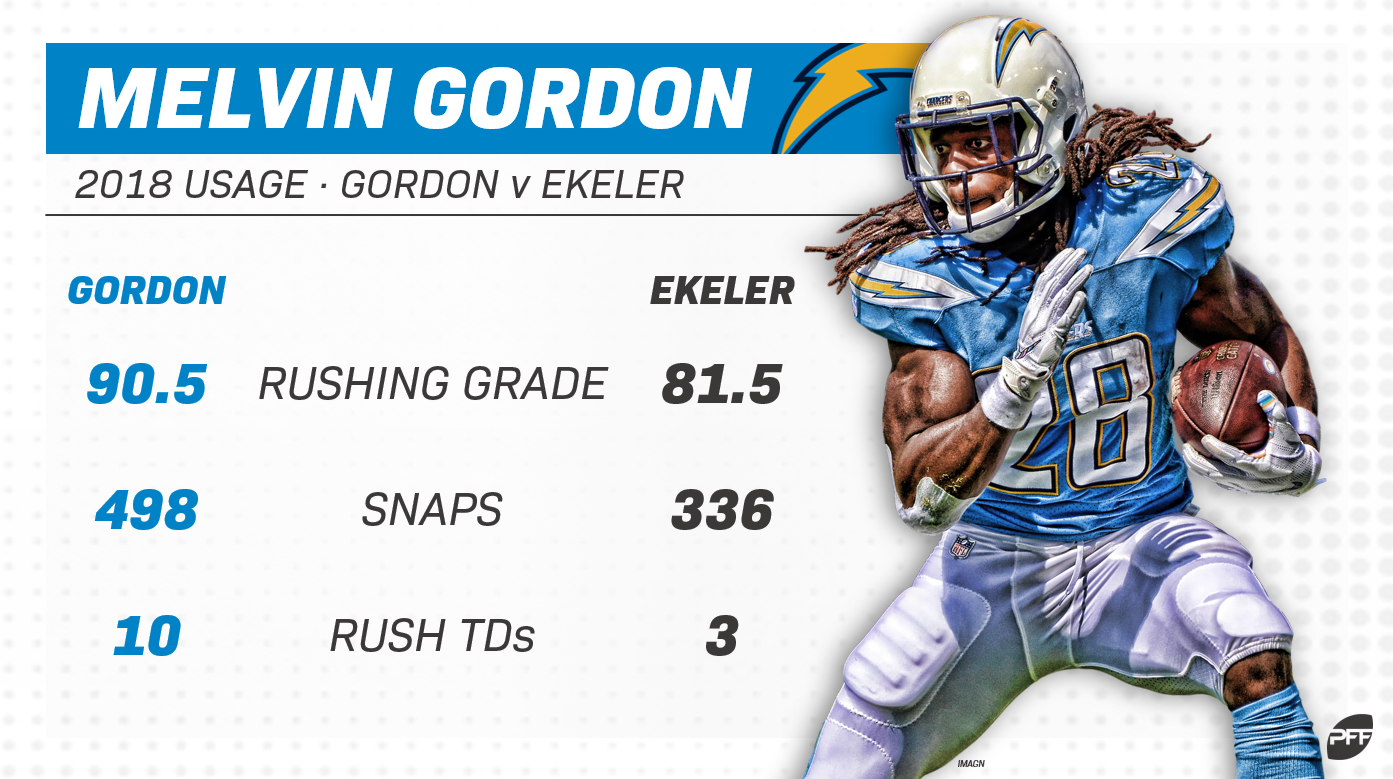 That said, Gordon is the workhorse. Last year, Ekeler was ridiculously efficient, and he still played roughly two-thirds the snaps Gordon did (despite Ekeler missing two games, compared to four missed for Gordon). Gordon averaged 14.6 carries per game; Ekeler averaged 7.6.
And note that the 5-10, 200-pound Ekeler has essentially been a bell cow this year, and while the fantasy results have been great, his efficiency has struggled. Ekeler has seen his yards after contact, PFF grade, yards after the catch, and passer rating when targeted fall steadily so far this year as he takes on a bigger workload than he's ever had before.
Obviously, Ekeler isn't going to disappear once Gordon is active again (especially if the team eases Gordon in instead of forcing him right into the role straight away). But this is still likely to be a backfield that features a clear No. 1 back (Gordon), a clear No. 2 (Ekeler), and a little-used No. 3 (Justin Jackson). For fantasy, that makes Gordon a low-end RB1 or high-end RB2 from his first game to the end of the year and pushes Ekeler back down to flex territory, where he finished the 2018 season.
Considering the hype surrounding Gordon's return, fantasy managers might actually use this news as a justification for selling high, because while Gordon will be the No. 1, he won't be the ultimate bell cow he might have been drafted to be, and the buzz could get some big offers.