The writing was on the wall for RB Kenyan Drake's tenure with the Miami Dolphins when the team started giving other backs work over him the last few weeks and didn't have him travel with the team for their Week 8 game. Monday, the inevitable happened, as Drake was reportedly shipped to the Arizona Cardinals ahead of Tuesday's NFL trade deadline.
For fantasy football, the move is interesting, but perhaps more for what it says for other players than it does for Drake.
This time two weeks ago, the Cardinals had maybe the most envied backfield situation in the league, with David Johnson sitting as the PPR RB6 and Chase Edmonds maybe the league's top handcuff. In Week 7, Johnson was active-but-not-really, leading to Edmonds having a career game. Then the Cardinals signed Alfred Morris and Zach Zenner last week, Johnson was inactive Sunday … and then Edmonds got hurt, leaving Zenner as the team's only active running back to finish the game.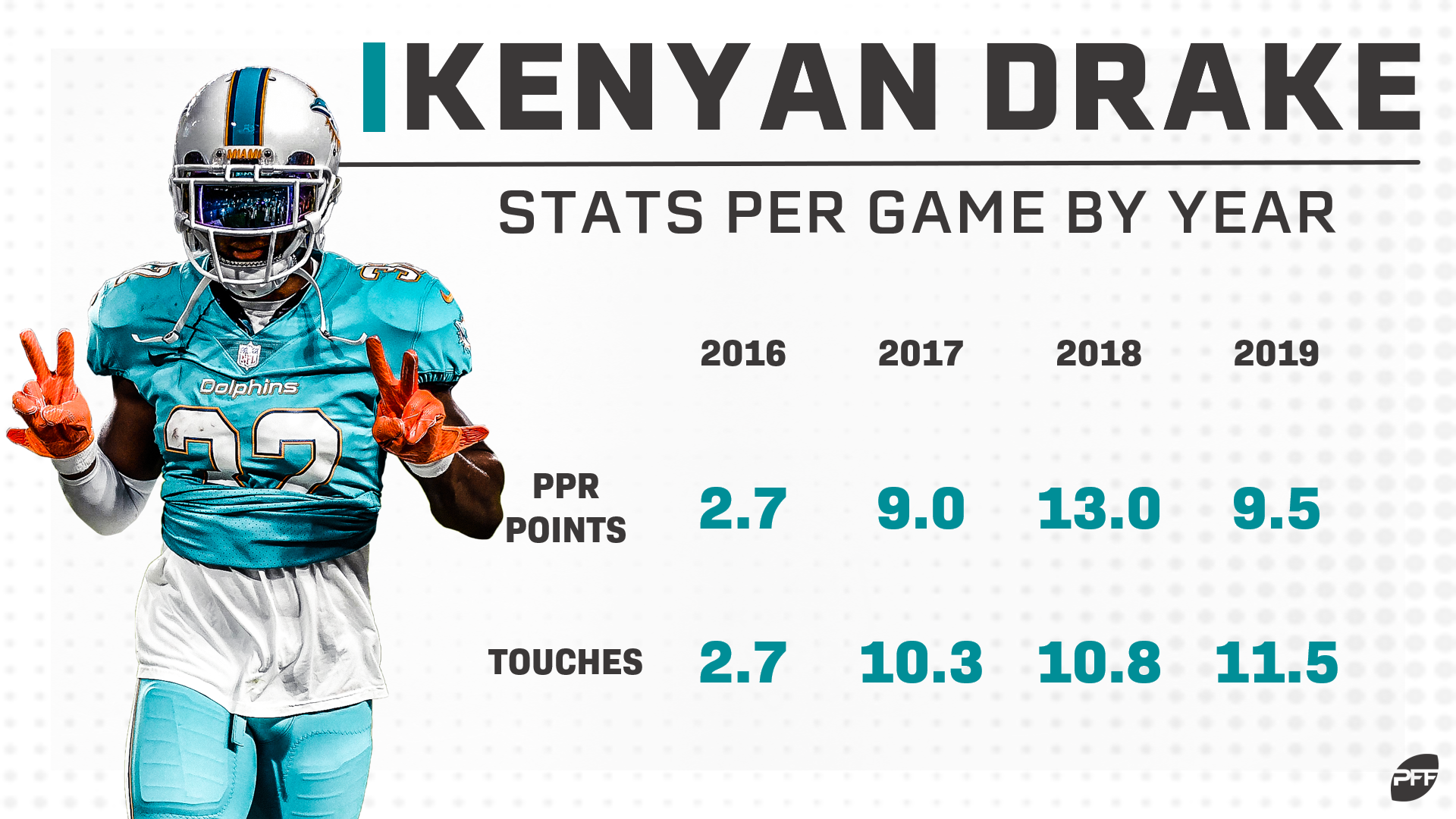 In the course of about 10 days, the Cardinals backfield went from a strength to an area of huge concern, leading to a quasi-desperation move to add Drake. Since entering the league in 2016, Drake is third in the league among qualified running backs in forced missed tackles per carry (0.22), fourth in yards after contact per attempt (3.29), and ninth in yards per touch (5.50). All that said, he's spent precious little time as anything resembling a bell-cow back in Miami, with Jay Ajayi, Frank Gore, Kalen Ballage, and Mark Walton all in turn serving to keep Drake's workload in check. As such, he's never topped 133 carries of 173 touches in a season despite the fact that Week 8's healthy scratch is the first game he's ever missed.
Unfortunately for any who have been stashing Drake anticipating a trade, this isn't likely to be a situation that helps his general workload — at least, based on what we currently know. Johnson is hurt, and Edmonds got hurt Sunday, so with the Cardinals playing Thursday, there's a very real chance Drake is the No. 1, workhorse back in Week 9. Of course, that is against a fearsome San Francisco defense. The Cardinals play a tough Tampa Bay defense in Week 10, San Francisco again in Week 11, and then have a Week 12 bye. In other words, unless we see at least one IR move (or a trade, as there have been very tiny Johnson rumors), and maybe two, it's going to be hard to have much faith in Drake as a Cardinal. And Johnson's return would put him comfortably back atop the depth chart.
The concern, obviously, is whether Drake's arrival means we're losing Johnson and/or Edmonds for the year, as it's difficult to see a reason for the Cardinals to add a back like Drake if both are expected to be back soon. That's all idle speculation, but it's definitely a situation to monitor.
Back in Miami, Walton had been working ahead of Drake and Ballage the last couple weeks — ahead of Ballage because of Ballage's struggles, and ahead of Drake in anticipation of a possible trade. So all this trade does there is likely cement Walton's role as the RB1. He's a low-upside running back on maybe the league's lowest-upside team, so he's not someone who you need to burn a huge percentage of FAAB on. That said, he's a starting running back. He should be rostered, even if it's on the bench as an insurance policy.