(PFF Fantasy is reacting to all the offseason moves from a fantasy football perspective. Follow along here.)
The NFL is a crazy league. A somewhat tame NFL free agency just got completely wild after the Cleveland Browns acquired Odell Beckham Jr. in exchange for first- and third-round picks along with S Jabrill Peppers. Twitter is officially broken.
The long-standing trade rumors aside, Beckham has been one of the league's top fantasy wideouts since entering the league in 2014. Over that span, he's racked up four 1,000-yard seasons and topped 10 scores three times. Beckham finished top-10 in fantasy scoring among wideouts in each of his first three seasons and was on his way to similar finishes in each of the last two seasons were it not for injuries. And he managed all of this production despite playing with a declining Eli Manning.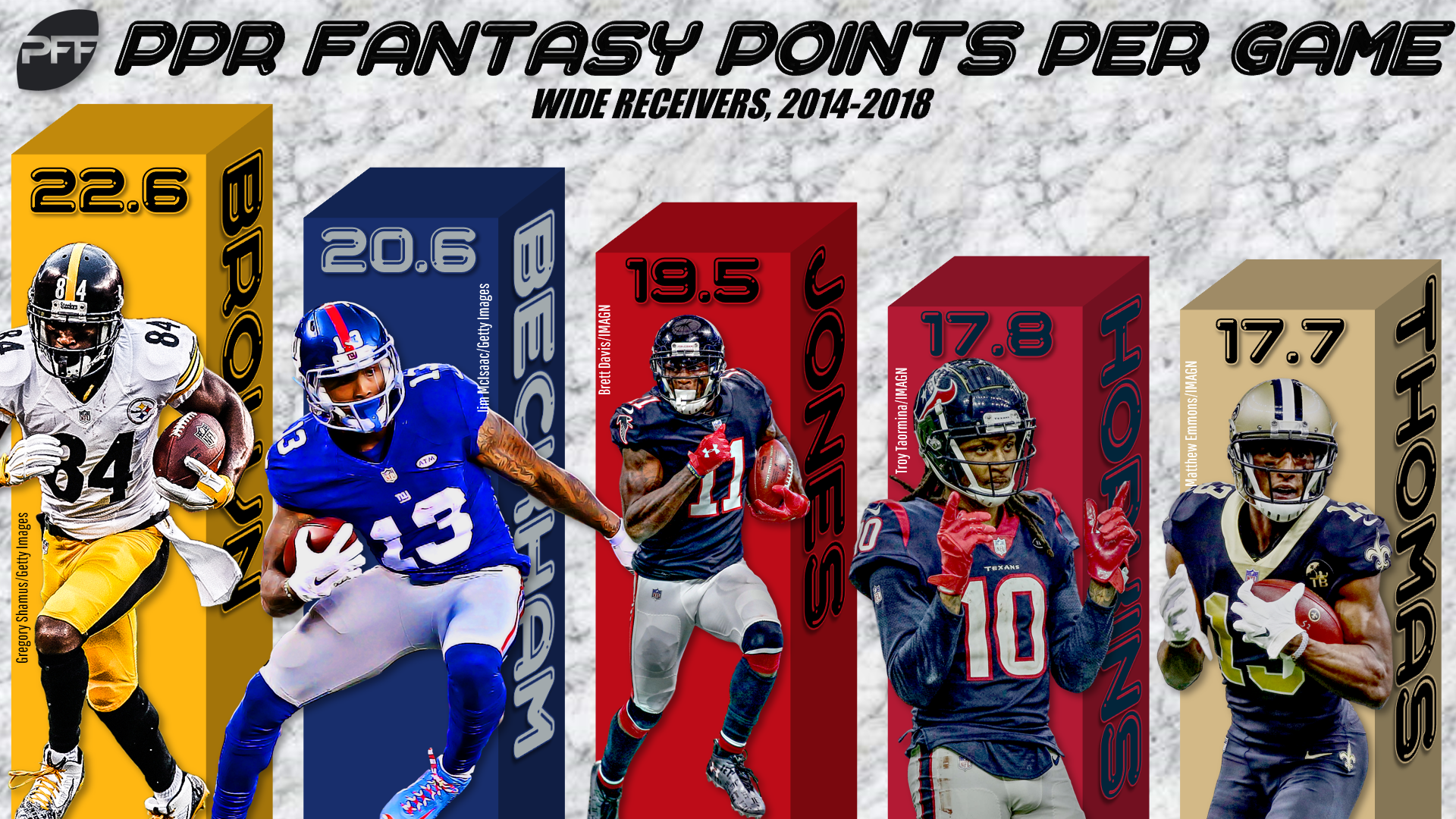 In Cleveland, Beckham steps into a thin wide receiver corps that features Jarvis Landry and not much else. Antonio Callaway flashed potential at times last season but was plagued with inconsistency. Callaway scored five times on the season, but he also managed a lackluster 55% catch rate on his 78 targets.
[using promo code BESTBALL grants you 25% off any PFF subscription, join now]
Landry dominated the target share last season with a whopping 25.7% share. In Beckham's 12 games last season, he commanded an even larger 28.5% of the Giants' targets. So in this instance, something has to give. It's unlikely both shares remain the same as the Browns will still distribute the ball around to other receivers along with emerging TE David Njoku and their running backs out of the backfield. Despite Landry's consistent heavy workload over his career, Beckham is the clear favorite to see the largest share.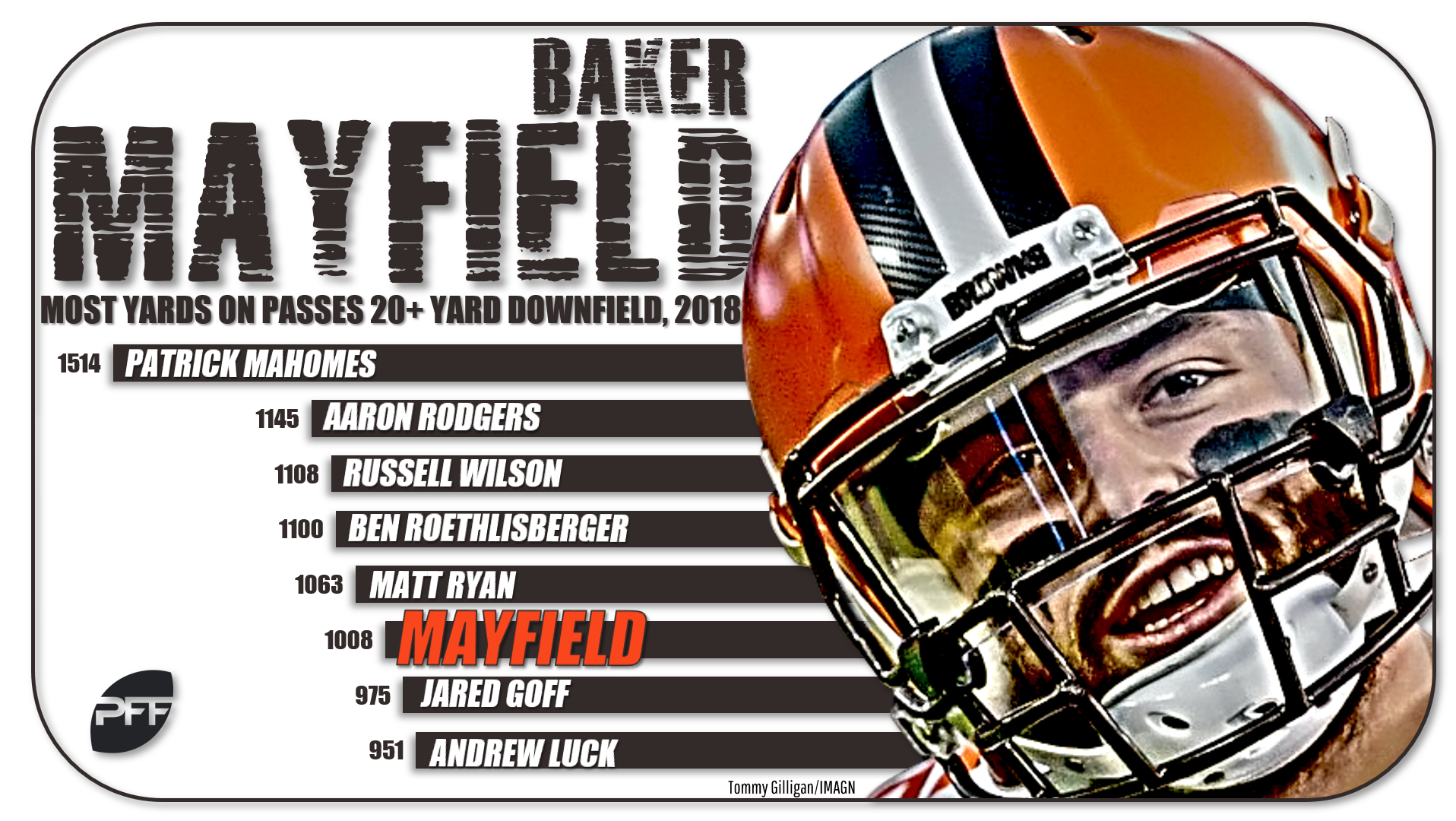 Of course, he'll see those targets from last year's breakout rookie signal caller, Baker Mayfield. The former No. 1 overall pick put up 3,725 passing yards and 27 scores in 14 games played. But it wasn't just dink-and-dunk from Mayfield last season. Only six quarterbacks had more than 1,000 passing yards on targets traveling at least 20 yards in the air last season. Mayfield was one of them. For fantasy purposes, that stat translates to big play upside for Beckham.
From a fantasy standpoint, it's hard to deny that this move is a good one for Beckham's short- and long-term outlook. He's pair with one of the league's brightest young stars in what looks to be an ascending offense. The only thing preventing Beckham from sustained high-end WR1 production is injury. Mayfield's arrow is also pointing straight up. He's now cemented in the QB1 conversation. The Giants as a whole lose out in this deal, though Sterling Shepard should see an uptick in target volume. Landry is also a loser here. His target volume will almost certainly take a hit. That coupled with his limited upside relegates Landry in WR3 territory.