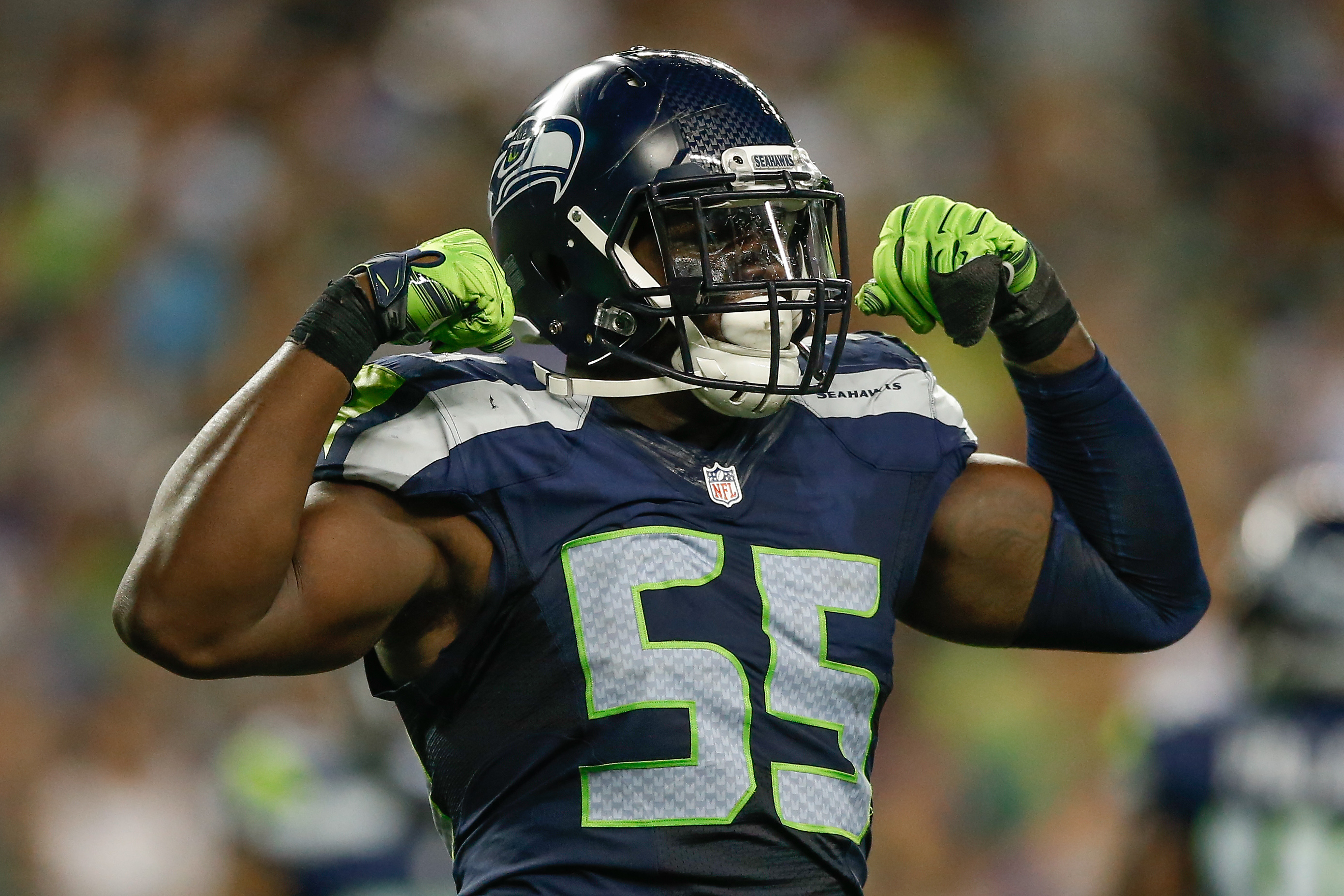 SEATTLE, WA - AUGUST 18: Defensive end Frank Clark #55 of the Seattle Seahawks reacts after making a stop against the Minnesota Vikings at CenturyLink Field on August 18, 2016 in Seattle, Washington. (Photo by Otto Greule Jr/Getty Images)
After our recommendations for streaming IDP options in fantasy leagues had a good run during the first five weeks, we have to take the L in Week 6. Broncos lineman Derek Wolfe led all Denver linemen in snaps but came away with just two tackles while our other lineman, Tampa Bay's Robert Ayers, finished with just one. Colts linebacker Jabaal Sheard came close to notching one in the sack column, hitting QB Marcus Mariota twice, but came up short. Our other linebacker, the Texans' Zach Cunningham, barely got on the board with a tackle and pass defended, despite seeing a very healthy 58 snaps. His Texans teammate Andre Hal didn't fare much better, managing two tackles, despite a Browns team in catchup mode and throwing 37 times. But it's a new week and it's onward and upward for your IDP streamers.
Defensive linemen
In his first start in place of the injured Cliff Avril, Clark had himself a day in his last outing. Not only did he record a sack but also a forced fumble and pass defended while playing his most snaps of the season. Perhaps it shouldn't have come as too big of a surprise after Clark recorded 10 sacks last year, but it's still rare for a single Seahawk lineman to fill up the stat sheet as opposed to the more collaborative effort they've had over the years. But that's exactly what's Clark did and he could be in line for another big week.
Seattle will take on the Giants, one of our favorite punching bags when it comes to streaming linemen. The Giants currently support the fifth-worst pass-blocking unit according to PFF and give up close to three sacks a game. Clark specifically will be facing off with the left side of the Giants' offensive line, including Ereck Flowers (PFF's 52nd-ranked tackle) and John Jerry (No. 32 guard). They are also facing a quarterback who is just bad when there's nowhere to throw. Eli Manning currently ranks 27th in passer rating when holding onto the ball for more than 2.5 seconds and has been sacked 15 times. That could happen a lot against Seattle (ninth in passing yards allowed, fifth in yards per attempt allowed, third in completion percentage allowed). In short, if the Seattle secondary continues to clamp down on the opposing passing game, it could free up someone like Clark to get to the quarterback a lot.
Alex Okafor, New Orleans Saints
We go back to the well for the first time season in streaming Okafor again, but his matchup is just too enticing. Okafor and the Saints face off against the Packers, who currently are tied for most sacks given up per game at 3.8, including at least four in four of their six games. That's directly related to Green Bay's standing as the fourth-worst pass-blocking unit. And if that wasn't enough, Aaron Rodgers is now out and replaced by Brett Hundley, who will be making his first career start.
Okafor will have plenty of opportunities to make plays against this sorry Packers situation. Not only is he firmly entrenched as the end opposite Cameron Jordan, where Okafor currently ranks 16th among 4-3 ends in snaps, but the Packers currently average 38 pass attempts per game, giving Okafor plenty of opportunities to make a play. And should the Packers attempt to run more in light of Rodgers' injury, Okafor can contribute there as well — where his run-stop percentage ranks ninth out of 23rd qualifiers.
Okafor is plenty talented in his own right and even ranks 13th among 59 4-3 ends according to PFF. But he might not have a better matchup all year than this week against Green Bay.
Linebackers
Craig Robertson, New Orleans Saints
There's another streaming option from the Saints this week, but this is more due to injury than matchup. Robertson didn't enter 2017 as the starting Mike linebacker in New Orleans, but he's been thrust into a more prominent role, thanks to a season-ending injury to rookie Alex Anzalone. After not seeing more than 17 snaps through the first three weeks, Robertson saw 49 in Week 4, when Anzalone got injured, then a season-high 62 in Week 6. It's truly not about talent with Robertson, but rather opportunity.
Take last year for example. Robertson, who was the starter, played nearly every down for the Saints defense (969 plays out of 984). Was he good? Not particularly. He finished as PFF's 41st-ranked inside linebacker and allowed 10 missed tackles in coverage, second-most among inside linebackers. But by being on the field that much, Robertson was able to rack up a career-high 115 tackles plus four passes defended, two fumble recoveries, and an interception. He ended up as a top-25 fantasy linebacker no matter what kind of IDP scoring was used.
In real life, the Saints knew they had to upgrade, thus the drafting of Anzalone and the signings of A.J. Klein and, to a lesser extent, Manti Te'o, in the offseason. Those all pushed Robertson down the depth chart. But the injury to Anzalone gives Robertson another chance to be productive. So far, he's taking advantage of it, posting 11 tackles, a forced fumble, fumble recovery and a pass defended last week in his first start of 2017. Expect more of the same in Week 7.
Defensive backs
Amos has flown largely under the radar, whether in real life or in fantasy circles. He finished as PFF's 22nd-rated safety his rookie year, was 27th last year, and is up to fifth this year. Fantasy-wise, he never finished higher than in the mid-50s among defensive backs but, in his last three games after recovering from an injury and a concussion, he's actually one of fantasy's top safeties with 24 tackles, two passes defended, and a pick-six, which doubled as the first interception of his career.
Entering Week 7, Amos draws the Panthers and Cam Newton. Carolina is in the middle of the pack when it comes to pass attempts, attempting just 34 per game. That should work out just fine. During this three-game stretch that Amos accumulated 24 tackles, the opposing offense threw an average of 33 times. Overall, the Panthers offense is in the top-10 in plays per game with 65, which also jibes with Amos' workload, seeing 70 or more snaps over the last two weeks.
Amos' value this week isn't necessarily from the matchup, which is average, but rather his elevated production this year. He's still available on a ton of waiver wires and is guaranteed to see a lot of action.
Tashaun Gipson, Jacksonville Jaguars
Gipson is another beneficiary of ample opportunity but not the typical kind we look for in this series. Yes, he's played 402 snaps this year already, good for 12th among safeties, but unlike other streamers we've recommended, his high snap count doesn't necessarily equate to high tackle numbers. In fact, his career-high is just 94 in 2013. He actually makes up for it with excellent pass defense, including seasons with 12 and eight passes defended. He already has five this year, including two picks. Of course, it helps that Gipson is in coverage so much, totaling 222 such snaps and good for sixth so far this season among safeties. As for his opponent, Jacoby Brissett and the Colts have had at least four passes defended in the five games Brissett has started, which means Gipson will have his chances.