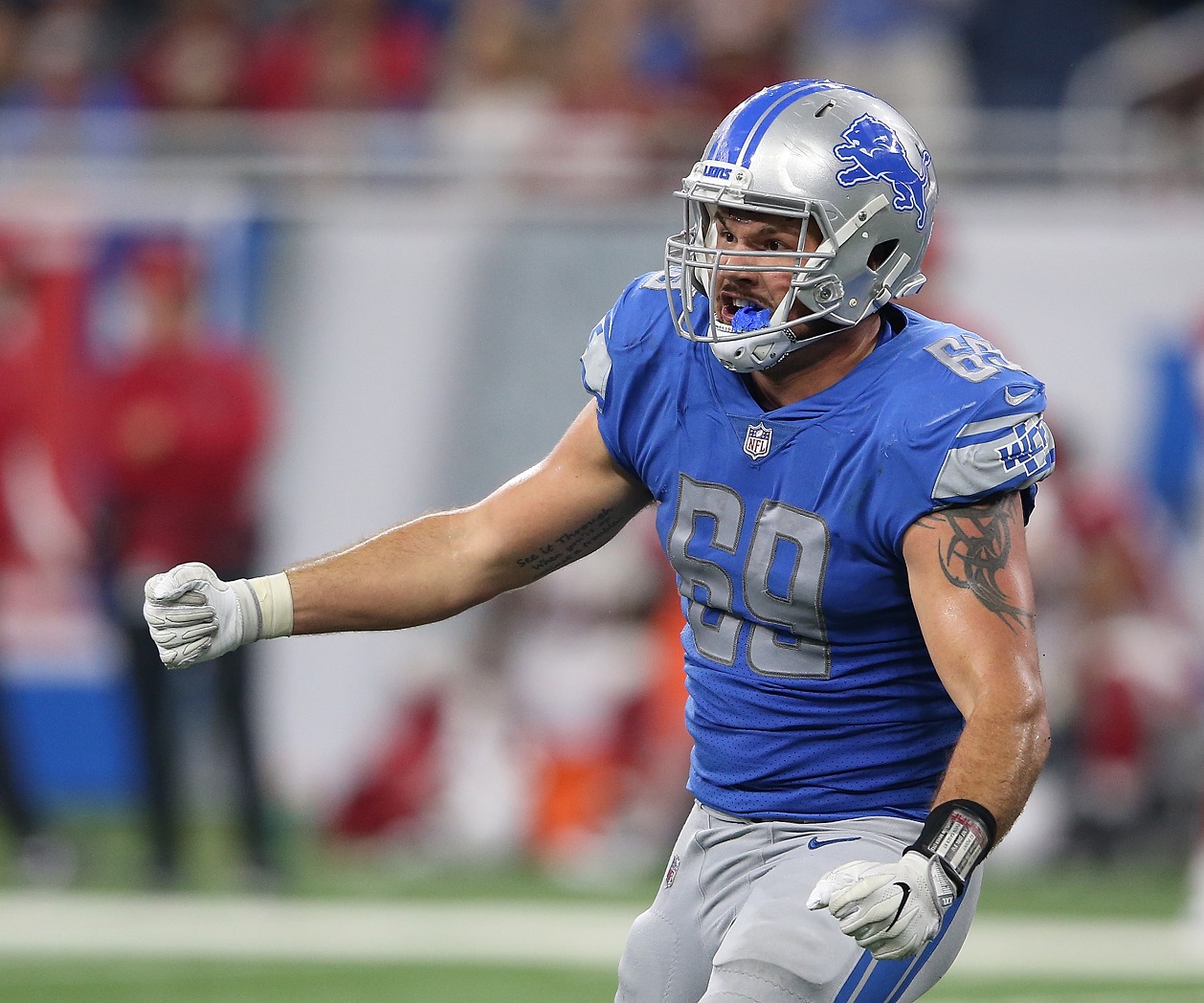 DETROIT, MI - SEPTEMBER 10: Anthony Zettel #69 of the Detroit Lions reacts after a third down stop against Arizona Cardinals at Ford Field on September 10, 2017 in Detroit, Michigan. Detroit defeated Arizona 35-23. (Photo by Leon Halip/Getty Images)
Welcome to the first edition of IDP Streamers. I'm your host, and I'm going to offer a few streaming options in IDP leagues over the course of the season. The first week is in the book and some teams lost players due to injuries (farewell, Jerrell Freeman and Eric Berry), while others had players that just disappointed (I'm looking at you, J.J. Watt). But no matter what situation you're in and whether you only start a handful of defensive players each week or a complete, 11-man unit, these players should/could be available in your league as slick Week 2 pickups.
Defensive linemen
Anthony Zettel/Cornelius Washington, Detroit Lions
I'm going to cheat here and include the two ends that work opposite Ezekiel Ansah. They both earned top-10 grades from PFF among all 4-3 lineman and are good options as they face the perpetually weak offensive line of the New York Giants.
Detroit lined Washington up primarily on the left side against Arizona in Week 1, while Zettel split time on both sides, spelling Washington and Ansah. The rotation worked, as the team only tallied one sack (by Zettel) but had 11 quarterback pressures between them. They now get a Giants offensive line that gave up three sacks of Eli Manning last week. As a unit, New York was PFF's 23rd-ranked pass-blocking unit, while Giants tackles Bobby Hart and Ereck Flowers graded out as PFF's 46th- and 57th-ranked tackles, respectively. And that's even if Hart plays, since he's suffering an ankle injury. If not, the Lions get undrafted rookie Chad Wheeler. Either way, there is plenty of opportunity for Lions linemen this week.
Alex Okafor, New Orleans Saints
While Cam Jordan is the Saints lineman that usually gets all the attention, Okafor is a decent play this week as New Orleans plays the Patriots. Much like offensive players, IDP scoring is all about opportunity, and there should be plenty for Okafor this week as the Patriots ran a league-high 74 plays in their Week 1 loss to the Chiefs, 36 of those being passes.
Kansas City end Allen Bailey didn't earn high marks from PFF against New England but did finish with a nice stat line of five solo tackles and a sack. He did most of his damage against Patriots tackle Marcus Cannon, who was PFF's 54th-rated tackle in Week 1. Okafor had a similar stat line in Minnesota, finishing with four solo tackles — two of those for a loss —and will be squaring off against the aforementioned Cannon. When you combine Cannon's weak play with the sheer amount of plays/opportunities the Patriots offense should offer, Okafor will have every chance to rack up fantasy points.
Linebackers
After never racking up more than 50 tackles in an entire season, Humber tallied a quarter of that total in the season opener. You weren't alone if Humber was off your radar to begin the season. Preston Brown beat out Reggie Ragland for the middle/three-down linebacker position and Lorenzo Alexander was coming off a 12.5-sack season. Humber was an afterthought but solidified his position in the starting lineup, especially after Ragland was traded.
Of course, no one saw his 12-tackle game coming, but being on the field for 57 snaps will help. It also helped that the Jets threw toward his zone 10 times, second-most of any outside linebacker. That could happen again when the Bills play Carolina if Week 1 is any indication, since they threw to running back Christian McCaffrey 11 times and tight end Greg Olsen four.
Another reason to be optimistic on Humber this week is the Panthers run game. Humber had three stops on 14 run snaps against the Jets. Even though the 21.4 percent stop percentage came on a small sample size, it was good for third among all 4-3 outside linebackers. Humber should have a lot more run snaps this week after the Jets ran the ball just 15 times in Week 1. Meanwhile, the Panthers ran 38 times.
Nick Kwiatkoski, Chicago Bears
One of the biggest blows to IDP rosters last weekend was the loss of Bears linebacker Jerrell Freeman. Freeman recorded an impressive 111 tackles last season despite missing four games. He was well on his way to another 100-tackle season in 2017, recording 10 in the season opener, before a pectoral injury put him on injured reserve. Now it's up to second-year Kwiatkoski to fill the void.
Kwiatkowski isn't an especially unique talent. He had a negative PFF grade over the six games he started for the Bears last year and was well behind both Freeman and Danny Trevathan for starter snaps. But Freeman did have 52 snaps last week that need to be filled, and there's little to no depth behind Kwiatkoski. Christian Jones is the only other inside linebacker currently on the roster but he's dealing with a back injury and won't be 100 percent for Sunday. Couple that with the fact that the Bears opponent, the Bucs, were seventh in offensive plays-per-game last year at 67, and it adds up to plenty of opportunities for Kwiatkowski. It's better to use him now in case he shows he can't stay on the field and is later replaced.
Defensive backs
Matthias Farley, Indianapolis Colts
Farley only saw 45 snaps in the Colts Week 1 drubbing, but he made the most of them, tallying eight solo tackles. It's even more impressive when you consider the Rams had only 30 pass attempts before the game got out of hand. Part of Farley's high tackle total can be attributed to the fact that he lined up within eight yards of the line-of-scrimmage on 16 of his 45 snaps, over a third of the time. More encouraging for Farley is the Colts opponent this week. They'll be at home against the Cardinals and Carson Palmer, who had 11 of his 48(!) pass attempts deflected, including three picks. Farley is just a guy at safety and should soon be replaced full-time by first-round pick Malik Hooker. But he's still in the rotation for now and has a plus matchup for safeties. Use him while you can.
Daniel Sorensen, Kansas City Chiefs
Much like Kwiatkoski, Sorensen will be stepping into a plum position, thanks to an injury. Eric Berry was on the field for 63 snaps last week before rupturing his Achilles and being lost for the season. Sorensen was on the field quite a bit too, seeing 46 snaps, but that should tick up even more. The Chiefs defense probably won't see 74 snaps again like it did against New England in Week 1, but their opponent, the Eagles, did run 65 — good for ninth-most in the league. The Eagles even had more pass attempts than the Patriots, 39-36, giving Sorensen plenty of opportunities for tackles downfield or picks. Furthermore, Berry saw 25 snaps from inside eight yards of the line-of-scrimmage, good for fourth most among all safeties so if Sorensen can come close to replicating that situation, he'll see plenty of tackle opportunities there too.