• Tackle machines at the top: Roquan Smith, Foyesade Oluokun and Nick Bolton have consistently delivered over expectations as tacklers, creating high expectations for 2023.
• The Los Angeles Rams' top linebacker spot is ideal for IDP: Enter Ernest Jones, who is primed to take over one of the best IDP opportunities in the league in Year 3.
• Fantasy draft approaching? Use PFF's AI-powered Live Draft Assistant to win the draft and dominate your 2023 fantasy football league.
Estimated Reading Time: 9 minutes
---
Breaking fantasy football rankings down into tiers helps fantasy managers better understand what separates each group and how to value each player.
Linebacker-friendly defenses will be commonly referenced throughout these tiers, and the list can be viewed in full here. Expected linebacker usage will also be referenced, and the full breakdown of that can be viewed here.
Be sure to check out the rankings page for updates.
---
Want to dominate your fantasy football league this year?
Check out PFF's fantasy tools below: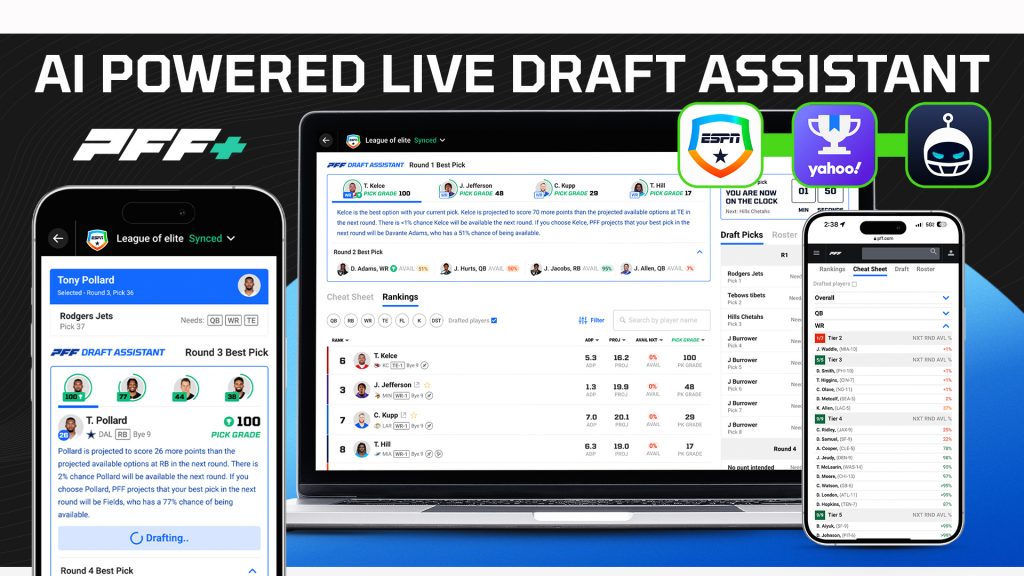 ---
Preferred Scoring for 2023 IDP Fantasy Football Rankings
---
Tier 1: High-End Producers With Optimal Opportunity
The top tier of IDP linebackers mostly focuses on opportunity combined with an ability to produce at a high level. Opportunity not only includes how many snaps per game the linebacker is expected to play but also the defense in which they're playing. Plus, the player is usually going to be an above-average tackle producer at the position.
Foyesade Oluokun, Nick Bolton and T.J. Edwards are the only exceptions in this tier for linebackers playing in a tackle-friendly defense, and it is because they have shown a history of overcoming their schemes to greatly deliver over expectations. Each player finished among the top six linebackers in tackles over expected in each of the past two seasons and is a constant threat to hit double-digit tackles on a weekly basis, no matter the game or matchup. Edwards' move to Chicago shouldn't disrupt his ability to produce at a high level, as his opportunity for snaps is expected to be among the best in the league.
Dre Greenlaw is the top 49ers linebacker to target for IDP purposes and is expected to play a similar snap share as Fred Warner but with a slightly more encouraging history of production. Greenlaw has edged out Warner in key production categories over the past two seasons despite missing significant time in 2021. And if healthy, he figures to do so again in 2023.
Ernest Jones' opportunity is perhaps greater than any other linebacker heading into 2023. Now that Bobby Wagner is gone, Jones is the standalone LB1 for the Rams — a team that ranked as the most tackle-friendly defense for linebackers based on their 2022 scheme. Jones is coming off a strong season as the team's LB2, posting more than 100 total tackles on just 66% of the defensive snaps. He figures to be on the field in a full-time role in 2023, which will create plenty of opportunities for him to emerge as one of the top tacklers at the position.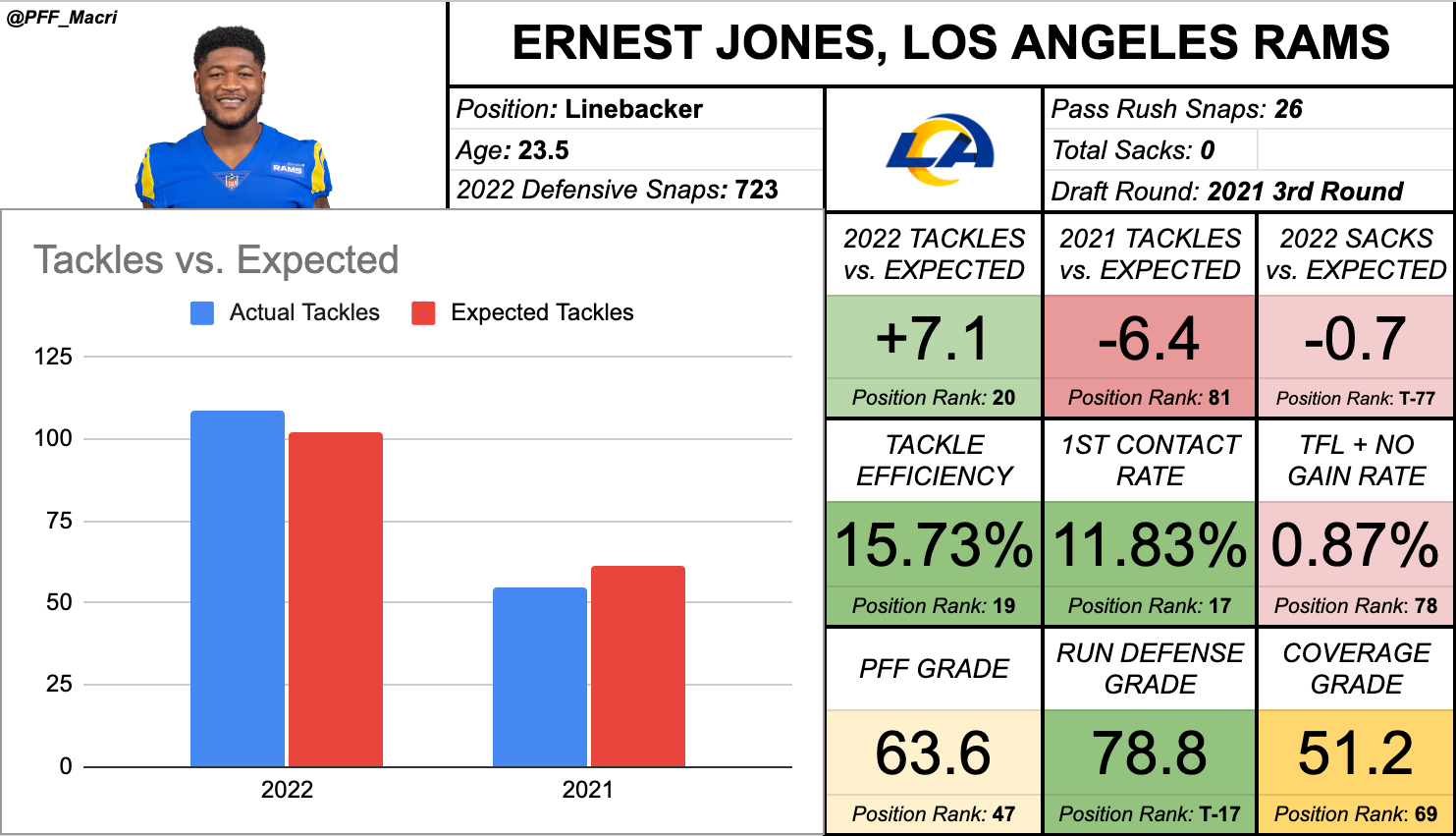 ---
Tier 2: Expected Full-Time Roles Plus One Elite Tackler in Denver