It's best ball season in fantasy football, and draft ADP has just undergone a major shift following last week's NFL draft. Knowing the right spot to pick players at a value gives any drafter an edge over the competition, and this is especially true when it comes to rookies. Now that we know the landing spots of all this year's rookie class, let's break down where you should be looking to draft rookies in 2019 best ball leagues.
Just as a general rule, rookie running backs tend to offer the best immediate fantasy value. Quarterbacks can be fantasy factors early in the careers, but there's certainly more volatility at the position. Wideouts rarely step right in and produce, so it's wide to avoid rookie wide receivers until you get into the middle rounds. And tight ends are the least likely to provide immediate fantasy value.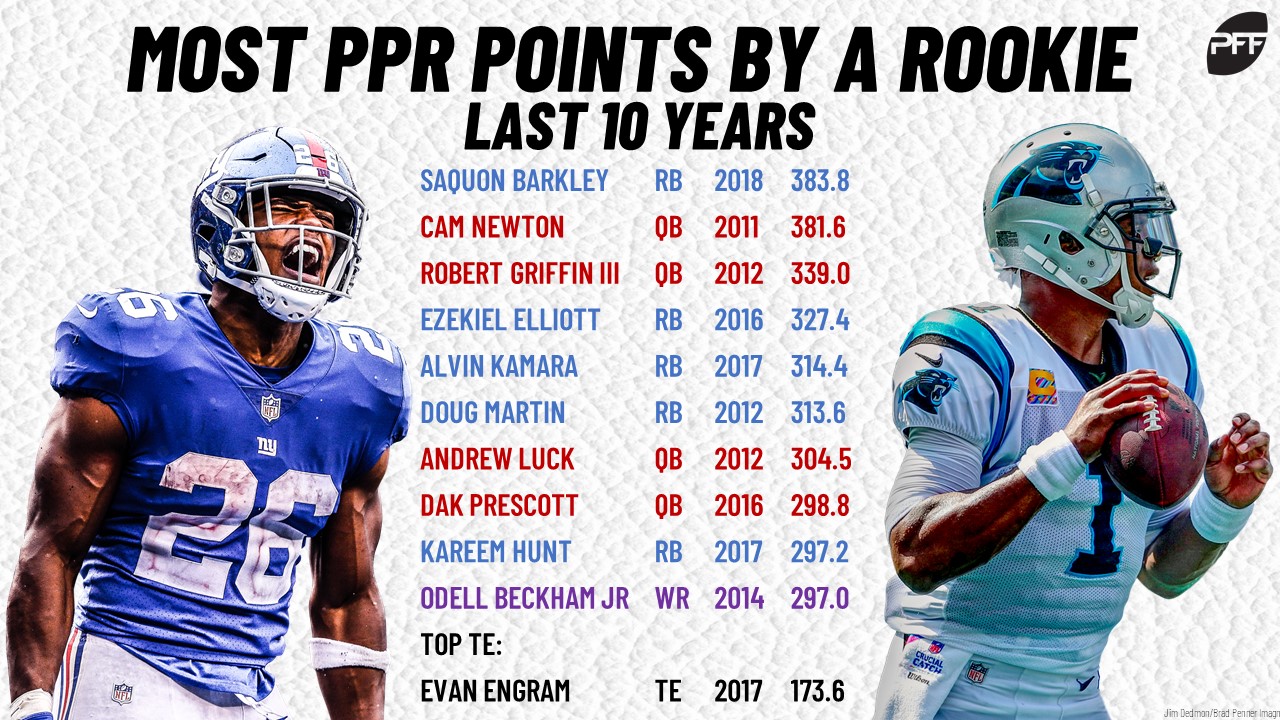 [Editor's Note: All of Pro Football Focus' EDGE & ELITE subscribers have access to our DraftMaster tool, which allows subscribers to run mock drafts and practice roster building BEFORE their season-long and Best Ball drafts. New subscribers can subscribe to EDGE for as low as $9.99 today!]
Not only was Jacobs a Day 1 pick, but he also has an even clearer path to a feature workload following Isaiah Crowell's season-ending Achilles injury. Jacobs is currently coming off the board as the 23rd running back, which puts him in the mid-fourth round. The drafting public is fairly solid here, but Jacobs is being slightly undervalued. With his upside and opportunity, a mid-third-round pick is completely justified on Jacobs.
Like Jacobs, Montgomery is on the fast track to touches in Chicago. His three-down ability means he could also eat slightly into Tarik Cohen's work in the passing game. That said, it's still risky to view him as anything more than a back-end RB2. That means fair market value would place him in the middle of the fourth round of best ball drafts. That's a healthy three-and-a-half rounds higher than his current ADP at 8.01. While Jacobs offers slight value at his current price, Montgomery is a major value. Pounce on him in the fifth/sixth rounds of every best ball draft you can.
Jordan Howard's presence in the Eagles backfield could place a bit of a cap on Sanders' value, but there's no denying his upside. At this point, it's best to view him as just a tick behind Montgomery as a fringe-RB2. Interestingly, the drafting public has Sanders one spot ahead of Montgomery in ADP at 7.12. While we aren't as bullish on Sanders, his fair market value would currently be in the late-fifth. Given his current ADP, you can likely get him at a value in the sixth.
While he won't slide in and get starter reps, Henderson is in a premium spot as the potential handcuff to Todd Gurley. As C.J. Anderson showed us last year, there's a ton of value to be had in that spot. The market currently has Henderson as the No. 47 running back with an ADP of 12.02. This is essentially a perfect spot to value him While you likely won't get Henderson at a value, he's still an intriguing target. This is especially true if you draft Gurley. Handcuffing can be a crucial strategy to deploy in best ball leagues.
Mark Ingram is locked in as the Ravens' early-down back, but Hill could step right in as the pass-catching option out of the backfield. That will likely mean a somewhat boom-or-bust fantasy profile, but that's not a bad thing in best ball. The drafting public currently positions Hill with a 17th round ADP, which gives you about four rounds of value. Target Hill for value in the 14th or 15th round.
He's the only rookie quarterback worth considering in best ball drafts at this point due to the depth at the position. Unfortunately, current drafters have nailed his value, as Murray is coming off the board as the No. 14 quarterback at pick 10.10. There's very little meat on the bone in that spot, but be prepared to pounce on Murray if he ends up failing past the tenth round.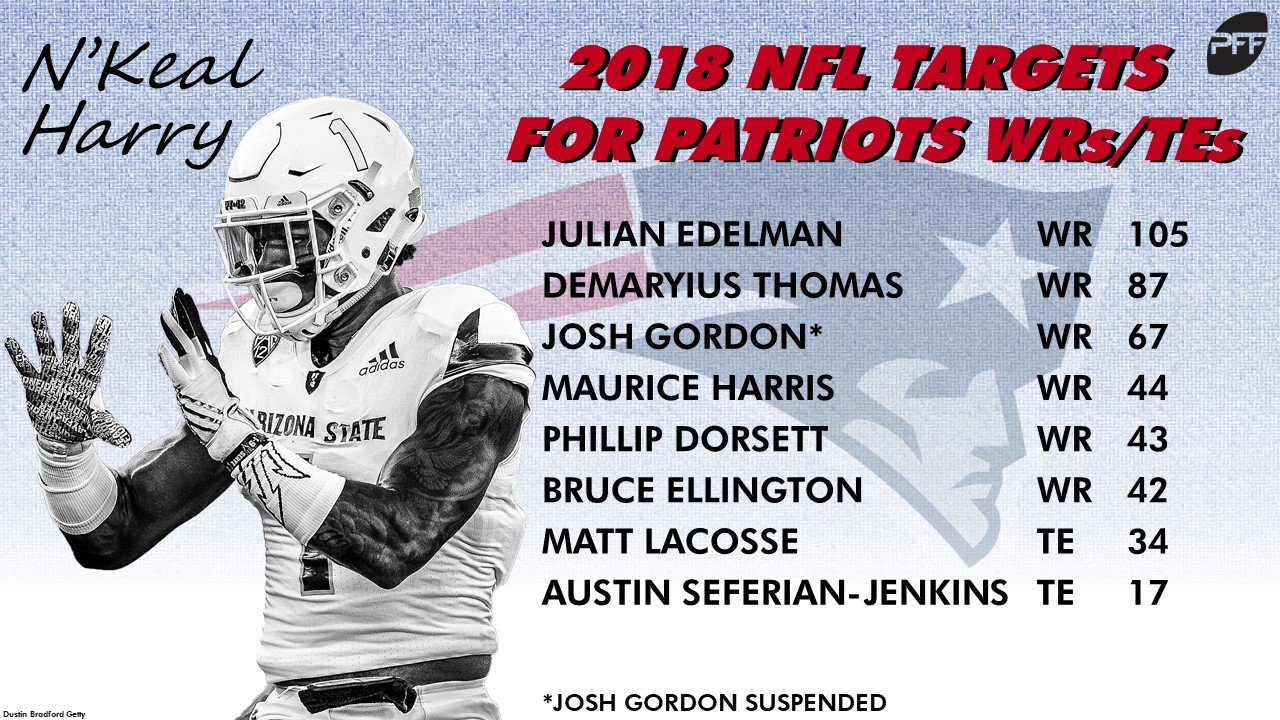 Likewise, the market seems to have Harry properly valued at an ADP of 11.01. While New England is a strong landing spot for Harry, he's far from a sure thing in 2019. That said, his ability in the red zone bodes well for best ball purposes. While rookie wideouts are typically extremely volatile fantasy plays, it's reasonable to look to Harry beyond the 11th round.
The drafting public has also nailed Metcalf's ADP, which currently stands at 10.03. He's an intriguing fantasy prospect with the potential to make an immediate impact if Doug Baldwin ends up retiring. But Metcalf also enters the league with some question marks and plays in an extremely run-heavy offense. Target him after the 10th round.
Like Metcalf, "Hollywood" landed in a run-heavy system, but his game is set up for best ball production. As a downfield threat, Brown only needs one play to give you an entire week of fantasy production. But unlike Metcalf and Harry, there is a little meat on the bone for value given Brown's current ADP at 13.11. That's about a round of value for him, so it's wise to go after Brown in the late-12th/early-13th.
The secret is out on Hardman after the Chief selected him in the second round of last week's draft. As the potential replacement for Tyreek Hill in the Kansas City offense, Hardman screams upside. Yet, the draft public has been a bit slow to react. He's currently being selected as the No. 62 wideout, which places him in the 14th round. Given his situation and big-play upside, it's fair to view him as an 11th-round value. Pounce on as many shares of Hardman as you can before the market corrects.
Another big play wideout, Campbell landed in an opportunistic situation for best ball purposes. While we aren't quite as high on him in 2019 as we are with Hardman and Brown, Campbell still has an intriguing best ball profile. Better yet, he's coming off the board four picks after Hardman. That's about a round later than where he should be valued.
Of the top rookie wideouts in this year's class, Brown is perhaps the last one we'd like to go heavy on in best ball drafts. He landed in an unfavorable situation for fantasy purposes as the clear No. 2 option behind Corey Davis in a run-first Titans offense. The drafting public currently views Brown as a 13th round pick, which is about two rounds too generous based on Brown's 2019 outlook. Avoid him at his current ADP.
Late-round fliers
Ryquell Armstead has a good shot at emerging as Leonard Fournette's handcuff. … If Dalvin Cook went down, we could end up seeing a lot of Alexander Mattison. … The Steelers drafted Diontae Johnson on Day 2, but you wouldn't know it from his current ADP in the 20th round. … JJ Arcega-Whiteside will start the year as the No. 4 in Philly, but he offers upside if injury strikes one of the Eagles' top three guys. … Baltimore's thin wide receiver depth chart means opportunity for Miles Boykin, who possess major upside thanks to his elite athleticism.