I put some prominent names like Sony Michel and Jordan Howard in my running back busts column for fantasy football based on their Yards Added trends, but a surface-level evaluation would have identified a few even bolder names. David Johnson and Alvin Kamara finished fifth- and sixth-worst, costing their teams 49 and 48 yards, respectively, on their 258 and 194 rushing attempts. As likely first- or second-round fantasy selections in 2019, it would be a big deal if their rushing inefficiencies foretold workload declines that fantasy owners could skip over in drafts. Instead, a deeper evaluation has clarified for me that Johnson's and Kamara's effectiveness as receivers insulates them from the letdown seasons their poor rushing efficiencies would otherwise suggest.
Christian McCaffrey served as the foil to Kamara that led to that realization. McCaffrey's inefficient rookie rushing season motivated my terrible prediction that he would do the bulk of his work in 2018 as a receiver. Instead, he boosted his yards-per-carry and yards-after-contact-per-attempt averages by more than 30% apiece and finished 10th in the NFL with 219 carries.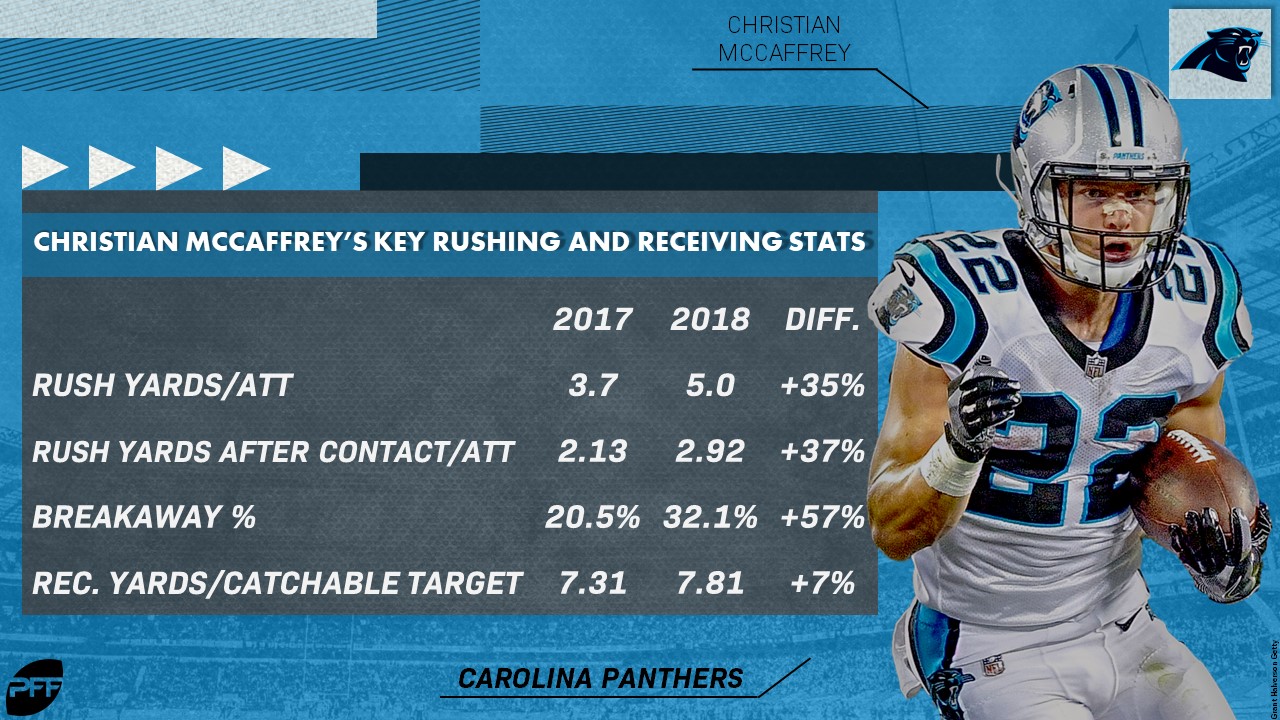 -0.38 RuYds Added/Att in 2017, 0.12 in 2018
0.22 RecYds Added/CTgt in 2017, 0.33 in 2018, +48%
Kamara's efficiency declines in 2018 practically mirrored McCaffrey's gains, so much so that I would suspect they traded places but for the fact that they couldn't pull that off with their disparate looks.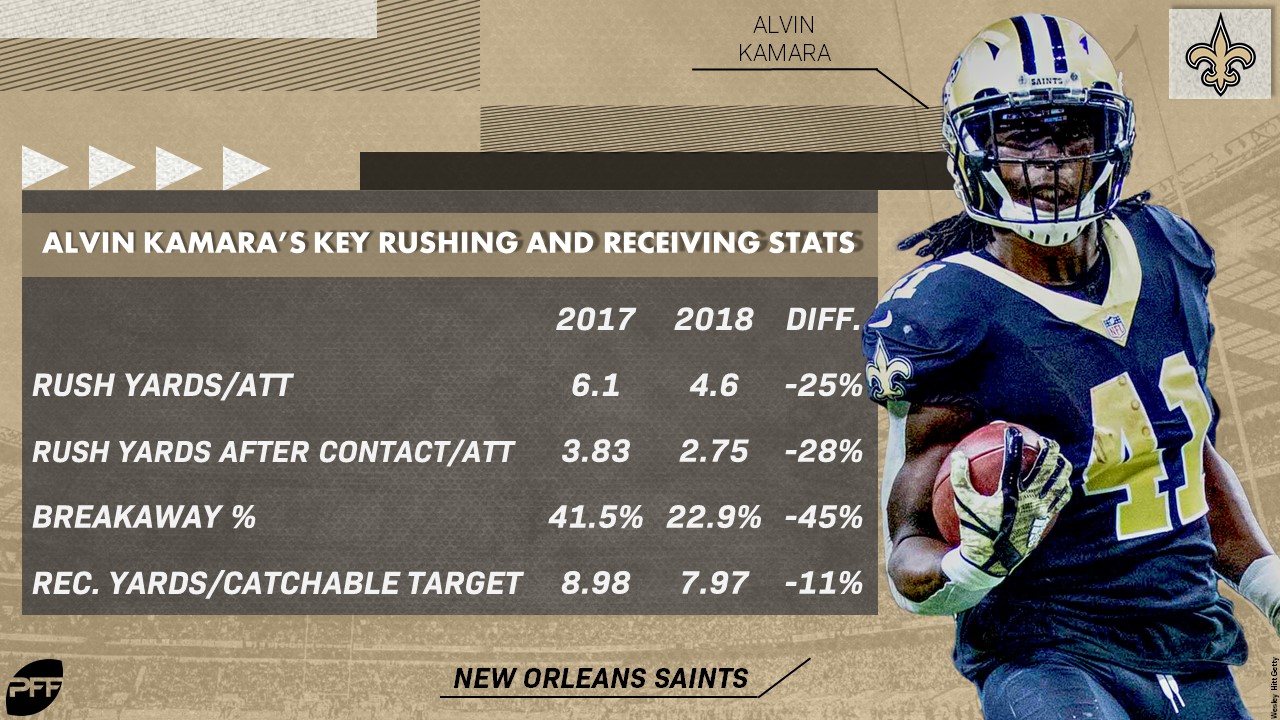 0.43 RuYds Added/Att in 2017, -0.25 in 2018
0.41 RecYds Added/CTgt in 2017, 0.26 in 2018, -37%
It wouldn't be that weird for McCaffrey and Kamara to both turn in one good and one bad rushing season in their first two. Even accounting for the context of their attempts the way Yards Added does, backs show marked improvements and declines in efficiency all the time in the NFL. McCaffrey may have benefited from his offseason strength improvements, and for all anyone knows, Kamara may have played through an injury or been three shoestring tackles away from another 100 yards in 2018.
But before I chalked up the seesaw differences to coincidence, I wanted to investigate the major consistency McCaffrey and Kamara each showed in their freshman and sophomore seasons. Both players were positional leaders in receiving efficiency in both their good and bad rushing seasons, and so too was Johnson on either side of his broken wrist. None of that trio has played a full career to suggest whether McCaffrey's trajectory is typical of quality receiving backs who turn in inefficient rushing seasons. But there have been 33 running backs since 2013* with 100-or-more-carry and 25-or-more-catchable-target seasons who cost their teams at least 0.1 yards per attempt by RuYards Added and then had the chance to bounce back the following year**. Their scatterplot shows a clear tendency that better receiving backs lose fewer rushing attempts per game the year after an inefficient rushing season.
*I did not reach back further because I can only calculate Receiving Yards Added back to 2013.
**This excludes David Johnson in 2016, Ameer Abdullah in 2015, and Danny Woodhead in 2013 since injuries the following seasons limited them to just a few games.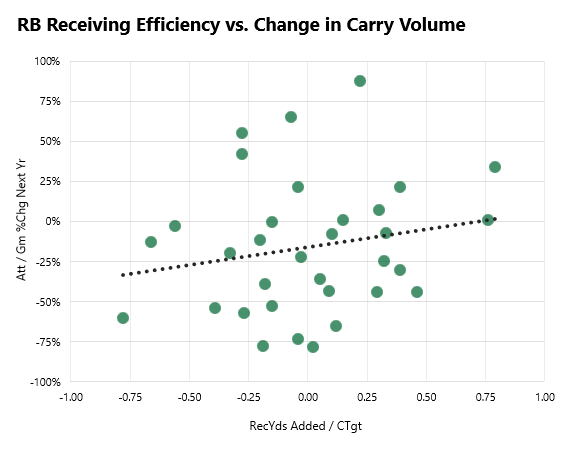 The slope of the trend line (0.22) suggests that, on average, inefficient runners lose another 1% of their next season's carry volume for every 4 to 5 Receiving Yards Added they decline per 100 catchable targets. For effective receiving backs like Kamara and Johnson, those projected workload changes are insignificant. But for average receiving backs like Jamaal Williams and Dion Lewis and especially for poor receiving backs like Mike Davis, they quickly start to add up.
Notable Inefficient Runners From 2018
Player
RuYds Added
/ Att
RecYds Added
/ CTgt
Proj Att / Gm %Chg in 2019
Alvin Kamara
-0.25
+0.26
-10%
David Johnson
-0.19
+0.20
-12%
LeSean McCoy
-0.43
+0.08
-14%
T.J. Yeldon
-0.11
+0.07
-14%
Jamaal Williams
-0.21
0.00
-16%
Dion Lewis
-0.27
-0.05
-17%
Mike Davis
-0.13
-0.61
-29%
My analytical nemesis, LeSean McCoy, is of course at the center of this revelation. I never could understand why he continued to carry the ball 13 to 20 times per games when he cost his teams yards year after year as a runner. But McCoy has been a plus receiver every year I can measure except for 2014 and likely was the four years prior — his 5.5 yards per reception in 2014 was more than a yard shy of his next-worst season.
LeSean McCoy's Rushing and Receiving Yards Added
Season
Rushing
Receiving
2009
-68
–
2010
+36
–
2011
+60
–
2012
-32
–
2013
-25
+43
2014
-60
-21
2015
-62
+4
2016
+27
+10
2017
-65
+3
2018
-70
+3
Those plus receiving seasons do more than simply contribute. They demonstrate a skill set that teams likely use to project future rushing effectiveness. And considering that Receiving Yards Added is statistically more predictive than Rushing Yards Added and way more predictive than yards per carry based on year-to-year correlations, teams are probably justified in doing so.
It would be foolish to blindly follow that scatterplot trend line for your 2019 workload projections without consideration of team situations. But it neatly illustrates the different risk profiles last year's inefficient runners have. It's why I'll draft Kamara and Johnson with confidence in 2019, and it's why I included Davis in my busts column even though he's the presumptive lead back for the Bears following Jordan Howard's departure.