In my experience, there are two ways to win a traditional fantasy league. The first is to draft sleepers who realize their potential. Last year, those were the DeAndre Hopkins and Alvin Kamara types. The second is to add impact free agents during the season, the Alex Collinses and Kenyan Drakes of the world. The next two months will be all about the former, but my research suggests the latter is not entirely a matter of luck. The teams that decide to turn over their RB1 touches to a different back tend to follow a similar schedule for making that decision, and fantasy players can use that knowledge to improve their odds of landing the critical free agents.
By my accounting, there have been 21 running backs who have clearly taken the RB1 job from a teammate during a season over the last decade. I've no doubt underestimated that total, but I relied on some onerous requirements for the list to make sure that the transitions were at least semi-permanent and were not the result of an injury. Fantasy players presumably cannot forecast the timing of those injuries, but they can predict some coaches' decisions if they can come to understand why those decisions were made.
With just the list, that isn't obvious. By and large, the job-takers aren't destined to have more accomplished careers than the job-losers. Few job-takers were exceptional prospects — those tend to be named starters before seasons even start. But even if the players themselves don't provide a clear trend, the timing of their role reversals do.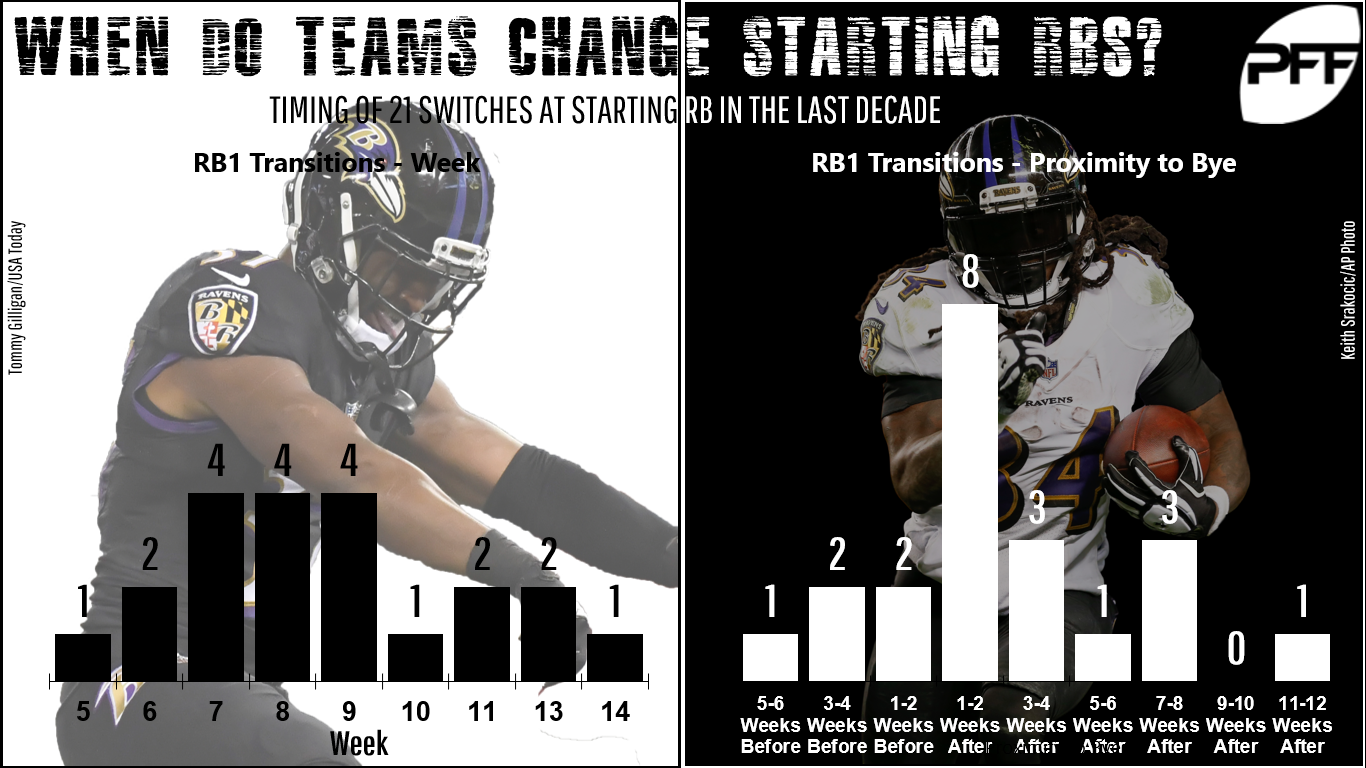 RB1 transitions aren't evenly distributed across the weeks of the season. There are a few more in the Weeks 7-9 range, which I expect reflects a real pattern for practical reasons. Teams need several weeks to evaluate whether a change should be made, and they need to make changes with enough season left for those changes to actually improve their playoff chances.
More importantly, teams tend to make their RB1 changes in the two weeks after a bye. Eight of the 21 transitions in my research happened in those two weeks, and no other two-week periods produced even half as many job turnovers. Again, that pattern makes sense. Running backs have fewer interdependent responsibilities than many positions, but they still have to make reads and block in concert with their offensive linemen. That takes practice, and the bye week affords teams their best opportunity to work on things separate from their specific weekly game plans.
Bye weeks are periods of transition for fantasy leagues, too. Owners frequently drop promotion candidates to fill the needs in their starting lineup as their star players hit their byes. To a certain extent, that is unavoidable for every fantasy player. However, the timing pattern of RB1 job transitions provides a blueprint for fantasy owners to better allocate their bench slots. If your league is shallow enough to offer you some choice in the backup running backs you can roster, skew more of your resources to backs coming off of byes. Then, if those backs don't see increased opportunities for two weeks, drop them for the next backs coming off of byes. That approach will allow you to balance your short-term roster needs with the best chance to find the next Peyton Hillis or Jamaal Charles. Even if you didn't crush your draft, that sort of impact player can be enough to catapult you to a deep postseason run.