NFL mock draft season is winding down, but we just released some heavy-hitters here at PFF. Monday, Cris Collinsworth unveiled his official mock draft and then Tuesday, Steve Palazzolo unleashed a three-rounder for his final mock before the NFL draft later this week.
To wrap things up on our pre-draft fantasy football coverage, I thought it might be an interesting exercise to take a look at all of the skill position players in these two mocks and break down the fantasy implications of the landing spots. This year's class doesn't have a generational fantasy talent like Saquon Barkley, but several players will have their fantasy fortunes either improve or decline based on their landing spot.
Quarterback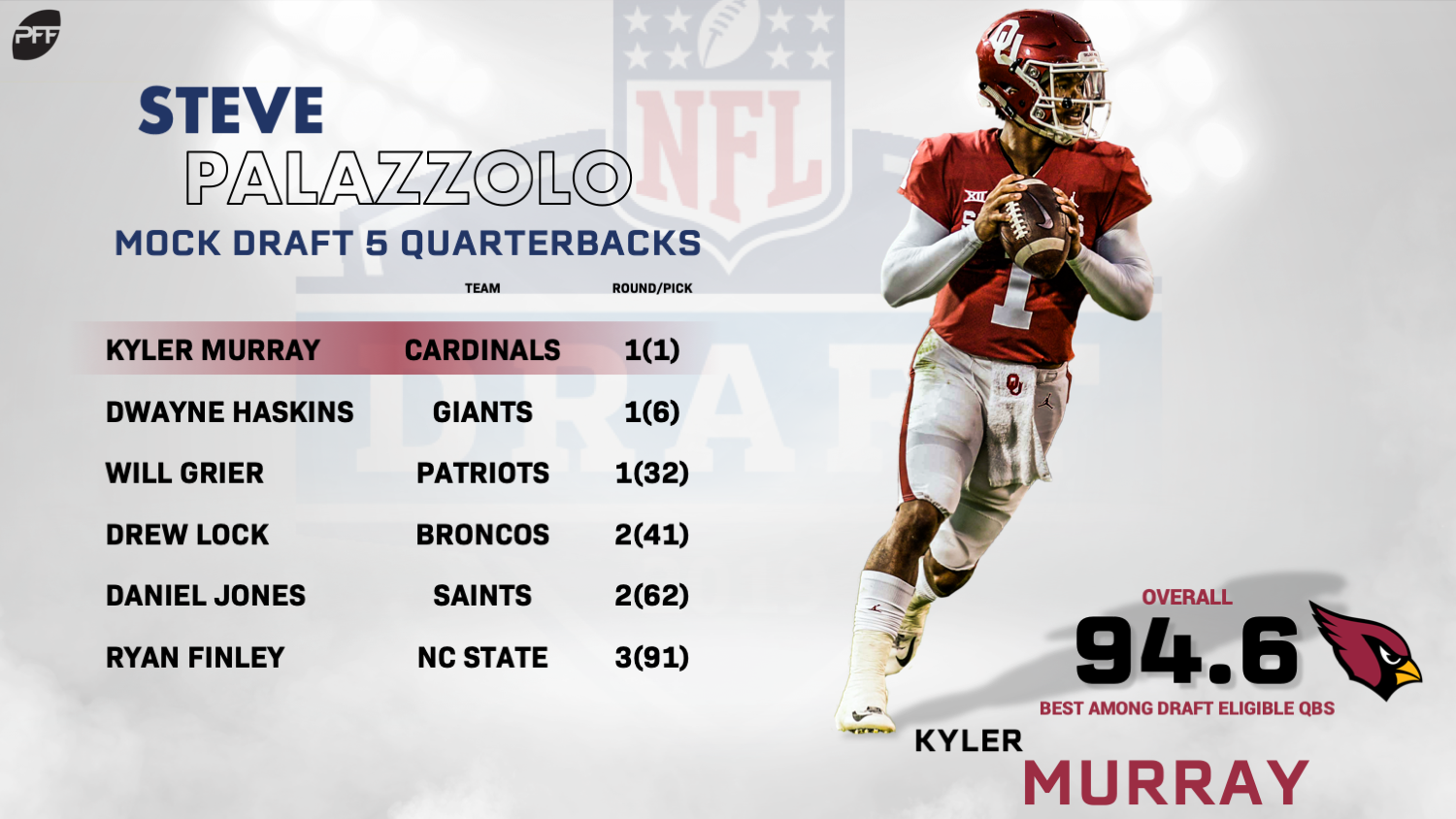 It's a quarterback-driven league, and both Collinsworth and Palazzolo have three quarterbacks going in the first round. They agree on Kyler Murray coming off the board with the first overall pick to Arizona and Dwayne Haskins going in the sixth spot to the Giants. Collinsworth then has Drew Lock at 10th overall to the Broncos. While Palazzolo doesn't have Lock in the same spot, he does have him going to Denver in the second round.
Arizona is an exciting landing spot for Arizona given the potential of Kliff Kingsbury's offense. His dual-threat ability bodes well for long-term fantasy value, though the Cardinals do have some work to do on the offensive side of the ball in terms of personnel. Haskins would step in as the heir apparent to Eli Manning. While he has long-term top-15 fantasy potential, he wouldn't be likely to return immediate value in this spot. Denver is an appealing landing spot for Lock given the Broncos young talent at wideout in Courtland Sutton and DaeSean Hamilton. Lock is a fantasy wild card, but this would be one of the better places for him to land.
Unlike Collinsworth, Palazzolo has Will Grier cracking the first round to the Patriots at pick 32. Getting drafted as Tom Brady's potential replacement would create a bit of a stir in the fantasy community and would increase Grier's dynasty stock. That said, his short-term value would be minimal. Likewise, Palazzolo has the Saints selecting their potential long-term replacement in the second round with Daniel Jones at pick 62. Jones would get time to develop in this landing spot, which would give him a better chance of emerging as a viable fantasy option down the line.
The only other signal-caller in Palazzolo's three-round mock is Ryan Finley, whom he has coming off the board in the third round to the Chargers. An NC State product like Philip Rivers, Finley would likely have plenty of time to develop. That said, his likelihood of future fantasy success is somewhat minimal regardless of where he lands.
Running back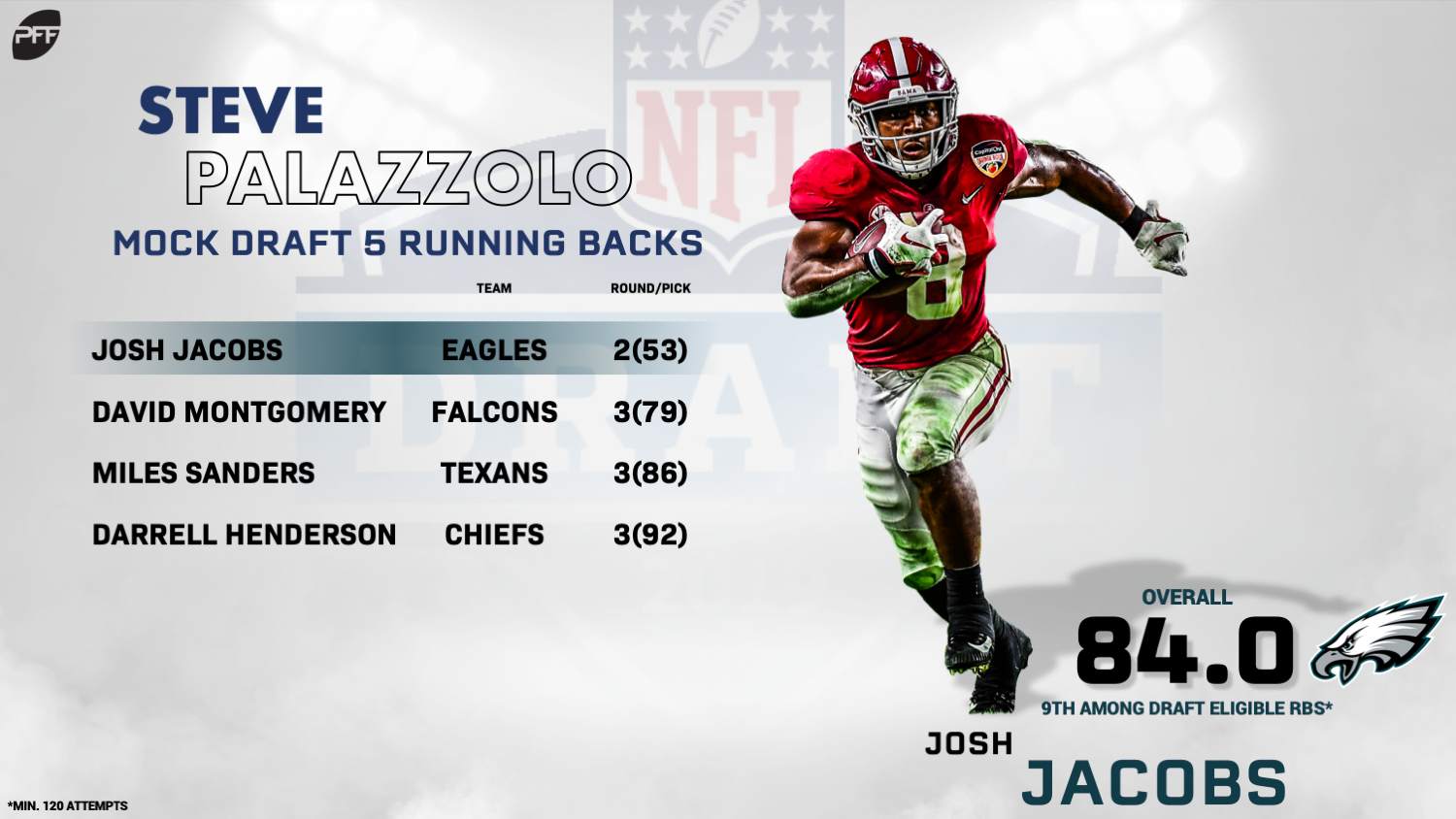 Given this year's crop of running backs, it shouldn't come as a surprise that neither Collinsworth nor Palazzolo have one coming off the board in the first round. Palazzolo's first running back falls all the way to pick 54, with the Eagles selecting Josh Jacobs. This is an exciting landing spot for Jacobs, as his skill set is tailor made for the Philly offense. The Eagles did just acquire Jordan Howard, so the workload would be somewhat limited on early downs. But Jacobs can get a lot of damage done in the passing game. With him in the mix, Philly would have their version of the Alvin Kamara/Mark Ingram backfield.
We have to go another 25 picks before the next running back selection, but it's an interesting one. Palazzolo has the Falcons grabbing David Montgomery at pick 79, With Tevin Coleman now in San Francisco and Devonta Freeman seemingly on the downslope of his career, Montgomery would have a prime opportunity to emerge as the lead back in relatively short order. He'd be set up for future RB2-plus production in this spot.
Palazzolo then mocks Miles Sanders to the Texans at 86. Like the Falcons, Houston's backfield looks to have run its course with Lamar Miller entering his age-28 season. Sanders tested extremely well at the combine and brings a three-down skillset to the NFL. He'd be a very intriguing fantasy option if he got paired up with Deshaun Watson.
Darrell Henderson was the only other running back picked in Palazzolo's mock. Interestingly, he goes at pick 92 to the Chiefs. Just two years ago we saw the Chiefs select a Day 2 running back who went on to have instant fantasy success in Kareem Hunt. With Hunt out of the mix, we could see a similar turn of events in 2019. Henderson isn't the biggest back, but he's a home-run hitter who could excel in Andy Reid's offense.
Wide receiver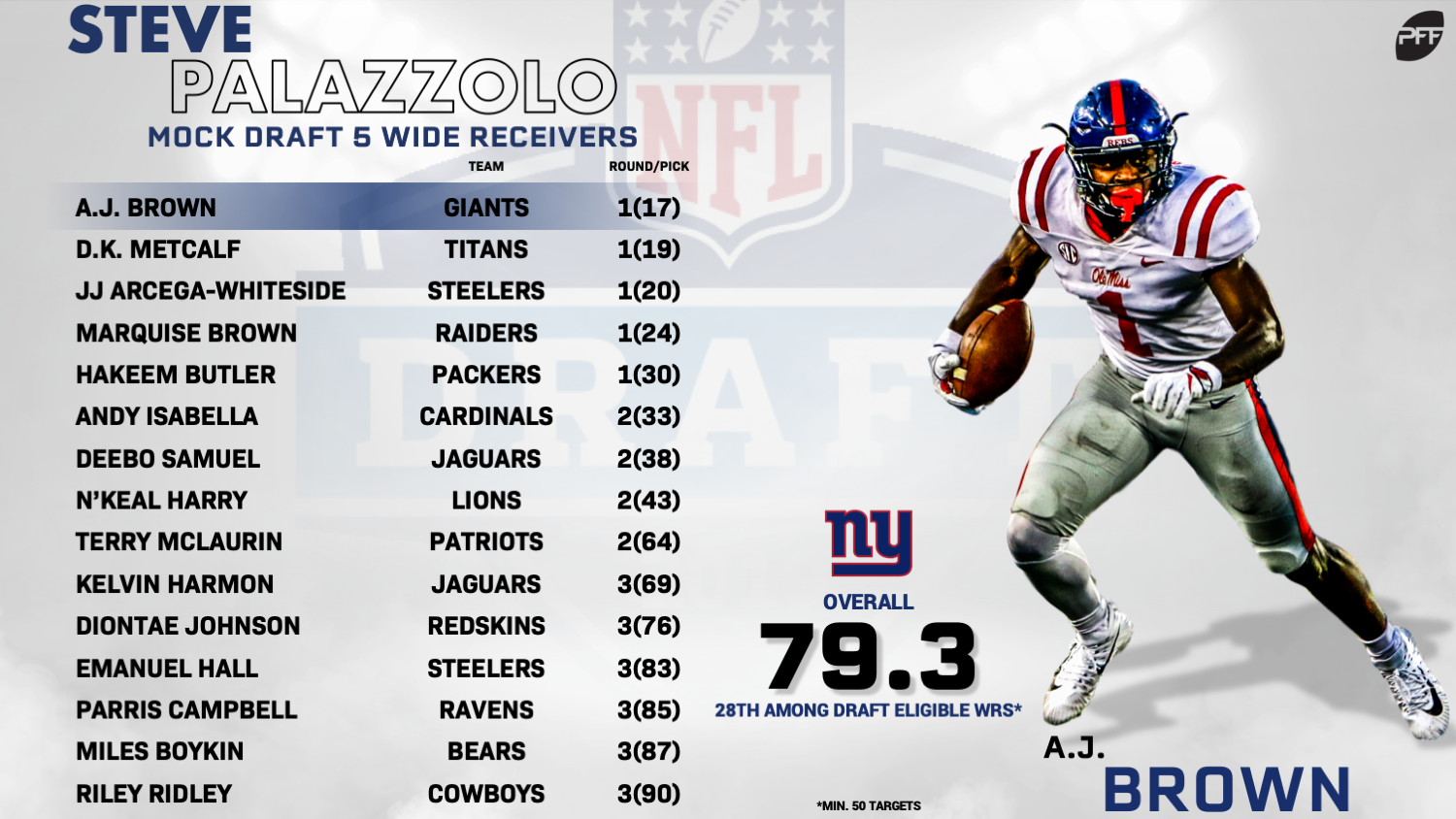 There's relatively little consensus at wide receiver among the many mock drafts out there on the interwebs, and that theme played out again with our two mocks. Collinsworth's top wideout off the board was D.K. Metcalf to Jacksonville at seventh overall. Palazzolo has Metcalf to the Titans at 19, and actually has Metcalf's teammate A.J. Brown as the top wide receiver at pick 16. Of the two landing spots, Jacksonville would be the more ideal location for Metcalf's fantasy stock. Unlike in Tennessee, he could likely step right in as the No. 1 option with the Jags. As for Brown, it's tough to get too excited about the Giants as a landing spot, at least in the short term.
Collinsworth has two more wideouts going in the first round: Marquise Brown to Pittsurgh at 1.20 and Riley Ridley to Baltimore at 1.22. Brown is a dynamic playmaker who would slide right in as the No. 2 option in Pittsburgh. This would be a rock-solid fantasy landing spot for him. Ridley is interesting, as his skillset as a short and intermediate area receiver meshes very well with Lamar Jackson. Interestingly, Palazzolo has Ridley as his 15th receiver off the board at pick 90 to Dallas. He'd be in a much better spot to production in Baltimore given their current depth chart.
Like Collinsworth, Palazzolo has Marquise Brown going in the first round at pick 24 to Oakland. He'd be paired up with his cousin Antonio in this landing spot, which would make for an extremely dynamic duo. Palazzolo has the Steelers selecting Stanford's J.J. Arcega Whiteside in the first round. Like Brown, Arcega Whiteside would figure to slide into the No. 2 spot and would be one of the better dynasty options at the position.
Hakeem Butler is the only other receiver to go in the first round of Palazzolo's mock, at pick 30 to the Packers. We saw Green Bay draft three receivers last year, but none of them came off the board this early. The Packers have a need for a playmaker to pair up with Davante Adams, and Butler is just that. Getting to play with Aaron Rodgers would give Butler's dynasty stock a nice boost.
Four wideouts come off the board in Round 2: Andy Isabella at pick 33 to Arizona, Deebo Samuel at pick 38 to Jacksonville, N'Keal Harry at pick 43 to Detroit, and Terry McLaurin at pick 64 to New England. Isabella is one of the most interesting dynasty prospects in this year's class. His blazing-fast speed and versatility would fit well in Arizona. Like Collinsworth, Palazzolo has the Jags taking a wideout early. Samuel isn't a prototype receiver, but he's one who has the makings of a future PPR option. Harry isn't the most explosive player, but his ability to make contested catches meshes well with Matthew Stafford. He'd be an interesting one-two along with Kenny Golladay for the long-term. McLaurin has 4.3 wheels and would give the Pats a deep threat.
The third round has six more wide receivers being picked: Kelvin Harmon at pick 69 to Jacksonville, Dionte Johnson at pick 76 to Washington, Emanuel Hall at pick 83 to Pittsburgh, Parris Campbell at pick 85 to Baltimore, Miles Boykin at pick 87 to Chicago, and the aforementioned Ridley at pick 90 to Dallas. Of these picks, Campbell stands out the most. It's interesting that Palazzolo has him coming off the board after McLaurin, but that aside, this is an intriguing landing spot. Lamar Jackson struggles with accuracy but does have the ability to throw the ball downfield. Campbell would give the Ravens a player with game-breaking speed who can take the top off the defense. He's likely to profile as a boom-or-bust fantasy option regardless of where he lands.
Tight end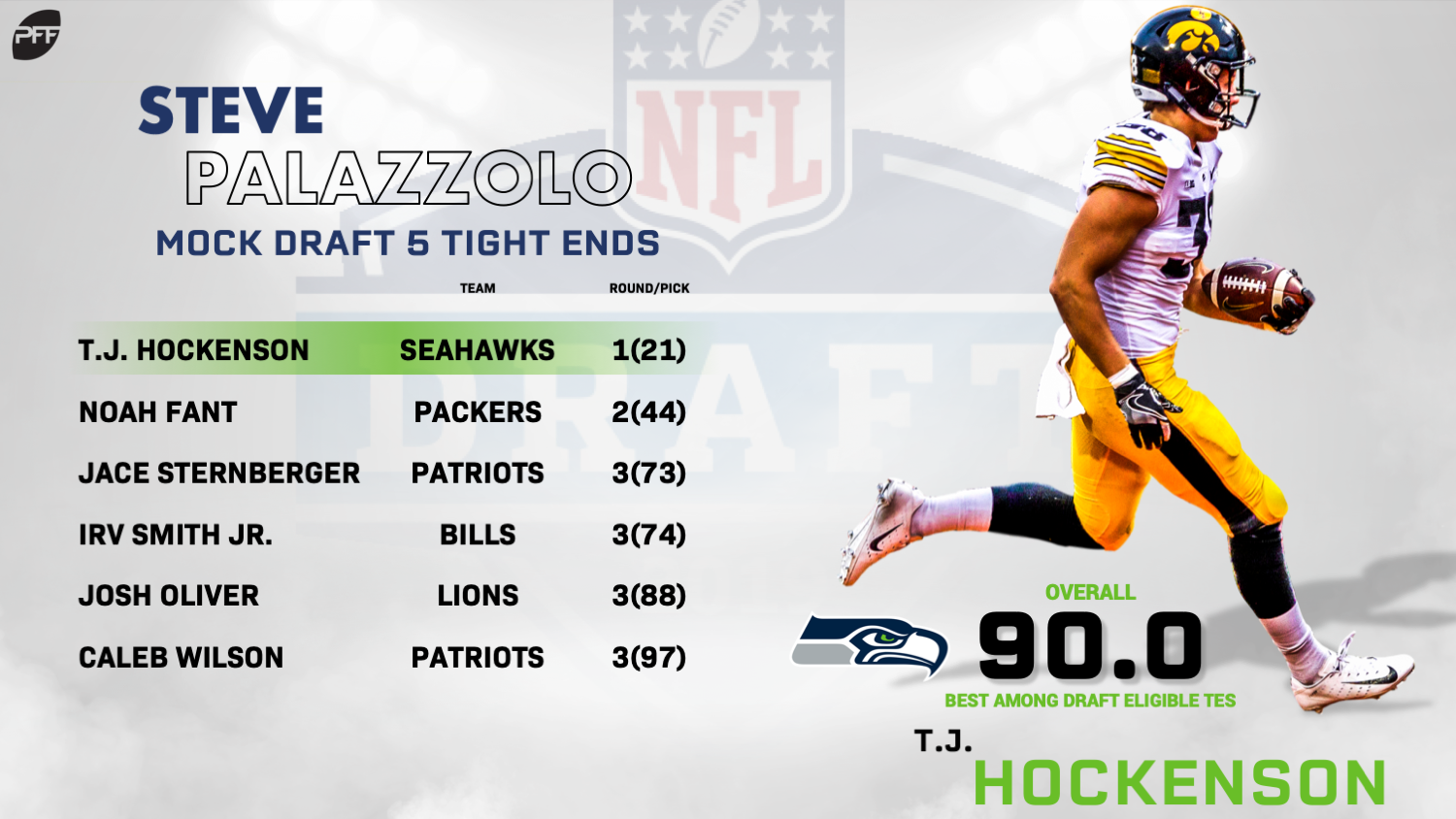 Both Palazzolo and Collinsworth agree that T.J. Hockenson will come off the board in the second half of Day 1, with Collinsworth mocking him to Tennessee at 19 and Palazzolo having him come off the board at 21 to Seattle. Of those two landing spots, Collinsworth's is more ideal for fantasy purposes. Seattle's run-heavy approach would limit his upside as a receiver, whereas Tennessee has been home to one of the league's better fantasy tight ends over a good chunk of the last half decade in Delanie Walker.
Noah Fant comes off the board at pick 24 to Oakland in Collinsworth's mock but slides all the way to Green Bay at pick 44 in Palazzolo's. There's opportunity in both landing spots, but fantasy players are going to have to exercise patience with Fant. He's athletic as all get up, but tight ends can be notoriously slow to develop in the NFL (see: Ebron, Eric). As a general rule, don't expect young tight ends to hit their fantasy wheelhouse until their age-25 or age-26 season.
Four more tight ends come off the board in Palazzolo's mock: Jace Sternberger at pick 73 to New England, Irv Smith Jr. at pick 74 to Buffalo, Josh Oliver at pick 88 to Detroit, and Caleb Wilson at pick 97 to New England. The Pats have an enormous hole to fill with Rob Gronkowski retired, and both Sternberger and Wilson would add receiving chops to the mix. Of the two, Sternberger has the more appealing long-term fantasy outlook. Smith getting pair with Josh Allen in Buffalo would be interesting for dynasty purposes. He'd remain the No. 3 rookie tight end in this landing spot. Oliver would step into a good situation on a thin Lions' depth chart. His athleticism and receiving ability give him a strong shot of surfacing as a fantasy option in the long term.