Now just days away from the 2019 NFL Draft and before the league ascends upon Nashville, I take my best pass at Round 1. Each pick is accompanied by the prospect's PFF Top 250 Big Board ranking as well as a reason (or two) why I would make the selection for each team.
[Editor's Note: To view all of Pro Football Focus' advanced stats and grades for draft-eligible players, check out our 2019 NFL Draft Guide. All EDGE and ELITE subscribers already have access to the guide, and for those who don't, you can get your copy for as low as $9.99!]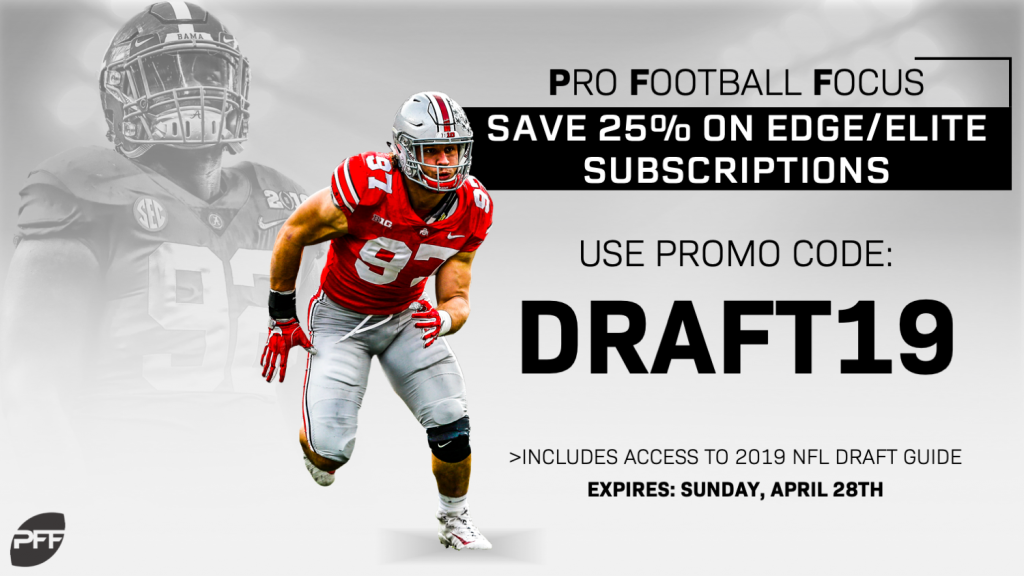 QB Kyler Murray, Oklahoma (Big Board Rank: No. 1)
The No. 1 player on our big board for a reason, Murray can make all the throws you'd expect an NFL quarterback to make. I'm not worried about his potential baseball career or his small stature as he had the nation's top passing and rushing grade among quarterbacks. We haven't seen a quarterback this dangerous with his arms and legs since Russell Wilson.
Edge Nick Bosa, Ohio State (Big Board Rank: No. 2)
Bosa is the best defensive player on the board despite playing just 113 snaps last season with Ohio State. He had a higher pass-rushing win rate as a true freshman than Brian Burns, Clelin Ferrell and Jachai Polite did a season ago. If he doesn't go first overall, this is arguably the easiest pick of the draft.
DI Quinnen Williams, Alabama (Big Board Rank: No. 3)
Williams broke the PFF record for highest grade from an interior defensive lineman in his lone season as a starter at Alabama. The draft class at interior defender is as robust as just about any other position this season but Williams is the crown jewel of them all. We've seen what a disruptive presence like Aaron Donald can do for a defense and Williams can play the run and rush the passer as good as any defensive lineman in the class.
Edge Josh Allen, Kentucky (Big Board Rank: No. 5)
The Raiders are in need of a dominant pass-rusher as the departed Khalil Mack racked up more pressures than the entire group of edge defenders in Oakland did a season ago. Allen's pass-rushing grade in 2018 was by far the highest among the group of edge rushers in the class and he can also drop into coverage and play all three downs for head coach Jon Gruden and Co.
CB Greedy Williams, LSU (Big Board Rank: No. 9)
This is where the draft gets really interesting. If anybody likes Dwayne Haskins, they have to move here in case the Giants do want him. I think somebody will move up unless New York makes a trade prior to the draft for Josh Rosen. I think Drew Lock has enough skills for me to wait and hope Haskins falls, and if not, I take my shot with Lock. I don't like the quarterbacks after Lock nearly as much as the top three. If Tampa keeps, and makes this pick, I am taking Greedy Williams.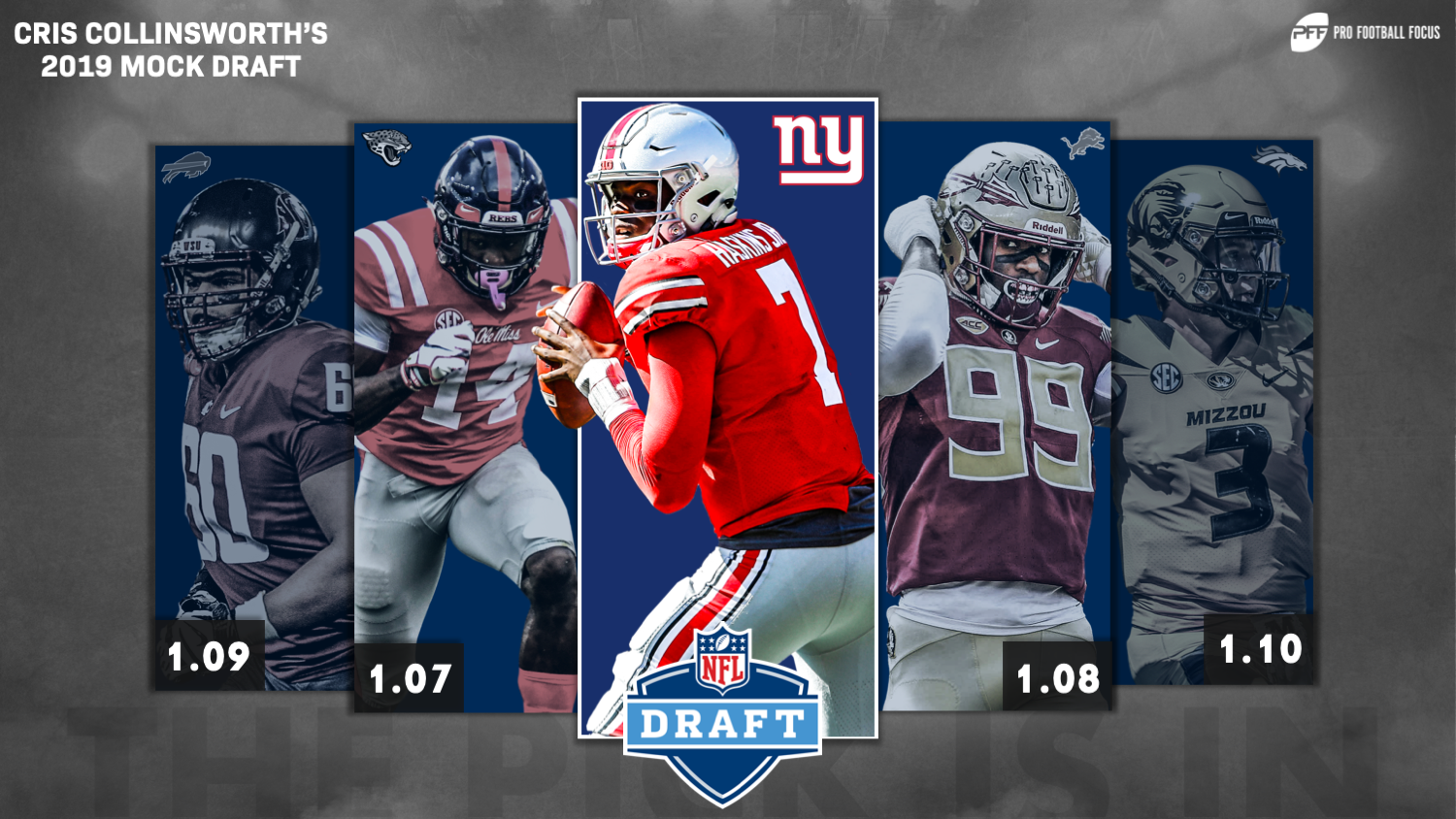 QB Dwayne Haskins, Ohio State (Big Board Rank: No. 10)
For the Giants, if Haskins is your guy, take him here. I don't think he lasts until Pick 17, and if not, they have to wait on Lock at 17 and let him develop behind Eli Manning. But, I think there is a good chance both are gone by 17. Lock has a lot of skills but also needs some time. Manning could really help him grow if they could get him at 17, but Denver, Cincinnati, Miami and Washington are all possibilities for taking Lock.
WR D.K. Metcalf, Ole Miss (Big Board Rank: No. 17)
I think Jacksonville is going to try and make Nick Foles look great, and they will need a legitimate deep threat which Metcalf certainly is. He is not a great route runner, but Foles is a deep passer, and Metcalf can go get it.
Edge Brian Burns, FSU (Big Board Rank: No. 14)
I would love a cornerback here, but the lack of speed for the other top corners concerns me picking in the top eight. I'm looking for a physical skill set that only a top-10 player can bring. Versatility is always key for Matt Patricia on defense and the Lions want players that can play multiple positions on defense so QB reads are difficult. If he goes for position versatility, Burns from FSU could be the best fit and still provide a pass-rusher opposite Trey Flowers despite his smaller frame.
OT Andre Dillard, Washington State (Big Board Rank: No. 13)
Wouldn't be surprised if one of the top QBs are still on the board and that a trade happens here to jump ahead of Denver. The Dolphins or Redskins could easily trade up to Pick 9 and if the Bills keep the pick, I would go Dillard of Washington State. There are definitely more physical blockers in this draft, but Dillard's athleticism and quickness should make him the best pass-blocker. The best way to build confidence for Josh Allen is to protect him and Dillard gets the nod in a good tackle class.
QB Drew Lock, Missouri (Big Board Rank: No. 37)
I have a long list of players I like for the Broncos but Lock is probably the pick if he slides to here. I have watched enough drafts to know that quarterbacks tend to slide up these draft boards the closer we get to the draft, and Lock is a big-arm QB like an Elway or Joe Flacco, but he would really benefit to sit and watch Flacco for a year. I like quarterbacks that have success from teams that can be outmatched at times in their conference. Lock has all the skills to be a star, but it is always a crapshoot at QB.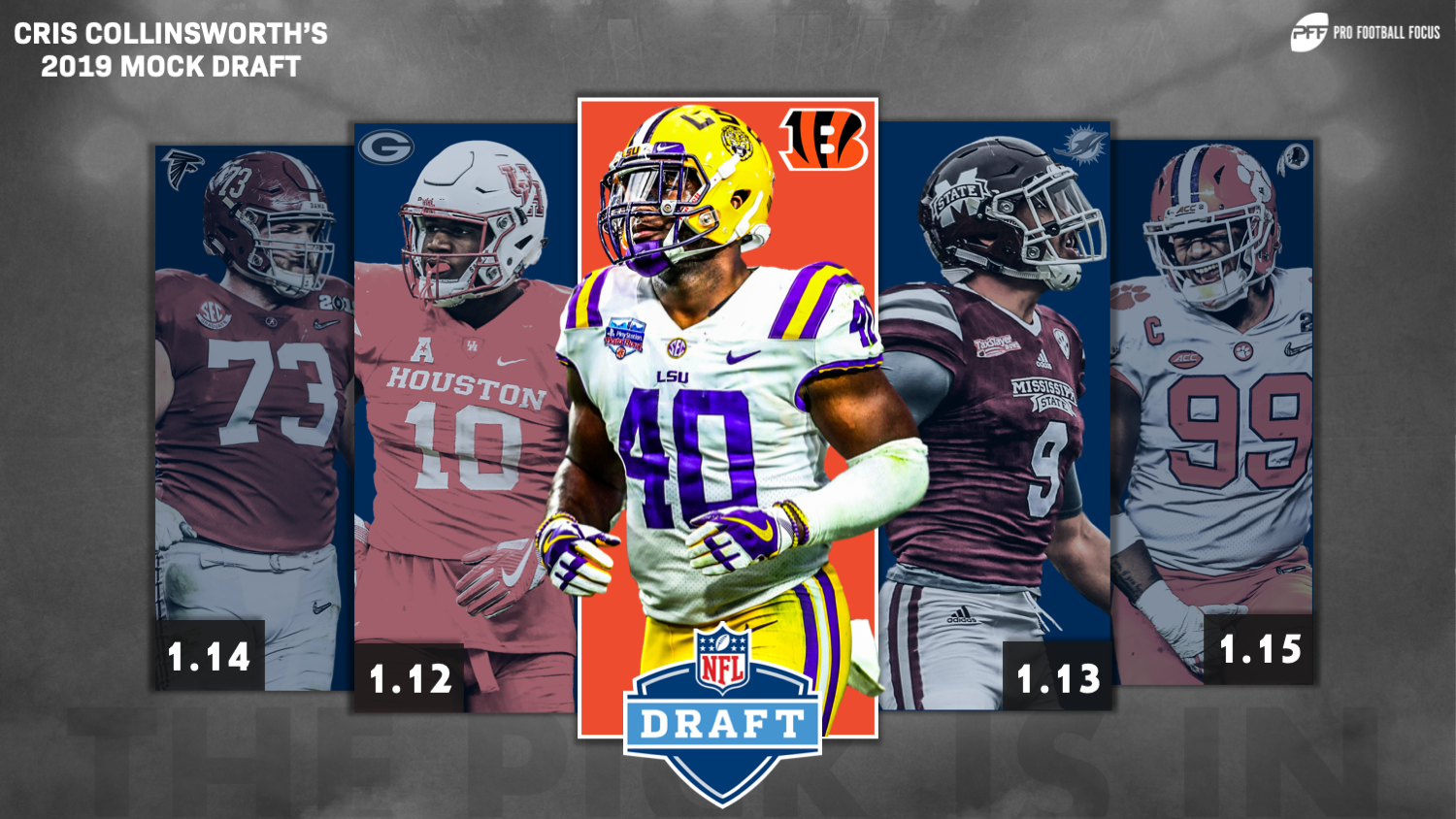 LB Devin White, LSU (Big Board Rank: No. 12)
I know most people have Devin White going much earlier, but inside linebackers are rarely taken that high, so I will play the percentages and give the Bengals what they need: an athletic linebacker that can run and cover.
DI Ed Oliver, Houston (Big Board Rank: 11)
I'm always tempted to think receiver for the Packers, but Oliver is just too good. He plays so hard, he will fit perfectly with Kenny Clark, Mike Daniels and their new pass-rushers. I think Oliver will get much better pass-rushing results with his elite quickness and effort, getting off the nose and playing more of a 3-technique in rush situations.
Edge Montez Sweat, Mississippi State (Big Board Rank: 46)
No Cameron Wake and no Robert Quinn, I go edge rusher for the Dolphins. Sweat did not grade highly on PFF boards but is just so athletic, I find it hard to believe teams will let him fall below this spot. Risky, but big upside if he lives up to his physical skills.
OT Jonah Williams, Alabama (Big Board Rank: 4)
Williams is one of the most pro-ready players in the draft, nearly perfect technique. Not sure he will play tackle, but Falcons need inside help at guard so good swing player.
Edge Clelin Ferrell, Clemson (Big Board Rank: 35)
I keep thinking this is a trade pick, Josh Rosen, or maybe a brother trade for Derek Carr if the Raiders draft a quarterback. Regardless, the Redskins seem stuck this year and the clock is ticking on Jay Gruden, so I don't see drafting a rookie quarterback for the future. I can't justify doing anything but taking the best player on the board which I will say is Ferrell. His work ethic and hustle, with a good inside pass-rush, will never make you regret drafting him.  This is the toughest pick so far.
All of PFF's 2019 NFL Draft Profiles can be viewed here or on PFF's YouTube Channel. Follow along as we go through all the top prospects in the draft.
CB Byron Murphy, Washington (Big Board Rank: 6)
Carolina's schemes with Ron Rivera will always allow smart players to make big plays. He will set up when they can take chances, and Murphy is an outstanding zone player who sees the field really well.
OT Jawaan Taylor, Florida (Big Board Rank: 15)
Taylor has a major flaw, not extending his arms blocking as he smashes his head and chest into the defender and tries to get to the next level. I think he can fix this and use his athleticism to be a star tackle. It's a good year for tackles, take advantage.
OT Cody Ford, Oklahoma (Big Board Rank: 22)
Ford is a big man that isn't the most physical run blocker, but very nifty feet for somebody his size allows him to stay in front pass protecting. Long arms are also an asset in pass protection.  Too many good tackles for the Vikings to not address a glaring need on the offensive line.
TE T.J. Hockenson, Iowa (Big Board Rank: 21)
Delanie Walker's injury and age necessitate this pick. Hockenson will immediately become one of the most tenacious blocking tight ends in the NFL. He has good, not great speed, but only one drop on 51 catchable balls last year and great blocking is why he won the Mackey Award as the nation's top tight end.

WR Marquise Brown, Oklahoma (Big Board Rank: 31)
Even though the Steelers and Mike Tomlin are great at developing receivers in the lower rounds, the loss of Antonio Brown and Le'Veon Bell screams for something exciting for Big Ben. 'Hollywood' Brown is so lightning quick and fast, it makes it very dangerous to ever play man coverage against him. The danger here is the foot injury that may not be healed for the start of the season even though he says it will. If the Steelers are looking for a splash pick, Brown is the most exciting player in this draft class.
CB Rock Ya-Sin, Temple (Big Board Rank: 69)
Nobody is better at developing cornerbacks than Pete Carroll. Ya-Sin is a former wrestler who is too handsy, gets way too many penalties, but also a guy who is always close to the receiver and trying to play very physical. He is a tackler in space and a pain in the neck for receivers. He is often turned the wrong way, but still makes plays on the ball. Not fast, but I just kept thinking what Carroll could do with him.
WR Riley Ridley, Georgia (Big Board Rank: 71)
Ridley is the most complete and polished receiver in this draft. Very clever routes, tremendous fundamentals at the break point and has tremendous hands. He will get a lot of single coverage with Lamar Jackson's running skills and he always seems to find a way to get open. Not great speed, but you will never be sorry you have Ridley on your team.
OT Dalton Risner, Kansas State (Big Board Rank: 19)
The Texans just have to get better at tackle this season. Deshaun Watson took too many hits, some he invites, but the tackle play has to be better. Risner can get a death grip when he gets you in his hands. He is a little better as a run blocker than pass blocker, but he is the best of the rest and his toughness and finishing pancakes will make him a fan favorite.
TE Noah Fant, Iowa (Big Board Rank: 43)
Jared Cook is gone, and all eyes are on Derek Carr this year, it is only fair to give him a weapon like Fant to work with a much improved WR corps. In the first half of the season, he was very unimpressive and often looked slow despite his 4.5 speed. Fant improved so much during the season and his athleticism really showed up later in the year. He started looking less like a basketball player with a helmet and more like a speed receiver, especially when flanked out later in the year. His blocking improved as well, he has a great tight ends coach at Iowa, and some of the tenacious blocking style of former teammate, and aforementioned T.J. Hockenson started to show in him.
LB Devin Bush, Michigan (Big Board Rank: 18)
The Eagles catch a break with Bush falling to this position as he possesses 4.43 speed, an explosive 40-inch vertical and is the reigning Big Ten Defensive Player of the Year. He does have a squatty body who can get swallowed up by big OL sometimes, but his speed flashes and gives the Eagles new blitz and coverage possibilities. At just 5-foot-11, covering big TEs may be a concern, but quickness to cover backs will be a huge asset. He may keep the Eagles out of dime defenses.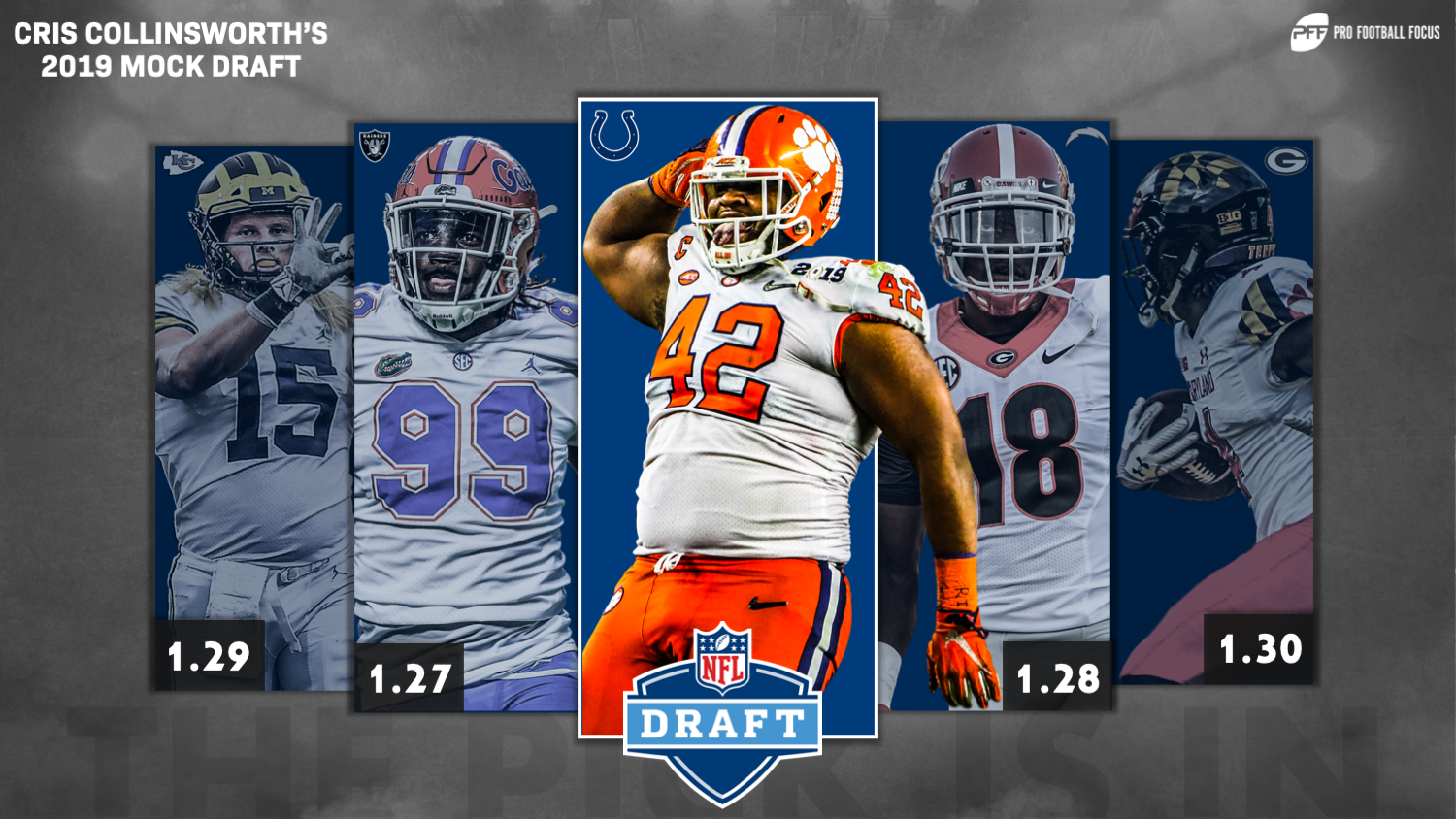 DI Christian Wilkins, Clemson (Big Board Rank: 25)
Fletcher Cox light. If he gets on the edge of an offensive lineman, his 315-pound frame is almost impossible to stop. He's a First-Team All-American with six sacks and two forced fumbles. And while he may not be great battling double teams, he's an impressive one gapper and likely the 3-gapper the Matt Eberflus covets.
Edge Jachai Polite, Florida (Big Board Rank: 98)
My first off-the-board pick. His pro day was a disaster, running very slow after a 4.84 combine time, he ran 5.0 in Gainesville. But, when you watch the tape, he looks fast. He has probably the best wiggle in this class of next-level edge rushers, and finds his was slipping and sliding around offensive linemen to the quarterback. He has more diversity to his rush moves than any other candidate here. The critics will hate this pick, but he will be productive like Trey Flowers all those years for New England.
CB Deandre Baker, Georgia (Big Board Rank: 16)
Baker is a solid if not fast cornerback. A First-Team All-American and Jim Thorpe Award winner that doesn't always flash but he hasn't allowed a touchdown in two years. He is lanky and not so physical, but he can cover out of bump formations, and you can never have enough coverage guys in Kansas City's division.
Edge Chase Winovich, Michigan (Big Board Rank: 29)
Speed rusher, with 4.59 speed and the best grade on the Michigan defense that includes Rashan Gary and Devin Bush. Closing speed and hustle is always evident. He will get seven sacks a year on effort alone. Needs more change-up moves, as his speed rush is not enough. He has the hair and all will remind you of Clay Matthews, and I think he can effectively drop in coverage. He'll give Kansas City a Chris-Long-style effort.
S Darnell Savage, Maryland (Big Board Rank: 28)
His speed at 4.36 gives the Packers coverage options with a safety on a slot receiver. He has a lot to learn, but his huge game against Ohio State showed he is capable of improving his coverage and tackling. Single-high safety option very valuable with that speed.
[Editor's Note: To view all of Pro Football Focus' advanced stats and grades for draft-eligible players, check out our 2019 NFL Draft Guide. All EDGE and ELITE subscribers already have access to the guide, and for those who don't, you can get your copy for as low as $9.99!]
C Garrett Bradbury, NC State (Big Board Rank: 41)
The Rimington Award winner has incredible quickness and finishing style for the zone blocking scheme of the Rams. This former tight end can look small at times, but he holds up well enough against big nose tackles over him. Great adjustments to stunts and loops, and has the athleticism to get off one block and hold up to power on another. He's a steal here.
DI Jerry Tillery, Notre Dame (Big Board Rank: 7)
I am really tempted to go with Andy Isabella who looks more like Edelman than Edelman sometimes, only with 4.3 speed. But, Tillery could be special. He will have to get tougher at the point of attack, but I think Belichick is the best DL-teacher in the league. He will eventually get Trey Flowers-like versatility and production out of Tillery and the Patriots will desperately need help rushing the passer this year.
Best Remaining per PFF's Big Board: DI Jeffery Simmons (8), WR J.J. Arcega-Whiteside (23), QB Will Grier (24), C Elgton Jenkins (26), WR Andy Isabella (30), DI Dexter Lawrence (32)