What can fantasy owners learn from the type of data PFF provide? There are so many premium tools available here at PFF that can give you edge in your leagues.
In this series, we are taking a look at some of the top fantasy producers over the past three seasons and identify some PFF Signature Stats they excelled in during that period.
In addition, we will try to spot trends of younger players that have enjoyed similar success in those areas in smaller sample sizes to help identify some potential rising fantasy stars.
We've already taken a look at some factors for success at quarterback, now we turn our attention to fantasy backfields by examining the performances of some of the top running backs.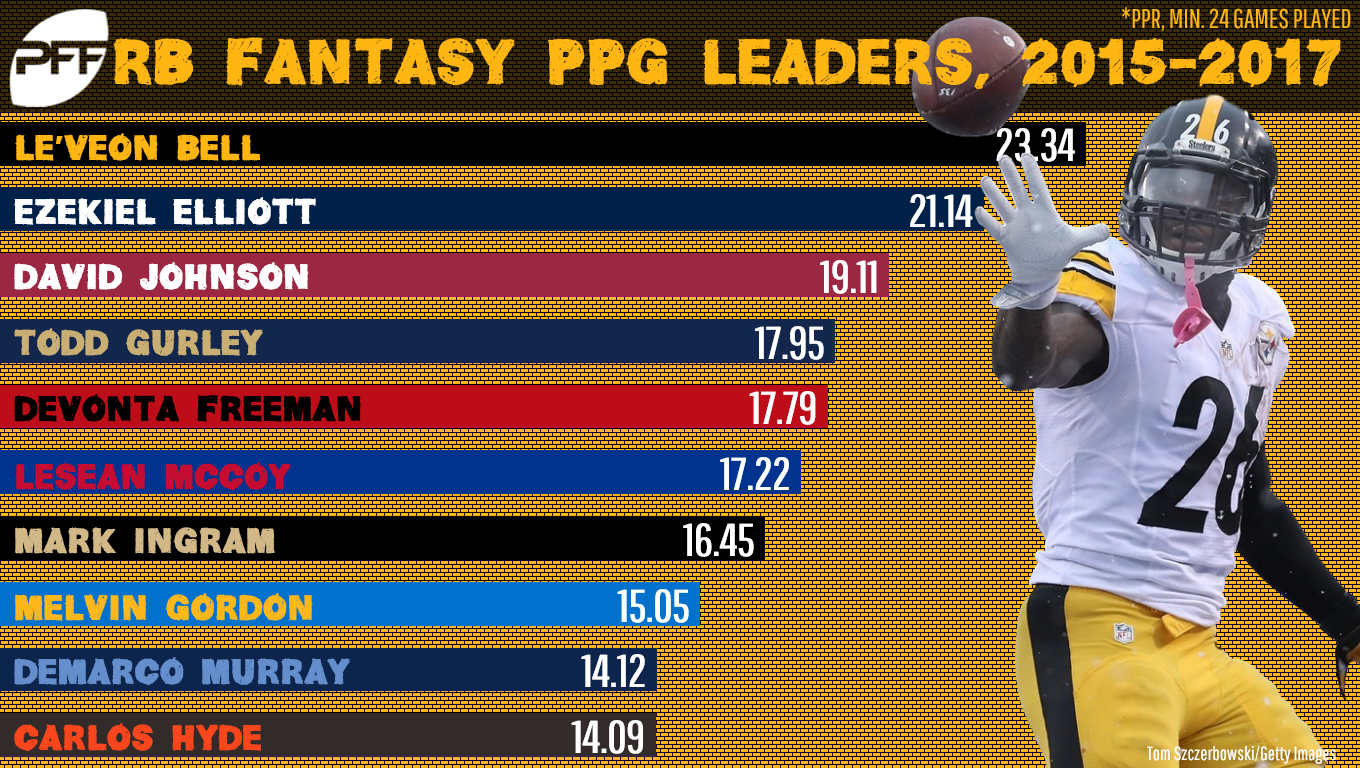 2015-2017: 19.11 fantasy points per game (Third)
A wrist injury wiped out most of 2017 for Johnson, but a year earlier he enjoyed a breakout campaign. He scored 20 times and forced 27 missed tackles on his 80 catches and another 44 on his 293 carries. Johnson came within 121 yards of becoming just the third player ever to have 1,000 yards rushing and receiving in the same season.
PFF Signature Stat: Yards per route run
Yards per route run is simply the number of yards a player gains per snaps he went into a pattern, and it is a metric Johnson has excelled in during his brief career. He finished third in both 2015 (2.12 YPRR) and 2016 (1.73) in the category.
Trend spotter
The obvious: Alvin Kamara blew Johnson's marks away  as a rookie last year, posting a 2.84 YPRR. He also broke a tackle on a league-leading every 3.5 touches and he led all running backs in PPR points per opportunity (0.76). He joins Johnson as a top-five fantasy running back heading into 2018.
The not-so-obvious: Kyle Shanahan was champing at the bit to land Jerick McKinnon in free agency and will definitely incorporate the former Viking into the offense. McKinnon finished eight among running backs with a 1.53 YPRR in 2017, much higher than the 1.01 mark he tallied the previous season. During Shanahan's last year in Atlanta running back Devonta Freeman registered a 1.59 YPRR.
2015-2017: 17.95 fantasy points per game (Fourth)
After a disappointing 2016, Gurley rushed for 1,305 yards and 13 touchdowns and added 788 receiving yards and six scores through the air a year ago. He was spectacular during Weeks 14-16 as he tallied a record 123.1 total PPR fantasy points, the most by any player at any position since the 1970 merger.
PFF Signature Stat: Drop rate
Gurley fared well across many of the PFF signature stats in 2017, including drop rate. Only James White held on to passes thrown his way better among running backs than Gurley, who boasted a 3.03 drop rate. He finished 10th in the category a year earlier with a 6.52 mark. The connection between drop rate and fantasy success is tenuous at best, but all else being equal, you'd rather a player hold onto the ball than not.
Trend spotter
The obvious: Panthers rookie Christian McCaffrey is essentially a wide receiver lining up in the backfield so it's not surprising he finished just behind Gurley last year with a 3.61 drop rate. McCaffrey led all running backs in targets (106), was third in receptions (80), and fifth in receiving yards (651) on his way to a RB9 finish in PPR.
The not-so-obvious: Tarik Cohen finished outside the top 10 for running backs in targets (65), receptions (53) and receiving yards (356), but the rookie placed fourth at the position in drop rate (3.64) and yards per route ran (1.80) last season.  With his elite speed and versatility, Cohen is a perfect fit in new head coach Matt Nagy's system.
2015-2017: 17.22 fantasy points per game (Sixth)
McCoy has finished no worse than 19th among running backs in PPR fantasy points every season since 2010 while finishing as a top-five running back four times and boasting five top-10 finishes. During that eight-year span he only missed 11 games.
PFF Signature Stat: Breakaway percentage
The veteran has fared well as a receiver out of the backfield, but his best metric from the PFF Signature Stats has easily been breakaway percentage (the percentage of yards a back gains on runs of 15-plus yards), as he's ranked inside the top 10 each year since 2013. McCoy saw 36.2 percent of his rushing yards come on runs of 15 or more yards in 2017.
Trend spotter
The obvious: During his two years in the NFL, Bears running back Jordan Howard has also enjoyed some success in this area. He had 32.4 percent (ninth) of his yards come from runs of 15 or more yards last season after having 36.9 percent (fifth) of his yards come from carries of that distance as a rookie.
The not-so-obvious: After injuries wiped out most of the competition, Alex Collins took over the backfield in Baltimore in 2017 on his way to finishing as a top 20 fantasy running back. Collins had a 36.3 breakaway percentage and only Kareem Hunt had more than his 16 carriers of 15 yards or more.
2015-2017: 16.45 fantasy points per game (Seventh)
Ingram is the only running back to finish inside the top 12 in total PPR points in each of the last three seasons. He saw his yards per carry dip from 5.1 to 4.9 in 2017, but his 3.1 yards after contact per rush matched his mark from the previous campaign. The Saint is suspended for the first four games of 2018.
PFF Signature Stat: Elusive rating
Like others on the list, Ingram has excelled in many statistical areas over this period, including elusive rating. His 37.5 mark last year placed him in the middle of the pack (14th out of 27) among qualifying runners, but he finished fourth (58.6) and second (59.3) in the previous two seasons.
Trend spotter
The obvious: Last year's leading rusher, Chiefs rookie Kareem Hunt, finished second among running backs with an impressive 73.1 elusive rating. There have only been five times since 2013 a runner has earned an elusive rating higher than 70. His elusive rating of 112.1 ranked him third among all FBS running backs with a minimum of 187 carries during his final year at Toledo.
The not-so-obvious: Derrick Henry's 60.5 elusive rating had him in the top five at running back and his 3.23 yards per carry after contact was second to only LeGarrette Blount. Henry will compete with free agent addition Dion Lewis for touches out of the Titans' backfield in the season ahead.
2015-2017: 14.12 fantasy points per game (Ninth)
Murray displayed signs of wear and tear, but still finished as PPR's RB20 in 2017. His 184 rushing attempts were his lowest total since 2012 and he saw his YPC fall from 4.4 to 3.6 and his YAC drop from 2.4 to 2.0. He only scored seven times after 12 touchdowns the previous season. Murray is currently a free agent, but could still land on some team later this summer.
PFF Signature Stat: Pass-block efficiency
A big part of Murray's success over the years has been tied to his heavy volume and high snap count. He's been valuable as a pass-blocker, making it hard for the Titans to take him off the field. He finished inside the top five each of the last two years in pass-block efficiency and saw a league-high 208 pass-block snaps during that span.
Trend spotter
The obvious: Lamar Miller has followed a similar path to Murray and is another running back who fares well as a pass-blocker. The Texan has finished inside the top-10 in pass-block efficiency among running backs in each of the last three years and was second only to Carlos Hyde in pass-block snaps (106) last season. Expect him to remain the RB1 in Houston for at least one more season.
The not-so-obvious: Joe Mixon is expected to be atop the depth chart at running back for the Bengals, but Giovani Bernard remains a nice sleeper candidate. The multi-faceted Bernard will see plenty of action on passing downs based off the fact he's a strong pass blocker. He has finished in top four in pass block efficiency in back-to-back years.