Hello, and welcome to Week 13 of the Expected Fantasy Points Report. If you're unfamiliar with expected fantasy points, you can read this in-depth explanation from the offseason. You can also read more about expected touchdowns.
Every week we'll be using a 10-season sample of play-by-play data to calculate expected fantasy points from a player's seasonal or weekly usage. We look at each target (by distance from the end zone and depth of target) and each carry (by distance from the end zone and down and distance) and add this up to determine how valuable a player's role was for fantasy. We can contrast this with fantasy production to measure efficiency.
In layman's terms, expected fantasy points measures the exact worth of a player's volume – "how many points a player should have scored" given his workload, based on what the average player would have scored.
Through 12 weeks of action, here are the top-25 players in expected fantasy points per game:
[Note: Full-season XFP is now available for download in spreadsheet form. We'll be releasing it each week in our PFF Elite Facebook Group. This spreadsheet will also include valuable PFF-exclusive metrics like XTD, air yards, end zone targets, and more. If you're not already an Elite subscriber I highly recommend joining.]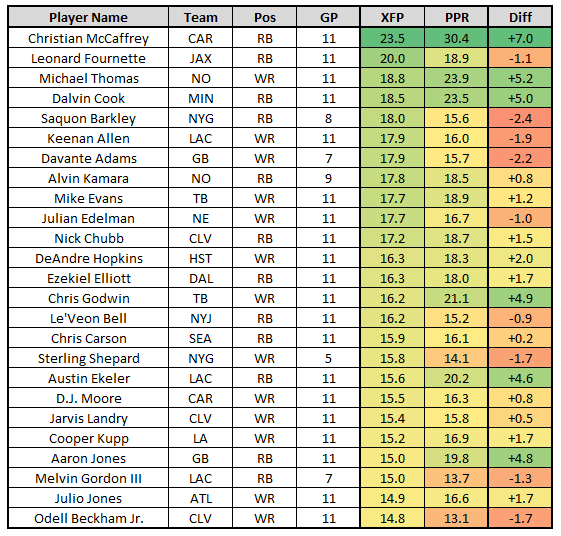 (XFP: 20.0, PPR: 18.9, Diff: -1.1)
Finally! The regression has hit Fournette, but probably not by as much as you'd think. Fournette scored 36.9 fantasy points in Week 12, but he got there on a 33.9-point expectation, the most by any running back in any week this season. Fournette saw a Christian McCaffrey-like workload, playing on 80 of 84 snaps while receiving 24 carries, 11 targets, and four opportunities inside the 10-yard line. He now ranks second among all players in XFP per game (20.0) and fifth among running backs in fantasy points per game (18.9), while still ranking as the top touchdown regression candidate at the position, falling 4.5 touchdowns shy of his expectation.
Subscribe to PFF Edge to continue reading

Already have a subscription? Sign In