Last offseason, we improved our modeling and methodology for the PFF Fantasy Expected Points Tool. This tool looks back at past weeks and calculates how many points we should have expected from players based upon the context of their usage, including down, distance and field position. For passing plays, the expected fantasy points model also factors in whether play-action was used, the horizontal field location and if the catch was contested.
More of PFF's 2021 Fantasy Football tools here: 
Fantasy Football Draft Kit | Rankings & Tiers | Draft Guide | Cheat Sheets
Projections | Strength of Schedule | Expected Points | Weekly Finishes
While there are some players who consistently produce with more or less efficiency than league averages, most fantasy production from running backs and receivers is dependent on opportunity. It's either created by themselves in the case of targets or given to them with carries. 
By comparing the number of fantasy points we would have expected from players to their actual scoring, we can identify those with the most fruitful usage and easily point to players due for positive or negative regression. You can also find my takeaways for fantasy running backs and wide receivers.

The Fantasy Expected Points Tool has data going back to 2019 and is customizable by the week. It allows us to see how players' usages changed depending on their quarterbacks, which defenses they faced or any role shifts through the season.
Below are the top 10 tight ends from the 2020 season in fantasy expected points per game. Their stats are broken down by rushing and receiving, with exact figures on each component of fantasy scoring for expected and actual numbers.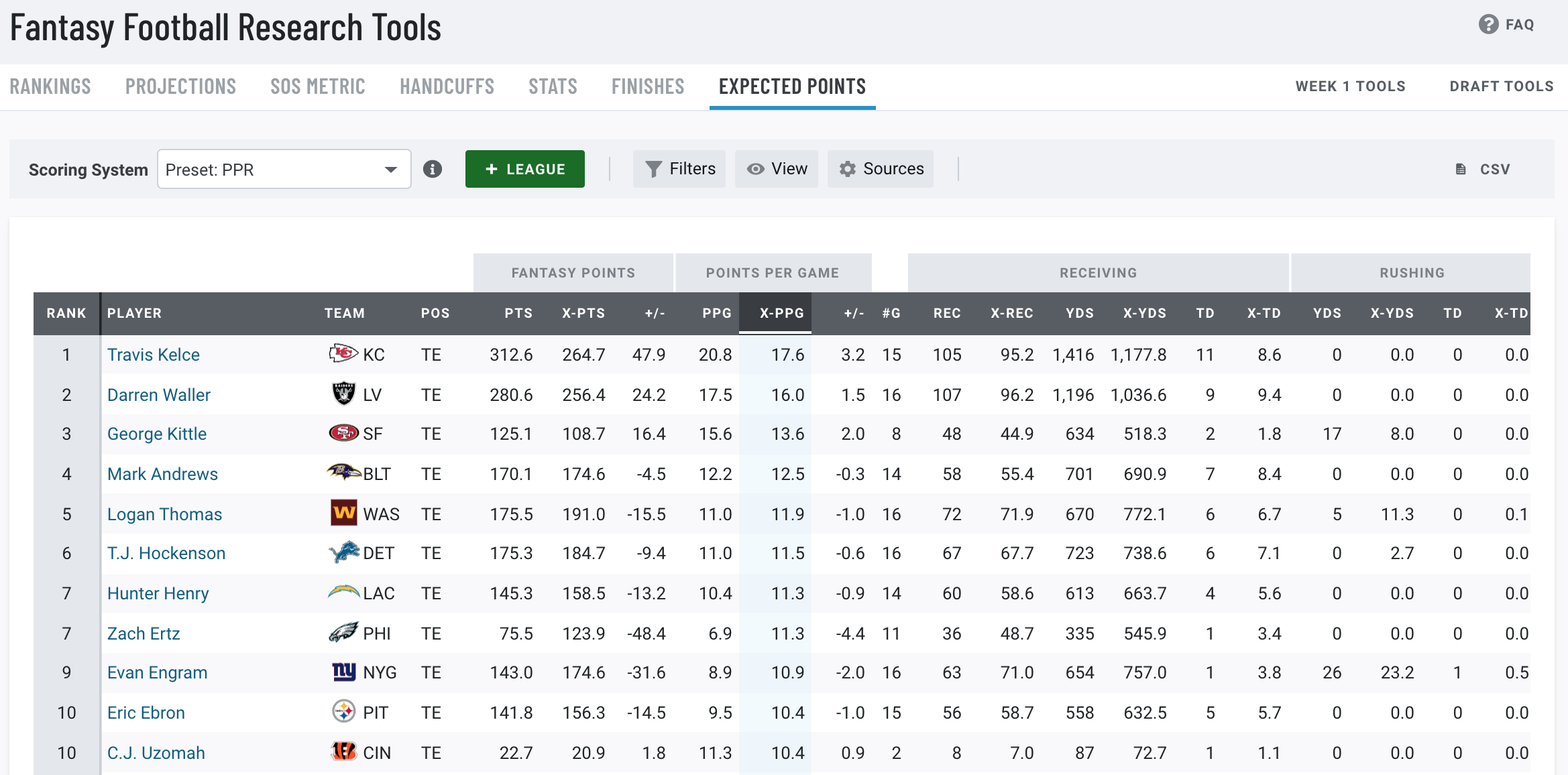 George Kittle should be the second tight end off the board
Going into the 2020 season, less than a round separated the ADPs of Kittle and Travis Kelce. Now, Kittle is going almost two rounds later due to a prior fantasy outlier season from Kelce.
Kittle missed some time last season, but when he played, his fantasy expected points per game was 13.6 in PPR formats — only slightly lower than 2019's 13.8 mark. If you exclude the games when Kittle was coming back from injury and didn't play his usual 80%-100% of offensive snaps, his average expected PPR points jumps to 15.8. That per-game expectation would have been higher than any tight end in 2019, including  Kelce.
Kelce's usage, and to a lesser extent that of Darren Waller, exploded in 2020, hitting 17.6 expected fantasy points. And Kelce outperformed that expectation by an additional 3.2 points per game. Yes, Kelce deserves to be the clear TE1 going into the 2021 season, but we shouldn't let his unsustainable jump at 31 years oldbecome the baseline projection for the coming season.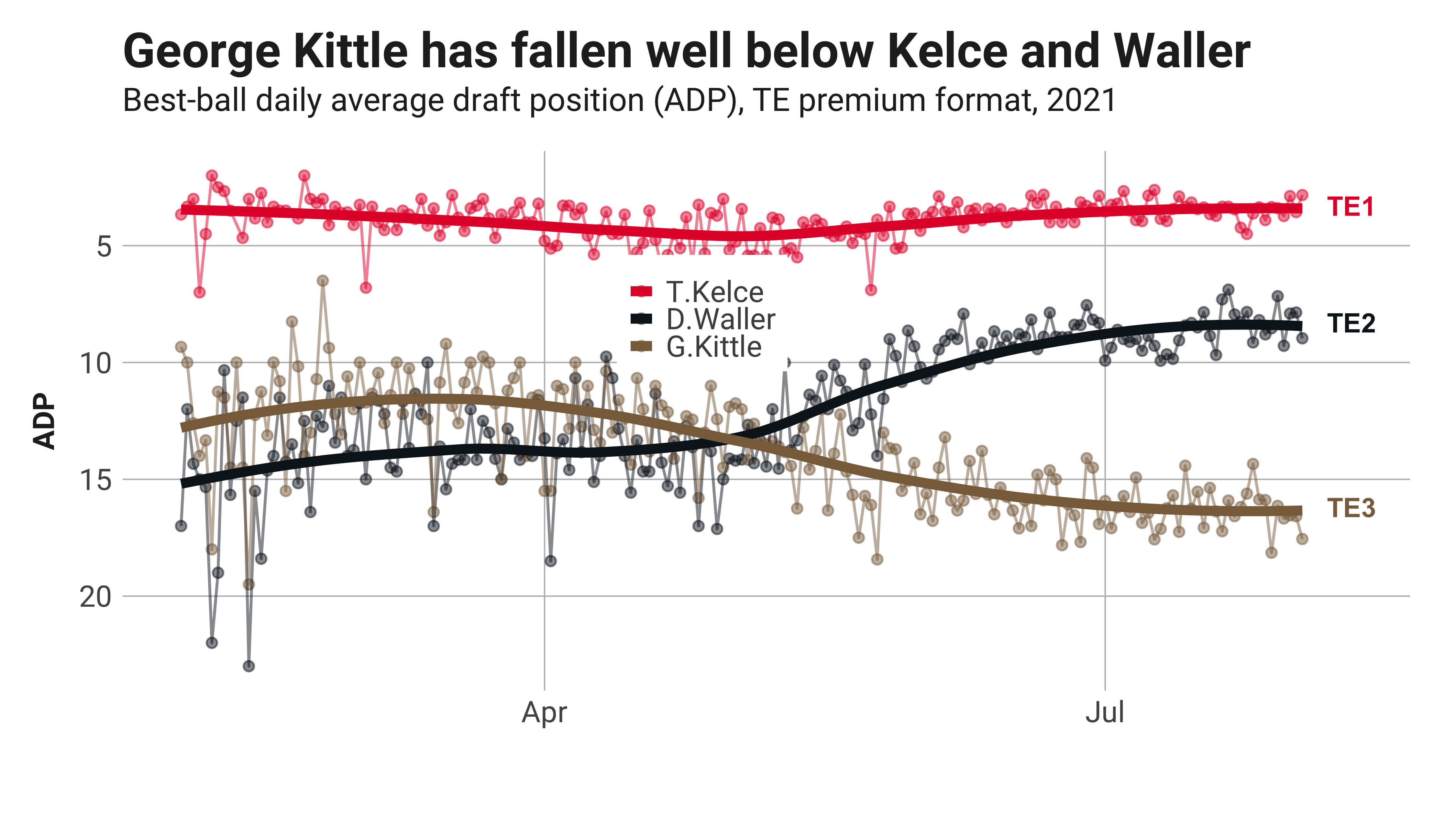 The more interesting question is whether Kittle should be drafted ahead of Waller, and I think the answer is "yes." I get the concerns around a rookie quarterback, the potential heavy-run focus and a deeper receiving corps to compete for targets with. Nonetheless, you have to bet on talent. Kittle is one of the best players in the entire NFL and the position's highest-paid player for a reason beyond his blocking. His upside is as high as any tight end, and we should be chasing upside, even early in drafts.
Subscribe to PFF Edge to continue reading
Already have a subscription? Sign In