Last offseason, we improved our modeling and methodology for the PFF Fantasy Expected Points Tool, which looks back at past weeks and calculates how many points we should have expected from players based upon the context of their usage, including down, distance and field position. For passing plays, the expected fantasy points model also factors in whether play action was used, horizontal field location and if the catch was contested.
Editor's Note: PFF's 2021 Fantasy Football Draft Guide and 2021 Fantasy Football Cheat Sheets are LIVE!
While there are some players, especially quarterbacks, who consistently produce with more or less efficiency than league averages, most of the fantasy production for running backs and receivers is dependent on opportunity — either created by themselves in the case of targets or given to them with carries.
By comparing the number of fantasy points we would have expected for players to their actual scoring, we can identify those with the most fruitful usage and easily point to players due for positive or negative regression.
The Fantasy Expected Points Tool has data going back to 2019 and is customizable by week, allowing us to see how players' usages changed depending on their quarterbacks, which defenses they faced or shifts in their roles over the season.
Below are the top 10 wide receivers from the 2020 season in fantasy expected points per game. Their stats are broken out by rushing and receiving, with exact figures on each component of fantasy scoring for expected and actual numbers.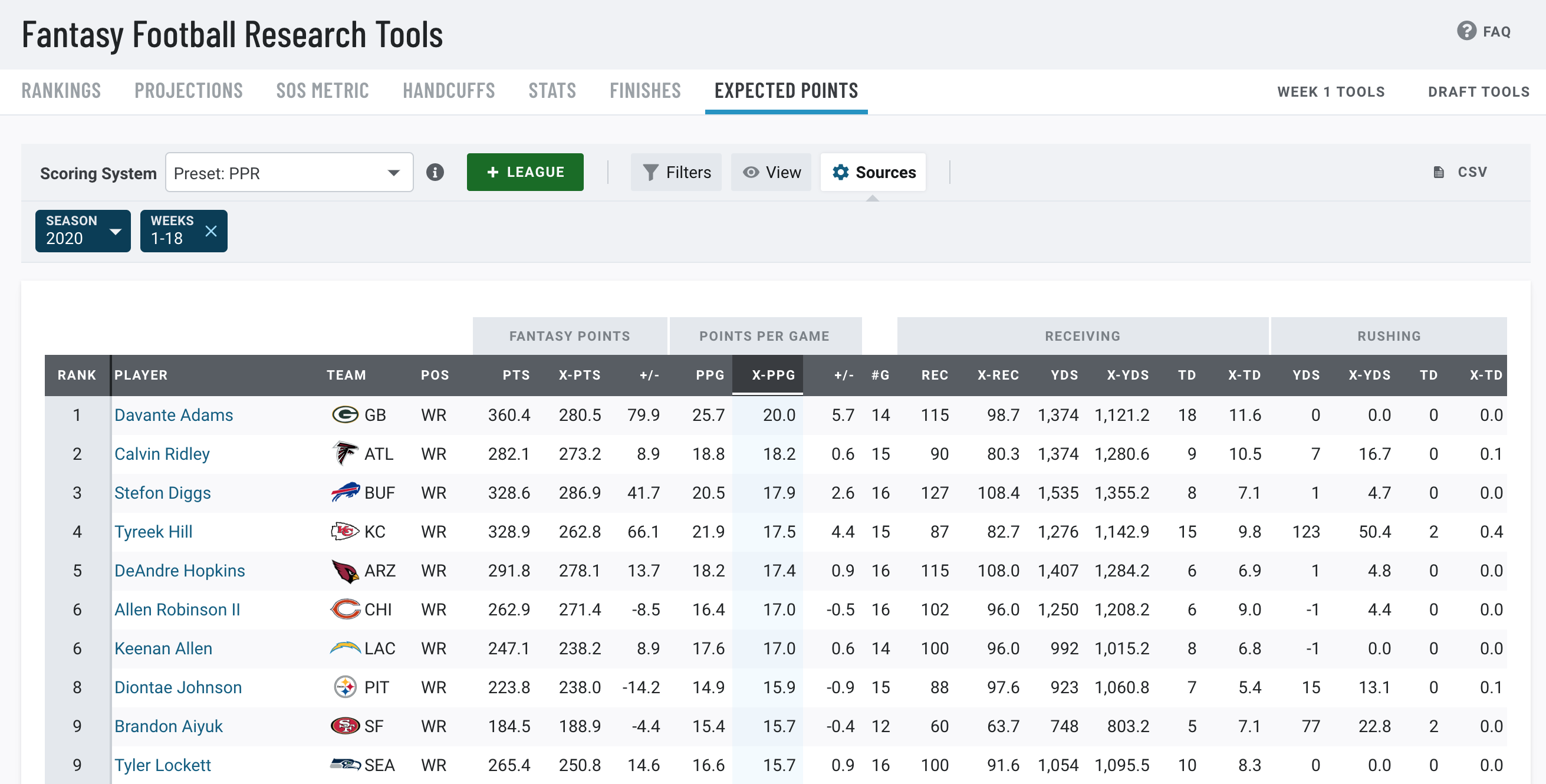 Adams and the entire Green Bay Packers organization have endured a turbulent offseason. Now that Aaron Rodgers is at camp and everything is seemingly set to enter the season, Adams' ADP has moved back into his pre-NFL draft range.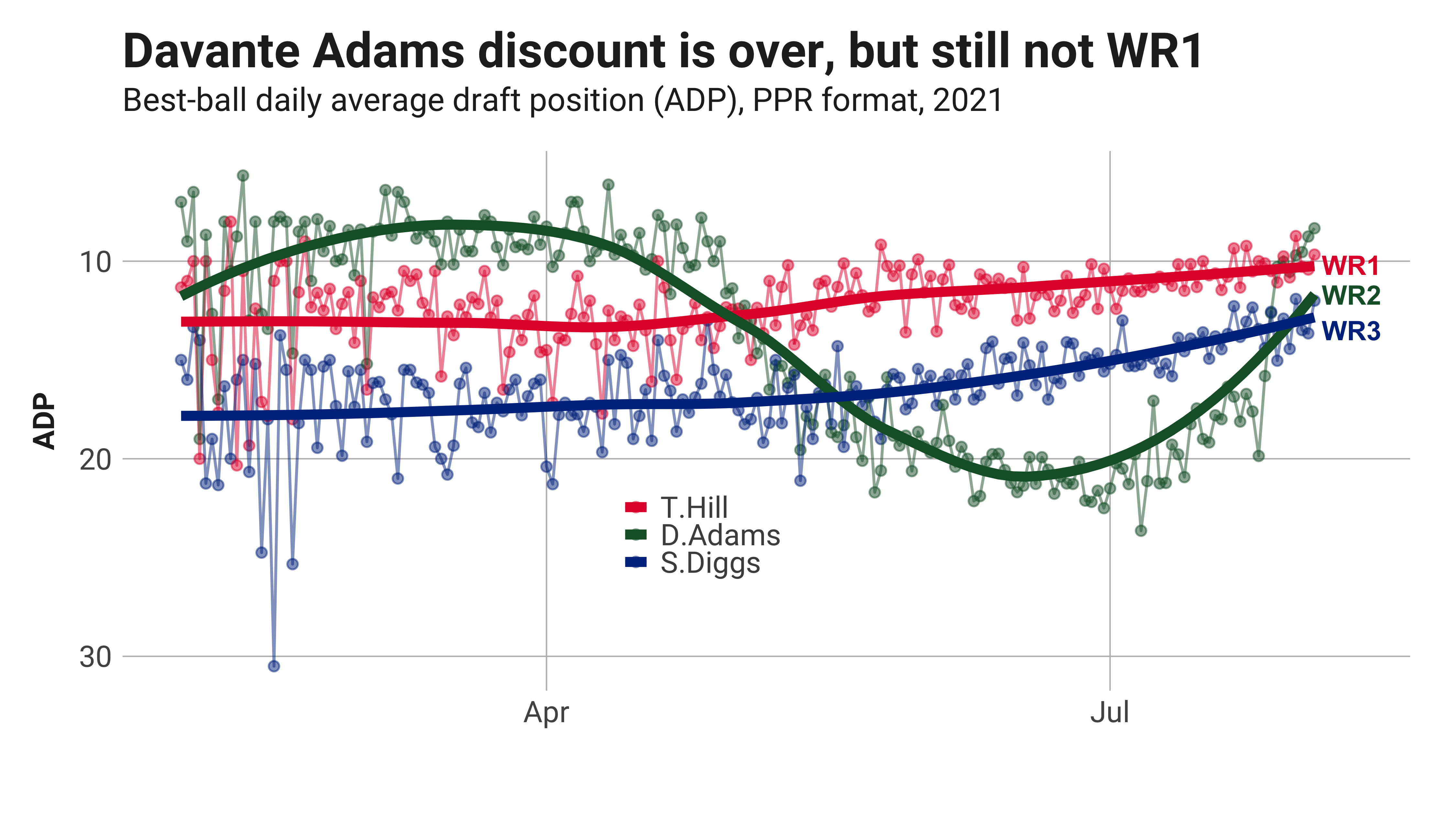 While you can't get the enormous (and unjustified) discount on Adams that was available a couple of weeks back, he's still probably undervalued at anything but the rock-solid WR1 in fantasy drafts.
Adams led the league in fantasy expected points per game in 2020, and it wasn't particularly close. His usage translated into 20.0 expected PPR points, more than two points higher than Tyreek Hill, who has been the preferred top wide receiver pick for much of the offseason.
Not only did Adams have the best usage last year, but he also exceeded expectations by nearly six points per game despite leaving a game early due to injury. He scored more than anyone in 2020, he has his MVP quarterback returning and his team didn't add any meaningful target competition in the offseason. Don't overthink it: Adams should be the top receiver taken in all fantasy football formats.
For the first time in a while, there is a lot of buzz at Jaguars' camp this offseason. Plenty of people are dissecting every dropback from No. 1 overall pick Trevor Lawrence, but there's also enthusiasm for his presumed top two receivers: D.J. Chark Jr. and Laviska Shenault Jr.
Subscribe to PFF Edge to continue reading
Already have a subscription? Sign In